By Harley Lond - 10/16/18 at 08:11 PM CT
FROM THE BIG SCREEN:
"Ant-Man and the Wasp": 2015's "Ant-Man" was a welcome relief from all the heaviness of the regular Marvel Universe movies (Avengers, we mean you), what with a spirited action adventure, an exciting premise, spectacular special effects (not involving explosions) and the presence super-snarky Paul Rudd. This sequel con tunes the skein. Scott Lang (Rudd) is grappling with the consequences of his choices, as both the Super Hero Ant-Man and a father. As he struggles to rebalance his home life with his responsibilities as Ant-Man, he's confronted by Hope van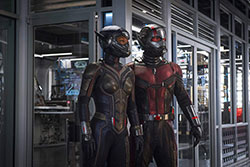 Dyne (Evangeline Lilly) and Dr. Hank Pym (Michael Douglas) with an urgent new mission to rescue Janet van Dyne (Michelle Pfeiffer) from the Quantum Realm. Scott must once again put on the suit and learn to fight alongside The Wasp, all while attempting to serve house arrest, assist fast talking-Luis (Michael Peña) and the X-con Security crew, and thwart the efforts of a new adversary called Ghost (Hannah John-Kamen) and her ally Bill Foster (Laurence Fishburne). Great chemistry between Rudd and Lilly and some nifty car chases too. Extras include a "Director's Intro" by Peyton Reed; four making-of featurettes: "Back in the Ant Suit: Scott Lang," "A Suit of Her Own: The Wasp," "Subatomic Super Heroes: Hank and Janet," "Quantum Perspective: The VFX and Production Design of Ant-Man and the Wasp
"; a gag reel and outtakes; deleted scenes. From Disney.

"Unfriended: Dark Web
": Sequel to 2015's "Unfriended," with more of the same teen horror for those who like these types of scares. I get them from watching the President. When a 20-something finds a cache of hidden files on his new laptop, he and his friends are unwittingly thrust into the depths of the dark web. They soon discover someone has been watching their every move and will go to unimaginable lengths to protect the dark web. Unfolds in real time. Stars Betty Gabriel, Rebecca Rittenhouse, Colin Woodell, Andrew Lees, Chelsea Alden. From Universal.


THIS WEEK'S BEST BETS:
Let's flash back to the past with a host of collectibles from the 70s and 80s (and one from the 50s:
"Shampoo
"
(1975) gives us a day in the life of George, a Beverly Hills hairdresser and Lothario who runs around town on the eve of the 1968 presidential election trying to make heads or tails of his financial and romantic entanglements. His attempts to scrape together the money to open his own salon are continually sidetracked by the distractions presented by his lovers -- played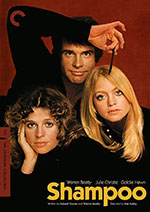 brilliantly by Goldie Hawn, Julie Christie, and Lee Grant (in an Oscar-winning performance). Star Warren Beatty dreamed up the project, co-wrote the script with Robert Towne, and enlisted Hal Ashby as director, and the resulting carousel of doomed relationships is an essential seventies farce, a sharp look back at the sexual politics and self-absorption of the preceding decade. On DVD, Blu-ray Disc with 4K digital restoration, with uncompressed monaural soundtrack on the Blu-ray and alternate 5.1 surround soundtrack, presented in DTS-HD Master Audio on the Blu-ray. From The Criterion Collection ... In
"Trilogy of Terror
"
(1975), legendary producer-director Dan Curtis ("The Night Stalker") teamed with renowned sci-fi/horror writers Richard Matheson ("I Am Legend") and William F. Nolan ("Logan's Run") to present three tales of horrific suspense in this highly rated and critically acclaimed made-for-television anthology that also showcases the tremendous acting talent of Karen Black, who plays four distinct roles. In "Julie," an aggressive college student seduces and ultimately blackmails his seemingly shy English professor; in "Millicent and Therese," two polar-opposite sisters become increasingly hell-bent on the undoing of one another; and in "Amelia," a woman falls prey to a murderous Zuni fetish doll.On DVD, Blu-ray, in a brand New 4K restoration. From Kino Lorber Studio Classics ... From writer-director John Landis, the mind behind "The Blues Brothers" and "An American Werewolf in London," comes is a love story that transcends the boundaries of nature and good taste -- the one and only
"Schlock
"
(1973). Carnage! Terror! Banana skins! The mighty prehistoric ape Schlocktropus has emerged from hiding to embark on a full-scale rampage across a quiet Southern Californian suburb. The police are baffled. The army is powerless. The body count is rising. But when Schlocktropus encounters a kindly blind woman (Eliza Garrett) who sees beyond his grotesque visage, the homicidal simian is presented with a chance at redemption. Shot over 12 days on a micro-budget, "Schlock" launched the careers of both Landis and legendary effects makeup artist Rick Baker ("Videodrome"). An uproarious pastiche of monster movies, packed to the gills with irreverent humor and biting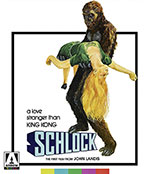 satire, "Schlock" serves as the outrageous missing link between the creature features of yesteryear and its creators' subsequent varied and celebrated careers. On Blu-ray from Arrow Video/MVD Entertainment ... Nicolas Cage and Deborah Foreman star in the totally awesome comedy
"Valley Girl
"
(1983), making its Blu-ray debut this week. When Julie dumps her preppy boyfriend, the last thing she expects is to find love with the rockin' Randy (Cage). The future's open wide for Julie ... but when her disapproving friends (E.G. Daily, Heidi Holicker, Michelle Meyrink) find Randy to be grody to the max, she is caught up in a culture clash between her Valley lifestyle and her Hollywood punk. Featuring a so-bitchin' soundtrack packed with New Wave hits, "Valley Girl" is a sweetly romantic slice of 80s nostalgia from director Martha Coolidge. Are you going to love it? We're, like, so sure! In a new HD film transfer. From Shout! Factory ... And, lastly,
"A Woman Without Love
"
(1951 -- Mexico), a little-known satire of bourgeois life by the great director Luis Bunuel, produced during his Mexican exile period. A married woman has an affair and returns to her husband. Twenty years later, the man dies and leaves his fortune to her younger son, leading to questions of his parentage. Based on Guy de Maupassant's story "Pierre et Jean." From Facets.
BUZZIN' THE 'B'S:
In
"Arizona
"
(2008), starring Danny McBride, Rosemarie DeWitt, Luke Wilson, Elizabeth Gillies, Kaitlin Olson and David Alan Grier, Cassie (DeWitt) is a real estate agent and single mom struggling to keep it all together during the housing crisis of 2009. Her problems go from bad to worse when disgruntled client Sonny (McBride) violently confronts Cassie's boss and then kidnaps Cassie -- making one outrageously bad, and bloody, decision after another. Things completely spiral out of control in this action comedy. On DVD, Blu-ray, from RLJE Films ... In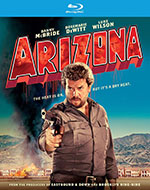 "Reprisal
"
(2018), starring Frank Grillo, Bruce Willis, Johnathon Schaech and Olivia Culpo, Jacob (Grillo), a bank manager haunted by a violent heist that took the life of a coworker, teams up with his ex-cop neighbor, James (Willis), to bring down the assailant. While the two men work together to figure out the thief's next move, Gabriel (Schaech), the highly trained criminal, is one step ahead. When Gabriel kidnaps Jacob's wife and daughter, Jacob barrels down a path of bloodshed that initiates an explosive counterattack, bringing all three men to the breaking point. On DVD, Blu-ray, from Lionsgate ... In
"Boundaries
"
(2018), starring Vera Farmiga, Bobby Cannavale, Christopher Plummer, Kristen Schaal, Christopher Lloyd and Peter Fonda, Laura (Farmiga) is a single mother who has a constant need to put rescue animals before her. When her estranged, criminally-minded father Jack (Plummer) is kicked out of his retirement home, Laura agrees to drive him to live with her sister. Along for the ride is her bright but troubled son Henry, and an assortment of animal charity cases. Jack convinces Henry to help him sell off his copious supply of marijuana at every stop of their journey, resulting in unexpected reunions with old friends and family. From Sony... In
"Down A Dark Hall
"
(2018), starring AnnaSophia Robb, Isabelle Fuhrman, Victoria Moroles, Noah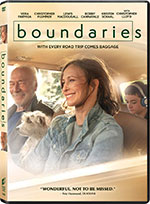 Silver, Taylor Russell, Rosie Day and Uma Thurman, Kit Gordy (Robb), a difficult young girl, is sent to the mysterious Blackwood Boarding School when her heated temper becomes too much for her mother to handle. Once she arrives at Blackwood, Kit encounters eccentric headmistress Madame Duret (Thurman) and meets the schools' only other students, four young women also headed down a troubled path. While exploring the labyrinthine corridors of the school, Kit and her classmates discover that Blackwood Manor hides an age-old secret rooted in the paranormal. On DVD, Blu-ray, from Lionsgate ... After surviving the slaughter of her entire squad in a drug raid compromised by dirty cops, anti-narcotics special operative Nina Manigan (Anne Curtis) is eager to go head-to-head with the drug cartels that hold a bloody grip on Manila in
"BuyBust
"
(2018 -- Philippines). But when her new mission in the city's most dangerous slum goes south, the angry civilians turn on her squad. Trapped between a brutal drug gang and hordes of bloodthirsty citizens, their only option is to fight their way out, turning one claustrophobic street at a time into a symphony of apocalyptic violence. Co-stars Brandon Vera, Victor Neri. From Well Go USA ...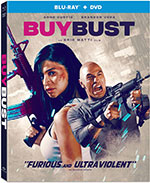 And, last but not least, we have
"City Slickers
: Collector's Edition"
(1991), a comedy about cowboys, careers and midlife crises that stars Billy Crystal as 39-year-old New Yorker Mitch Robbins, who's tired of his job and bored with his life. So he and his two best friends (Bruno Kirby and Daniel Stern) trade their briefcases for saddlebags and set out to find freedom and adventure herding cattle under the wide New Mexico sky. But what they discover instead is scorching sun, sore backsides ... and more about themselves and each other than they ever thought possible. Also stars the inimitable Jack Palance, who captured the Oscar for Best Supporting Actor for his role as leathery trail boss, Curly. In a new 4K scan on Blu-ray from Shout! Factory Select.
FOREIGN FILMS:
In
"Longing
"
(2017 -- Israel), starring Shai Aviv, Assi Levy, Neta Riskin, Yoram Toledano and Shimon Mimran, Ariel, a well-off, childless man, gets a phone call from his college girlfriend. She needs to tell him two very surprising things. First, when they broke up twenty years ago, she was pregnant and went on to have a lovely boy. The second thing will make Ariel explore the hidden aspects of parenthood and change his life forever. On DVD, Blu-ray, from (Breaking Glass Pictures.
FOR THE FAMILY:
"My Little Pony: 35th Anniversary Edition Collection"
gets its Blu-ray debut from Lionsgate. The release includes the original 1986 movie and the 2017 remake in a four-disc Blu-ray/DVD combo. Featuring the guest voices of comedy legends Danny DeVito, Madeline Kahn, Cloris Leachman, Rhea Perlman, and Tony Randall, the 1986 movie delivers '80s nostalgia with high-definition sparkle. The new 2017 movie features the voice talents of the My Little Pony Mane 6 alongside a star-studded cast, including Emily Blunt, Kristin Chenoweth, Liev Schreiber, Taye Diggs, Uzo Aduba, Zoe Saldana, and Sia.
SPECIAL INTEREST:
The documentary
"Generation Wealth
"
(2018) is an extraordinary visual history of our growing obsession with wealth. Weaving two and a half decades of work into an epic narrative, Lauren Greenfield ("The Queen of Versailles") has created a revelatory cultural documentation of wealth for viewers to explore through a retrospective film, book and exhibition. Through riveting first-person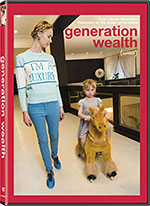 interviews, Greenfield's journey starts in Los Angeles and spreads across America and beyond, as she documents how we export the values of materialism, celebrity culture, and social status to every corner of the globe. We embark on this journey with Greenfield as she travels the world – from Los Angeles to Moscow, Dubai to China – bearing witness to the global boom-and–bust economy and documenting its complicated consequences. We hear the stories of students, single parents, and families overwhelmed by crushing debt, yet determined to purchase luxury houses, cars, and clothing. We visit the homes and observe the rituals of the international elite—from Bel-Air to Monaco, Russia to China. We gain intimate access into the lives of those that rose to extraordinary wealth and then lost "big" during the global economic crash of 2008. And we encounter the A-list celebrities we follow on reality TV and social media, the same influencers who shape our consumer desires and sense of self. Provoking serious reflection, "Generation Wealth" is not about the rich, but about the desire to be wealthy, at any cost. From Lionsgate ... Whitney Houston was a music sensation who starred in several blockbuster movies before her brilliant career gave way to erratic behavior, scandals, and death at age 48. Using never-before-seen archival footage, exclusive demo recordings, rare performances, interviews, and audio archives,
"Whitney
"
(2018), from Oscar-winner Kevin Macdonald, reveals the truth behind the superstar's meteoric rise and tragic fall. On DVD, Blu-ray from Lionsgate ...
"Elvis Presley: The Searcher
"
(2018) is an inside look at a rarely seen side of Elvis -- that of a music artist on a life-long search for self-expression. From the archives of Graceland and executive producer Priscilla Presley, this is a three-hour documentary film presentation that focuses on Elvis the artist and musician, taking viewers on a comprehensive creative journey from his childhood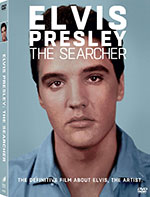 through the final 1976 Jungle Room recording sessions. Containing never-before-seen footage and music recordings, the film features commentary and interviews from some of the biggest names in music including Tom Petty, Bruce Springsteen, Emmylou Harris, music producer Jon Landau and Elvis' guitarist, Scotty Moore, among others. A Limited Collector's Edition will also feature commemorative packaging and a 20-page digibook featuring rare photos from the Graceland archives. From Sony ...
"Dust 2 Glory
"
(2018), the much-anticipated follow-up to "Dust to Glory," from acclaimed director Dana Brown ("Step Into Liquid," "Highwater"), tracks the world's toughest point-to-point desert race, the SCORE Baja 1000. Chronicles the brutal beauty of the race and high-octane action sequences as these ground-pounding, 900-horsepower Trophy Trucks, Motorcycles, ATVs and everything in between roar through the Baja Peninsula. On DVD, Blu-ray, from Magnolia Home Entertainment/Magnet Label.
FROM TV TO DISC:
"Ash vs Evil Dead: The Complete Collection"
(2015-18) is a six-disc set with all 30 episodes. Ash Williams (Bruce Campbell), the chainsaw-wielding, wisecracking antihero of the legendary "The Evil Dead" films, is back for more gore-filled adventure in this complete 30-episode collection of the "Ash vs Evil Dead" TV series. Follow Ash's journey as he returns home to Elk Grove, Michigan, meets his long-lost daughter, and unites with former enemy Ruby (Lucy Lawless) and fellow demon fighters Pablo (Ray Santiago) and Kelly (Dana DeLorenzo) for a final blood-splattering stand to save the world. On DVD, Blu-ray, Blu-ray/DVD Combo, from Lionsgate ...
"Harry & Meghan: A Royal Romance"
(2017) is the royal love story that captured the world's attention. Prince Harry, consistently seen in the tabloids, is infamous for his bad-boy persona. Television star Meghan -- ambitious, outspoken, and divorced, along with having a tumultuous relationship with her sister -- doesn't appear to be "princess material." After their blind date, Harry and Meghan quickly realize they are kindred spirits. A whirlwind romance ensues and, despite a few missteps, they soon win the hearts of each other and the hearts of the public. Lifetime movie. From Lionsgate ...
"When Calls the Heart: Year Five (The Television Movie Collection)"
(2017-18) is a six-disc set that collects all of the romance and drama from Year Five of the series. Return once again to the town of Hope Valley as schoolteacher Elizabeth (Erin Krakow), Mountie Jack (Daniel Lissing), Café owner-turned-Mayor Abigail (Lori Loughlin), and all of your favorite characters bravely face the challenges of frontier life ... and those of the heart. Released to Walmart on Oct. 2 with a devotional book by Brian Bird and Michelle Cox entitled "When God Calls the Heart." From Shout! Factory.
Check out other new DVD/Blu-ray releases, streaming films, and information and reviews at OnVideo.
Comments