By Harley Lond - 10/09/18 at 10:30 PM CT
FROM THE BIG SCREEN:
"Hotel Transylvania 3": Who would have thought that an animated feature about vampires and bats and slimy creatures -- rated PG, no less -- would spawn a delightful franchise for kids of all ages. The animation isn't as top notch as, say, a Pixar offering, but who cares when it's so much fun to watch creepy crawlys deal with all the minutiae of everyday life that we normals must encounter. Wait, who's normal? In this outing, Count Dracula has diligently maintained Hotel Transylvania so monster guests can vacation away from humans. Feeling tired and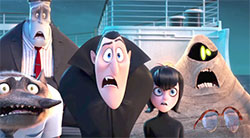 alone, he allows his daughter, Mavis, to take him on a cruise. Although hesitant, he embarks on his first vacation with family and friends in tow. Aboard the cruise ship Legacy, he meets Captain Ericka and quickly falls in love. Ericka is a descendant of Abraham Van Helsing, an ancient monster foe. Her evil plans try to turn love into hate as Dracula and the monsters enjoy the cruise and are blind to their fate. With the voices of Adam Sandler, Andy Samberg, Selena Gomez, Kevin James, David Spade, Steve Buscemi, Keegan-Michael Key, Molly Shannon, Fran Drescher, Kathryn Hahn. Extras include three all new Scary-Oke sing alongs, "Plan Your Own Spook-tacular Sleepover" featurette, "Vampire Make Over: Mavis and Drac Tutorial," "Behind the Screams – The Voices of Hotel Transylvania 3
," "Johnny's Home Movies (Franchise Recap)," ""I See Love Monster Dance Party" dance along, "Drac's Zing-tastic" read along, two mini movies: "Puppy" and "Goodnight Mr. Foot." From Sony.

"Skyscraper
": Ok, I give up. Dwayne Johnson can do no wrong. His personality is so overwhelming that he just about rescues every film he's in -- no matter how junky the vehicle. Case in point: Here's a film that steals from just about every action-adventure film made in the last 40 years and while you don't need a cup of tea leaves to predict -- ho hum -- what's going to happen, Johnson just mesmerizes. The story: Former FBI Hostage Rescue Team leader and U.S. war veteran Will Sawyer (Johnson) now assesses security for skyscrapers. On assignment in China, he finds the tallest, safest building in the world suddenly ablaze, and he's been framed for it. A wanted man on the run, Will must find those responsible, clear his name and somehow rescue his family who is trapped inside the building ... above the fire line. Co-stars Pablo Schreiber, Neve Campbell, Kevin Rankin, Roland Moller, Adrian Holmes, Chin Han. Extras include deleted and extended scenes with commentary by director Rawson Marshall Thurber and six behind-the-scenes featurettes. From Universal.

"Eighth Grade
": YouTuber and stand-up comedian (and musician, actor, filmmaker and poet) Bo Burnham wrote and directed this incisive look at middle school life and all the foibles and pitfalls that kids face as they become teenagers. Thirteen-year-old Kayla (a fantastic Elsie Fisher) endures the tidal wave of contemporary suburban adolescence as she makes her way through the last week of middle school -- the end of her thus far disastrous eighth-grade year -- before she begins high school. For Kayla, the task at hand is getting through the last week of middle school without losing her mind. As a bit of a loner, she'll pretty much have to go it on her own; her most vital interaction with the outside world comes though the YouTube videos she posts online. Being young in today's world is no picnic. Extras include deleted scenes, commentary with Burnham and actress Elsie Fisher, "You're Not Alone: Life in Eighth Grade" featurette and a music video. From Lionsgate.


THIS WEEK'S BEST BET:
"Eight Hours Don't Make a Day
"
(1972-73): Commissioned to make a working-class family drama for public television, up-and-coming director Rainer Werner Fassbinder took the assignment and ran, dodging expectations by depicting social realities in West Germany from a critical -- yet far from cynical -- perspective.
Over the course of several hours, the sprawling story tracks the everyday triumphs and travails of the young toolmaker Jochen (Gottfried John) and many of the people populating his world, including the woman he loves (Hanna Schygulla), his eccentric nuclear family, and his fellow workers, with whom he bands together to improve conditions on the factory floor. Rarely screened since its popular but controversial initial broadcast, "Eight Hours Don't Make a Day" rates as a true discovery, one of Fassbinder's earliest and most tender experiments with the possibilities of melodrama. On DVD, Blu-ray Disc with new 2K digital restoration by the Rainer Werner Fassbinder Foundation, with uncompressed monaural soundtrack on the Blu-ray. From The Criterion Collection.
BUZZIN' THE 'B'S:
"A Prayer Before Dawn
"
(2018), starring Joe Cole, Vithaya Pansringarm and Nicolas Shake, is the remarkable true story of Billy Moore, a young English boxer incarcerated in two of Thailand's most violent prisons. When the prison authorities allow Billy to participate in Muay Thai boxing tournaments, he goes from one savage fight to the next in a relentless, action-packed journey to preserve his life and regain his freedom. Shot in an actual Thai prison with a cast comprised of real inmates. On DVD, Blu-ray, from Lionsgate ... In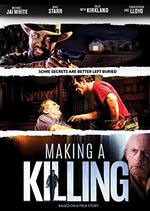 "Making a Killing
"
(2018), starring Mike Starr, Jude Moran, Christopher Lloyd, Michael Jai White, Gillian White and Aida Turturro, Arthur Herring is the mayor, priest and mortician in a quaint small town nestled in the mountains of New Mexico. He and his brother, Vincent, are well-respected pillars of the community. Arthur and Vincent once agreed to safeguard fellow mortician Lloyd's (Lloyd) rare coin collection worth a small fortune while he served time in prison, but when Lloyd is released and requests that his coins be returned, the brothers hatch an elaborate scheme to keep his treasure for themselves. From Cleopatra Entertainment ...
"Her Stolen Past
"
(2018), starring Shanice Banton and Barbara Eve Harris, is a Lifetime Movie Network movie. Based on the novel of the same name by best-selling author Lynette Eason, this thriller follows a young woman trying to uncover the connection between her mother's murder and a kidnapped baby's birth certificate hidden in her mother's house, but it soon becomes clear that someone will stop at nothing to prevent her from discovering the truth. From Lionsgate ... Forty years after William Castle's 1959 cult classic, Warner Bros. did this remake,
"House on Haunted Hill
Collector's Edition"
(1999), starring Geoffrey Rush and Famke Janssen, Taye Diggs, Ali Larter, Bridgette Wilson, Peter Gallagher, and Chris Kattan. Rush plays twisted theme park bigshot Stephen Price, who's hosting a
birthday bash for his wife (Janssen) at a house that was once an institute for the criminally insane. Five strangers are each offered a chance to earn one million dollars if they can survive a night in the house. But what starts out as a harmless birthday prank soon turns into a night of horrific terror. New 2K scan of the film. With collectible slipcover featuring newly rendered artwork and a reversible cover wrap featuring original key art. On Blu-ray from Scream Factory ...
"Trick 'r Treat
Collector's Edition"
(2007) features four interwoven tales set on Halloween night. A high school principal (Dylan Baker) moonlights as a vicious serial killer; the quest of a young virgin (Anna Paquin) for that special someone takes a gruesome turn; a group of teens carries out a cruel prank with disastrous consequences; and a cantankerous old man (Brian Cox) battles a mischievous trick-or-treating demon. From Scream Factory ...
"The Man in the Iron Mask
20th Anniversary Edition"
(1998) stars Leonardo DiCaprio, Jeremy Irons, John Malkovich, Gérard Depardieu, Gabriel Byrne, Anne Parillaud and Judith Godrèche, in a new 4K scan of the film. Louis XIII, King of France, had a son, Louis, who succeeded his father to the throne. But, known to very few, the heir had a twin brother, Philippe, hidden away after birth and forced to languish in prison, his identity unknown behind an iron mask. His brother, now grown and King Louis XIV, proved to be both corrupt and a
tyrant. Louis sends Athos' (one of the Musketeers) son, Raoul off to certain death in war, so that he could have his woman for himself. Athos, together with two of the other Musketeers, Porthos and Aramis, swear revenge. Only D'Artagnan remains loyal to the crown, but will he join his former compatriots to free Philippe from prison, kill the king, and put Philippe on the throne in his place? On Blu-ray from Shout! Factory Select) ... In the DC Entertainment animated film
"Constantine: City of Demons"
(2018), a decade after a tragic mistake, family man Chas and occult detective John Constantine set out to cure Chas's daughter Trish from a mysterious supernatural coma. With the help of the mysterious Nightmare Nurse, the influential Queen of Angels, and brutal Aztec God Mictlantecuhtli, the pair just might have a chance at outsmarting the demon Beroul to save Trish's soul. In a world of shadows and dark magic, not everything is what it seems, and there's always a price to pay. The path to redemption is never easy, and if Constantine is to succeed, he must navigate through the dark urban underbelly of Los Angeles, outwit the most cunning spawns of hell, and come face to face with arch-nemesis Nergal – all while battling his own inner demons. Based on the acclaimed DC animated series from CW Seed. On 4K Ultra HD/Blu-ray Combo, Blu-ray/DVD Combo from Warner.
FOREIGN FILMS:
"Angels Wear White
"
(2018 -- China), starring Vicky Chen, Meijun Zhou, Ke Shi and Le Geng, is a film by Vivian Qu, the first ever female director to be awarded the "Oscars of Asia," the Golden Horse Award. In a small seaside town, two schoolgirls are assaulted by a middle-aged man in a motel. Mia, a teenager who was working on reception that night, is the only witness. For fear of losing her job, she says nothing. Meanwhile, 12-year-old Wen, one of the victims, finds that her troubles have only just begun. Trapped in a world that offers them no safety, Mia and Wen will have to find their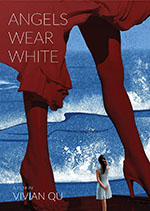 own way out. From Icarus Films ...
"The Official Story
"
(1985 -- Argentina) features a 2K restoration of director Luis Puenzo's universally hailed debut feature, which won the Academy Award for Best Foreign-Language Film of 1985. A stirring character drama and a haunting rumination on the sins of the past. Set in Buenos Aires during the final years of the Argentinean military dictatorship's "Dirty War" against its own people, it tells the story of Alicia (Oscar nominee Norma Aleandro), the wife of a wealthy businessman, who discovers that their adopted child may be the progeny of a desaparecido, a victim of the forced disappearances that occurred during the dictatorship's reign of terror. This revelation forces her to reveal the truth about her country's legacy of corruption and murder. On DVD, Blu-ray, from Cohen Film Collection.
FROM TV TO DISC:
There's two classic sets of Golden Age TV series due this week from VCI Entertainment (distributed by MVD):
"I Married Joan: Classic TV Collection Vol 4"
(1952-55): The show centers on Joan (Joan Davis), a scatterbrained housewife, and her husband, Bradley Stevens (Jim Backus), who was a staid and settled domestic court judge. Beverly Wills, Joan Davis' real-life daughter, also co-starred on the show playing the part of her sister. The show was cut from the same mold as the "I Love Lucy" series, with Davis' comedy antics derived from the physical school of humor. This hilarious series ran for three seasons on the NBC Network from 1952 to 1955. This Collection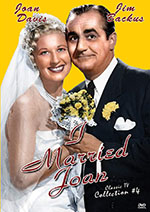 contains 10 episodes from all three seasons. On DVD ... and
"Television's Lost Classics Volume 2: Rare Pilots,"
which contains four rare pilot episodes.
Pilot 1
- "Case of the Sure Thing" with Reed Hadley, Louise Currie and Milburn Stone. This introduced the series "Racket Squad", which lasted for three seasons and was nominated for two Primetime Emmys. Broadcast on CBS, Thursday, June 7, 1951.
Pilot 2
- "Cool and Lam" with Billy Pearson, Benay Venuta, Alison Hayes, Sheila Bromley. A light-hearted, detective yarn featuring characters first created by Erle Stanley Gardner. Bertha Cool runs a detective agency and Donald Lam is her junior partner, hence "Cool and Lam."
Pilot 3
- "The Life of Riley" with Lon Chaney, Jr., Rosemary DeCamp, John Brown. A heretofore lost pilot which starred Lon Chaney, Jr. as Chester Riley. This stand-alone episode was produced in 1948 but by the time the first season went into full production in 1949, Chaney had been replaced by no less than Jackie Gleason.
Pilot 4
- "Nero Wolfe" with Kurt Kasznar, William Shatner, Alexander Scourby. Includes a bonus CBS Blooper Reel hosted by James Arness.
Check out other new DVD/Blu-ray releases, streaming films, and information and reviews at OnVideo.
Comments