By Chris Kavan - 09/27/18 at 11:41 AM CT
The end of September is proving itself to be somewhat subdued when it comes to new releases. The Predator was a miss and while House with a Clock in Its Walls did well, it couldn't help save an otherwise lackluster weekend. This week brings us a bit more flavor, though I'm not sure it will be enough to revive those fall blahs at the box office. Smallfoot looks to snare families away from Jack Black and his House, Night School teams up Kevin Hart and Tiffany Haddish in a rollicking comedy, Hell Fest looks to ring in Halloween early and Little Women provides a contemporary update on a classic tale. We'll have to wait and see if any strike the right chord with audiences, however.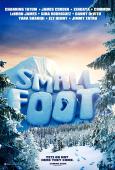 SMALLFOOT
Given the success of The House with a Clock in Its Walls, Smallfoot, a new animated film clearly aimed at families, may have to do a bit more heavy lifting to stand out at the box office. I have to admit, the story seems great - a colony of yetis (or bigfoots if you will) discover that the elusive "human" aka smallfoot, actually exists! Yes, it's a hilarious turn-around from our own beliefs about the hairy beasts, but I think it could work. Migo (Channing Tatum) is our smallfoot expert who will do anything to prove their existence and is helped along by his friend Meechee (Zendaya). And the rest of the cast looks great as well - James Corden (as our human), Gina Rodriguez, Danny DeVito, Patricia Heaton, Common and, uh, I guess LeBron James (because, why not?). In any case, the film looks to have a heart, talent and a decidedly interesting concept. If it can snare families away from House, then I don't see why it won't succeed, or at least make a grand effort.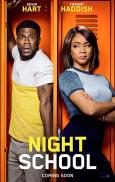 NIGHT SCHOOL
Bring together two talented, popular actors and that may just be enough to drive in audiences. Kevin Hart and Tiffany Haddish are at the top of their respective games right now when it comes to acting, and Night School, about hapless group of students trying desperately to pass the GED (including the most hapless of the hapless - Hart himself) and the teacher who will do her damnedest to make it happen (Haddish) seems like an excellent combination. The film has other great additions as well: Taran Killam, Keith David, Mary Lynn Rajskub, Ben Schwartz, Rob Riggle and Anne Winters are all on board as well. I mean, the premise is pretty straight-forward and simple, the film is going to excel or fail based on the two leads and their respective chemistry together. Both are also an acquired taste, however, and not everyone is going to flock out to see it. I have a feeling it's going to do okay, but don't expect it to open huge.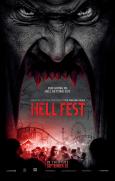 HELL FEST
Much the idea of turning Groundhog Day into a straight-up horror experience in Happy Death Day, I can't believe the idea behind new horror film Hell Fest hasn't been explored before. I mean, think about it: a traveling horror theme park/attraction that is known for its realistic portrayal of death and dismemberment - you know, for the kids. Of course, what better place for a slasher / serial killer to hang out when his horrific murders are just taken as part of the whole aesthetic. That's what happens to group of friends who enjoy the park's many gore-tastic attractions only to find themselves unwittingly becoming part of "fun" when they are targeted by the killer. It's a bit early to be releasing this one, but if it can make half as good as impact as The Nun, maybe it will stick around through October. I'm not entirely sold, but horror films are usually a good bet to hedge and with a mere $5.5 million budget, it doesn't have to reach for the stars to turn a profit.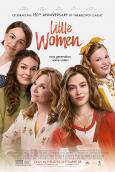 LITTLE WOMEN
Don't confuse this movie with the upcoming 2019 release of Little Women. That version is going to be a straight-up adaptation Louisa May Alcott's classic novel, with Greta Gerwig on board to direct and a red-hot cast. THIS version of Little Women is a much smaller affair and opening in far less theaters (just 643), just enough to be considered a wide release. It is also set in the modern day and while it keeps the core story of four sisters as they come of age and deal with triumphs and tribulations in their lives, it is also a re-imagination - meaning it's going to be a hard sell, even to the target demographic. As it stands, I have little reason to believe that Little Women is going to have anything but a minor impact at the box office this weekend, and will be out of theaters before mid-October.
Those are all the big films coming out this weekend with the best forecast for Smallfoot and Night School and we'll see if any older films can compete. I'll be back on Sunday with the full breakdown.
Comments