By Chris Kavan - 09/10/18 at 12:04 AM CT
The Nun conquered the box office in record fashion for The Conjuring's burgeoning series of films. It was also a decent debut for Jennifer Garner in Peppermint while Tom Cruise also had reason to celebrate while Crazy Rich Asians continued to deliver. If the fall season continues to deliver hits as big as this, it will be a September to remember and with plenty of high-profile films on the way, I don't see why we shouldn't celebrate early.

1) THE NUN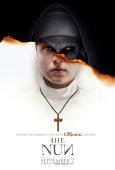 Even though the reviews were lukewarm at best, and audiences were about the same, that didn't stop The Nun from opening to the highest opening in The Conjuring franchise. At $53.5 million, The Nun easily topped the original Conjuring's $41.8 million to become the biggest opening in the series. It was also the second-best opening for September, behind It ($123.4 million) as well as the second-biggest opening for an R-rated horror film (also behind It). With that domestic and additional $77.5 million overseas, it pushed the entire Conjuring franchise to a $1.333.5 billion total - pushing it just ahead of the Aliens franchise ($1.328.1 billion) to become the biggest global R-rated horror franchise in history. That also makes it one of the biggest R-rated franchises ever, just behind The Matrix ($1.6 billion) and Deadpool ($1.5 billion) in terms of power rankings. The film played 51% male with 44% coming in 25 years or older, and it earned a "C" Cinemascore. Compared to previous Conjuring films, it played more male and younger than all the previous films. For fans of statistics, Warner Bros. has held the first and second place spot at the box office for the fourth straight weekend - the first time any studio has done so in over 25 years. If The Nun plays like other Conjuring films, a total in the $150 million range is likely, though we'll see if the likes of The Predator takes a bigger bite out of its audience.
2)
CRAZY RICH ASIANS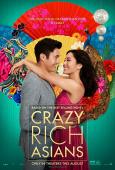 After four weeks in theaters, Crazy Rich Asians shows little sign of slowing down. At just a 38% dip, the popular romantic comedy earned another $13.6 million, giving it a new total of $136.22 million. That means the film officially passed The Meg ($131.5 million) to break into the top 10 for summer movies. It also surpassed the total of The Silver Linings Playbook ($132 million) to become the biggest romantic comedy in nearly a decade. The film is still taking a slow approach to the international box office with $5.6 million and it will open in some bigger markets, UK, Japan and Mexico in the next few weekends. The film should have no problem continuing on to $150 million domestic, and we'll see how it does as it rolls out overseas, but going forward things are looking good.
3)
PEPPERMINT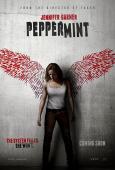 It has been a long time coming, but Jennifer Garner successfully stepped back into her action roots as Peppermint opened to a fine $13.26 million. That puts the film between the openings for Death Wish ($13 million) and John Wick ($14.4 million) while its "B+" Cinemascore is actually higher than the score for the other two films. The audience ran 57% female with 78% coming in 25 or older. It's a solid start for what could become an action franchise, but the big news is going to be how Peppermint does overseas. If it can command a decent debut in foreign markets, we may be looking at a much different story. Even if this is a one-and-done type of film, the $25 million production will ultimately wind up making enough money to put it in the black. And, hey, if Garner can compete with the boys like Liam Neeson and Keunu Reeves in action-centric roles - maybe it will open some doors for other films of this nature. I mean, Charlize Theron can't have all the fun, can she?
4)
THE MEG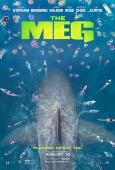 Warner Bros. nearly had the top three films at the box office, but The Meg (which dropped about 43%) had to settle for a fourth-place finish of $6.03 million, which helped it to a new $131.5 million total. It is on the cusp of topping $500 million worldwide, sitting pretty at $492 million right now. That is a fantastic total for the Jason Statham-led film, and I have a feeling that director Jon Turteltaub isn't going to have any trouble launching a new franchise out of this and with plenty of source material to be had, The Meg should spawn plenty of interest down the line.
5)
SEARCHING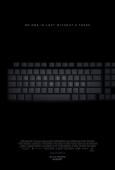 The thriller starring John Cho looking for his daughter told via various computer screens and videos, dipped a light 26%, taking in $4.51 million for a new total of $14.3 million. Granted, it also added over 800 theaters to its count, which probably helped stabilize those numbers. In any case, the film should have no problem topping $20 million and it already has $17.7 million overseas, so the film is going to do just fine in the long run. For a somewhat niche film, I would say this outcome is about as good as the studio would want.
Outside the top five: There wasn't much faith to be found with God Bless the Broken Road, which opened outside the top 10 in 11th place with just $1.56 million, well below studio estimates in the $4 million range. Faith-based films either do amazing or fall flat, and this is one that isn't going to make much of an impact.
In much better news, Tom Cruise has plenty of reason to celebrate as Mission: Impossible - Fallout earned $3.8 million (6th place), giving it a $212.1 million domestic total and, more importantly, a $700 million worldwide total, officially making it Cruise's biggest hit on the global market, topping the $694 million of Ghost Protocol. The film is within spitting distance of topping the domestic total for Mission: Impossible III ($215 million) and within reach of War of the Worlds ($235 million) though I think it will run out of gas before becoming Cruise's biggest domestic earner. Still, nothing wrong with that as Fallout is huge across the board.
Next week brings us four new films - The Predator, White Boy Rick, A Simple Favor and Unbroken: Path to Redemption. We'll see if any have as much impact as The Nun.
Comments