By Chris Kavan - 07/15/18 at 07:23 PM CT
It was supposed to be a close three-way race between Marvel's holdover, Dwayne Johnson's towering building and Adam Sandler's third family-friendly Transylvanian adventure. However, it was the animated film that dominated while Ant-Man and the Wasp took a sizable hit and Skyscraper struggled to find its footing. There was no contest, really even as July looks to continue what is looking to be a record year - or damn close.

1) HOTEL TRANSYLVANIA 3: SUMMER VACATION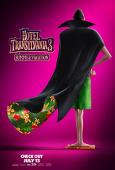 Once again, families proved their might at the box office by propelling the third entry in the Hotel Transylvania series into first place with a $44.1 million opening. That puts if firmly between the original Hotel Transylvania ($42 million) and the second entry ($48.5 million). The series is nothing if not consistent. It has $45.37 million when factoring in $1.27 million from Amazon Prime showings on June 30. It was positioned perfectly - during the fifth weekend of The Incredibles 2 which, while quite popular, has pretty much run its course with the family crowd. That means a new animated feature was primed to bring in the kids and while adults might not have been as impressed, the "A-" Cinemascore (the same grade as both previous Hotel Transylvania received) means that audiences were happy enough. It trended just slightly more female (52%) with just 32% of said audience coming in over 25. Given this is the only new animated feature until Teen Titans GO to the Movies on the 27th (and not likely to have that big of impact), a total in the $125-$150 million range is possible.
2)
ANT-MAN AND THE WASP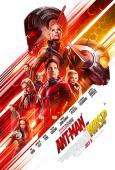 Thanks to healthy competition that targeted both the kiddos and adults over the weekend, Ant-Man and the Wasp took a healthy 62% tumble in its second weekend, right in line with the second-week drop for Spider-Man: Homecoming. The film took in $28.84 million, raising its total to $132.8 million. That does represent the largest second-week drop for a Marvel sequel, as well as joining just a handful of MCU films not to repeat as number one during its second weekend. The competition is quite heavy at the moment, but there it will eventually pass the original Ant-Man ($180 million) though we'll see if it can catch up to Thor: The Dark World ($206 million) to avoid becoming Marvel's lowest-grossing sequel. I'm finally going to check it out this week, so I'll see how it fits into the Marvel series. With $35.3 million international, the film has a worldwide gross of $283.7 million. At a $160 million budget (on the low end for Marvel, if you can believe it) this film will have no problem making it into the black, though it's not going to join the $1 billion club by any stretch.
3)
SKYSCRAPER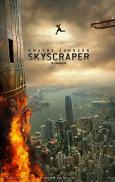 Without a strong supporting cast or even a compelling story, Dwayne Johnson just wasn't enough to carry Skycraper. The somewhat generic action film (Die Hard meets The Towering Inferno) could only nab a $25.48 million opening, well below most weekend forecasts, including the studio, which had hoped for at least $30 million. As for Johnson, at least is opened above Baywatch, though it fell short of Hercules ($29.8 million). Hercules went on to gross just $72.6 million, so I would think Skycraper would share a very similar fate. That means Skyscraper is going to have to rely on some overseas help to make back its $125 million price tag. With $40.4 million so far, it has a ways to go. In good news, the film earned a "B+" Cinemascore, impressing audiences more than critics, at least. But with Mission Impossible: Fallout on the near horizon, it really doesn't have that much time to impress. Skycraper might eek out $300 million worldwide total - and that would be a decent result though we'll have to see if it can reach it.
4)
THE INCREDIBLES 2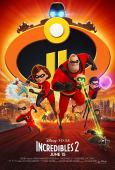 Even with the direct threat of Hotel Transylvania 3, The Incredibles 2 held strong, dropping 43% for a $16.22 million weekend and a new $535.8 million total. It just keeps solidifying its place atop the animated leaderboard (and Pixar). It also puts it ahead of both Rogue One ($532 million) and The Dark Knight ($535 million) on the all-time list, good enough for 9th place overall (and probably where it will stay, as the $620.1 million of The Last Jedi will remain out of reach). On the worldwide chart it added $33.3 million international for a new $857 million - and it should top $900 million by next weekend as it looks to break into the top 50 on that list. All told, this animated sequel is now the fourth Disney film of the year to join the top 10 domestic earners of all time and should continue strong through the end of July at least.
5)
JURASSIC WORLD: FALLEN KINGDOM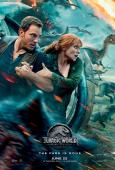 Rounding out the top five after taking a nearly 46% hit, Fallen Kingdom added another $15.5 million, giving it a new total of $363.3 million, crossing the $350 million mark in the process. With a great $12.67 million start in Japan (double the opening of Jurassic World), it raised the international total to an eye-popping $771.4 million and a worldwide total of $1.134 billion - good enough for 18th overall. Fallen Kingdom may finally be winding down on the domestic front - it should top $375 million and approach $400 million - but it has plenty of gas on the foreign front and will be a smash hit, even if I found it a bit underwhelming myself.
Outside the top five: After a fiery limited debut, Boots Riley's Sorry to Bother You expanded into 805 theaters, landing in 7th place with $4.25 million. That is an increase of 485.5% and jumping far from its 16th place opening. That is a fine result for the unique comedy and a $15 million or so total seems likely at this point.
Leading the pack for the per-theater average this week is another film that will probably see a healthy expansion, Eighth Grade, which earned $252,284 across just four theaters for a great $63,071 average. That is well above the average for Sorry to Bother You last weekend and we'll see if it translates to a wide appeal.
In milestone news - The First Purge is nearly to $50 million, if it doesn't cross it once the final numbers are tallied, it certainly will on Monday.
Next weekend brings us Mamma Mia! Here We Go Again, The Equalizer 2 and Unfriended: Dark Web - so a weekend full of sequels, everyone's favorite thing!
Comments