New on DVD and Blu-ray Week of May 22--May 29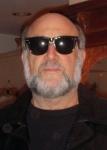 By Harley Lond - 05/22/18 at 04:44 PM CT
FROM THE BIG SCREEN:
Four lackluster films come to DVD and Blu-ray this week:

Clint Eastwood's "The 15:17 to Paris" is the real-life story of three men whose brave act turned them into heroes during a high-speed railway ride when they thwarted a terrorist attack on Thalys train #9364 bound for Paris on August 21, 2015. Since the action only takes up a few minutes, the film dwells on the heroes' back stories, which aren't all that interesting. From Warner ... Jennifer Lawrence stars in "Red Sparrow
" as a former ballerina forced to enter Sparrow School, a secret Russian government program that thrusts her into a treacherous espionage game
between Russia and the CIA. Lawrence, as always, excels, but the weak direction and story line let her down. Co-stars Joel Edgerton, Jeremy Irons, Matthias Schoenaerts, Mary-Louise Parker, Charlotte Rampling, Joely Richards. From Fox ... "Game Night
" is an adult comedy about three couples whose weekly mystery game night turns into the real thing when the brother of one of the participants is kidnapped by "fake" bad guys, and the gamers, thinking it's all for fun, try to track him down. Predictable. Stars Jason Bateman, Rachel McAdams, Kylie Bunbury, Kyle Chandler, Jesse Plemons, Michael C. Hall, Chelsea Peretti, Billy Magnussen, Danny Huston. From Warner ... "Wonderstruck
," based on Brian Selznick's critically acclaimed novel, intertwines the stories of two children from two different eras who secretly wish their lives were different. In 1977, Ben longs for the father he has never known, while in 1927, Rose dreams of a mysterious actress whose life she chronicles in a scrapbook. Sweet but uneventful. Stars Michelle Williams, Julianne Moore, Oakes Fegley, Tom Noonan, Cory Michael Smith, Amy Hargreaves, James Urbaniak. From Amazon.


THIS WEEK'S BEST BETS:

There's so many good, collectible titles this week that we can almost forgive the studios for the duds they sent us this week (see above). In alphabetical order:

"Beyond the Hills
" (2016 -- Romania): With this arresting drama based on notorious real-life events, Cristian Mungiu mounts a complex inquiry into faith, fanaticism, and indifference. At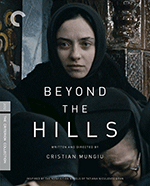 a desolate Romanian monastery, a young novice nun, Voichita (Cosmina Stratan), reunites with her former companion Alina (Cristina Flutur), who plans to take her to Germany. But Voichita proves unwilling to abandon her calling, and Alina becomes increasingly desperate to reclaim her devotion, putting the outsider at odds with the monastery's ascetic priest -- and precipitating a painfully misguided, brutal attempt to save her soul. A naturalistic tragedy with the dark force of a folktale, anchored by the fraught dynamic between cinema newcomers Flutur and Stratan (who shared the best actress prize at Cannes), "Beyond the Hills" bears powerful witness to individuals at cross-purposes and institutions ill-equipped to help those most in need. On DVD and Blu-ray, with 2K digital transfer, approved by director Cristian Mungiu, with 5.1 surround DTS-HD Master Audio soundtrack on the Blu-ray. From The Criterion Collection.

"Black Venus
(2010): Between "The Secret of the Grain," winner of three César Awards, and the Cannes triumph of "Blue Is the Warmest Colour," Abdellatif Kechiche made "Black Venus," a
stark portrait of the life of Saartjie Baartman, also known as the "Hottentot Venus." Baartman was taken from South African home as a 21-year-old and shipped to Georgian London, where she would be caged and exhibited as a freak show. Presented semi-nude, her physique -- especially her large buttocks -- was the source of much curiosity. But as her "fame" spread, so too did her exploitation. Centered on a remarkable performance by Cuban actor Yahima Torres as Baartman, Black Venus provides a bleak but barbed exploration of sex, science, race, colonialism and social attitudes. With optional 5.1 DTS-HD Master Audio and 2.0 DTS-HD Master Audio soundtracks. On Blu-ray from Arrow Video/MVD Entertainment.

"The Bloodthirsty Trilogy
" (1971-74 -- Japan): Inspired by the runaway success of the British and American gothic horror films of the sixties, Toho studios brought the vampiric tropes of the Dracula legend to Japanese screens with "The Vampire Doll" (1970), "Lake of Dracula" (1971) and "Evil of Dracula" (1974) -- three spookily effective cult classics collectively known as "The Bloodthirsty
Trilogy." In "The Vampire Doll," a young man goes missing after visiting his girlfriend's isolated country home. His sister and her boyfriend trace him to the creepy mansion, but their search becomes perilous when they uncover a gruesome family history. "Lake of Dracula" begins with a young girl suffering a terrifying nightmare of a vampire with blazing golden eyes. Eighteen years later, the dream is revealed to be a hellish prophecy when a strange package containing an empty coffin mysteriously turns up at a nearby lake. In "Evil of Dracula," a professor takes up a new post at an all-girls school only to discover the school's principle conceals a dark secret and the pupils are in grave danger. Abounding with images of dark thunderous nights, ghostly mansions and bloody fangs, Michio Yamamoto's trilogy emphasises atmosphere and style and is sure to please both fans of classic gothic horror and Japanese genre cinema. On Blu-ray, with high definition presentation transferred from original film elements, with uncompressed Mono 1.0 PCM audio. From Arrow Video/MVD Entertainment.

"Death Smiles on a Murderer
" (1973): A haunting and dreamlike Gothic horror/giallo hybrid, "Death Smiles on a Murderer" is a compelling early work from the legendary sleaze and horror film
director Joe D'Amato, here billed under his real name Aristide Massaccesi. Set in Austria in the early 1900s, the film stars Ewa Aulin as Greta, a beautiful young woman abused by her brother Franz (Luciano Rossi) and left to die in childbirth by her illicit lover, the aristocrat Dr. von Ravensbrück (Giacomo Rossi Stuart). Bereft with grief, Franz reanimates his dead sister using a formula engraved on an ancient Incan medallion. Greta then returns as an undead avenging angel, reaping revenge on the Ravensbrück family and her manically possessive brother. Presented here in a stunning 2K restoration, D'Amato's film is a stately and surreal supernatural mystery which benefits from an achingly mournful score by Berto Pisano, several shocking scenes of gore, and a typically sinister performance from Klaus Kinski as a morbid doctor. On Blu-ray, with new 2K restoration from the original camera negative and original Italian and English soundtracks with uncompressed Mono 1.0 PCM audio. From Arrow Video/MVD Entertainment.

"Graduation
" (2016 -- Romania): Blending rigorous naturalism with the precise construction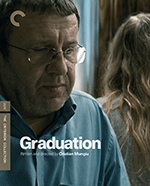 of a thriller, this Cannes award–winning drama from Cristian Mungiu sheds light on the high stakes and ethical complexities of life in contemporary Romania. As his daughter nears high-school graduation, Romeo (Adrian Titieni), an upstanding doctor, counts on her winning a competitive scholarship that will send her to university in England. But when an injury sustained during a sexual assault compromises her performance on an important exam, Romeo's best-laid plans for her threaten to crumble, leading him to seek favors in a world that runs on backscratching and bribery. Suffused with quiet dread, "Graduation" takes a humane and deeply ambiguous look at how corrosive rampant corruption is to moral convictions. On DVD and Blu-ray, with 2K digital master, approved by director Cristian Mungiu, with 5.1 surround DTS-HD Master Audio soundtrack on the Blu-ray. From The Criterion Collection.

"Mishima: A Life in Four Chapters
" (1985) Paul Schrader's visually stunning, collagelike portrait of the acclaimed Japanese author and playwright Yukio Mishima (played by Ken Ogata) investigates the inner turmoil and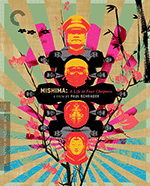 contradictions of a man who attempted the impossible task of finding harmony among self, art, and society. Taking place on Mishima's last day, when he famously committed public seppuku, the film is punctuated by extended flashbacks to the writer's life as well as by gloriously stylized evocations of his fictional works. With its rich cinematography by John Bailey, exquisite sets and costumes by Eiko Ishioka, and unforgettable, highly influential score by Philip Glass, "Mishima: A Life in Four Chapters" is a tribute to its subject and a bold, investigative work of art in its own right. On DVD and Blu-ray, with new, restored 4K digital transfer (Blu-ray) and restored high-definition digital transfer (DVD) of the director's cut, both supervised and approved by director Paul Schrader and cinematographer John Bailey, with 2.0 surround DTS-HD Master Audio soundtrack on the Blu-ray. From The Criterion Collection.

"Savannah Smiles
(Collector's Edition)" (1982) Savannah (Bridgette Andersen) is the precocious six-year-old daughter of a busy politician
who is consumed by his re-election campaign. She decides to run away from home and sneaks into a car driven by two escaped convicts, Alvie (Mark Miller) and Boots (Donovan Scott), in a crazy comedy of errors. Hiding in an abandoned house, the two bumbling crooks initially try to hold the adorable Savannah for ransom to obtain a hefty reward for her return, but an unexpected bond grows among Savannah, Alvie and Boots, creating a surrogate family they have never known before. Their relationship is tested when the convicts, now seen as kidnappers, must choose between their freedom and their new friend in this classic comedy. Written and produced by the film's star Mark Miller ("A Walk in the Clouds"), "Savannah Smiles" features an all-star supporting cast that includes Academy Award-nominee Pat Morita, Michael Park, John Fiedler, Fran Ryan and Golden Globe-winner Peter Graves and boasts a brand new 2K transfer from a 35mm print from the Library of Congress. In a Blu-ray/DVD Combo with original Mono Audio (Uncompressed PCM on the Blu-ray). From MVD Rewind.


BUZZIN' THE 'B'S:

When not mired in the corporate rat race, Wall Street executive Bart Hughes is king of his sleek Manhattan brownstone --until he finds his castle under siege by the most determined of home intruders in "Of Unknown Origin
" (1983), starring Peter Weller, Jennifer Dale, Lawrence Dane, Kenneth Welsh, Louis Del Grande, Shannon Tweed, Keith Knight and Maury Chaykin. Forced to enter a rat race of an entirely different sort, Bart takes a stand, with his survival and sanity at stake. New 2K scan from the interpositive. On Blu-ray from Scream Factory ...
In "Night Zero
" (2018), starring Katie Maloney, Eric Swader, Dawnelle Jewell, Vincent Bombara and Umar Faraz, a dinner party turns deadly when a group of friends are trapped inside of their house after a massive alien invasion threatens to take over the world. Things take a turn for the worse when they discover that the chemical the military is using to destroy the aliens is also turning humans into zombie-like savages. From Conquest Pictures/MVD Entertainment ... In "The Party
" (2017), starring Patricia Clarkson, Emily Mortimer, Cillian Murphy, Kristin Scott Thomas and Timothy Spall, an intimate gathering of friends goes haywire when an unexpected announcement sets off a chain reaction exposing secrets, sex, and betrayal within the room -- ending with a bang. A black comedy from Sally Potter, the acclaimed director of "Orlando" and "Ginger & Rosa." From Lionsgate ... In "I Kill Giants
" (2017), starring Zoe Saldana, Imogen Poots, Madison Wolfe and Sydney Wade, teen Barbara Thorson (Wolfe) is the only thing that stands between terrible giants and the destruction of her small town. But as she boldly confronts her fears in increasingly dangerous ways, her new school counselor (Saldana) leads her to question everything she's always believed to be true. Based on the critically acclaimed "Man of Action" graphic novel written by Kelly and Ken Niimura ("Henshin"). On DVD, Blu-ray from RLJE Films ... Set against the backdrop of a country divided, "Masterpiece: Little Women" (2018), starring Emily Watson, Michael Gambon, Angela Lansbury, Maya Hawke, Willa Fitzgerald, Annes Elwy, Kathryn Newton and Dylan Baker, follows the four March sisters on their journey from childhood to adulthood while their father is away at war. Under the guidance of their mother Marmee, the girls navigate what it means to be a young woman: from gender roles to sibling rivalry, first love, loss and marriage. Accompanied by the charming boy next door Laurie Laurence, their cantankerous wealthy Aunt March and benevolent neighbor Mr. Laurence, "Little Women" is a coming-of-age story that is as relevant and engaging today as it was on its original publication in 1868. On DVD, Blu-ray, from PBS Distribution.


ON THE INDIE FRONT:
"Swung
" (2017), starring Owen McDonnell, Elena Anaya and Elizabeth McGovern, is based on Ewan Morrison's internationally acclaimed novel of the same name The film is a no-holds-barred look at sex in the modern world.David (McDonnell) is a recently out of work designer going through a divorce. Lately, he's been having difficulties in the bedroom with his girlfriend Alice (Anaya), a journalist, so the two begin to investigate ways to shake things up. After a stimulating encounter with two swingers adds the missing spice to their relationship, they decide to expand their sexual boundaries and explore even more intimacy with strangers. From Film Movement.


FOREIGN FILMS:
"A Fantastic Woman
" (2017 -- Chile), starring Daniela Vega, Francisco Reyes and Luis
Gnecco, is the story of a young transgender aspiring singer who must confront society and her older lover's family when he dies unexpectedly. Marina, a young transgender waitress and aspiring singer, and Orlando, an older man, are in love and planning for the future. After Orlando suddenly falls ill and dies, Marina is forced to confront his family and society, and to fight again to show them who she is: complex, strong, forthright, fantastic. Academy Award-winner for Best Foreign Language film of the year. On Blu-ray from Sony ... In "Souvenir
" (2016 -- France), Liliane (Isabelle Huppert) lives a modest and monotonous life. By day, she works in a pâté factory, and by night, she sits on the couch and watches TV. One day, a new worker named Jean (Kévin Azaïs) arrives. The two form a platonic relationship, but Jean grows increasingly convinced that he recognizes Liliane from a European singing contest he saw as a child. Eventually, Jean convinces Liliane to confront her past. A beautiful portrayal of a friendship between two people from different generations, who come together to make a life changing comeback. From Strand Releasing.


FOR THE FAMILY:

From Aardman, the award-winning tribe that created "Wallace & Gromit," "Chicken Run," and "Shaun the Sheep Movie," this claymation animated prehistoric romp "Early Man
" (2018), with the voices of Eddie Redmayne, Tom Hiddleston, Maisie Williams, Timothy Spall, tells the story of courageous caveman hero Dug (Eddie Redmayne) and his best friend, Hognob, as they unite their tribe against a mighty enemy — Lord Nooth (Tom Hiddleston) and his Bronze Age City — to save their
home. On DVD, Blu-ray/DVD Combo, from Lionsgate ... "A Sunny Day" (2018) features four episodes from the preschool series' first season that follows 10-year-old master hairstylist and entrepreneur Sunny. Along with the help of her best friends Blair and Rox, and her loyal and lovable puppy Doodle, Sunny confidently takes on any challenge thrown her way. The characters in the series celebrate individuality and self-expression, while the show's social-emotional curriculum highlights leadership, innovative thinking and teamwork. From Nickelodeon/Paramount ... In "Daphne & Velma" (2018), starring Sarah Jeffery and Sarah Gilman, Scooby-Doo's leading ladies star in their very own live-action feature film. State of the art robots and high-tech gadgets are common sights at Ridge Valley High, an innovative center of learning for some of the brightest minds in the country, including new transfer student, the bright and optimistic Daphne Blake (Jeffery) who is excited to finally go to school with her online bestie, the whip-smart and analytical Velma Dinkley (Gilman). But not everything is as innocent as it seems as mysterious disappearances begin to plague the top-performing students on campus. Once cheery and full of life, kids now appear in a "zombiefied" state -- lifeless shells of themselves. Can Daphne and Velma learn to work together and save the students or will they become the next victims? On DVD, Blu-ray, from Warner.


FROM TV TO DISC:

"Gunsmoke: The Thirteenth Season, Volume One" and "Gunsmoke: The Thirteenth Season, Volume Two" (1967-68) continue the adventures of U.S. Marshall Matt Dillon (James Arness) alongside the loyal Doc Adams (Milburn Stone), sexy saloon proprietress Miss Kitty (Amanda Blake) and lovable Deputy Festus Haggen (Ken Curtis). The 13th season of television's beloved Western follows Dillon as he corrals dangerous outlaws and deals with problems of the Wild West: epic gunfights,
brawls, cold-blooded murderers and bank robbers. Volume 1 is a four-disc set with 15 episodes, Volume 2 is a three-disc set with 10 episodes. From CBS/Paramount ... "Hostages: Season 1" (2013 -- Israel) is a two-disc set with 10 episodes. When four masked men violently break into the Danon family home, taking them hostages, the family of four will be shaken to the core and their lives will change forever. In season one, the kidnappers demand that Yael, the matriarch of the family and a brilliant surgeon, kill the Israeli Prime Minister during a routine surgery. If the Prime Minister does not die, Yael's family soon will. Desperate to save her family but keep her patient alive, Yael uses her wits to delay the decision until the last possible moment. During this terrifying time in which the kidnappers and hostages are bound together, a tangled web of secrets and lies are revealed. From Kino Lorber ... "The Loud House: It Gets Louder - Season 1, Volume 2" (2016) is a two-disc set with all 13 episodes of the chaotic animated family comedy in which Lincoln Loud is an 11-year-old boy who lives with 10 sisters. With the help of his right-hand man Clyde, Lincoln finds new ways to survive in such a large family every day. From Nickelodeon/Paramount.

Check out other new DVD/Blu-ray releases, streaming films, and information and reviews at OnVideo.