New in Theaters May 26: Baywatch, Pirates of the Caribbean: Dead Men Tell No Tales
By Chris Kavan - 05/25/17 at 06:38 AM CT
School's out for summer - well, for a vast majority of the nation, anyway. Which means one thing - Memorial Day Weekend is going to be huge! It is pretty much every year, but early estimates put both new films (Pirates of the Caribbean and Baywatch) in line for decent, if not spectacular, openings. The fifth Pirates is looking at an $80 million plus opening, with Baywatch likely to open to half that much. It may not be a record-breaking Memorial Day Weekend, but I'm sure the people who are looking to have a good time will find it.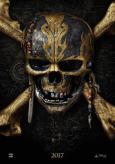 PIRATES OF THE CARIBBEAN: DEAD MEN TELL NO TALES The Pirates franchise has been very good for Disney. Two out of the four have grossed over $1 billion worldwide (Dead Man's Chest and On Stranger Tides) with At World's End coming darn close with $963 million. If there is one complaint I have, it's that after the first two films, it all started to feel way too familiar. Johnny Depp does his best to impersonate Keith Richards, throw in some undead villain, probably an attractive secondary lead - special effects, danger, humor - rum - and you've got a Pirates film! If the reviews are any indication, Dead Men Tell No Tales is a kind of boring rehash - with much of the praise going to Javier Bardem and not much else. Still, people seem actively interested in checking this out - but I can't say I'm waiting with baited breath. Much like the next Transformers movie, I will likely relegate this to personal viewing as I just can't muster up enough enthusiasm to check it out in theaters (unless coerced by friends). I'm sure it will make a profit, but I bet, like the previous films, most of it is going to come from overseas.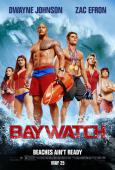 BAYWATCH If you're not in to Depp and undead pirate antics, perhaps some buff bods and beautiful babes will scratch your itch. Enter Dwayne Johnson, Zac Efron, Alexandra Daddario, Priyanka Chopra, Kelly Rohrbach, Ilfenesh Hadera and Jon Bass - yes, Baywatch has returned or, as I like to say, the beach is back. This is not a film you go in to expecting a deep and moving journey - this is all about having fun. Plus, after his memorable cameo (and melodic vocals) in Guardians of the Galaxy Vol. 2, David Hasselhoff is going to grace the big screen once again. Essentially the film follow brash young upstart lifeguard Matt Brody (Efron) as he butts heads with veteran Mitch Buchannon (Johnson) but who both come together when a plot is revealed that threatens the sanctity of their beach. Plus, Chopra plays the main villain - how sexy is that? The movie sure looks like a lot of fun - even if reviews have been even more scathing than the Pirates, but no one goes in to this expecting it to get rave reviews. You want to have fun and, with an R-rating, maybe a pushing the buttons a bit more than the campy TV series ever did. We'll see how far audiences are willing to wade in.


It should be a solid holiday weekend with Pirates, Baywatch and the Guardians still holding down the fort. I don't expect any major records to be broken, but hopefully it continues to make summer a winning season for Hollywood. I'll be back on Monday with the extra-long holiday wrap-up.