New in Theaters March 10: Kong: Skull Island
By Chris Kavan - 03/09/17 at 06:48 AM CT
Hugh Jackman and his Wolverine alter ego went out with a huge bang - even bigger than expected with an $88.4 million weekend. That is an impressive total for an R-rated superhero movie. There is only one new wide release looking to crash the Logan party, and he's a big guest. Kong: Skull Island takes place in the same universe as the Godzilla (2014) movie and is supposedly the next step in bringing several of the huge monsters into one, big brawl. In any case, the film has been generating a lot of buzz and it should make for an excellent weekend for Hollywood.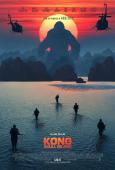 KONG: SKULL ISLAND The reinvention of King Kong comes 12 years after Peter Jackson attempted to stage his own comeback for the giant ape. This time, however, there is a greater plan in motion that will ultimately end with a bunch of giant monsters fighting each other. While the 2014 version of Godzilla wasn't a huge blockbuster, it was enough to get the ball rolling. Kong: Skull Island is the second chapter, and it looks to throw its weight around. Once again, man has traveled to where they are not welcome - a primal, uncharted island where great beasts still roam - none mightier than the one known as Kong. In short order an exploratory expedition soon becomes a fight for survival, pitting soldiers against a far deadlier threat than they could ever imagine. The pedigree for the film is high - Oscar winner Brie Larson is on board, along with Marvel vets Tom Hiddleston and Samuel L. Jackson. You have John C. Reilly, John Goodman and John Ortiz (a trio of Johns!) - Straight Outta Compton and the New Jack Bauer Corey Hawkins, Tian Jing, Toby Kebbell, Shea Whigham and Jason Mitchell. That is a great lineup for any film and I'm thinking this monster movie is going to pack a lot more punch than your typical film of this ilk because of it. Aside from the knockout cast, the film looks great - lots of action and special effects to back up that acting muscle. If this is meant to kickoff another monster franchise, it looks like the studio went all out and while director Jordan Vogt-Roberts doesn't have any films quite like this under his belt - I'm going to give him the benefit of the doubt and say this might springboard his career a bit.


Kong is the big boy on the block, but don't forget that Logan is still going strong. Between the two, I think we're looking as a very impressive box office weekend. I'll see you on Sunday with the results.