New on DVD and Blu-ray Week of August 23-August 29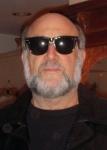 By Harley Lond - 08/23/16 at 02:30 AM CT
FROM THE BIG SCREEN:
There's a mixed bag of releases coming to home video this week: The surprise hit action-thriller-comedy "The Nice Guys" turns the buddy film sideways with the unlikely pairing of a down-on-his-luck private eye (Ryan Gosling) with a hired enforcer (Russell Crowe) who hurts people for a living. Fate turns them into unlikely partners after a young woman named Amelia (Margaret Qualley) mysteriously disappears. The pair soon learn the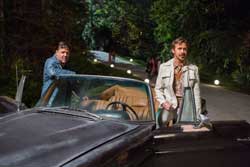 hard way that some dangerous people are also looking for Amelia, and their investigation takes them to dark places as they uncover a conspiracy that reaches up to the highest circles of power. It's a fun outing, with terrific performances by Gosling and Crowe, under the sure hand of director Shane Black. Co-stars Kim Basinger, Matt Bomer, Keith David, Beau Knapp and Angourie Rice. Extras for The Nice Guys
include a making-of featurette. From Warner ... "The Huntsman: Winter's War
" brings back Charlize Theron and Chris Hemsworth in a sequel to 2012's "Snow White and the Huntsman." This time around Freya the Ice Queen (Emily Blunt) brings her sister Ravenna (Theron) back to life, and the powerful evil siblings plan to conquer the Enchanted Forest. Only the Huntsman (Hemsworth) and his secret lover Sara (Jessica Chastain) can stop them. Extras include commentary, deleted scenes, a gag reel and a costume featurette. From Universal ... Greta Gerwig turns in yet another performance as a quirky young woman looking for love and life in New York City in "Maggie's Plan
." Longing to start a family, the thirtysomething becomes involved in a complicated love triangle with a professor (Ethan Hawke) and his theorist wife (Julianne Moore). It's a Woody Allen-esque rom-com directed by Rebecca Miller. Extras include commentary, outtakes and a making-of featurette. From Sony.


THIS WEEK'S HIGHLIGHTS:

Two great classics of 1960s cinema make their way to DVD and Blu-ray this week, coutesy of The Criterion Collection. The revolutionary British New Wave films of the early 1960s were celebrated for their uncompromising depictions of working-class lives and relations between the sexes. Directed by Tony Richardson, a leading light of that movement, and based on one of the most controversial plays of its time, "A Taste of Honey
" (1961) stars Rita Tushingham, in a star-making debut role, as a disaffected teenager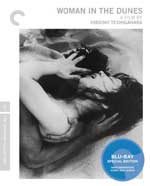 finding her way amid the economic desperation of industrial Manchester, and despite an absent, self-absorbed mother. With its unapologetic identification with social outcasts and its sensitive, modern approach to matters of sexuality and race, Richardson's classic is a still startling benchmark work of realism. In a new, restored 4K digital transfer, with uncompressed monaural soundtrack on the Blu-ray ... "Woman in the Dunes
" (1964) was truly one of the 1960s' great international art-house sensations, revealing as it did the surreal, idiosyncratic world of Hiroshi Teshigahara ("The Face of Another"). Anyone who sees this film cannot forget its unique take on sensuallity and sand dunes. Eiji Okada ("Hiroshima mon amour") plays an amateur entomologist who has left Tokyo to study an unclassified species of beetle found in a vast desert. When he misses his bus back to civilization, he is persuaded to spend the night with a young widow (Kyoko Kishida) in her hut at the bottom of a sand dune. What results is one of cinema's most unnerving and palpably erotic battles of the sexes, as well as a nightmarish depiction of the Sisyphean struggle of everyday life -- an achievement that garnered Teshigahara an Academy Award nomination for best director. In a new high-definition digital restoration, with uncompressed monaural soundtrack on the Blu-ray.


BUZZIN' THE 'B'S:
"The Bloodstained Butterfly
" (1971), directed by Duccio Tessari ("Death Occurred Last Night," "A Pistol for Ringo"), melds the lurid giallo traditions popularized by Dario Argento and Mario Bava with courtroom drama, resulting in a film that is as concerned with forensic detail and legal process as it is with grisly murders and audacious set-pieces. When a young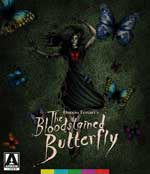 female student is savagely killed in a park during a thunderstorm, the culprit seems obvious: her lover, TV sports personality Alessandro Marchi, seen fleeing the scene of the crime by numerous eyewitnesses. The evidence against him is damning ... but is it all too convenient? And when the killer strikes again while Marchi is in custody, it quickly becomes apparent that there's more to the case than meets the eye. Starring 70s heartthrob Helmut Berger alongside genre mainstays Evelyn Stewart and Carole André and featuring a score by Gianni Ferrio, "The Bloodstained Butterfly" is presented uncut and in a sumptuous new 4K restoration that allows this unique and haunting thriller to shine like never before. With original Italian and English soundtracks in DTS-HD MA mono 1.0 in a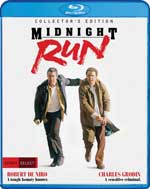 Blu-ray/DVD Combo. From Arrow Video/MVD Entertainment ... In "The Duel
" (2016), starring Woody Harrelson and Liam Hemsworth, a Texas Ranger (Hemsworth) investigates a series of murders in a small town led by a charismatic preacher (Harrelson); the routine undercover investigation soon turns personal for the Ranger, who must solve the case before he loses everything to the mysterious town. On DVD, Blu-ray Disc from Lionsgate ... On of the better guilty pleasures of the 1980s was Martin Brest's "Midnight Run
" (1988), starring Robert De Niro as a disgraced ex-cop-turned bail bond bounty hunter tasked with travelling cross-country to bring a mob accountant to court to testify against his bosses. The film revels in slapstick violence and wacky situations and co-stars Charles Grodin, Yaphet Kotto, John Ashton, Dennis Farina and Joe Pantoliano. Shout! Factory Shout Select brings it to Blu-ray this week. Very cool. In "Clown
" (2014), starring Laura Allen, Andy Powers and Peter Stormare, a loving father who dons a clown outfit and makeup to perform at his son's sixth birthday discover that the costume -- red nose and wig included -- won't come off. What's worse -- his personality changes in a horrific fashion. To break the curse of the evil outfit, the father must make grim choices with his own family facing danger. On DVD, Blu-ray Disc from Dimension Films/Anchor Bay.


ON THE INDIE FRONT:
"The Man Who Knew Infinity
" (2016), starring Dev Patel, Jeremy Irons, Devika Bhise, Stephen Fry, Toby Jones and Jeremy Northam, is the true story of a friendship that forever changed mathematics. In 1913, Ramanujan (Dev Patel), a self-taught Indian mathematics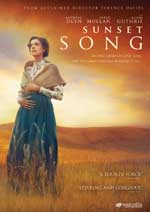 genius, traveled to Trinity College, Cambridge, where he forged a bond with his mentor, the eccentric professor GH Hardy (Jeremy Irons), and fought against prejudice to reveal his mathematic genius to the world. On DVD, Blu-ray Disc from IFC Films ... "Sunset Song
" (2016 -- U.K.) is director Terence Davies' ("The House of Mirth") intimate epic of hope, tragedy and love at the dawning of the Great War. A young woman's endurance against the hardships of rural Scottish life, based on the novel by Lewis Grassic Gibbon. The film takes place during the early years of the 20th century and is driven by the young heroine Chris (Agyness Deyn,) and her intense passion for life, for the unsettling Ewan (Kevin Guthrie) and for the unforgiving land. The First World War reaches out from afar, bringing the modern world to bear on the community in the harshest possible way, yet in a final moment of grace, Chris endures, now a woman of remarkable strength who is able to draw from the ancient land in looking to the future. From Magnolia Home Entertainment.


FOR THE FAMILY:

Based on the popular video game franchise, the animated sci-fi adventure "Ratchet & Clank
" (2016), with the voices of Paul Giamatti, John Goodman, Rosario Dawson and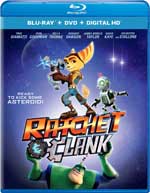 Sylvester Stallone, follows two unlikely heroes as they struggle to stop a vile alien from destroying every planet in the Solana Galaxy. Ratchet is the last of his kind, a foolhardy "Lombax" who has grown up alone on a backwater planet with no family of his own. Clank is a pint-sized robot with more brains than brawn. When the two stumble upon a dangerous weapon capable of destroying entire planets they must join forces with a team of colorful heroes called the Galactic Rangers in order to save the galaxy. On DVD, Blu-ray/DVD Combo from Universal ... Wonder Woman, Supergirl, Batgirl, Harley Quinn, Bumblebee, Poison Ivy and Katana band together to navigate the twists and turns of high school at Super Hero High in "DC Super Hero Girls: Hero of the Year" (2016), with six animated adventures for girls 6-12. From Warner.


FROM TV TO DVD:

"Ash vs Evil Dead" (2015) is a two-disc set with all 10 episodes of the half-hour STARZ Original series that is the long-awaited follow-up to the classic horror film "The Evil Dead"; the series is executive produced by "Evil Dead" creator Sam Raimi, Rob Tapert and Bruce Campbell, and stars Campbell in his iconic role as Ash, the stock boy, now an aging lothario and chainsaw-handed monster hunter who has spent the last 30 years avoiding responsibility, maturity and the terrors of the Evil Dead. When a Deadite plague threatens to destroy all of mankind, Ash is finally forced to face his demons -- personal and literal. Destiny, it turns out, has no plans to release the unlikely hero from its "Evil" grip. On DVD, Blu-ray Disc from Anchor Bay ...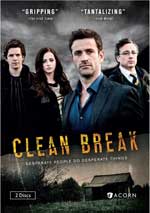 The atmospheric four-part crime drama "Clean Break" (2015) is a gripping story of greed and revenge in a small Irish town. Car dealer Frank Mallon (Adam Fergus) is watching his life fall apart around him. His wife has left him, his cars aren't selling, and his teenage daughter, Corrina (Kelly Thornton), is out of control. When bank manager Desmond Rane (Aidan McArdle) tells Frank he's about to lose everything, Frank devises a plan to fix his money problems while also getting revenge on the people who are making his life miserable. But when the plan goes awry and one of his conspirators (Damien Molony) disappears, Frank's troubles multiply as old jealousies come to light and lives are put at risk.In a two-disc DVD from Acorn Media ... "DC's Legends of Tomorrow: The Complete First Season" (2016): From the creators of The Flash and Arrow comes this Super Hero team-up that combines characters from both series, as well as new heroes from the DC Comics pantheon. Focuses on time-traveling rogue Rip Hunter, who has to recruit a rag-tag team of heroes and villains to help prevent an apocalypse that could impact not only Earth, but all of time. All 16 episodes on four-disc DVD, two-disc Blu-ray sets, from Warner ...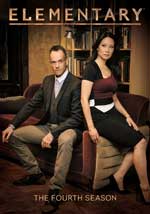 "Elementary: The Fourth Season" (2015-16) is a six-disc set with all 24 episodes that follows the adventures of a modern-day Sherlock Holmes, living in NYC; Jonny Lee Miller portrays the iconic detective and Lucy Liu plays his legendary investigating partner Dr. Joan Watson. In the latest season, Holmes struggles to maintain his sobriety and attempts to keep his sanity despite the looming threat of a prison sentence. Meanwhile, the crime-solving duo continues to crack some of the NYPD's toughest cases when old enemies resurface, former files are reopened and new crimes run rampant close to home. Yet, the biggest obstacle the duo must face follows the unexpected arrival of Sherlock's estranged father, Morland Holmes (John Noble). Does he hold their best interest at heart or is he scheming for something far bigger than all of them combined? From CBS/Paramount ... "Lucifer: The Complete First Season" (2015-16) is a three-disc set with all 13 episodes of the series that follows Lucifer, bored and unhappy as the Lord of Hell, who has resigned his throne and retired to the City of Angels where he is indulging in a few of his favorite things — wine, women and song. When a beautiful pop star is brutally murdered before his eyes, he feels something awaken deep within him – for the first time in roughly 10 billion years. Is he actually capable of feelings for a human being? The murder attracts the attention of LAPD homicide detective Chloe Decker, who finds herself both repulsed and fascinated by Lucifer. As they work together to solve the murder, Lucifer is struck by Chloe's inherent goodness. Used to dealing with the absolute worst of humanity, he begins to wonder if there's hope yet, and he becomes a consultant for the LAPD. Based on the character from DC Entertainment's Vertigo comic. On DVD, Blu-ray Disc, from Warner ... "Masterpiece Mystery!: Endeavour Series 3" (2016) is a two-disc set with four all new episodes that follow a young Endeavour Morse (Shaun Evans) as he and his partner, Detective Inspector Fred Thursday (Roger Allam), investigate crimes around Oxford in 1967. The crimes include a carnival that turns sinister when a young bus conductress is murdered, a horrendous house fire, a missing person's case that contains similarities to a cold case, and a run-in with a notorious Oxford crime family. From PBS Distribution ...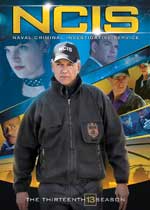 "Masterpiece Mystery!: Inspector Lewis Season 8" (2015) is a two-disc set with three full-length episodes. Kevin Whately and Laurence Fox return for one last time as Inspector Lewis and Inspector Hathaway, investigating new cases of murder and other crimes in the seemingly perfect academic haven of Oxford. The arrival of new Chief Superintendent heralds a fresh dawn for Oxfordshire Police, although the high flyer soon clashes with Robbie Lewis over the latter's more traditional approach to detective work. With forensic pathologist Laura Hobson contemplating early retirement, and the new boss piling on the pressure, will Lewis finally decide to call time on his policing career? From PBS Distribution ... The Golden Globe-nominated series " Narcos: Season 1" (2015) follows the true-life story of the rise of international cocaine cartels -- and the battle waged by law enforcement to stop them. At the center of the conflict are Pablo Escobar (Wagner Moura), the notorious Colombian drug kingpin, and the two DEA agents sent to take him down: Steve Murphy (Boyd Holbrook) and Javier Peña (Pedro Pascal). All 10 episodes in four-disc DVD, three-disc Blu-ray sets, from Lionsgate ... "NCIS: The Thirteenth Season" (2015-16) is a six-disc set with all 24 episodes. Led by Special Agent Leroy Jethro Gibbs (Mark Harmon), the NCIS team continues to investigate all crimes with Navy or Marine Corps ties, from murder and espionage, to terrorism and stolen submarines. The popular ensemble cast also includes Michael Weatherly, Sean Murray, Pauley Perrette, Rocky Carroll, Brian Dietzen, David McCallum and Emily Wickersham. From CBS/Paramount ...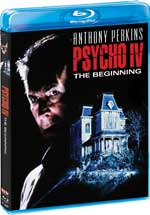 "Psycho IV: The Beginning
" (1990), starring Anthony Perkins, Henry Thomas, Olivia Hussey and CCH Pounder, is a prequel to the classic Hitchcock thriller. A seemingly rehabilitated Norman Bates (Perkins) is drawn to a late-night radio show where the host (Pounder) encourages him to share his views on the topic of matricide. Reliving his childhood, Norman recounts his trials as a young boy (Thomas) living with his widowed schizophrenic mother (Hussey). These haunting memories are more than just disturbing visions of the past; they threaten to rekindle his killing urge. On Blu-ray Disc. from Scream factory ... "Superstore: Season One" (2015-16) is a two-disc set with all 11 episodes of the workplace comedy that ventures into the world of retail hell. Starring America Ferrera ("Ugly Betty") and Ben Feldman ("Mad Men, A to Z"), the giant megastore is staffed by employees ranging from bright-eyed newbies and the seen-it-all veterans, to the clueless summer hires and the in-it-for-life managers. Together they tackle the day-to-day grind of rabid bargain hunters, riot-causing sales and nap-worthy training sessions. From Universal ... The mysterious epidemic transforming the citizens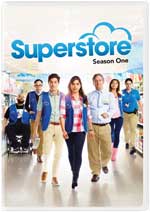 of New York into horrifying creatures continues to rage during the second season of "The Strain" (2015), with 13 episodes on four-disc DVD, three-disc Blu-ray sets. From Fox ... "The Walking Dead: The Complete Sixth Season" (2015-2016) starts with Alexandria's safety shattered by multiple threats. To make it, the people of Alexandria will need to catch up with Rick and the other survivors' hardness, while many of Rick's people will need to take a step back from the violence and pragmatism they've needed to embrace. These reversals won't happen easily, or without conflict. But now Rick's group is fighting for something more than survival ... They're fighting for their home, and they will defend that at any cost, against any threat, even if that threat comes from within. Five-disc set with all 16 episodes from Starz/Anchor Bay ... "The Wonder Years: The Complete Series" (1988-1993) is a 22-disc set with all 115 landmark episodes and nearly 12 hours of exclusive bonus features, repackaged from $119.95 from Time Life.

Check out other August 23-August 29 DVD releases and reviews at OnVideo.