New in Theaters August 05: Suicide Squad, Nine Lives
By Chris Kavan - 08/04/16 at 06:45 AM CT
There is pretty much no doubt as to which film is going to open on top this weekend. For months now all we have heard about is how different Suicide Squad is going to be from Batman v. Superman - DC needs a win and this is supposed to be their answer. Aside from that, Kevin Spacey is a cat. I have a feeling I know what film is going to get the bulk of attention. Granted, Jason Bourne should hopefully have a good second weekend (at least holding on better than Star Trek) and Sunday will bring good news again.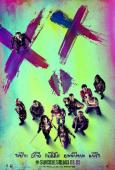 SUICIDE SQUAD Let's no mince words, DC's attempt to carve a place alongside Marvel's Avengers and such has been rocky as best. Man of Steel was too dark, Batman v. Superman didn't do much to improve it and now we have Suicide Squad. This is a film where the worst of the worst villains (Harley Quinn, Deadshot, Enchantress, Diablo, Killer Croc and Boomerang) are recruited to help fight something even worse. Director David Ayer (known for Fury and End of Watch) was given a hard task - to make these characters relatable while not going too dark. The cast looks good - Will Smith, Jared Leto, Viola Davis, Jai Courtney, Margot Robbie, Jay Hernandez, Adewale Akinnuoye-Agbaje, Cara Delevingne and Joel Kinnaman are all on board this wild ride. We have been seeing previews and teasers for this for a long time - but early reviews have been pretty harsh. Most say the film can't find its footing, opening with too many flashbacks then going to all-out action. Essentially it's like diving into The Avengers without first getting to know any of the superheroes first. Some also call the film sexist, but, come on, what were you expecting? Praise has been given to the actors (Davis, Robbie and Leto are mentioned the most) but overall "messy" is the best description for the result. Everyone is still saying this is going to break all kinds of records, so we'll see if the critics have any affect on the bottom line. I'll still gladly see this one just to witness the insanity, even if the film is uneven.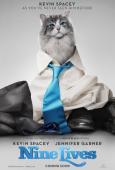 NINE LIVES Call this the biggest case of counter-programming of the year. While a huge chunk of movie-goers are going to be watching villains play the hero, I'm sure more than a few are going to be watching Kevin Spacey pretend to be a cat. Spacey plays a hotshot businessman Tom Brand who, of course, is disconnected from his family: beautiful wife Lara (Jennifer Garner) and his about-to-turn 11-year-old daughter Rebecca (Malina Weissman). Scrambling to find a birthday present, Tom reluctantly decides to give her a cat and finds the closest store which happens to be run by Christopher Walken. Long story short, Tom finds himself in the body of the cat he was planning to give to his daughter and hilarity ensues. It takes a special brand of madness to even think of such an idea, let alone decide to cast Spacey (who is so slimeball good in House of Cards) but we'll see how big an audience this gets. I can't imagine a huge one but it's nearing the end of summer so we'll see if another family film can find its legs.


It should be a big weekend for at least one film. Come Sunday we'll see if Suicide Squad can rise above the mediocre critic response and carve out a name for itself, and DC, and get the other cinematic universe back on track.