New on DVD and Blu-ray Week of July 26-August 1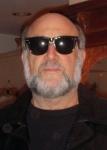 By Harley Lond - 07/26/16 at 05:58 PM CT
THIS WEEK'S BEST BETS:
There's something about down-and-out antihero detectives that endears then to book readers, TV viewers and moviegoers; from Philip Marlowe and Sam Spade to Johnny Staccato and Jim Rockford, from Jackson Brodie to Harry Hole, these guys are damaged yet have strong moral compasses; they've been beat down by the system yet stand up and fight back again and again; they're world-weary with a dash of dark humor. Which brings us to Jack Irish, a former criminal lawyer reeling from his wife's murder (as a result of one of his cases) who reinvents himself as a part-time private investigator and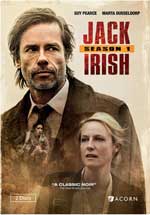 debt collector; he also works as an apprentice carpenter and has a penchant for drowning his demons at the local pub. Fans of Australian Peter Temple's charismatic Jack Irish and Guy Pearce (who plays Irish) will rejoice this week when Acorn Media releases two great sets of Jack Irish DVDs. The first is "Jack Irish, Season 1" (2016 -- Australia), a new six-part noir thriller that co-stars Marta Dusseldorp ("A Place to Call Home," "Janet King"). From the island of Mindanao in the Philippines to Melbourne, Jack is caught in a global web of religious zealotry among right-wing Christians and media-savvy jihadists. When Jack is contracted to find a man with a criminal past who is then killed in front of him, Jack suspects a set-up. The case spirals into a larger international conspiracy involving Muslim extremists and born-again Christians. Meanwhile, Jack's on-again, off-again girlfriend, journalist Linda Hillier (Marta Dusseldorp), leaves Melbourne to further her career as a foreign correspondent in Manila. Though the job is not exactly what she had planned, Linda quickly realizes she may be on to a big story. As their cases eventually intertwine, Jack and Linda's reunion is tested by the arrival of Sarah Longmore (Claudia Karvan), a metal sculptor with connections. In two-disc DVD and Blu-ray sets. Acorn has also repackaged for a new audience three previously released Jack Irish movies, appropriately titled "Jack Irish: The Movies" These three television movies -- "Bad Debts" (2012), "Black Tide" (2012) and "Dead Point" (2014) -- are all based on the award-winning novels by Temple. When an old client dies, Jack is thrust back into the criminal underworld that took everything away from him -- but might offer his only chance at redemption. Jack takes on cases that dig into the dregs of Australian society and expose conspiracy and corruption among the power elite. On DVD, Blu-ray Disc.

"Female Prisoner Scorpion: The Complete Collection
" (1972) stars the iconic and beautiful Meiko Kaji ("Lady Snowblood," "Stray Cat Rock") in a role that came to define her career. This four-film "Female Prisoner Scorpion" series charts the vengeance of Nami Matsushima, who assumes the mantle of "Scorpion," becoming an avatar of vengeance and survival, and an unlikely symbol of female resistance in a male-dominated world. "Female Prisoner #701: Scorpion" introduces Nami, a gullible young woman unjustly imprisoned, who must find a way to escape in order to exact revenge upon the man who betrayed her. The visually avant-garde "Female Prisoner Scorpion: Jailhouse 41" sees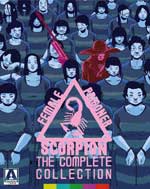 director Shunya Ito and star Meiko Kaji re-unite as Nami and six other female convicts escape prison once more. The Gothic horror-inspired "Beast Stable" finds Nami branded public enemy No. 1 and on the run. She soon finds refuge with a sympathetic prostitute, but runs afoul of a local gang. The final film in the series, "#701's Grudge Song" (from director Yasuharu Hasebe, "Retaliation," "Massacre Gun"), shows a gentler side of Nami as she falls in with Kudo, an ex-radical suffering from physical and psychological trauma caused by police torture. Spiritual kin to "Ms. 45," "Coffy" and "The Bride Wore Black," the "Female Prisoner Scorpion" is the pinnacle of early 1970s exploitation cinema from Japanese grindhouse studio Toei, and one of the greatest female revenge sagas ever told. In a Blu-ray/DVD combo set, with a brand new 2K restorations of all four films, with the original mono audio (uncompressed PCM on the Blu-rays) for all films. There's also a Limited Edition Blu-ray collection (3000 copies). From Arrow Video/MVD Entertainment.

"The New World
" (2005) is a singular vision of early 17-century America from Terrence Malick, a work of astounding elemental beauty, a poetic meditation on nature, violence, love, and civilization. It reimagines the apocryphal story of the meeting of British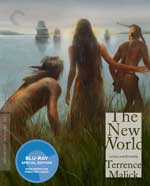 explorer John Smith (Colin Farrell) and Powhatan native Pocahontas (Q'orianka Kilcher, in a revelatory performance) as a romantic idyll between spiritual equals, then follows Pocahontas through her marriage to John Rolfe (Christian Bale) and her life in England. With art director Jack Fisk's raw re-creation of the Jamestown colony, Emmanuel Lubezki's marvelous, naturally lit cinematography, and James Horner's soaring musical score, "The new World" is a film of uncommon power and technical splendor, one that shows Malick at the height of his visual and philosophical powers. On Blu-ray and DVD, with a new 4K digital restoration of the 172-minute extended cut of the film, supervised by cinematographer Emmanuel Lubezki and director Terrence Malick and featuring material not released in theaters, with both theatrical and near-field 5.1 surround DTS-HD Master Audio soundtracks on the Blu-ray. High-definition digital transfers of the 150-minute first cut and the 135-minute theatrical cut of the film, with 5.1 surround DTS-HD Master Audio soundtracks on the Blu-rays. From The Criterion Collection.


ALSO DUE THIS WEEK:
"The Boss
," a sloppy Melissa McCarthy comedy about a hotshot female titan of industry who returns from serving time for insider trading intent on rebuilding her brand only to be brought down to size by her former assistant (Kristen Bell) and her young daughter, from Universal; "Criminal
," in which a dead CIA operative's (Ryan Reynolds) memories, secrets, and skills are implanted into an unpredictable and dangerous death-row inmate (Kevin Costner) in the hopes that he will complete the operative's mission to hunt down and kill a shadowy hacker intent on starting World War III, from Lionsgate; "Barbershop: The Next Cut
," the further advenures of the gang at Calvin's Barbershop, starring Ice Cube, Cedric the Entertainer, Regina Hall, Anthony Anderson, Eve, J.B. Smoove, Common, Nicki Minaj, from Warner; and "Hardcore Henry
," a big-screen video game CGI action adventure that puts the viewer into first-person shooter perspective: you've just been brought back from the dead by your wife who tells you that your name is Henry. Five minutes later, you're being shot at, your wife has been kidnapped, and you should probably go get her back. You're also in the unfamiliar city of Moscow, and everyone wants you dead, from Universal.


BUZZIN' THE 'B's:
"Sing Street
" (2016) takes place in 1980s Dublin, as seen through the eyes of a 14-year-old boy named Conor (Ferdia Walsh-Peelo), who is looking for a break from a home strained by his parents' relationship and money troubles, while trying to adjust to his new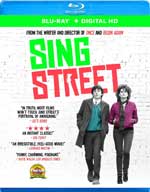 inner-city public school where the kids are rough and the teachers are rougher. He finds a glimmer of hope in the mysterious, über-cool and beautiful Raphina (Lucy Boynton), and with the aim of winning her heart he invites her to star in his band's music videos. There's only one problem: he's not part of a band ... yet. On DVD, Blu-ray Disc from The Weinstein Company/Anchor Bay ... In "I Am Wrath
" (2016), starring John Travolta, Amanda Schull, Christopher Meloni and Rebecca De Mornay, a man sets out to get justice after a group of corrupt police officers are unable to catch his wife's killer. On DVD, Blu-ray Disc from Lionsgate ... Scream Factory has two cult favs releasing this week: In "The Boy Who Cried Werewolf
" (1973), starring Kerwin Mathews, Elaine Devry, Scott Sealey and Robert J.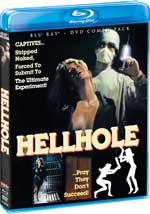 Wilke. Richie Bridgestone's parents are getting a divorce, but that's the least of his problems: While on a visit to his father's secluded cabin, Richie witnesses his dad being attacked by a werewolf but no one in the town will believe his claims that his father will change into a werewolf at the next full moon ... and "Hellhole
" (1985), starring Judy Landers, Ray Sharkey, Mary Woronov, Marjoe Gortner, Richard Cox, Terry Moore, Edy Williams, Robert Z'Dar and Dyanne Thorne. Having witnessed her mother's brutal death, Susan (Judy Landers) gets amnesia from a fall while being pursued by the killer, Silk (Ray Sharkey), and awakens in a sanitarium where a psychotic scientist (Mary Woronov) has been testing a new lobotomy technique using helpless inmates as her guinea pigs.


FOR THE FAMILY:

"LEGO Nexo Knights – Season 1" (2016) includes All 10 episodes from the first season of the comedy animated series that premiered on Cartoon Network in January. The season opens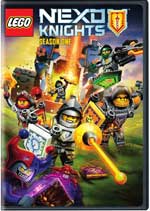 at the Nexo Knight's graduation ... but something isn't right. The King's Jester, Jestro, is acting strange and it's soon discovered that he's stolen the evil and mysterious Book of Monsters. With some of the most powerful spells at Jestro's fingertips, he wreaks havoc on the Kingdom of Knighton -- and it's now up to the brave, yet inexperienced, Nexo Knights to save the future of the Kingdom. From Warner ... "The Adventures of Panda Warrior" (2016) is an animated family tale with the voices of Rob Schneider, Haylie Duff, Norm MacDonald, Lauren Elizabeth, Tom Kenny. When Patrick (Schneider), a peaceful soldier from ancient China, is magically transported to Merryland and turned into a Panda, he must join forces with Peggy the flying pig (Elizabeth), GoGo the daring goat (Duff) and King Leo the courageous lion (MacDonald) in order to free the once-peaceful world from the tyranny of the evil nine-headed snake that has enslaved them. From Lionsgate.


SPECIAL INTEREST:

Born in the midst of Stalinism, filmmaker Semyon Aranovich presents remorseless accounts about Josef Stalin's final years as dictator of the Soviet Union's Communist Party in "People's Gala Concert" (1991 -- Russia). Aranovich examines Stalin's brutal decisions to persecute Jewish citizens of the USSR. Although the title does not directly correlate to the documentary's archival footage, photographs, and personal accounts, it does however, imply a subtext about a massive group of citizens being prosecuted, beaten, and executed before, during, and after WWII. An estimated 20 million-60 million people perished under Stalin's regime. A vast majority of those victims died due to starvation and disease, while many others, especially those of Jewish descent, were executed. From Facets.

Check out other July 26-August 1 DVD releases and reviews at OnVideo.