New in Theaters July 08: The Secret Life of Pets, Mike and Dave Need Wedding Dates
By Chris Kavan - 07/07/16 at 06:43 AM CT
After a Fourth of July extra-long weekend filled with plenty of fireworks for Hollywood, we have a couple of new films looking to stake their claim at the box office. Hoping to unseat Finding Dory with the family crowd, we have an animated film about what your pets are really like when you leave home. Plus, Zac Efron and Adam Devine get more than they bargained for when their perfect wedding dates turn out to be bigger party animals than they could ever hope to be. We will have to see if audiences are willing to support two big animated films and if an R-rated comedy can compete with the crowded field.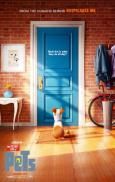 THE SECRET LIFE OF PETS Finding Dory has been dominating the family market for three solid weeks. Meanwhile, The BFG failed to find much footing. That leaves the door wide open for The Secret Life of Pets. Ever since I witnessed the first trailer with the fat cat trying to avoid eating out of the fridge and the proper poodle head-banging to heavy metal - I have been anticipating this. It looks pretty hilarious and while it may not be Zootopia, I have a feeling it will do just fine. The voice talent on hand includes Louis C.K., Eric Stonestreet, Kevin Hart, Jenny Slate, Ellie Kemper, Albert Brooks, Lake Bell, Dana Carvey, Hannibal Buress and Steve Coogan among others. That's a pretty impressive lineup and even if the film isn't quite up to Pixar standards, I think it looks like a lot of fun and should be enough to dethrone Finding Dory for the box office crown.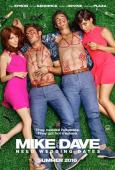 MIKE AND DAVE NEED WEDDING DATES Another film that has been on my radar thanks to an exceptional trailer is the R-rated Mike and Dave Need Wedding Dates. Adam Devine and Zac Efron are the titular Mike and Dave and they have ruined nearly every family gathering thanks to their excessive partying ways. When their sister (Sugar Lyn Beard) announces her marriage in Hawaii their father (Stephen Root) lays down the law and tells them to act respectable and show up with respectable dates. So the pair do the exact wrong thing and announce their plans to the world - and catch the eyes of Alice and Tatiana (Anna Kendrick and Aubrey Plaza) who come across as nice, respectable women but are actually bigger party animals than the guys could ever hope to be. Thus the film is set up for many misadventures and accidents and they get that R for a reason - I expect plenty of sex, drugs and everything else to warp young minds. It's tough to say where this is going to wind up - R-rated films can go both ways, but I'm hoping this does fairly well, but we'll see where the reviews land on this one.


The Weekend should be another decent one. With two animated films and some strong holdovers, it should be another decent weekend. I'll be back on Sunday with the results.