New on DVD and Blu-ray Week of June 14-June 20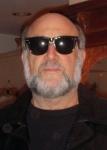 By Harley Lond - 06/14/16 at 03:58 AM CT
FROM THE BIG SCREEN:

"10 Cloverfield Lane" has been billed as the "spiritual successor" to 2008's "Cloverfield" but in no way is it a sequel -- it's much, much more. Produced by "Cloverfield's" (and "Star Wars: The Force Awakens") J.J. Abrams and his Bad Robot company, the film -- linked to the first in the weirdness, fear and comedy "that Cloverfield was born out of" -- is a claustrophobic fear ride that combines 1950s bomb-shelter deliriums with this decade's apocalyptic fears of destruction. After breaking up with her boyfriend and leaving her home in New Orleans, a young woman, Michelle (Mary Elizabeth Winstead), is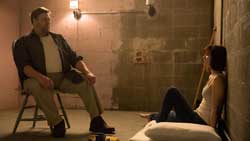 involved in a catastrophic car crash and wakes up in survivalist Howard's (John Goodman) underground bunker. The man claims to have saved her from an apocalyptic attack that has left the outside world uninhabitable -- either an attack by the "Russkies" or the "Martians" --and his theories are supported by a mysterious stranger, Emmett (John Gallagher Jr.), also in the bunker with them, who claims to have witnessed the attack. As the three settle into a humdrum, underground regime, cracks in Howard's story begin to appear, and Michelle begins to question his motives. The only way to uncover the truth is to make it back to the surface, and Michelle concocts an escape plan with Emmett that sets off a wonderful denouement. First time director Dan Trachtenberg has a fine grasp on the fear and paranoia factor inherent in this scenario, and he takes the time to develop the three characters (with all three actors showing off their talents) before pulling out all the action stops. But as with most good films, it's the story that sets the foundation, and the script here by Josh Campbell, Matthew Stuecken and Damien Chazelle is top notch. This is a quiet little, low-budget gem. Extras for 10 Cloverfield Lane
include commentary and brief behind-the-scenes footage. From Paramount.

At the opposite extreme is the very big-budget and special effects laden "London Has Fallen
," a direct sequel to 2013's "Olympus Has Fallen." Secret Service Agent Mike Banning (Gerard Butler) and U.S. President Benjamin Asher (Aaron Eckhart) return to take the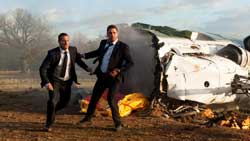 brunt of more terrorist action, this time in London. An international arms dealer, whose family was slaughtered in a drone strike, sets out to get even with the West and, when every powerful world leader travels to London to attend the funeral of the British Prime Minster, he sets into motion a plan that assassinates all the heads of the Western world (save President Asher) and devastates the British capital. Not knowing who to trust, Banning and Asher make their way to an MI6 safe house while being tracked by hordes of terrorists. Banning is a killing machine, and he'll stop at nothing to secure Asher's safe return home. Its slam bam, straight ahead action with -- thankfully -- little exposition to get in the way of the slaughter. It's a mindless, fun ride, aided and abetted by Morgan Freeman (as the U.S. vice president), Angela Bassett, Robert Forster, Jackie Earle Haley, Melissa Leo and Radha Mitchell. Extras include a couple of behind-the-scenes featurettes. From Universal.

Also due this week: An embarrassingly bad romantic comedy, "Hello, My Name is Doris
," about an older woman (Sally Field) who, after a lifetime of being overlooked and ignored, finds her world turned upside down by a handsome new co-worker and a self-help seminar that inspires her to take a chance on love. The only good thing about this drab fiasco: the much overlooked talents of Tyne Daly, who co-stars as Field's best friend; from Sony ...
"45 Years
," a moving and profound look at marriage and the secrets we keep, revolving around a married couple (Charlotte Rampling and Tom Courtenay) whose 45th wedding anniversary celebration is marred when the husband receives a letter announcing that the body of his first love has been discovered, frozen and preserved in the icy glaciers of the Swiss Alps. The film won a Silver Bear for Best Actress (Rampling) and Best Actor (Courtenay) at the Berlin International Film Festival; from IFC Films.


THIS WEEK'S HIGHLIGHTS:

There's two classic films on hand this week from The Criterion Collection:

"La chienne
" (1931 -- France), is Jean Renoir's ruthless love triangle tale that is a true precursor to his brilliantly bitter "The Rules of the Game," displaying all of the filmmaker's visual genius and fully imbued with his profound sense of humanity. A hangdog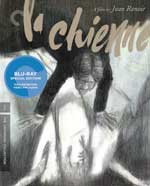 Michel Simon cuts a tragic figure as an unhappily married cashier and amateur painter who becomes so smitten with a prostitute that he refuses to see the obvious: that she and her pimp boyfriend are taking advantage of him. Renoir's elegant compositions and camera movements carry this twisting and turning narrative -- a stinging commentary on class and sexual divides -- to an unforgettably ironic conclusion. On DVD and Blu-ray; with a new, restored 4K digital transfer, with uncompressed monaural soundtrack on the Blu-ray ... "Here Comes Mr. Jordan
" (1941) is a sophisticated supernatural Hollywood comedy whose influence continues to be felt -- and copied. The fantasy-comedy stars the eminently versatile Robert Montgomery as a working-class boxer and amateur aviator whose plane crashes in a freak accident. He finds himself in heaven but is told, by a wry angel named Mr. Jordan (Claude Rains), that his death was a clerical error, and that he can return to earth by entering the body of a corrupt (and about-to-be-murdered) banker -- whose soul could use a transplant. Having inspired a sequel with Rita Hayworth and two remakes (the first starring Warren Beatty and the second Chris Rock), Alexander Hall's effervescent "Here Comes Mr. Jordan" is comic perfection. Co-stars Evelyn Keyes, Rita Johnson, Edward Everett Horton, James Gleason and John Emery. On DVD, Blu-ray, in a new 2K digital restoration, with uncompressed monaural soundtrack on the Blu-ray.

The folks at Arrow Video (distributed in the States by MVD Entertainment) will bring home this week "Nikkatsu Diamond Guys: Vol. 2
" (1960), the second volume of 1960s genre films from Nikkatsu, the oldest film studio in Japan, which inaugurated a star system in the late 1950s and produced a series of wild pictures. This collection celebrates these "Diamond Guys" with three classic films from directors Buichi Saito, Ko Nakahira and Haruyasu Noguchi, who is a new discovery for the West. In Saito's "Tokyo Mighty Guy," mega star Akira Kobayashi stars as Jiro in the rambunctious tale of a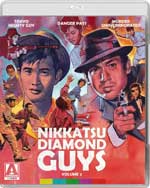 chef who opens a restaurant in the busy Ginza district. His culinary skills and dashing good looks bring in the women as well as unwanted trouble, while an explosive political scandal builds around his girlfriend's business. Next, Jo Shishido ("Massacre Gun," "Retaliation"), one of the most popular Diamond Guys in the West, stars in "Danger Pays," a crime caper from Ko Nakahira about counterfeiting. When one billion yen goes AWOL, "Joe the Ace" (Shishido) spies an opportunity to get rich quick, but things soon go wrong as it turns out he isn't the only one who'll stop at nothing to get his hands on the missing cash. Finally, Shishido stars once again in Noguchi's screwball classic "Murder Unincorporated." When the mysterious "Joe of Spades" executes one of the bosses of a powerful syndicate, his colleagues, fearing for their own lives, call on the services of assassin agency Murder Unincorporated to take care of the problem. Presented on DVD and Blu-ray for the first time in the West, these thrilling genre films feature some of Nikkatsu's leading talent at the top of their game. Limited edition Blu-ray collection (3000 copies), high definition digital transfers of all three films from original film elements by Nikkatsu Corporation, with original uncompressed mono audio. In a Blu-ray/DVD Combo.


BUZZIN' THE 'B'S:

In "Get a Job
" (2016), starring Miles Teller, Anna Kendrick, Brandon T. Jackson, Nicholas Braun, Christopher Mintz-Plasse, Alison Brie, Marcia Gay Harden and Bryan Cranston, life after college graduation is not exactly going as planned for Will and Jillian, who find themselves lost in a sea of increasingly strange jobs. But with help from their family,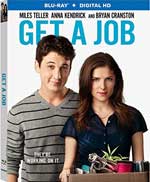 > friends and co-workers, they start thinking out of the box -- and hatch a hilarious assault on the job market. On DVD, Blu-ray Disc from Lionsgate ... "Rabid Dogs
" (2015 -- French), starring Lambert Wilson, Laurent Lucas and Virginie Ledoyen, is a remake of the 1974 Mario Bava cult classic "Kidnapped." After their armed bank robbery goes haywire, three criminals take their hostages -- a young woman, a father, and his sick daughter -- on a berserk, blood-spattered road trip. In a Blu-ray/DVD Combo from IFC Midnight/Scream Factory ... In "Gridlocked
" (2015), starring Dominic Purcell, Cody Hackman, Trish Stratus, Vinnie Jones, Stephen Lang and Danny Glover. NYPD SWAT leader David Hendrix (Purcell), after being injured while on duty, is paired with bad boy celebrity Brody Walker (Hackman), on a mandatory ride-along as a requirement for his probation. The two hate each other at first but soon are forced to unite with a team of officers in a Special Forces unit to protect a police training facility that is targeted by mercenaries. On DVD, Blu-ray Disc from Magnolia Home Entertainment/Magnet Label ... In "Altered Minds
" (2013), Judd Hirsch stars as ex-CIA psychiatrist-turned- humanitarian Nathaniel Schellner,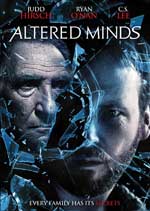 renowned for his work with war orphans suffering from PTSD -- several of whom he and his wife (Lagerfelt) adopted. About to succumb to cancer, Nathan welcomes the entire family -- including adoptees Harry (C.S. Lee), Julie (Jaime Ray Newman) and Tommy (Ryan O'Nan) -- back to their idyllic home for a final gathering before his death. Unfortunately, the warm reunion spirals out of control when Tommy, a tormented novelist, makes a stunning accusation that his father adopted his children not out of love but for dark experiments in mind control. Plagued by terrifying visions of secret labs, underground cells and implanted electrodes, Tommy makes a desperate bid to save his sanity by uncovering family secrets before it's too late. From Entertainment One ... Scream Factory has two Blu-ray debuts this week: "Jeepers Creepers
" (2001), starring Gina Philips, Justin Long, Tom Tarantini and Jonathan Breck. On a desolate country highway, two homeward-bound teens are nearly run off the road by a maniac in a beat-up truck... and later spot him shoving what appears to be a body down a sewer pipe. But when they stop to investigate, they discover that the grisly reality at the bottom of that pipe is far worse than they could have ever suspected... and that they are now the targets of an evil far more unspeakable -- and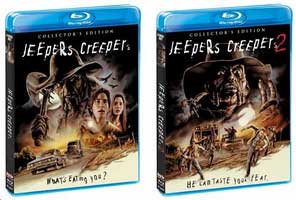 unstoppable -- than they could have ever imagined ... and "Jeepers Creepers 2
" (2003), starring Ray Wise, Eric Nenninger, Nicki Aycox and Jonathan Breck. When their bus is crippled on the side of a deserted road, a team of high school athletes discover an opponent they cannot defeat -- and may not survive. Staring hungrily at them through the school bus windows, the "Creeper" returns again and again. But when the teammates discover that it's selective about whom it attacks, it will test their ability to stick together -- as the insatiable menace tries to tear them apart ... "Bodyguards and Assassins
" (2009 -- Hong Kong), staring Donnie Yen, Hanyu Zhang and Nicholas Tse, is a martial arts blockbuster set in the bustling metropolis of Hong Kong in 1905. The revolutionary movement has spread throughout China, but the corrupt Qing dynasty will do anything to hold onto its power. As Chinese revolutionary hero Sun Yat-Sen prepares for a historic meeting that will shape the future of the country, a motley crew of men and women are entrusted to protect him from a group of deadly assassins who will stop at nothing to kill him. Features an hour-long battle sequence. On Blu-ray Disc from Shout! Factory.


FOREIGN FILMS:

In "Under the Sun of Satan: The Films of Maurice Pialat Volume 2
"
(1987 -- France), Donissan (Gérard Depardieu), a mediocre seminarian, haunted by Evil and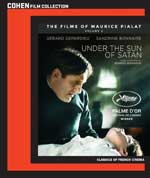 the failure of his divine mission, mortifies his body and is unable to establish any rapport with his parishioners. Until the day the abbot meets young Mouchette (Sandrine Bonnaire), who has just committed a mortal sin. Based on Georges Bernanos' novel of the same name (also the source for Robert Bresson's "Diary Of A Country Priest" and "Mouchette"), the film earned director Pialat a Palme d'Or at the 1987 Cannes Film Festival. On DVD, Blu-ray Disc. from Cohen Film Collection ... In the mysterious and beautiful examination of a broken family, "Valley of Love
" (2015 -- France), acclaimed actors Isabelle Huppert and Gerard Depardieu (together for the first time since they heated up the screen in 1980's "Loulou") play thinly disguised versions of themselves as a separated couple who journey to Death Valley after receiving a mysterious letter from their dead son -- in the expectation that he will appear to them at a certain place and time in the desert. From Strand Releasing.


FOR THE FAMILY:

"Littlest Pet Shop: Making Friends" (2016) features five episodes of the series about a young girl named Blythe Baxter who moves to a downtown city in an apartment above the Littlest Pet Shop, where she soon discovers she can understand animals ... and embarks on some crazy learning adventures with the pets. From Shout! Kids ... "Quackerz" (2016), with the voices of Robbie Daymond, Michael Gross, Enn Reitel and Andrea Becker, is a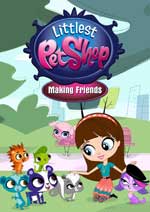 new CG-animated feature that brings to life a unique tale of unlikely heroes with action, comedy, heart and even a bit of romance. When the peaceful island of the Mandarin Ducks is mistakenly invaded by the Military Mallards, a conflict flares up between the Mandarin Emperor and the Mallard Commander. Longway, the Emperor's son, and Erica, the daughter of the Mallard Commander, meet ... and before long, a friendship takes wing. While their feathered fathers fight and egg each other on, the wicked Ms. Knout is con-duck-ting a scheme to destroy the sun. The kids will have to get all their ducks in a row to battle
their foe. On DVD, two-disc Blu-ray 3D Combo Pack (Blu-ray 3D and 2D, DVD and digital), from Shout! Kids ... "Tarzan, Lord of the Jungle: Complete Season One" (1976) is a two-disc set with all 16 episodes. Created by the Filmation Studio in the 1970s for CBS, the series follows the animated adventures of Edgar Rice Burroughs' ape man. Released just in time for the July release of "Tarzan" (starring Alexander Skarsgard and Margot Robbie) in theaters. $19.98 from Warner ... Born for adventure, Lea Clark heads deep into the Brazilian rain forest, where her most exciting story awaits in "American Girl: Lea to the Rescue" (2016). When Lea's brother, Zac, goes missing while studying the ecology in South America -- and she suspects he's fallen prey to a band of ruthless animal poachers -- Lea convinces her mom to spring into action. From the minute their plane touches down, Lea's mom wants her to stay safe in the city, but Lea is determined to save both her brother and the endangered exotic animals she loves. On DVD and Blu-ray/DVD Combo from Universal.


SPECIAL INTEREST:

The documentary "The Black Jacket
" (2016) follows Aquil Basheer, a former Black Panther, as he leads ex-gang members and community outreach workers through a 16-week curriculum recently adopted by the Los Angeles City Council. The mission: Peace. The method: Changing the violent mindsets of gang members one person at a time. The result: Hundreds fewer murders per year and scores of warring neighborhoods communicating and negotiating peace agreements to stop the bloodshed before it starts. From Virgil Films.


FROM TV TO DVD:

"Ballers: The Complete First Season" (2015) is a two-disc set with all 10 episodes. Spencer Strasmore (Dwayne Johnson) is a retired football superstar trying to reinvent himself as a financial manager for players in sun-soaked Miami. His inner circle includes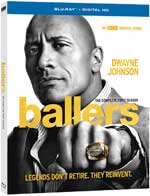 Ricky (John David Washington, former pro-football player), a talented but volatile wide receiver who seeks to balance his off-field antics with his passion for the game; Charles (Omar Miller), a reluctantly retired lineman who's finding it hard to adjust to civilian life; and Vernon (Donovan Carter), a player with a rookie contract, whose promise never to forget "where he came from" brings scores of hangers-on into his life, and lands him in big financial trouble. Though they're pros when it comes to playing the game, each one has a harder time navigating life off the field.On DVD, Blu-ray Disc from HBO ... "Toni Braxton: The Movie Event" (2016) is a Lifetime tell-all based on the life of the 90s R&B superstar. Based on her memoir "Unbreak My Heart," the film follows the seven-time Grammy Award-winning R&B icon from her discovery by L.A. Reid and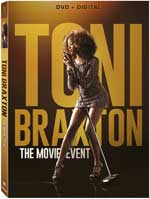 Kenneth "Babyface" Edmonds through a very public divorce and her son's autism to her recent battle with lupus. From Lionsgate ... "Underground: Season One" (2016) is a 10-episode journey that follows a group of slaves striving for their freedom from the Macon plantation in 1857 Antebellum Georgia. As they plan to escape, the immense sacrifices and uncertainty of where to go and who to trust will test those who have the courage to leave and decide who has the endurance to survive. From Sony ... Almost 14 years after the original series run, the next mind-bending chapter of "The X-Files" is a six-episode event series from creator-executive producer Chris Carter, with stars David Duchovny and Gillian Anderson reinhabiting their roles as iconic FBI agents Fox Mulder and Dana Scully in "The X-Files – The Event Series" (2016). On DVD, Blu-ray Disc from Fox.

Check out other June 14-June 20 DVD releases and reviews at OnVideo.