New on DVD and Blu-ray Week of June 7-June 13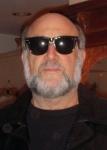 By Harley Lond - 06/07/16 at 04:00 AM CT
FROM THE BIG SCREEN:

"Hail Caesar!" continues Joel and Ethan Coen's deconstruction/reconstruction of Hollywood genres (following their takes on Westerns, spies , and music bios), here making a movie about moviemakers making movies, set in the dying days of the Golden Age of Hollywood. It's a comedy/satire filled with so many cinema memes you'll need a guidebook to keep track (see below). Ostensibly, the film follows a single day in the life of Eddie Mannix (Josh Brolin), head of production and "fixer" for Hollywood studio Capitol Pictures. When Baird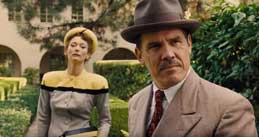 Whitlock (George Clooney), the world's biggest star, is kidnapped by a group of disgruntled Communist screenwriters during production of the studio's latest swords-and-sandals epic, Eddie has to recover his leading man while simultaneously appeasing cowboy star Hobie Doyle (Alden Ehrenreich in a breakout performance), disgruntled director Laurence Laurentz (Ralph Fiennes), swimming sensation DeeAnna Moran (Scarlett Johansson) and song-and-dance superstar Burt Gurney (Channing Tatum), all the while manipulating a pair of rival sibling gossip columnists, Thora and Thessaly Thacker (Tilda Swinton). There's plenty of references to 1950s Hollywood, in particular post-WWII MGM: Josh Brolin's character, Eddie Mannix, is based on real-life studio "fixer" Eddie Mannix. Tatum is a stand-in for MGM star Gene Kelly, Johansson definitely is a clone of swimmer and MGM star Esther Williams, and Swinton is a perfect Hedda Hopper, a nasty Hollywood "journalist" who ruled the gossip columns for decades. The Coen's musical and dance production numbers (a tap dance sequence with Tatum, an aquatic spectacle with Johansson) are a marvel to behold, rivaling the best that Hollywood put out during those golden years. It's all a lot of fun and oh, so self-reflexive. A couple of sites have taken it upon themselves to annotate the characters in "Hail, Caesar!
!" Check out an annotated "Hail Caesar!" trailer here, a post at Slate, and more comparisons at Den of Geek!. Extras include a bevy of behind-the-scenes featurettes. From Universal.

"Zootopia
" is Disney's latest smash animated comedy adventure (more than $1 billion worldwide boxoffice) that is a delight for the kiddies and -- despite a little too much silly cuteness -- won't bore parents who have to go along for the ride. The story takes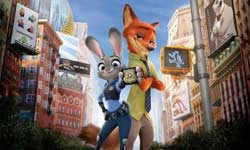 place in the modern mammal metropolis of Zootopia, a city where all animals -- giant bears, moose, lions and elephants -- co-exist -- with sheep, deer, rabbits, and pigs, and follows a rookie bunny cop and a cynical con artist fox who must work together to uncover a conspiracy by unseen forces determined to use fear to take control of the city. It's all pretty innocuous and won't stand the test of time against such modern Disney "message" classics like "The Lion King" and "Beauty and the Beast," but the anthropomorphic cityscapes and situations are still fun to behold. Features the voice work of Jason Bateman, Ginnifer Goodwin, Alan Tudyk, Idris Elba, Bonnie Hunt, Jenny Slate, J.K. Simmons, Shakira, Octavia Spencer. The Blu-ray is loaded with extras, including behind-the-scenes featurettes and Easter eggs.

Also due this week: "Anomalisa
," a quirky stop-motion romance from the mind of Charlie Kaufman, featuring the voices of Jennifer Jason Leigh, David Thewlis, Tom Noonan; from Paramount ... "13 Hours: The Secret Soldiers of Benghazi
," an actioner about the six security men who took on the terrorists during the Sept. 11, 2012, Islamic militants' attack on the U.S. Consulate in Benghazi, Libya, directed by Michael Bay and starring Pablo Schreiber, John Krasinski, Toby Stephens, James Badge Dale, Max Martini, David Denman and Dominic Fumusa; from Paramount ... and "The Other Side of the Door
," a horror thriller about the mother of a dead boy who travels to an ancient temple in the hope of resurrecting the boy for a final goodbye, and opens a door that serves as a mysterious portal between two worlds, upsetting the balance between life and death. Stars Sarah Wayne Callies, Jeremy Sisto and Javier Botet; from Fox.


THIS WEEK'S HIGHLIGHTS:
"Le amiche
" (1955 -- Italy) was a major early achievement by Michelangelo Antonioni, offering up the first signs of the cinema-changing style for which he would soon be world-famous. "Le amiche" (The Girlfriends) is a brilliantly observed, fragmentary depiction of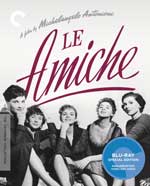 modern bourgeois life, conveyed from the perspective of five Turinese women. As four of the friends try to make sense of the suicide attempt by the fifth, they find themselves examining their own troubled romantic lives. With suggestions of the theme of modern alienation and the fastidious visual abstraction that would define his later masterpieces such as "L'avventura," "L'eclisse" and "Red Desert," Antonioni's film is a devastating take on doomed love and fraught friendship. On DVD and Blu-ray Disc, in a new 2K digital restoration, with uncompressed monaural soundtrack on the Blu-ray.

Now that the 2016 remake of "Roots" has foundered, its time to hark back to the original, courtesy of Warner Home Entertainment, with the Blu-ray debut of "Roots: The Complete Original Series
." (1977). The original broadcast of "Roots" -- which follows the inspiring story of Kunta Kinte (LeVar Burton), a West African teen who is captured and sold into slavery -- was watched by an estimated 140 million viewers total, more than half of the U.S. population, and was the largest viewership ever attracted by any television series at the time. This release marks the Emmy, Golden Globe and Peabody Award-winning series' 40th anniversary. Remastered in 1080p high definition from its original eight 1977 broadcast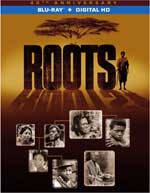 masters. Adapted from Alex Haley's best-selling, Pulitzer Prize-winning book, "Roots: The Complete Original Series" chronicles the expansion of Haley's own family across many generations. The eight-part series follows the legacy of Kinte, a young, 18th century African warrior who is brought to the United States and sold into slavery. The saga follows the generations of his descendants in the United States through the Civil War and beyond, and shows the heartbreaking struggles they face trying to survive slavery and attain their freedom. The all-star cast includes John Amos, Maya Angelou, Edward Asner, Lloyd Bridges, Georg Stanford Brown, LeVar Burton, Macdonald Carey, Olivia Cole, Gary Collins, Chuck Connors, Scatman Crothers, Ji-Tu Cumbuka, Brad Davis, Sandy Duncan, Lynda Day George, Louis Gossett Jr., Lorne Greene, Moses Gunn, George Hamilton, Hilly Hicks, Burl Ives, Lawrence Hilton Jacobs, Carolyn Jones, Doug McClure, Ian McShane, Lynne Moody, Vic Morrow, Thalmus Rasulala, Robert Reed, Harry Rhodes, Richard Roundtree, Raymond St. Jacques, John Schuck, Paul Shenar, O.J. Simpson, Madge Sinclair, Beverly Todd, Cicely Tyson, Leslie Uggams, Ben Vereen, Ralph Waite, William Watson and Ren Woods. The three-disc set is packed with new and vintage featurettes.

Here's another fine Blu-ray debut: "Star Trek II: The Wrath of Khan
Director's Edition" (1982). This is by far the best "Star Trek" of the batch of movies that pay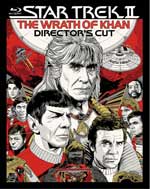 homage to the long-running TV series; not only is the crew of the Enterprise (William Shatner, Leonard Nimoy, DeForest Kelley) right on mark, acting-wise, they face off against one of the all-time best outer-space villains, Ricardo Montalban's Khan. Paramount has digitally remastered the release in high definition with both Nicholas Meyer's Director's Edition and the original theatrical version. Extras include a nearly 30-minute documentary, "The Genesis Effect: Engineering The Wrath of Khan," which details the development and production of this fan-favorite film through archival footage, photos and new interviews. Also includes more than two hours of previously released special features including multiple commentaries, original interviews with William Shatner, Leonard Nimoy, Ricardo Montalban and DeForest Kelley, explorations of the visual effects and musical score, a tribute to Ricardo Montalban, storyboards and much more.


BUZZIN' THE 'B'S:

In "The Confirmation
" (2016), starring Clive Owen, Jaeden Lieberher, Maria Bello, Matthew Modine, Robert Forster, Tim Blake Nelson, Patton Oswalt and Stephen Tobolowsky, an out-of luck carpenter suddenly finds himself caring for his estranged son for a weekend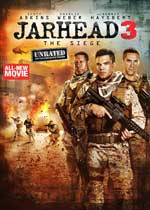 while his ex-wife and her new husband head to a Catholic retreat. Neither father nor son is initially happy about the arrangement, but through a series of events the two start to see each other in a different light.On DVD, Blu-ray Disc from Lionsgate ... In "Jarhead 3: The Siege
" (2015), starring Dennis Haysbert, Charlie Weber and Scott Adkins, a group of Marines must protect a U.S. Embassy in the Middle East when it suddenly comes under attack from enemy forces. On DVD, Blu-ray/DVD Combo from Universal ... In "Mr. Right
" (2016), starring Anna Kendrick, Sam Rockwell, Tim Roth, RZA, James Ransone, Anson Mount and Katie Nehra, Martha (Kendrick) has gone full-on manic since her latest breakup ... until she meets Francis (Rockwell). To anyone else, Francis's approach would come across as creepy, but Martha can't help but be intrigued. They seem a perfect match: she's bananas, he's bananas -- except he's a deadly sort of bananas. He's a professional assassin who unexpectedly kills the people ordering the hits. Otherwise they seem perfect together -- and Martha must decide whether to flee or join in the mayhem. On DVD, Blu-ray Disc from Universal/Focus Features ... In "Kill Your Friends
" (2015), starring Nicholas Hoult, James Corden, Georgia King and Craig Roberts, a 27-year-old misanthropic A&R executive is burning his way through London's music industry; fueled by greed and drugs,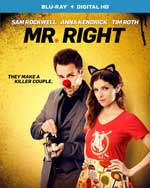 he's searching the globe for the next megahit as he freely indulges in an unending orgy of self-gratification. But as the hits dry up and the industry begins to change, the only way he's going to salvage his sagging career is by taking the concept of "cutthroat" to murderous new levels. On DVD, Blu-ray Disc from Well Go USA ... In "The Abandoned
" (2016), starring Louisa Krause, Jason Patric and Mark Margolis, an unstable young woman, desperate to get her life back on track, takes a job as a security guard, working the graveyard shift at a once upscale, now abandoned apartment complex. But on her first night on duty, she discovers a horrifying presence lurking deep within the bowels of the decaying building. With her nerves already on edge, she must confront demons both real and imagined as she struggles to keep a grip on her sanity. On DVD, Blu-ray Disc from IFC Midnight/Scream Factory ... On Halloween night, a group of the country's most notorious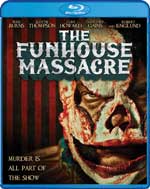 serial killers escape from Statesville Asylum and descend upon a giant funhouse whose theme is based on their different reigns of terror. The unsuspecting carnival patrons think that the carnage created at the park is just part of the show… until they become part of the main attraction in "The Funhouse Massacre
" (2015), starring Clint Howard, Courtney Gains, Scottie Thompson, Jere Burns and Robert Englund. On DVD, Blu-ray Disc from Scream Factory ... In "A Stand Up Guy
" (2016), starring Danny A. Abeckaser, Michael Rapaport, Jay R. Ferguson, Ethan Suplee, Bob Saget and MacKenzie Meehan, a low-level mobster who decides to take a stab at stand-up comedy while hiding out in the Witness Protection Program unwittingly catches the attention of the mob when his open-mic set goes viral. From Sony ... "Never Back Down: No Surrender
" (2016) is the latest entry in the franchise that follows former MMA champion Case Walker (Michael Jai White) as he travels to Thailand to train a friend for a major fight. When things go bad, Case finds himself back in the cage for the fight of his life. Co-stars Esai Morales, Tony Jaa, Nathan Jones, Josh Barnett and Gillian Waters. From Sony ...
In "Touched With Fire
" (2016), starring Katie Holmes, Luke Kirby, Griffin Dunne, Bruce Altman and Christine Lahti, Holmes and Kirby star as two poets with bipolar disorders whose art is fueled by their emotional extremes. When they meet in a treatment facility, their chemistry is instant and intense, driving each other to new heights. They pursue their passion, which breaks outside the bounds of sanity and swings them from fantastical highs to tormented lows, until they ultimately must choose between sanity and love. On DVD, Blu-ray Disc from Lionsgate ... "Monsterland
" (2016) is a collection of nine horror shorts, each featuring different monsters killing off unlucky humans. The shorts are linked together by the conceit of a survivor of the Monster Apocalypse taking shelter in a movie theater to buy himself a few extra moments of precious life, where he grabs some popcorn and watches the feature. Stars Josh LaCasse, Ebon Moss-Bachrach, Eileen Dietz, Trent Haaga and John Franklin. From RLJ Entertainment.


FOREIGN FILMS:

Director Wim Wenders' "Every Thing Will Be Fine
" (2015 -- Germany/Canada), which stars James Franco, Rachel McAdams, Charlotte Gainsbourg and Peter Stormare, charts the emotional odyssey of a struggling novelist (Franco) whose life is turned upside down one wintry night following a fatal car accident. The incident sets him on a soul-searching, decades-long journey toward redemption, a quest that profoundly touches the lives of both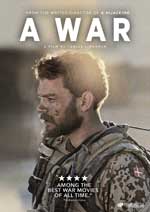 his girlfriend (McAdams) and the accident victim's mother (Gainsbourg). On DVD, Blu-ray Disc from IFC Films ... After their teenage daughter Sarah confesses to the killing of her best friend Charlie, the recently separated Paul and Christine decide to hide the crime. Their collective guilt forces the family back together, creating a web of lies and deadly intentions with no way out in "We Monsters
" (2015 -- Germany), starring Mehdi Nebbou, Ulrike C. Tscharre and Janina Fautz. From First Run Features ... In "A War
" (2015 -- Denmark), starring Pilou Asbaek, Tuva Novotny, Dar Salim, Danish Company Commander Claus M. Pederson (Asbaek), stationed in Afghanistan during the height of the war, finds himself and his men caught in heavy crossfire. A split second decision by Pederson to attack a fortified compound in the hopes of saving the lives of his men leads to him facing charges of killing local civilians. With an unparalleled focus on authenticity, the film features real-life Danish soldiers, Taliban warriors, relatives and refugees. Nominated for Best Foreign Language Film at the 2016 Academy Awards. On DVD, Blu-ray Disc from Magnolia Home Entertainment.


SPECIAL INTEREST:
"No Home Movie
" (2016), the final film from groundbreaking auteur Chantal Akerman, is a portrait of her relationship with her mother, Natalia, a Holocaust survivor and familiar presence in many of her daughter's films. Includes a booklet with original essay by Kent Jones, director of the New York Film Festival: "At the center of Chantal Akerman's enormous body of work is her mother, a Holocaust survivor who married and raised a family in Brussels. In recent years, the filmmaker has explicitly depicted, in videos, books, and installation works, her mother's life and their own intense connection to each other. 'No Home Movie' is a portrait by Akerman, the daughter, of Akerman, the mother, in the last years of her life. It is an extremely intimate film but also one of great formal precision and beauty, one of the rare works of art that is both personal and universal." From Icarus Films ...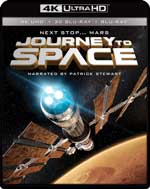 Narrated by Patrick Stewart, the IMAX documentary "Journey to Space" (2015) offers a sweeping overview of humanity's accomplishments in space, as well as our ongoing activities and future plans. "Journey to Space" puts into historical context the magnificent contributions made by the Space Shuttle program and its intrepid space pioneers, using spectacular space footage (including unique views of Earth and operations in space). It also shows how the shuttle launched and assembled the International Space Station (ISS). Both programs have taught us how to live, build and conduct scientific experiments in space. The ISS will continue operating in space until 2024, building a foundation for the next giant leaps into space, concluding with a fascinating, realistic scenario of how astronauts will actually get to Mars, lives there for a long duration and then return home after a two-and-a-half-year mission. On Blu-ray Disc, 4K Ultra Blu-ray from Shout! Factory ... "The Fear of 13" (2015) is part confessional and part performance, a haunting psychological thriller of a documentary that is a stylistically daring experiment in storytelling. Nick, a death row inmate, petitions the court to be executed. As he goes on to tell his story, it gradually becomes clear that nothing is quite what it seems. Nick spins his tale with all the twists and turns of classic crime drama, with a final shocking twist that casts everything in a new light. From First Run Features.


FROM TV TO DVD:

"Detectorists, Series 2" (2015) is a two-disc set with six episodes of the BAFTA-award winning British series about the lives of two eccentric metal detectorists who spend their days plodding along ploughed tracks and open fields, hoping to unearth the fortune of a lifetime. The eccentric members of the Danebury Metal Detecting Club return in this critically acclaimed dramedy about two misfits searching for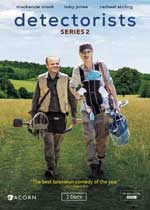 Saxon treasure in the English countryside. Andy (Mackenzie Crook) has completed his archaeology degree at last, but he worries about providing for his wife, Becky (Rachael Stirling), and newborn son -- while also trying to live up to the expectations of his imperious mother-in-law (Diana Rigg). Lance (Toby Jones), meanwhile, is still looking for love, and then someone unexpected walks into his life. The world of metal detecting proves just as tumultuous as their personal lives when a young German man enlists the DMDC to uncover a mysterious World War II plane wreck. From Acorn Media ... "Duck Dynasty: Season 9" (2015) is a two-disc set with all 11 episodes, $19.98 from Lionsgate ... HBO will release this week "Game of Thrones Steelbook Seasons 3 and 4" collector's edition Blu-ray sets, $79,98 each. Each set features art designed by Elastic, the agency responsible for the series' Emmy Award-winning opening credits. Each Steelbook showcases a specific location that is significant to that season and includes usable magnets on packaging featuring Game of Thrones sigils and symbols. Season 1 packaging featured Winterfell and Season 2 the Lannisters in King's Landing. Season 3 will feature the magnet sigil of House Frey and their ancestral seat of the Twins -- the location of Season 3's infamous Red Wedding. The icy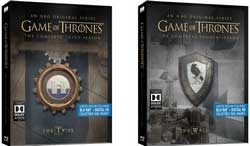 landscape of Castle Black and the Wal l-- where the brothers of the Night's Watch fend off an army of wildlings from the far north -- will grace the packaging of season 4 including a crow and Jon Snow's sword, Longclaw as the featured magnet. Also includes all of the bonus content from the previous Blu-ray sets ... "Kroll Show Season 3" (2015) is a two-disc set with all 11 episodes, from Paramount ... "The Last Panthers" (2015) is a two-disc set with four episodes of the exciting new British mystery series. A daring diamond heist in the south of France bears the hallmarks of the supposedly retired "Pink Panthers," a gang famed for their bold daylight raids and movie-style getaways. It seems like the perfect crime -- until a young girl is killed in their escape. This sets a British insurance-loss adjuster (Samantha Morton), a former MI-6 officer (John Hurt), a French-Algerian cop (Tahar Rahim), and a Serbian soldier-turned-thief (Goran Bogdan) on a dangerous collision course across Europe. What starts with diamonds leads to guns, drugs, high finance, and corruption at the heights of power. Shot in seven countries and five languages, this reinvention of the heist drama was inspired by the real-life Pink Panthers, who terrorized Europe's jewelers for a decade. It features the theme music "Blackstar," written and performed by David Bowie especially for the series. On DVD, Blu-ray Disc from
Acorn Media ... Famed for his beloved operas, Giuseppe Verdi endured a lifetime of personal turmoil and popular acclaim. Marked from childhood by his musical talent, Verdi rose to become the preeminent composer of his era amidst family heartbreak, societal upheaval, and a scandalous love affair. In "The Life of Verdi" (1982), the biographical miniseries seen on PBS, Ronald Pickup gives a captivating performance as Verdi, and ballerina Carla Fracci dazzles as his second wife, opera star Giuseppina Strepponi. Filmed on location in Italy, London, and Paris, the seven-episode series is narrated by Burt Lancaster and features clips of Verdi's music, including the perpetual favorites, "La Traviata" and "Aida." In a four-disc DVD set from Acorn Media ... "Rizzoli & Isles: The Complete Sixth Season" (2015-16), is a four-disc set with all 18 episodes of the crime series based on the best-selling crime thriller books by Tess Gerritsen, about tough-as-nails Boston police detective Jane Rizzoli (Angie Harmon), who has an uncompromisingly brash and beautiful bull-in-a-china-shop approach to both cases and life, and the brilliant medical examiner from a privileged background, Dr. Maura Isles (Sasha Alexander), who may be the best-dressed science nerd in New England. From Warner ... "The Shannara Chronicles Season One" (2016) is a three-disc set with 10 episodes of the lavish MTV fantasy series based on the 26-volume book series by Terry Brooks. Set thousands of years in the future, the series follows three heroes, Elf-Human hybrid Wil (Austin Butler), Elvin Princess Amberle (Poppy Drayton), and Human Rover Eretria (Ivana Baquero), as they embark on a quest to stop an evil Demon army from destroying the world. From Paramount ...
"Vinyl: The Complete First Season" (2016) is a four-disc set with all 10 episodes of the series that explores the drug- and sex-fueled music business of the 1970s New York at the dawn of punk, disco and hip-hop. Richie Finestra (Bobby Cannavale), the founder and president of American Century Records, is trying to save his company and soul without destroying everyone in his path. With his passion for music and discovering talent gone by the wayside, and American Century on the precipice of being sold, he has a life-altering event that reignites his love of music, but severely damages his personal life. The drama features an amazing all-star cast including Olivia Wilde and Ray Romano. Created by Mick Jagger, Martin Scorsese and acclaimed author Rich Cohen and Academy Award nominee and multiple Emmy winner Terence Winter. On DVD, Blu-ray Disc from HBO ... "When Calls the Heart: Heart of a Hero" (2016) is the latest installment in the ongoing TV saga based on the work by Janette Oke ("The Love Comes Softly" series). From Shout! Factory.

Check out other June 6-June 13 DVD releases and reviews at OnVideo.