New in Theaters May 06: Captain America Civil War
By Chris Kavan - 05/05/16 at 06:56 AM CT
With the one-two punch of Zootopia and The Jungle Book, Disney has had a banner year. Looking toward the weekend, I would say the studio is poised for yet another monster hit as the Marvel Cinematic Universe keeps on keeping on with the latest Captain America movie. No one dares go up against such competition, so the super hero film will be the only new wide release of the weekend. I have a feeling it's going to be one of the biggest openings of the year, but we'll have to wait to see how just how it stacks up against the competition.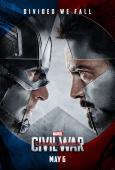 CAPTAIN AMERICA: CIVIL WAR Civil War has been dubbed Avengers 2.5 because of all the heroes appearing in the film. In fact, aside from Thor (off doing his own thing for the upcoming Ragnarok) and Hulk (who knows where the heck he's flown off to), all the other main players (including a couple new faces) are involved. The story is simple Captain America (Chris Evans) is out to help his old friend Bucky (Sebastian Stan) who, until recently, was an enemy known as the Winter Solider. Meanwhile, thanks to the actions of Iron Man (Robert Downey Jr.) in creating Ultron and nearly destroying the world - the government wants these heroes (or vigilantes according to some) kept in check. That pretty much sets up a power struggle between those who want their freedom and those who want to be held accountable. Joining the Cap. on his side are Falcon (Anthony Mackie), the Scarlet Witch (Elizabeth Olsen) Ant-Man (Paul Rudd) and Hawkeye (Jeremy Renner) while Iron Man can count on War Machine (Don Cheadle), Black Widow (Scarlett Johansson), Vision (Paul Bettany) and newcomer Black Panther (Chadwick Boseman). I also believe that Spider-Man (Tom Holland) is showing up on the Iron Man side as well. Throw in new villain Crossbones (Frank Grillo) and Zemo (Daniel Brühl) and this is shaping up to be a superhero throw-down of epic proportions. If early reviews are any indications, this could very well be the best Marvel movie yet - expectations are high and, unlike the dour Batman v Superman (even though it made plenty of money), regular people and critics have spoken and things are looking good. The only thing I don't like about these huge ensembles is that it makes it hard to focus on individuals - the same thing that sunk Avengers 2 for me. Hopefully Civil War can mitigate those factors and bring us an all-star cast with a story to match. The film has already made $200.4 million overseas (the opening was just under the $201.2 million for Age of Ultron) and I have a feeling it's going to explode over the weekend. We'll see if it sets any records, but I have a feeling it very well could.


I'll be back on Sunday when we'll find out just how powerful the Marvel brand it and how much money Disney is going to rake in this time.