By Harley Lond - 05/04/16 at 07:51 AM CT
FROM THE BIG SCREEN:
"Joy": Director David O. Russell taps his company of regulars -- Jennifer Lawrence, Robert De Niro, Bradley Cooper -- to tell the real-life uplifting story of Joy Mangano, a divorced mother with three children in the early 1990s who decided to strike out on her own and invented the Miracle Mop, becoming a millionaire in the process. But first she had to overcome doubting and deceitful friends and family members --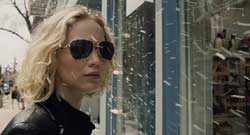 and persuade the fledgling Home Shopping Network to give her a spot. As with most such bio-dramas, the drama is enhanced and semi-fictional, but here -- with Jennifer Lawrence as Joy
Mangano -- it doesn't matter if the filmmakers play a little loose with the facts; Lawrence is a joy to behold as she takes center stage and struggles to overcome her obstacles. De Niro -- as Mangano's treacherous father --and Isabella Rossellini -- as De Niro's conniving girlfriend -- almost steal the show with their nastiness as they try their best to sabotage Mangano. A delightful outing. Also stars Diane Ladd, Virginia Madsen and Elisabeth Röhm. From Fox.

"The 5th Wave
" starts out with a bang and then peters out just past the half-way mark. In this Young Adult science fiction actioner, aliens attack the Earth in an effort to kill humankind - but salvage the planet; so rather than blast away with super weapons, they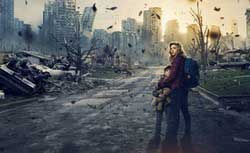 resort to other forms of destruction: magnetic pulses that cripple all electronic devices, earthquakes that cause worldwide tsunami, a bio-engineered plague, and then a ground invasion. Through it all a young Ohio girl (Chloe Grace Moretz) struggles to survive, and against a backdrop of fear and distrust, she sets out to save her younger brother as the aliens prepare the fifth and final wave. By this time, however, the storyline bogs down with unbelievable scenarios and plot miscues, wasting the talents of Moretz and co-stars Liev Schreiber, Nick Robinson, Alex Roe, Maika Monroe, Maggie Siff, Maria Bello, Ron Livingston. From Sony.

Also due this week: "The Choice
," another syrupy romance from Nicholas Sparks, the author of "The Notebook" and "Dear John," here about a fun-loving, smooth-talking bachelor living in a small coastal town who falls hard for his new neighbor. Stars Benjamin Walker, Teresa Palmer, Maggie Grace Alexandra Daddario, Tom Welling, Tom Wilkinson. From Lionsgate.


THIS WEEK'S HIGHLIGHTS:
Two groundbreaking films come to home video this week in gorgeous new editions.
"Easy Rider
"
(1969) is the definitive counterculture blockbuster. The down-and-dirty directorial debut of former clean-cut teen star Dennis Hopper, "Easy Rider" heralded the arrival of a new voice in film, one pitched angrily against the mainstream. After the film's cross-country journey -- with its radical, New Wave–style editing, outsider-rock soundtrack, revelatory performance by a young Jack Nicholson and explosive ending -- the American road trip would never be the same. On DVD and Blu-ray, with a restored high-definition digital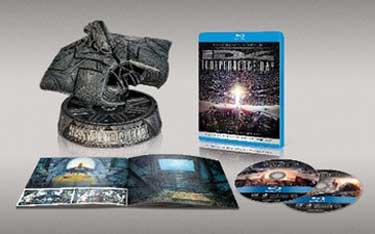 transfer, supervised by director of photography Laszlo Kovacs, with uncompressed monaural soundtrack on the Blu-ray. Also features alternate 2.0 and 5.1 surround soundtracks, presented in DTS-HD Master Audio on the Blu-ray. From The Criterion Collection ...
"Independence Day
"
(1996) is the sci-fi epic that launched a new era in blockbuster filmmaking. Director Roland Emmerich, producer Dean Devlin and an all-star cast including Will Smith, Jeff Goldblum and Bill Pullman join forces to deliver the ultimate encounter between powerful aliens and the human race. When massive spaceships appear in Earth's skies and blast destructive beams of fire down on cities all over the planet, a determined band of survivors must unite for one last strike against the invaders before it's the end of mankind. The DVD features a newly restored theatrical cut while the two-disc Blu-ray set includes restored extended and original theatrical cuts. There's also an
Attacker Editition
with the Blu-ray discs packed inside a limited edition 3D Alien Ship with a collectible booklet.
"Independence Day -- 20th Anniversary Edition"
has been released just in time for the June 24 theatrical debut of "Independence Day: Resurgence." From Fox.
BUZZIN' THE 'B'S:
"Remember
"
(2015), directed by Atom Egoyan and starring Christopher Plummer, Martin Landau, Bruno Ganz, Jurgen Prochnow, Heinz Lieven and Henry Czerny, the suspense-filled story of Zev (Plummer), an Auschwitz survivor who discovers that the Nazi guard who murdered his family some 70 years ago is living in America under an assumed identity. With the aid of a friend (Landau), Zev sets out on a gripping cross-country journey that tests both his will and his fading memory as it brings him closer to the retribution he seeks. On DVD, Blu-ray Disc from Lionsgate ... In
"Emelie
"
(2015), starring Sarah Bolger, a couple's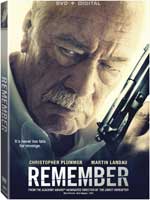 replacement babysitter turns out to be more than they bargained for when she subjects their kids to a series of twisted activities after the kids realize that their caretaker may not be who she claims to be. Soon it's up to big brother Jacob to protect his siblings from the increasingly nefarious intentions of a very disturbed woman whose weapon is trust, and whose target is innocence. On DVD, Blu-ray Disc from Dark Sky Films ...
"400 Days
"
(2016), starring Brandon Routh, Caity Lotz, Dane Cook, Ben Feldman, Tom Cavanagh and Grant Bowler, is a sci-fi thriller centering on four astronauts who are sent on a simulated mission to a distant planet to test the psychological effects of deep space travel. Locked away for 400 days, the crew's mental state begins to deteriorate when they lose all communication with the outside world. Forced to exit the ship, they discover that this mission may not have been a simulation after all. From Universal ... In the late 1890s, Davenport House was a famously successful brothel, until a young prostitute, Alice, virtually imprisoned inside the walls, took murderous revenge on her captors and tragically ended her own life. More than a century later, the latest Davenport heir is hosting a decadent bash in the newly renovated mansion -- complete with drugs, prostitutes and just one rule: anything goes. But the legend of Alice's tormented ghost proves to be very real as the guests discover firsthand that vengeance never rests in peace in
"The Haunting of Alice D
"
(2014), starring Juan Riedinger, Aaron Massey, Megan Hensley, Al Snow, Kane Hodder. From RLJ Entertainment ...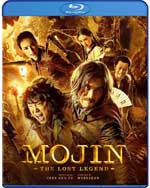 "Mojin: The Lost Legend
"
(2015 -- China) is an action/adventure fantasy thriller that follows three retired tomb raiders who are lured back to their original vocation by a mysterious, businesswoman/cult leader who wants them to find the ancient tomb of a Mongolian princess. They eventually learn that what she really wants is to possess a famed artifact known as the Equinox Flower that allegedly has the power to raise the dead. On DVD, Blu-ray Disc from Well Go USA ... Tired of his nagging wife and his dull existence as an under-appreciated employee, seemingly mild-mannered Aram snaps after he is passed over for a well-deserved promotion. Suddenly and menacingly asserting his long-reserved power, he devises a plan to kidnap a schoolgirl and keep her tied up in an abandoned warehouse in order to finally get what he feels he is owed. But what seems like the perfect plan soon unravels into his worst nightmare in the twisted thriller
"Scherzo Diabolico
"
(2015), starring Francisco Barreiro, Daniela Solo Vell. From Dark Sky Films ... Inspired by true events, the war thriller
"Hyena Road
"
(2015) follows troops stationed in Afghanistan who must protect the construction of a road through the heart of the Taliban. Stars Rossif Sutherland, Paul Gross, Christine Horne. From Samuel Goldwyn Films/Sony ...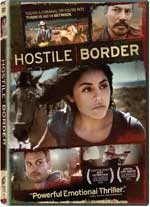 In
"Hostile Border
"
(2015), starring Veronica Sixtos, Julio Cedillo, Roberto Urbina, Jorge A. Jimenez, Jesse Garcia, Claudia, raised in the U.S., is an undocumented immigrant living beyond her means in a twisted version of the American dream. When she's arrested by the FBI for credit card fraud, she's quickly deported to Mexico but, speaking no Spanish and lost in her foreign "homeland," she reluctantly takes refuge at her estranged father's cattle ranch. As she clashes with her unyielding father, her attempts to return home to the U.S. thrust her into a dangerous bond with a foreign smuggler, Ricky. Caught between her father's sermons, Ricky's promises, and the encroaching military, Claudia must navigate a tightrope of impossible choices. From Samuel Goldwyn/Sony ... Single mom Juana can slice and dice anything with great speed and precision and, after working at a fruit-vending cart for years, she decides to take a job at a local Japanese restaurant. Intrigued by the food, she learns to make a multitude of sushi on her own and eventually attempts to become a sushi chef ... but she's the "wrong" race and gender. Against all odds, she embarks on a journey of self-discovery, determined to not let anyone stop her from achieving her dream in
"East Side Sushi
"
(2015), starring Diana Elizabeth Torres and Yutaka Takeuch. From Samuel Goldwyn Films/Sony ... Inspired by true events. Romantic comedy
"A Royal Night Out
"
(2015) recounts the glorious celebration of the end of World War II in Europe -- and the singular evening when Princess Elizabeth (Sarah Gadon) and Princess Margaret (Bel Powley) leave the confines of Buckingham Palace to join the festivities; the young royals venture out into London for a whirlwind adventure filled with excitement, danger and the flutters of first love. Stars Sarah Gadon, Bel Powley, Rupert Everett, Emily Watson, Jack Reynor. From Fox ... In
"Blood Lust
"
(2016), starring Matt Silver and C. Thomas Howell, a depressed food critic struggling to move on after the murder of his wife is lured to an isolated island by his new online girlfriend, but as the other guests of the estate begin to disappear, he suspects that he or her monstrous sisters may have a gruesome menu planned for dinner. From Inception Media ...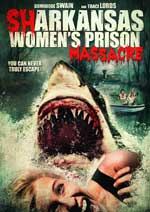 "Sharkansas Women's Prison Massacre
"
(2015), starring Dominique Swain, Traci Lords, Cindy Lucas, Christine Nguyen and Amy Holt, is a high-camp, creature-feature from exploitation master Jim Wynorski. When a fracking mishap accidentally rips apart the earth's crust, the resulting hole opens up a gaping underground waterway leading to a vast and mysterious subterranean ocean somewhere deep below. Instantly, giant prehistoric sharks begin wending their way upward toward a murky bog in the heart of the Arkansas bayou. Unfortunately for a group of female prisoners on a work detail in the swamp, the deadly sharks attack without warning – pinning a hapless group of potential victims in a small deserted cabin in the heart of the wetlands.On DVD, Blu-ray Disc from Scream Factory ... When the mission to rescue a U.S. Congressman who has been kidnapped by the Taliban goes sideways, Army Sniper Jake Chandler and his partner are left behind. Now on their own, they must survive in enemy territory and wait for their unit to come back for them in
"Sniper: Special Ops
"
(2015), starring Steven Seagal, Rob Van Dam, Tim Abell, Dale Dye. From Lionsgate ... In
"Kingdom of Blood
"
(2015 -- Hong Kong), starring Anthony Chau-Sang Wong, Chao Deng and Collin Cho, when an Emperor vanishes after an attempt on his life, the only warriors that can rescue him are the now-disbanded Divine Constabulary. Little do they realize that one of their own is holding the ruler hostage. Can they convince her to free the Emperor, rejoin the team, and battle a deadly conspiracy lurking within the palace walls? From Lionsgate.
FOREIGN FILMS:
"The Club
"
(2015 -- Chile), starring Alfredo Castro, Alejandro Sieveking, Jamie Vadell, Alejandro Goic and Marcelo Alonso, is a taut, blackly comic drama that revolves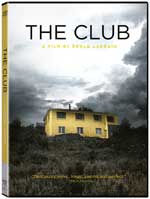 around a group of priests that are exiled to a small village to atone for the sins of their pasts. Their fragile stability is disrupted by the arrival of an emissary from the Vatican, who seeks to understand the effects of their isolation, along with a former victim of the priests' abuse. Both bring with them the outside world from which the men have long been removed, and the secrets they had thought were deeply buried. An insightful commentary on individual responsibility and organized religion, as well as an artfully relevant examination of what happens when those two combustible elements are combined. A Golden Globe nominee for Best Foreign Language Film and Chile's official selection for the 2016 Academy Award for Best Foreign Language Film. On DVD, Blu-ray Disc from Music Box Films.
FOR THE FAMILY:
"Bob the Builder: Construction Heroes"
(2016) features six new-to-DVD episodes. Kids can grab their tools and get ready for teamwork time with Bob the Builder and his trusty crew. Spring City is abuzz with new construction and Bob the Builder and his team are there for all the action -- from constructing the amazing new "Spring City Splash" water park to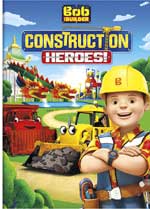 developing an exciting motocross course, Bob and his team prove that with a positive attitude and whole lot of laughter, there's nothing this talented builder and his team can't fix. From Universal ...
"Sesame Street: Sing It, Elmo!"
(2016) offers up two hours of music with the red furry friend. Elmo and Rosita have planned a play date, but they keep missing each other, so they search the neighborhood for each other, singing along the way. Through songs, kids can appreciate music, learn about friendship, and even practice math skills such as number recognition and counting. Preschoolers will love singing and dancing along with Elmo, Zoe, Grover and Rosita and their new band, "The Cute and Furry Four." $14.98 from Warner.
SPECIAL INTEREST:
"Janis: Little Girl Blue
"
(2015) is a fascinating documentary on Janis Joplin, one of the most revered singers of all time, a tragic and misunderstood figure who thrilled millions of listeners and blazed new creative trails before her untimely death in 1970 at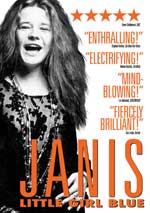 age 27. "Janis: Little Girl Blue" examines her story in-depth for the first time on film, presenting an insightful look at this complicated, driven, often beleaguered artist with rare personal and performance footage and interviews with friends and family. The Joplin family provided unfettered access to their vaults for the first time, in which the filmmakers unearthed previously unreleased letters, photos, audio and footage of Joplin. The singer's own words tell much of her story through a series of letters she wrote to her friends, family, and collaborators over the years. Joplin was a powerhouse when she sang, and her surprising rise and sudden demise changed music forever. Directed and written by Academy Award-nominated documentarian Amy Berg ("Deliver Us From Evil," "West of Memphis"). The film features musicians Pink, Kris Kristofferson, Melissa Etheridge, Juliette Lewis, and Bob Weir, TV presenter Dick Cavett, producer Clive Davis, counterculture filmmaker D.A. Pennebaker, and more. Narrated by muician Cat Power. From FilmRise/MVD Entertainment Group.
Due May 6.
FROM TV TO DVD:
"The Brokenwood Mysteries, Series 2"
(2015): In a seemingly quiet country town in New Zealand, Detective Inspector Mike Shepherd (Neill Rea) finds that murder can happen anywhere. After transferring from a big city to the small town of Brokenwood, Shepherd has settled into the relaxed rhythms of country life. His methodical young assistant, Detective Kristin Sims (Fern Sutherland), has adapted to Shepherd's unconventional ways -- and even tolerates listening to country music in his 1971 "classic" car. Despite the growing accord between the mismatched pair, all is not well in Brokenwood, where passions simmering beneath the sleepy surface regularly erupt into gruesome crimes. In these four feature-length mysteries, Shepherd and Sims contend with a potential serial killer, a group of egocentric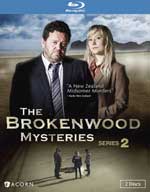 thespians, a family of territorial fishermen, and the mysterious death of Shepherd's favorite singer. In four-disc DVD, two-disc Blu-ray sets. From Acorn Media ...
"Dolly Parton's Coat of Many Colors"
(2015)starring Jennifer Nettles, Ricky Schroder, Gerald McRaney, Alyvia Alyn Lind, is based on the inspiring true story of Dolly Parton's remarkable upbringing in rural Tennessee. The TV drama takes place inside the tight-knit Parton family as they struggle to overcome a devastating tragedy and discover the healing power of love, faith and a raggedy patchwork coat -- vividly described in the well-known song of the film's title -- that helped make Parton who she is today. Set in the Tennessee Great Smoky Mountains in 1955; Parton introduces the film and serves as narrator. From Warner ...
"The Last Ship"
(2015) is a three-disc set with all 13 episodes of the TNT cable TV series based on William Brinkley's popular novel that chronicles a global catastrophe that nearly decimates the world's population. Because of its positioning, the Navy destroyer U.S.S. Nathan James avoided falling victim to the devastating tragedy. But now, Captain Tom Chandler (series star Eric Dane) and his crew must confront the reality of their new existence in a world where they may be among the few remaining survivors. On DVD, Blu-ray from TNT/Turner Home Entertainment.
Check out other May 3-May 9 DVD releases and reviews at OnVideo.
Comments