New on DVD and Blu-ray Week of April 19-25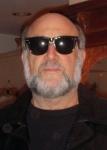 By Harley Lond - 04/19/16 at 03:35 AM CT
FROM THE BIG SCREEN:
"The Revenant" is an incredible cinematic masterpiece by Alejandro G. Inarritu, the brilliant director of "Birdman," "Babel" and "Biutiful." Along with "Carol," "The Big Short," "Mad Max: Fury Road" and "Spotlight," one of the best films of this -- or any -- year. Inspired by true events, "The Revenant" is an epic story of survival and transformation on the American frontier. While on a trapping expedition in the uncharted wilderness that is now Montana and South Dakota in 1823, legendary explorer Hugh Glass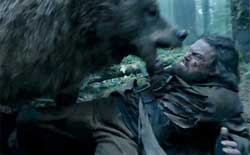 (Leonardo DiCaprio)'s hunting team is massacred by members of the Arikara tribe. Retreating down river with the small party of survivors, Glass is brutally mauled by a bear, then abandoned by members of his own party. Alone and near death, Glass refuses to succumb. Driven by sheer will and his love for his Native American wife and son, he undertakes a 200-mile odyssey through the vast and untamed West on the trail of the man who betrayed him: John Fitzgerald (Tom Hardy). What begins as a relentless quest for revenge becomes a heroic saga against all odds towards home and redemption. Winner of three Oscars: Best Actor for DiCaprio, Best Director for Inarritu, and Best Cinematography for Emmanuel "Chivo" Lubezki; the film also garnered three Golden Globes, five BAFTA Awards, a DGA Award for Best Director (Inarritu) and SAG Award for Best Actor (DiCaprio), among many other accolades. Extras include "A World Unseen," which takes viewers into the world of a 19th century America and uncovers the vision behind "The Revenant
" and the parallels found in our world today through the film's visionary director along with DiCaprio. From Fox.

Also due this week: "The Lady in the Van
," Alan Bennett's big-screen comedic adaptation of his own iconic memoir and honored stage play, based on the true story of Miss Shepherd (Maggie Smith), a woman of uncertain origins who "temporarily" parked her van in Bennett's London driveway and proceeded to live there for 15 years. What begins as a begrudged favor becomes a relationship that will change both their lives. From Sony.

In "Ip Man 3
," Donnie Yen returns to the role that made him an icon -- as Ip Man, the
real-life Wing Chun grandmaster who mentored Bruce Lee. This iteration of the Ip Man epic trilogy takes place in 1959 Hong Kong and finds Ip Man (Yen) attempting to save his son's school from an intimidating property developer (Mike Tyson). From Well Go USA.

"Fifty Shades of Black
" has Marlon Wayans starring as Christian Black, a man who has it all: power, success and an intense desire to get freaky -- especially with Hannah, a young, virginal girl in, you guessed it, this spoof of "Fifty Shades of Grey." From Universal.


THIS WEEK'S HIGHLIGHTS:

In 1968, acclaimed director Toshio Masuda ("Rusty Knife," "Tora! Tora! Tora!") and rising star Tetsuya Watari ("Tokyo Drifter") teamed up for "Outlaw: Gangster VIP," a gritty yakuza yarn based on the writings of real life ex-gangster Goro Fujita. The series offers up a depiction of the Japanese underworld that was unprecedented in its realism and its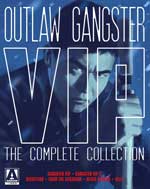 sympathetic portrayal of its protagonist as a man haunted by his past, unable to escape a life of crime. The success of the initial installment spawned five sequels, continuing the story of the lone wolf "Slasher" Goro and his quest for redemption. The films presented a new kind of realism and violence that would prefigure Kinji Fukasaku's "Battles Without Honor and Humanity" series. With their winning combination of brutal violence, gang warfare and sweeping romance, these films make for a unique and unforgettable viewing experience. The "Outlaw: Gangster VIP
Collection" set includes six films in the "Outlaw" series released for the first time in the West: "Gangster VIP," "Gangster VIP 2," "Heartless," "Goro the Assassin," "Black Dagger" and "Kill!" Limited edition box set (3000 copies) containing all six films available with English subtitles for the first time on any home video format High Definition digital transfers from original film elements by Nikkatsu Corporation. In a Blu-ray/DVD Combo from Arrow Video/MVD Entertainment.

Courtesy of horror auteur and cult filmmaker Larry Cohen (director of the "It's Alive" series, "Bone," "God Told Me To," "Q: The Winged Serpent," and scribe behind the "Maniac Cop" trilogy), "The Stuff
" (1985) is a titillating treat for the taste-buds that blends elements of films such as "Street Trash" with the straight-up B-movie flavor of "The Blob." Are you eating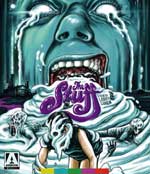 it ... or is it eating you? The Stuff is the new dessert taking supermarket shelves by storm. It's delicious, low in calories and – better still – doesn't stain the family carpet ... What's not to like?! Well, for a start it has a life of its own, and we're not talking friendly live bacteria … Young Jason seems to be the only one who doesn't love The Stuff – in fact he won't go anywhere near it, after having seen the pudding crawling around the fridge one night. What's more, everyone who eats The Stuff has started acting really weird … Now, teaming up with wise-cracking industrial saboteur "Mo," Jason must put a stop to The Stuff and the organization behind it or face a gooey, gloopy demise. Coming So grab a spoon and dig on into The Stuff – the taste that delivers … much more than you bargained for! New High Definition restoration of the film from a brand new 2K scan of the original camera negative. On Blu-ray/DVD Combo from Arrow Video/MVD Entertainment.

"Forbidden Hollywood Volume 10
" is the tenth and final volume in Warner Archive Collection's Forbidden Holltywood pre-code film series. Includes: W.S. Van Dyke's "Guilty Hands" (1931), starring Lionel Barrymore as a DA who commits the perfect crime. Kay Francis co-stars; James Flood and Elliott Nugent's "The Mouthpiece" (1932) stars Warren William in a breakout performance as a DA turned defense attorney; Edward Sutherland spills the "Secrets of the French Police" (1932) as an inspector (Frank Morgan) and a thief (John Warburton) scour the underworld for a waif who may be Princess Anastasia (Gwili Andre); Howard Bretherton and William Keighley's "The Match King" (1932), starring Warren William in the title role and based on the real-life story of industrialist Ivar Kreuger. Glenda Farrell delivers the glam; "Babyface" Barbara Stanwyck sizzles as a spouse torn between love (Otto Kruger) and country in Archie Mayo's "Ever in My Heart" (1933) with Ralph Bellamy as "the other guy" (naturally!). From Warner.

Whit Stillman followed his delightful indie breakthrough "Metropolitan" with another clever and garrulous comedy of manners, "Barcelona
" (1994), this one with a darker edge. A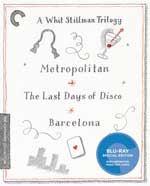 pair of preppy yet constitutionally mismatched American cousins -- a salesman and a navy officer -- argue about romance and politics while working in the beautiful Spanish city of the film's title. Set during the eighties, "Barcelona" explores topics both heady (American exceptionalism, Cold War foreign policy) and hilarious (the ins and outs of international dating, the proper shaving method) while remaining a constantly witty delight, featuring a sharp young cast that includes Taylor Nichols, Chris Eigeman and Mira Sorvino. On DVD and Blu-ray, in a new, restored 2K digital transfer, supervised by director Whit Stillman and cinematographer John Thomas, with 2.0 surround DTS-HD Master Audio soundtrack on the Blu-ray. From The Criterion Collection. Stillman's work is not for everyone, but if you enjoy his films, then you should snap up Criterion's "A Whit Stillman Trilogy
: Metropolitan, Barcelona, The Last Days of Disco," which brings all his work together in one set along with commentaries, deleted scenes, outtakes, video interviews and more.


BUZZIN' THE 'B'S:

In "What Lola Wants
" (2015), starring Sophie Lowe, Beau Knapp, Dale Dickey, Charles S. Dutton and Robert Taylor, 16-year-old Lola Franklin (Lowe) runs away from home and her Hollywood royalty parents, but allows the world to believe she's been kidnapped. Intent on making her way across the country, she meets a boy, Marlo (Knapp), in a New Mexico diner. They fall instantly in love. But when Marlo learns of the reward for Lola's safe return, he must decide between collecting the reward for her return, or escaping his own life in a ruthless crime ring to help her continue her mysterious getaway. From Anchor Bay ... In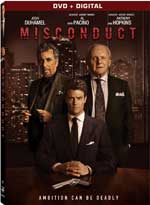 "Misconduct
" (2016), starring Josh Duhamel, Al Pacino, Anthony Hopkins, Alice Eve, Malin Akerman, Byung-Hun Lee, Julia Stiles, Glen Powell and Chris Marquette, an ambitious lawyer (Duhamel) finds himself caught in a power struggle between a corrupt pharmaceutical executive (Hopkins) and his firm's senior partner (Pacino). When the case takes a deadly turn, he must race to uncover the truth before he loses everything. On DVD, Blu-ray/DVD Combo from Lionsgate ... "The Texas Chainsaw Massacre 2
[Collector's Edition]" (1986) is a two-disc set with two versions of the film and 10 hours of bonus features. Disc 1: "The Texas Chainsaw Massacre Part Two" in a new 2016 2K HD scan of the inter-positive film element with new audio commentary with director of photography Richard Kooris, production designer Cary White, script supervisor Laura Kooris and property master Michael Sullivan; audio commentary with director Tobe Hooper; audio commentary with actors Bill Moseley, Caroline Williams and special effects makeup creator Tom Savini; more. Disc 2: "The Texas Chainsaw Massacre Part Two" is MGM's original HD master with color correction supervision by director of photography Richard Kooris; with new interviews and "It Runs in the Family" six part feature-length documentary featuring interviews with screenwriter L.M. Kit Carson, actors Bill Moseley, Caroline Williams, Bill Johnson, Lou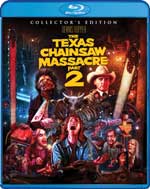 Perryman, special makeup effects artist Tom Savini and more; on Blu-ray Disc from Scream Factory ... "Bloody Wednesday" (1987), starring Raymond Elmendorf, Pamela Baker and Navarre Perry, is the saga of Harry Curtis, who begins an inexplicable descent into madness: Haunted by ghosts and harassed by neighborhood thugs, his reality becomes increasingly distorted and his behavior ever more odd. He feels abandoned by humanity, his only friend a talking teddy bear ... and when he loses his job, his dark and evil descent accelerates. Inspired by the true story of Southern California mass murderer -- out-of-work security guard, 41-year-old James Huberty -- who walked into a San Ysidro McDonald's in July 1984 and killed 21 people before being fatally shot by a police sharpshooter. From Film Chest Media Group ... Partridge, Laurence, Jess Weixler, Tom Bower. Based on the novel by Bonnie Nadzam, "Lamb
" (2015) traces the self-discovery of David Lamb (Ross Partridge) in the weeks following the disintegration of his marriage and the death of his father who hopes to regain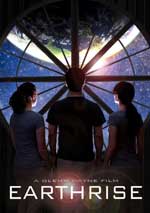 some faith in his own goodness by turning his attention to Tommie (Oona Laurence), an awkward and unpopular 11-year-old girl. They embark on a road trip from Chicago to the Rockies, a journey that will change them in unexpected ways. From Sony ... "Convict
" (2013 -- Australia), starring George Basha, Richard Green, Brian Ellison and David Field, is the story of an Australian war veteran with strong moral beliefs who accidently kills a young man and is sent to prison, where he has to balance his sense of justice with the immorality that surrounds him. From Indie Rights/MVD Entertainment ... In the near future of "Earthrise
" (2014), starring Casey Dillard, Meaghin Burke, Greg Earnest, Jon W Sparks and Sherri Eakin, 99 percent of the human race live on Mars, with the remaining few living on Earth, working to rehabilitate the dying planet. Each year a small number of people from Mars are selected to return home to aid in the restoration process. For those few, it will be their first glimpse of Earth. Sci-fi psychological thriller. From Indie Rights/MVD Entertainment.


FOR THE FAMILY:

"Albert – Up, Up and Away" (2015 -- Denmark) is an animated tale inspired by the children's book "Albert" by Ole Lund Kirkegaard. Albert is a smart and cheeky boy, but his taste for mischievous pranks make him a menace in his small hometown. When he accidentally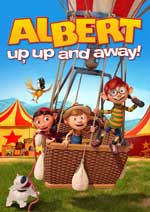 destroys the statue of a local hero and famous hot-air balloon captain, Albert is determined to make up for his mistake. He decides to venture into the world with his best friend Egon ... and return as a hot-air balloon captain himself. But Albert and Egon's quest takes a detour when a mean bandit takes advantage of the clueless boys to help him steal the world's largest diamond. From Shout! Kids ... When a real estate development invades his Arctic home, Norm and his three lemming friends head to New York City, where Norm becomes the mascot of the corporation in an attempt to bring it down from the inside and protect his homeland in "Norm of the North
" (2016), with the voices of Rob Schneider, Heather Graham, Ken Jeong, Colm Meaney, Loretta Devine, Gabriel Iglesias, Michael McElhatton and Bill Nighy. From Lionsgate.


SPECIAL INTEREST:

The documentary "The Sex Trade
" (2015 -- France) takes an inside look into the worldwide sex trade, which has expanded into an enormous industry in the last few decades. Part investigative report and part editorial, the film is a foray into a brutal world whose key players trivialize the impact of their actions by claiming that prostitution is simply a service like any other. But who's really benefiting? To meet customer demands and keep this lucrative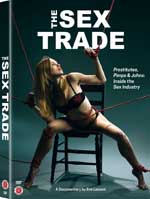 business rolling, unscrupulous pimps and sex traffickers target women and girls, who are afraid to speak out. They are funneled into a sprawling sex trade: high-end and street prostitution, escort agencies, massage parlors, strip clubs, the porn industry, and sex tourism. Seemingly everywhere, men are paying for sex and buying the silence of the women. From First Run Features ... The documentary "Shadows of Liberty" (2012) reveals how the media manipulates the news via censorship, cover-ups and corporate control. Filmmaker Jean-Philippe Tremblay takes a journey through the darker corridors of the U.S. media, where global conglomerates call the shots. In highly revealing stories, renowned journalists, activists and academics give insider accounts of a broken media system. Tracing the story of media manipulation over the years, the film poses a crucial question: Why have we let a handful of powerful corporations write the news? Features interviews with well-known journalists and public figures including Julian Assange, Danny Glover, Amy Goodman, Dan Rather and David Simon. From Icarus Films ... Director Gorman Bechard, whose documentary, "Color Me Obsessed, A Film About The Replacements," was named one of "The Seven Best New Music Documentaries of the Year" by Rolling Stone, takes on a rock star of a different sort with "A Dog Named Gucci
" (2015), a feature-length documentary examining animal abuse laws in the United States.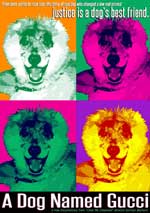 It's a timely and poignant documentary about a 10-week old puppy who was doused with lighter fluid and set on fire. Hearing the puppy's cries, college professor Doug James ran to help. After chasing away the abusers, and at the request of Gucci's young runaway owner, Doug took the puppy in as his own. Thus began a 16-year odyssey of love, devotion, and perseverance. Together with legislators, Doug and Gucci worked to create what became known as the "Gucci Bill," changing Alabama law, and making domestic animal abuse a felony. From What Were We Thinking/MVD Entertainment ... From the 1970s thru the 1990s, there was no hipper, no more outrageous comedy in print than The National Lampoon, the groundbreaking humor magazine that pushed the limits of taste and acceptability -- and then pushed them even harder. Parodying everything from politics, religion, entertainment and the whole of American lifestyle, the Lampoon eventually went on to branch into successful radio shows, record albums, live stage revues and movies, including "Animal House" and "National Lampoon's Vacation." Director Douglas Tirola's documentary chronicles the magazine's founding by two former Harvard students, its growth, demise and everything in between. Told through fresh, candid interviews with its key staff, and illustrated with hundreds of outrageous images from the mag itself (along with never-seen interview footage from the magazine's prime), "Drunk Stoned Brilliant Dead: The Story of the National Lampoon
"(2015) gives fans of the Lampoon a unique inside look at what made the magazine tick, who were its key players, and why it was so outrageously successful: a magazine that dared to think what no one was thinking, but wished they had. On DVD, Blu-ray Disc from Magnolia Home Entertainment.


FROM TV TO DVD:

"And Then There Were None" (2015), Agatha Christie's classic tale, is here adapted by the BBC, in a two-disc set with three episodes. Stars Sarah Phelps, Maeve Dermody, Aidan Turner, Charles Danc, Anna Maxwell Martin, Sam Neill, Miranda Richardson, Douglas Booth, Maeve Dermody, Burn Gorman, Toby Stephens, Noah Taylor. As the world teeters on the brink of World War II, 10 strangers are invited to isolated Soldier Island. Among them are young secretary Vera Claythorne (Dermody), soldier Philip Lombard (Turner), General John MacArthur (Neill), spinster Emily Brent (Richardson), and Judge Lawrence Wargrave (Dance). With seemingly nothing in common, the guests wonder who their mysterious host may be. But the ominous reason for their visit soon becomes clear ... the guests start dying one by one. From Acorn Media ... The first Western to be made in Ireland, "Dominion Creek" (2015) follows the ambitious Connolly brothers -- recent immigrants from Ireland as they work the silver mines of Montana in 1897 and dream of riches and adventure. Seduced by rumors of a greater prize to the north, they embark on a dangerous journey to the heart of the Yukon in this tale of greed, love, betrayal ... and gold. From Acorn Media ...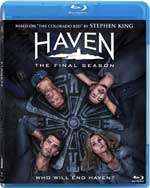 (2014-15) is a four-disc set with the last 13 episodes of the Syfy series based on Stephen King's novella "The Colorado Kid" that follows former FBI agent Audrey Parker (Emily Rose) and her supernatural exploits in the small town of Haven, Maine. The final season presents hometown heroes Audrey, Nathan (Lucas Bryant), Duke (Eric Balfour) and Dwight (Adam Copeland) with challenges unlike any they've experienced before: The town of Haven has been cut off from the rest of the world by a mysterious fog bank and is on its own. Through journeys into the past, the future, and the very fabric between worlds, events in Haven hurtle towards a cataclysmic showdown. From Entertainment One ... "Little House on the Prairie: Season Nine Deluxe Remastered Edition" (1982-82) is a five-disc set with all 21 episodes, restored and remastered. It's time to say farewell to Walnut Grove and the Ingalls Family in the ninth and final season of this unrivaled series, a season of change when the Wilders take in their sweet niece Jenny; when Laura wins a book-writing contest; when a jealous Nancy runs away; and when Willie surprises the family with his engagement. From Lionsgate ... "Pretty Little Liars: The Complete Sixth Season" (2015-16) is a five-disc set with all 21 episodes, $49.99 from Warner ... "Silicon Valley: The Complete Second Season" (2015) is a two-disc set with all 10 episodes of the series that takes a comic look at the modern-day epicenter of the high-tech gold rush, where the people most qualified to succeed are the least capable of handling success. After taking the tech world by storm last season at TechCrunch Disrupt, Richard and rest of the Pied Piper team -- Erlich, Jared, Dinesh and Gilfoyle -- look ahead to a bright and profitable future. But their success may be in jeopardy, thanks to big changes at Raviga, the company created by Peter Gregory, and Nucleus, the competing compression platform launched by Hooli CEO Gavin Belson. On DVD, Blu-ray Disc from HBO ... "Veep: The Complete Fourth Season" (2015) is a two-disc set with all 10 episodes. Having become president after her predecessor stepped down, it remains to be seen whether Selina's term will outlast that of America's shortest-serving president, William Henry Harrison. The stakes for Selina and her team are higher than ever before: she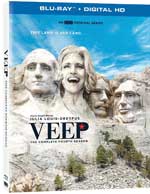 must still run for election, and her people must grapple with how to make her seem "presidential." The fourth season of the hit HBO comedy series was the winner of five 2015 Emmy awards including Outstanding Comedy series, Outstanding Lead Actress in a Comedy series (Julia Louis-Dreyfus who has won an Emmy for each season of Veep), Outstanding Supporting Actor in a Comedy Series (Tony Hale) and Outstanding Writing for a Comedy Series. Skewering the whirlwind day-to-day existence of the Vice President's office and Washington politics at-large, the series continues to prove that in Washington, even the most banal decisions can have ripple effects, with unexpected and far-reaching consequences. On DVD, Blu-ray Disc from HBO ... "When Calls the Heart: Troubled Hearts" (2015) is the latest episode in the series based on the work of author Janette Oke ("The Love Comes Softly" series). Big revelations are in store for Hope Valley as Elizabeth moves into her own rowhouse, dismaying Jack, who has been planning to build a new home for the both of them. Rosemary discovers that Lee has taken out a loan and worries that he's in financial difficulties. And Jesse, the young drifter who works in Abigail's kitchen, has information that could ruin Pastor Frank's good standing in Hope Valley. From Shout! Factory.

Check out other April 19-25 DVD releases and reviews at OnVideo.