New on DVD and Blu-ray Week of March 29-April 4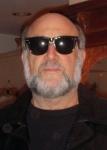 By Harley Lond - 03/29/16 at 04:56 AM CT
FROM THE BIG SCREEN THIS WEEK:

In "The Hateful Eight," Quentin Tarantino takes his well-worn tropes -- despicable characters, ultra-violence, greed, treachery, deceit -- and mixes up a heady brew that ends up being greater than the sum of its parts. The at-first slow-moving, talkative Western -- revolving around a pair of bounty hunters (Kurt Russell, Samuel L. Jackson) and a prisoner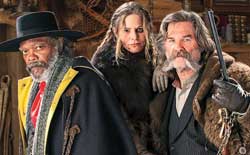 (Jennifer Jason Leigh) on her way to be hanged in the town of Red Rock, Wyoming, some time after the end of the Civil War -- unfolds as a Greek tragedy worthy of Shakespeare by way of Kurosawa and Peckinpah. The acting is sharp (Jennifer Jason Leigh was nominated for an Oscar for Best Supporting Actress), the cinematography gorgeous, and the score glorious (Ennio Morricone won an Oscar for that). It's all over the top, but that's the way Tarantino works best -- and we like it. Co-stars Walton Goggins, Demian Bichir, Tim Roth, Michael Madsen and Bruce Dern. Tarantino -- one of a handful of filmmakers still using film stock instead of digital -- shot the film entirely on 70mm (using Ultra Panavision 70), and it shows in its warmth and depth. Extras for The Hateful Eight
include a behind-the-scenes featurette and a guide to 70mm film. From The Weinstein Company/Anchor Bay.

"Concussion
": Based on the incredible true David vs. Goliath story of Nigerian doctor Bennet Omalu (played by Will Smith), a brilliant forensic neuropathologist who made the first discovery of CTE, a football-related brain trauma, while conducting a 2002 autopsy on former Pittsburgh Steelers center Mike Webster. During the next few years he gathers new evidence of similar brain damage in football players but, despite this, the NFL fights tooth and nail to suppress his research, intimidating his family and associates. Eventually the doctor is vindicated, and the sport finally acknowledges that long-term, repeated blows to the head can cause brain damage. The intrigue of the forensic discovery -- and the almost conspiratorial denial by the powers-that-be -- could have made an exciting, involving movie -- along the lines of "Spotlight" -- but investigative journalist-turned director Peter Landesman ("Parkland") just doesn't yet have the chops to pull it off. Smith turns in a solid performance in the otherwise middle-of-the-road film. Co-stars Alec Baldwin, Gugu Mbatha-Raw, Arliss Howard, Paul Reiser, Luke Wilson and Albert Brooks. Extras include deleted scenes and a behind-the-scenes featurette. From Sony.

Also due this week: "Point Break
," a weak, lackluster remake of the cult favorite 1991 film starring Patrick Swayze, Keanu Reeves and Gary Busey and directed by Kathryn Bigelow. A young FBI agent, Johnny Utah (Luke Bracey) infiltrates a cunning team of thrill-seeking elite athletes -- led by the charismatic Bodhi (Edgar Ramirez) -- who are suspected of carrying out a spate of crimes in extremely unusual ways. From Warner.


THIS WEEK'S BEST BETS:

Highlight of the week is the impressive five-disc set, "Chantal Akerman: Four Films
." Among the many films that Belgian filmmaker Chantal Akerman (1955–2015, best known for her 1975 masterpiece "Jeanne Dielman, 23 Commerce Quay, 1080 Brussels") made over 40 years, four documentaries stand out. Beginning with "From the East," filmed across Eastern Europe after the fall of the Berlin Wall, through "South" and "From the Other Side,"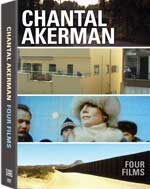 two films in the United States as relevant today as when first released, to her epistolary "Down There" from Tel Aviv (released for the first time in North America), Akerman's documentaries combine her formal discipline with engagement and empathy. Disc 1: "From The East" (1993): A journey from the end of summer to deepest winter, from East Germany across Poland and the Baltics, to Moscow. Disc 2: "South" (1999)" The heart of this journey is the brutal murder of James Byrd, Jr. in Jasper, Texas. But this is not an anatomy of his murder; rather, it is an evocation of how this event fits into a landscape and climate as mental as it is physical. Disc 3: "From The Other Side" (2002): With technology developed for the military, the INS has stemmed the flow of illegal immigration in San Diego. But for the desperate, there are still the dangerous deserts of Arizona. Disc 4: "Down There" (2006): Akerman spends a brief period on her own in an apartment by the sea in Tel Aviv, contemplating her family, her Jewish identity and her childhood. Disc 5: "Chantal Akerman, From Here" (62 minutes, 2010): An hour-long, single-shot conversation with Akerman about her films and her directorial philosophy. In English, French, and Spanish with English subtitles. From Icarus Films ... Les Blank ("Burden of Dreams") considered his free-form feature documentary about beloved singer-songwriter Leon Russell, "A Poem is a Naked Person
"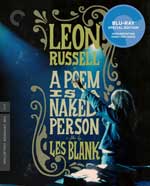 (1974), filmed between 1972 and 1974, to be one of his greatest accomplishments. Yet it has not been released until now. Hired by Russell to film him at his recording studio in northeast Oklahoma, Blank ended up constructing a unique, intimate portrait of a musician and his environment. Made up of mesmerizing scenes of Russell and his band performing, both in concert and in the studio, as well as off-the-cuff moments behind the scenes, this singular film -- which also features performances by Willie Nelson and George Jones -- has attained legendary status over the years. It's a work of rough beauty that serves as testament to Blank's cinematic daring and Russell's immense musical talents. From The Criterion Collection ... In director Delmer Daves' psychological thriller "The Red House
" (1947), Edward G. Robinson plays an aging farmer with a dark secret he's trying to keep hidden. He and sister Ellen (Judith Anderson) have raised Meg (Allene Roberts) since she was a little girl, after her parents mysteriously disappeared. But now Meg is coming of age, and bringing a male friend from high school around to help with chores on the farm. The teens are warned against wandering into the nearby woods, where terrifying screams have been heard in the night emanating from an abandoned red house. But curiosity threatens to get the better of them ... Features an original, eerie score by Oscar-winning composer Miklos Rozsa. Transferred from 35mm archival film elements. On Blu-ray Disc from The Film Detective.


BUZZIN' THE 'B's:
"Forsaken
" (2016), starring Kiefer Sutherland, Donald Sutherland, Demi Moore, Brian Cox and Michael Wincott, is a brooding western about an embittered gunslinger who attempts to make amends with his estranged father whilst their community is besieged by ruthless land-grabbers. In 1872, John Henry Clayton (Kiefer Sutherland) retires as a gunfighter and returns to his hometown of Fowler, Wyoming in hope of repairing his relationship with his estranged father, Reverend Clayton (Donald Sutherland). However, he soon learns that the town is in turmoil, as the railroad will be coming through the area and a criminal gang is terrorizing ranchers who refuse to sell their land. John Henry is the only one who can stop them, but his father doesn't want his son to return to a life of violence. First on-screen pairing of the Surherlands. On DVD, Blu-ray from Entertainment One ... In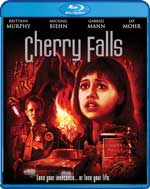 "Cherry Falls
" (2000), making its Blu-ray debut this week, a serial killer is stalking the peaceful town of Cherry Falls and, at first, it seems that he's just targeting teenagers ... but after the third killing it becomes clear that all the victims have been virgins. When the town's students hear about this, they realize that there is only one way to protect themselves and begin planning a "Pop Your Cherry" party where they'll all lose their virginities together. Meanwhile, Jodi (Brittany Murphy), the virtuous daughter of the town's sheriff (Michael Biehn), decides to take matters into her own hands and trap the killer herself. Also stars Jay Mohr, Jesse Bradford, Candy Clark and Amanda Anka. From Scream Factory ... Also from Scream Factory comes a Blu-ray double bill: "Murders in the Rue Morgue / The Dunwich Horror
Double Feature "Murders in the Rue Morgue" (1971): In early 20th-century Paris, a theatrical company with a specialty in Grand Guignol undertakes their most gruesome production yet. But when a madman with an axe to grind arrives on the scene, the stage is set for real mayhem and murder most foul. Stars Jason Robards and Herbert Lom. "The Dunwich Horror" (1970): When a beautiful student named Nancy catches the eye of the weird Wilbur Whateley, her professor, the good doctor and occult expert Dr. Henry Armitage knows that no good will come of it. But as Armitage digs deeper into the Whateley family history, he uncovers a buried secret – and a plot intended to call forth an evil beyond imagination ... When a police officer investigates the death of his partner, the case exposes disturbing police corruption along with a dangerous secret that leads him to a troubled young woman in "Exposed
" (2015), starring Ana de Armas, Keanu Reeves, Mira Sorvino, Christopher McDonald, Big Daddy Kane and Laura Gomez. On DVD, Blu-ray from Lionsgate ... In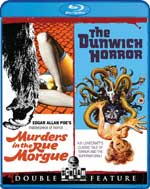 "The Hatching
" (2014), starring Andrew Lee Potts, Laura Aikman and Thomas Turgoose, a peaceful town becomes a bloodbath when the eggs of a killer crocodile hatch and wreak havoc. From Lionsgate ... Long before America's current fascination with talent shows there was "The Gong Show." Inspired by that beloved TV talent(less) show -- which ran on TV from 1976 to 1980 -- "The Gong Show Movie
" (1980), making its Blu-ray debut this week, presented a week in the life of beleaguered game show producer and "Gong Show" host Chuck Barris (played by Barris himself, in a masterstroke of casting). Between a ratings-obsessed executive, out-of-control contestants and judges, and a seemingly endless string of auditions and encounters with "fans," Barris has his hands full ... which leaves him no way to keep a grip on his own sanity. Can he get it together before the gong is struck on both his private life and his career? Co-written by Barris and underground film legend Robert Downey, "The Gong Show Movie" is by turns anarchic and melancholy, a wild mood swing of cinema. From Shout! Factory ... Also making its Blu-ray debut this week is "The Sicilian (Director's Cut)
" (1987), directed by Michael Cimino and starring Christopher Lambert, Terence Stamp, Joss Ackland, John Turturro, Richard Bauer and Barbara Sukowa. In post-WWII Sicily, Salvatore Giuliano, tired of his country being run by the Church, the landowners and the Mafia, teams with his brothers to rob and ransom the rich, cold-bloodedly murdering all who dare to defy or betray them. As Giuliano proudly redistributes his newfound wealth among the peasants, Don Masino, the head of the Sicilian Mafia, declares that Giuliano must be stopped -- at any cost. From Shout! Factory.


FOREIGN FILMS:

In "The Winter" (2013 -- Greece), starring Theo Albanis, Vangelis Mourikis, Efi Papatheodorou and Andreas Andreopolous, an impoverished writer, Niko Gounaras (newcomer
Albanis), leaves London for his ramshackle family home in the dusty Greek mountain town of Siatista. Once there, he discovers the home has been abandoned and is now haunted by the ghosts of the past. Working to retain his grasp on reality, Niko sets about to uncover the mystery of his father's death in this poignant, fantastical drama blended with a touch of magical realism. From IndiePix ... In "Confession of a Child of the Century
" (2012 -- France), starring Charlotte Gainsbourg, Pete Doherty, August Diehl and Lily Cole, in Paris in 1830, young Octave, betrayed by his mistress, sinks into despair and debauchery. When his father dies, he travels to the country, where he meets Brigitte, a widow who is 10 years his elder. He falls passionately in love with her, but will he have the courage to believe in it? From Cohen Media Group.


FOR THE FAMILY: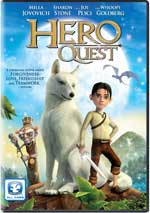 The animated "Hero Quest
" (2015), with the voices of Milla Jovovich, Sharon Stone, Whoopi Goldberg, Joe Pesci and Will Chase, is the feature debut from Russian singer-songwriter Maksim Fadeev, based on his book "Savva: Heart of the Warrior," and co-written with Gregory Prioier ("Lion King II: Simba's Pride"). The (approved by the Dove Foundation) film follows the grand life journey of 10-year-old boy Savva (Jovovich), who is devoted to saving his mother and fellow village people after his home is taken over. Escaping into the woods, Savva befriends a majestic white wolf (Chase) and together with the help of quirky forest friends Puffy (Stone) and Mosquito (Pesci), they embark on an adventure to save the village. From Cinedigm.


SPECIAL INTEREST:

In 1977, Sam Klemke started obsessively documenting his entire life on film. Beginning decades before the modern obsession with selfies and status updates, we see Sam grow from an optimistic teen to a self-important 20-year-old, into an obese, self-loathing thirty-something and onwards into his philosophical fifties. The same year that Sam began his project, NASA launched the Voyager craft into deep space carrying the Golden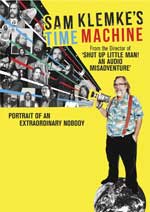 Record, a portrait of humanity that would try to explain to extra terrestrials who we are. "Sam Klemke's Time Machine" (2015) follows two unique self-portraits as they travel in parallel -- one hurtling through the infinity of space and the other stuck in the suburbs of Earth -- in a freewheeling look at time, memory, mortality and what it means to be human. From Virgil Films ... "The Making of Trump" (2015) is a HISTORY documentary that chronicles how Donald Trump became the businessman, celebrity and presidential candidate that he is today. This is the story of how a kid from Queens took New York City -- and then the nation -- by storm. So, what's his story? And what kind of leader might he make? From his interviews with Phil Donahue to statements from celebrities, politicians, and those close to him, rarely seen footage sheds some light. Love him or hate him, Donald Trump is a true American phenomenon. From Lionsgate.


FROM TV TO DVD:

"Archer Season 6" (2015) is a two-disc set with all 13-episodes of the animated half-hour comedy series that revolves around an international spy agency and the lives of its employees. Although their work of espionage, reconnaissance missions, wiretapping and undercover surveillance is daunting and dangerous, every covert operation and global crisis is actually just another excuse for the staff to undermine, sabotage and betray each other for personal gain. On DVD, Blu-ray from Fox ...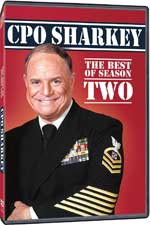 "CPO Sharkey: The Best of Season Two" (1977-78) features six complete broadcast episodes from the Don Rickles Navy-set sitcom's final season as they originally aired on NBC. "The New Captain", the first episode of Season Two, finds Sharkey fuming when his beer belly comes under attack from a tough new captain (Richard X. Slattery). Sharkey goes in for a routine physical at the base hospital and is mistaken for a psychiatric patient in "Sharkey Flies Over the Cuckoo's Nest." Natalie, Sharkey's girlfriend, accuses him of being insensitive in "Close Encounters of the Worst Kind." Captain Buckner is ordered to take on Sharkey as his personal aide in "Captain's Right-Hand Man," and an upcoming flight unnerves the nervy CPO in "Fear of Flying." "The Used Car Caper," which was the series' final episode airing on April 28, 1978, finds Sharkey gleefully bailing out his men by foiling a crooked used-car dealer. From Time Life.

Check out other March 29-April 4 DVD releases and reviews at OnVideo.