New on DVD and Blu-ray Week of January 12-18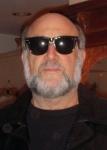 By Harley Lond - 01/12/16 at 02:53 AM CT
THIS WEEK'S THEATRICAL RELEASES:
The Golden Globe-winning "The Martian," about an astronaut (Matt Damon) presumed dead on a mission to Mars but who nevertheless survives his ordeal and uses his ingenuity, wit and spirit to subsist and find a way to signal to Earth that he is alive, touches down this week from Fox. Unfortunately, the film was unavailable for review. For the family there's the fun sequel "Hotel Transylvania 2
," which brings back all the characters from the 2012 hit -- and even adds a few more. This time around Dracula has opened up the hotel to human guests but while things seem to be going great, Drac worries that his half-human, half-vampire grandson, Dennis, isn't showing signs of being a vampire and attempts to put him through a "monster-in-training" boot camp. Meanwhile, Drac's grumpy and very old, old, old school dad Vlad is about to pay a family visit to the hotel ... and when he finds out that his great-grandson is not a pure blood -- and humans are now welcome at Hotel Transylvania -- things get batty. Not as good as the original but still a crowd pleaser. From Sony.


THIS WEEK'S BEST BETS:

There's two knock-out releases from The Criterion Collection, headed up by one of the greatest films of the modern cinema: "The American Friend
" (1977). Wim Wenders pays loving homage to rough-and-tumble Hollywood film noir with "The American Friend," a loose adaptation of Patricia Highsmith's novel "Ripley's Game." Dennis Hopper oozes quirky menace as an amoral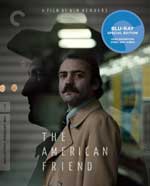 American art dealer who entangles a terminally ill German everyman, played by Bruno Ganz, in a seedy criminal underworld as revenge for a personal slight -- but when the two become embroiled in an ever-deepening murder plot, they form an unlikely bond. Filmed on location in Hamburg and Paris, with some scenes shot in grimy, late-seventies New York City, Wenders's international breakout is a stripped-down crime story that mixes West German and American film flavors, and it features cameos by filmmakers Jean Eustache, Samuel Fuller and Nicholas Ray. New, restored 4K digital transfer, supervised by director Wim Wenders, with 5.1 surround DTS-HD Master Audio soundtrack on the Blu-ray. Extras include an audio commentary from 2002 featuring Wenders and actor Dennis Hopper; a new interview with Wenders; a new interview with actor Bruno Ganz; deleted scenes with audio commentary by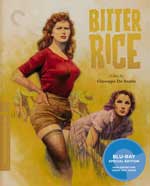 Wenders; a trailer; and an essay by author Francine Prose ... "Bitter Rice
" (1949): During planting season in Northern Italy's Po Valley, an earthy rice-field worker (Silvana Mangano) falls in with a small-time criminal (Vittorio Gassman) who is planning a daring heist of the crop, as well as his femme-fatale-ish girlfriend, played by the Hollywood star Doris Dowling. Both a socially conscious look at the hardships endured by underpaid field workers and a melodrama tinged with sex and violence, this early smash for producer extraordinaire Dino De Laurentiis and director Giuseppe De Santis is neorealism with a heaping dose of pulp. New high-definition digital restoration, with uncompressed monaural soundtrack on the Blu-ray.


BUZZIN' THE 'B'S:

In "Painkillers
" (2015), starring Tahmoh Penikett, Lesley-Ann Brandt, Erica Durance, Julia Voth and Colm Feore, a squad of marines sent on a classified mission deep in the war-torn mountains of Afghanistan in search of an otherworldly artifact mysteriously disappear and wake-up in a military medical facility with no memory of what happened or even who they are.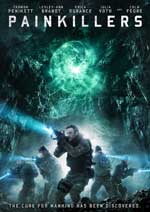 Doctors try to "reboot" the soldiers' memories with drugs, but one by one they fall prey to bizarre hallucinations and homicidal fits of rage. Only through snatches of resurfacing memories does one soldier begin to question the true motives of the hospital staff and discover the shocking, deadly reality behind what they found. From RLJ Entertainment ... "Rosencrantz and Guildenstern Are Dead
" (1990), starring Gary Oldman, Tim Roth and Richard Dreyfuss, is based on Tom Stoppard's award-winning play. It's the inventive tale of Hamlet as told from the viewpoint of two of the work's supporting, but certainly more outrageous, characters. In this cleverly inspired version, however, the Shakespearean equivalents of Laurel and Hardy get a chance to take the lead roles in a dazzling setting where illusion and reality overlap. Critically acclaimed and featuring witty performances by Dreyfuss, Roth and Oldman. On DVD, Blu-ray from RLJ Entertainment ... Mysterious found footage reveals a series of gruesome murders in the sequel "Sinister 2
" (2015), starring Shannyn Sossamon, Robert Sloan, Dartanian Sloan, James Ransone, Ethan Hawke, Clare Foley and Nicholas King. In the aftermath of the shocking events of "Sinister," a protective mother (Sossamon) and her 9-year-old twin sons (real-life brothers Robert and Dartanian Sloan) find themselves marked for death in a rural house as the evil spirit of Bughuul continues to spread with frightening intensity. On DVD, Blu-ray from Universal ... As the greed and excess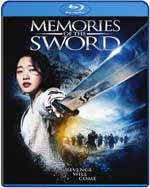 of a corrupt Korean monarchy threatens to destroy the once-glorious Goryeo Dynasty, three legendary warriors lead a revolt to overthrow the empire and save its people in "Memories of the Sword
" (2015 -- Korea). But when deceit and betrayal costs the life of a master swordsman, a plot for justice and revenge is set into motion, raging for decades between the two survivors. Stars Lee Byung-hun, Jeon Do-yeon, Kim Go-eun, Lee Kyeong-yeong. From Well Go USA ... In "Irrational Man
" (2015), directed by Woody Allen and starring Joaquin Phoenix, Parker Posey, Emma Stone and Jamie Blackley, a tormented college philosophy professor -- on a jo'ís conversation, unleashing a chain of events that permanently affect him and those around him. On DVD, Blu-ray from Sony ... A young Amish woman, unsatisfied with her path at home, takes the opportunity to spend the summer helping her widowed cousin's market business in scenic Charm, Ohio in "Love Finds You in Charm
" (2015). Exposed to another world, she finds friendship with two men and must decide whether to stay among the Amish or venture out into a new world. Stars Danielle Chuchran, Drew Fuller, Trevor Donovan and Tiffany Dupont. From Anchor Bay.


ON THE INDIE FRONT

In "The Looking Glass
" (2015), starring Grace Tarnow and Dorothy Tristan, after losing her mother, troubled 13-year-old Julie (played by newcomer Grace Tarnow) comes to live with her grandmother (Tristan), who is a former star of stage and screen. Feeling trapped in her new world, Julie struggles to find peace and happiness as she and her grandmother butt heads at every turn. An unexpected discovery of their shared talent enables Julie to find her voice, her passion and, ultimately, happiness. From First Run Features.


FOREIGN FILMS:

In the ripped-from-the-headlines French thriller "The Clearstream Affair
" (2014 -- France), starring Gilles Lellouche, journalist Denis Robert (Lellouche) sets the world of finance ablaze when he exposes a major European bank's opaque operations. In his search for the truth, he uncovers a dark political financial machine of bribes and threats. From First Run Features.


FOR THE FAMILY:
"Army Dog
" (2015), starring Casper Van Dien, Grace Van Dien, Stelio Savante and Annemarie Pazmino, is a live-action Dove-approved and Veterans in Film & Television endorsed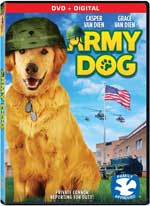 family adventure. Sergeant Tom Holloway and his Army dog, Connor, return to the U.S. as heroes, but time away from his family has caused Tom's daughter, Tara, to resent him. The three try to connect over a camping trip, but unexpected danger sends them on an adventure that will change their lives forever. From Lionsgate ... "Power Rangers Dino Charge: Unleashed" (2015) is the latest season of Saban's Power Rangers. Centuries after intergalactic bounty hunter Sledge tried to get his hands on the mysterious Energems, a new team of Rangers has unearthed them and bonded with their powerful dinosaur spirits. With the help of dino-fueled battle gear, new Zords, Megazords, and teamwork, they must protect these Energems at all costs from Sledge's monsters to keep the universe safe. From Lionsgate.


SPECIAL INTEREST:

Maverick director Ulrich Seidl's ("Dog Days," the "Paradise" trilogy) documentary "In the Basement
" (2014 -- Germany) explores the dark underside of the human psyche with a look at basements fitted out as private domains for secrets and fetishes. No desire or proclivity is off limits to Seidl's camera, which takes in an opera-singing gunslinger, a Hitler-loving brass band, a hunter of exotic species, and the passionate devotees of S&M with an equal measure of curiosity and compassion. From Strand Releasing.


FROM TV TO DVD:

In "All of My Heart" (2015), starring Lacey Chabert and Brennan Elliott, a young caterer's life suddenly changes course when she inherits a country home and learns she must share it with a career-obsessed Wall Street trader. At first, these opposites do not attract, but feelings begin to change when they find themselves having to work side-by-side to restore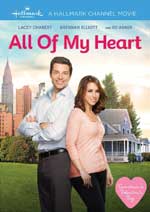 their newly acquired home. A Hallmark Channel move. From Cinedigm ... In "Duck Dynasty Wedding Special" (2015), the Robertson clan sets aside their duck calls for wedding bells to celebrate the nuptials between John Luke and Mary Kate. From Lionsgate ... "Hill Street Blues: The Final Season" (1986-87) is a five-disc set with 22 episodes. The officers and detectives of the toughest precinct on television work their final shift in the seventh and last season of "Hill Street Blues." Steven Bochco's groundbreaking masterpiece of television drama concludes its examination of the lives of the men and women who protect and serve the citizens of a volatile city, once again delivering the high quality writing, acting, and direction fans have come to expect from this universally acclaimed program. The unmatched ensemble cast (Daniel J. Travanti, Veronica Hamel, Bruce Weitz, Betty Thomas, Charles Haid, Joe Spano, James B. Sikking, Taurean Blaque, and Dennis Franz) are in top form for this climactic season, from its powerful opening to its fiery conclusion. From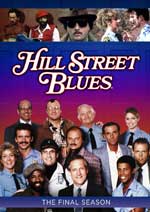 Shout! Factory ... "Mr. Robot: Season One" (2015) is a three-disc set with all 10 episodes. Cyber-security engineer by day and vigilante hacker by night, Elliot (Rami Malek) finds himself at a crossroads when the mysterious leader (Christian Slater) of an underground hacker group recruits him to destroy the firm he is paid to protect. Compelled by his personal beliefs, Elliot struggles to resist the chance to take down the multinational CEOs he believes are running (and ruining) the world. The series won a Golden Globe for best TV series -- drama and earned a Golden Globe for Christian Skater for supporting actor in a series or TV movie. On DVD, Blu-ray from Universal ... On the heels of its U.S. premiere on MASTERPIECE on PBS, Holmes and Watson, the classic crime-fighting duo,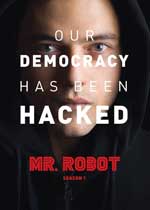 are back in a feature-length ghostly adventure "Sherlock: The Abominable Bride" (2016) set in Victorian London in 1895 as they solve the case of the Abomnable Bride. Stars Benedict Cumberbatch and Martin Freeman. On DVD, Blu-ray from BBC Worldwide ... When Annabelle, the owner of a specialty bridal shop, falls for Sam, the son of her fierce bridal shop competition, she must fend off Sam's mother's attempts at sabotage in the Hallmark Channel movie "So You Said Yes" (2015), starring Kellie Marti and Chad Willett. From Cinedigm ... "The Wonder Years: The Complete Fourth Season" (2015) is a four-disc set with all 23 episodes with over three dozen songs as they were featured in the original broadcast: classics by Joan Baez, The Beach Boys, The Byrds, Nat King Cole, Judy Collins, Lee Dorsey, Bob Dylan, Aretha Franklin, Marvin Gaye, Jimi Hendrix, The Monkees, Randy Newman,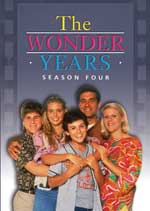 Smokey Robinson & the Miracles, Sam & Dave, Bob Seger, Edwin Starr, The Ventures, The Who, Hank Williams, and many more, plus Joe Cocker's unforgettable rendition of The Beatle's With a Little Help from My Friends. For six Emmy Award-winning seasons, "The Wonder Years" captured the angst of growing up in suburban middle-class America in the late '60s, as seen through the life and times of Kevin Arnold (Fred Savage), a typical awkward teenager who remembered every moment of his transition from childhood with excruciating detail and remarkable hindsight. In Season 4, things are changing for Kevin as he enters his last year at Kennedy Junior High. He should have it all figured out, but things don't go as smoothly as he had hoped: though he and Winnie (Danica McKellar) are in love and starting ninth grade -- they're at different schools. Arnold's family life is changing, too, with mom Norma (Alley Mills) taking a new job at Kevin's school, dad Jack (Dan Lauria) getting a promotion, older brother Wayne (Jason Hervey) buying a car and sister Karen (Oliva d'Abo) starting college. Kevin gets his first job caddying, is guilted into taking Paul's little sister to cotillion, and tries to crash a tenth-grader's slumber party (with beer). But the biggest surprise might be from Paul (Josh Saviano), who announces that he'll be going to prep school in the fall. From Time Life.


Check out other January 12-18 DVD releases and reviews at OnVideo.