New on DVD and Blu-ray Week of November 10-November 16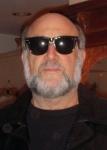 By Harley Lond - 11/10/15 at 03:56 PM CT
THIS WEEK'S THEATRICAL RELEASES:
"Trainwreck" is a tour-de-force for Amy Schumer, now riding high after her successful stand-up career and her Comedy Central series "Inside Amy Schumer." Here she plays an uninhibited magazine writer afraid of romantic involvement and commitment who finds herself starting to fall for the subject of a new article she's writing, a charming and successful sports doctor (Bill Hader).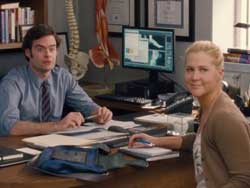 It's a sweet (if at times verbally raunchy) rom-com that coasts along from one gag to another, courtesy of director Judd Apatow. Extras for Trainwreck
include commentary, a gag reel, more. From Universal.

"Mr. Holmes
" puts a new twist on the world's most famous detective. In 1947, an aging Sherlock Holmes returns from a journey to Japan, where, in search of a rare plant with powerful restorative qualities, he has witnessed the devastation of nuclear warfare -- a devastation that's metaphor for Holmes' diminishing powers of recollection. In his remote seaside farmhouse, he faces the end of his days while trying to finally understand the circumstances of his final case, the one that sent him into retirement. A journeyman set piece by director Bill Condon and stars Ian McKellen and Laura Linney. Extras include two short behind-the-scenes featurettes. From Lionsgate.

The first two-thirds of "Self/less
" is an exciting -- if by the numbers -- sci-fi actioner about an extremely wealthy man (Ben Kingsley) dying from cancer who undergoes a radical medical procedure that transfers his consciousness into the body of a healthy young man (Ryan Reynolds). After getting used to his new body, however, he discovers that both the procedure and the company that performed it are not quite what they seem: there's a nasty secret behind the organization, a secret that the higher-ups will kill to protect. The last third of the film devolves into a silly rehash of Arnold Schwarzenegger's "The 6th Day." Extras include several behind-the-scenes featurettes. From Universal.


"Terminator Genisys
" is a lackluster re-imagining of the classic. In the robot vs. human future, Kyle Reese (Jai Courtney) is sent back to 1984 by resistance leader John Connor (Jason Clarke) to protect his young mother, Sarah Connor (Emilia Clarke), who has been targeted by the machines for death. But Sarah has already teamed up with a Terminator Guardian (Arnold Schwarzenegger), altering the past and threatening the future. The proposed first in a new trilogy -- but the response to this film may alter the future of those plans. Extras include several behind-the-scenes featurettes. From Paramount.


THIS WEEK'S BEST BETS:

Award–winning Austrian director Michael Haneke ("The Piano Teacher," "Cache," "Funny Games," "The White Ribbon," "Amour") is an enfant terrible who explores social issues, isolation, miscommunication and estrangement in the modern world. "My films are intended as polemical statements against the American 'barrel down' cinema and its dis-empowerment of the spectator. They are an appeal for a cinema of insistent questions instead of false (because too quick) answers, for clarifying distance in place of violating closeness, for provocation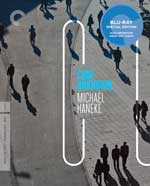 and dialogue instead of consumption and consensus." "Code Unknown
" (2000) is no exception. The film tells the intersecting tales of a quartet of main characters -- actress Anne (Juliette Binoche), Malian music teacher Amadou (Ona Lu Yenke), Romanian immigrant Maria (Luminita Gheorghiu) and farmer's son Jean (Alexandre Hamidi), who also happens to be the younger brother of Anne's boyfriend -- who meet in the film's stunning opening sequence, a 10-minute real-time tracking shot that parallels the actors' action down a boulevard in the St. Germain des Pres district of Paris. The rest of the film is composed of brilliantly shot, single-take, static-camera vignettes concerning the characters and their interactions with others (reminding one of the later works of Luis Bunuel, in particular "The Phantom of Liberty"). The film is a revelatory look at racial inequality and the failure of communication in an increasingly diverse European landscape. In a new, restored 2K digital transfer, approved by director Michael Haneke, on DVD and Blu-ray, with 5.1 surround DTS-HD Master Extras include a new interview with Haneke; an introduction by Haneke from 2001; "Filming Haneke," a 2000 making-of documentary featuring interviews with Haneke, Binoche, and producer Marin Karmitz, as well as on-set footage of cast and crew; an interview from 2001 in which Haneke discusses the filming of the boulevard sequences; new interview with film scholar Roy Grundmann; trailers; and an essay by critic Nick James. From The Criterion Collection.

Back in the day (1972-1974) I ran a theatre company in West Los Angeles and one summer -- when we weren't mounting any of our own plays -- we rented our facility to a theatrical music and comedy troupe of wacky kids calling themselves The Mystic Knights of the Oingo Boingo. Headed up by Richard Elfman and his younger brother Danny (and inspired by the Le Grand Magic Circus of Paris, of which both Elfmans were members), the group employed big busted women,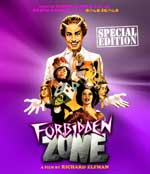 20s and 30s cabaret music, fire-eating, insane, off-the-wall comedy skits and dance numbers, a French chanteuse, gorillas, and, of course, the stupendous music of Danny Elfman (playing his own hand-made instruments). It was truly a circus of the mind and I was sad to see them go (the group, sans Richard, evolved into the new wave group Oingo Boingo). Unfortunately, there is very little documentation of the group, but the closest thing to seeing the original Mystic Knights is "Forbidden Zone
," which has just been released in an Ultimate Blu-ray Edition for the first time by MVD Entertainment. The 1980 film, starring Herve Villechaise, Susan Tyrell, Matthew Bright and Marie-Pascale Elfman, was directed by Richard Elfman and featured original music by Danny Elfman. A mysterious door leads to the Sixth Dimension and sexy, beautiful young "Frenchy" slides through cosmic intestines into an insane subterranean world ruled by a horny little king and his jealous queen. Chicken-boy comes to the rescue, only to have his head cut off by the soul-singing Devil himself -- played by Danny Elfman. Frog butlers, topless princesses and rioting school kids sing and dance in unforgettable musical numbers by Elfman, Cab Calloway and Josephine Baker. Includes both the original black and white plus the new colorized version. Extras include audio commentary with director Richard Elfman and writer-actor Matthew Bright; "A Look Into Forbidden Zone" featuring an extensive behind the scenes documentary featuring interviews and archive footage, including scenes from Elfman's lost film "The Hercules Family"; outtakes and deleted scenes; original theatrical trailer; a soundtrack CD and a booklet. It's also available as a single Blu-ray and a single DVD. Here's a YouTube compilation of Mystic Knights bits put together by Mystic Knights and Oingo Boingo horn player Sam "Sluggo" Phipps:



Sony has released "Bad Boys / Bad Boys II
: 20th Anniversary Collection," the Will Smith-Martin Lawrence films about two hip, loose-cannon narcotics detectives prowling the underworld of Miami with action and humor; both are newly remastered in 4K, with "Bad Boys II" making its Blu-ray debut. Extras include commentary by director Michael Bay, "The Boom and the Bang of Bad Boys" featurette, three music videos, original theatrical trailers, deleted scenes, production diaries, a stunts and visual effects featurette, Jay Z "La-la-la" music video, and sequence breakdowns.


BUZZIN' THE 'B'S:
"Wild City
" (2015 -- Hong Kong) is the first film in seven years from Hong Kong filmmaker Ringo Lam ("City on Fire"). When former cop-turned-bar owner T-man Kwok befriends a drunken woman at closing hours, they soon find themselves targeted by her former lover -- a high-powered Hong Kong attorney -- and the thugs he employs. Once Kwok's underachieving half-brother and a suitcase full of tainted cash enter the picture, the chase turns deadly, with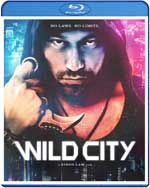 the brothers' tense family history coming to the surface as Kwok finds himself torn between the triads and his former police colleagues. Stars Louis Koo, Tong Liya, Chang Hsiao-Chuan, Shawn Yue. On DVD, Blu-ray Disc from Well Go USA ... In "Bound to Vengeance
" (2015), starring Tina Ivlev, Richard Tyson, Bianca Malinowski and Dustin Quick, a young woman breaks free after being chained in a basement and abused for nine months by a manipulative psychopath. Instead of escaping, she discovers there are other women just like her scattered around town. Now fueled with rage, she must force her captor to become the captive and lead her to the other women ... before it's too late. An official selection of the 2015 Sundance Film Festival. In a Blu-ray/DVD Combo from IFC Midnight/Scream factory ... In "Pay the Ghost
" (2014), directed by Uli Edel and starring Nicolas Cage and Sarah Wayne Callies, one year after his young son disappeared during a Halloween carnival, Mike Lawford (Cage) is haunted by eerie images and terrifying messages he can't explain. Together with his estranged wife (Callies), he will stop at nothing to unravel the mystery and find their son -- and, in doing so, he unearths a legend that refuses to remain buried in the past. On DVD, Blu-ray Disc from RLJ Entertainment.


ON THE INDIE FRONT:

"Tangerine" (2015) is a decidedly modern Christmas tale told on the streets of L.A., about a transgender working girl -- just back from a 28-day stay in prison -- who tears through Tinseltown on Christmas Eve with her best friend, searching for the pimp who broke her heart. Their rip-roaring odyssey leads them through various subcultures of Los Angeles. Shot entirely on iPhones, the film is audacious and visceral. Stars Kitana Kiki Rodriguez, James Ransone, Mya Taylor. In a Blu-ray/DVD Combo from Magnolia Home Entertainment.


FOREIGN:
"Two Men in Town
" (1973 -- France), a semi-autobiographical hard-boiled crime drama from director and co-writer Jose Giovanni, presents a scathing indictment of the death penalty. When ex-safe cracker Gino (Alain Delon) is released from prison thanks to the aid of social worker and prison reformer Germaine (Jean Gabin), he finds that his attempts to go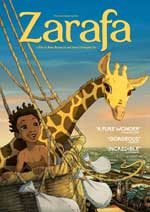 straight are made more difficult by a suspicious and vengeful chief inspector of police, as well as his former gang who hope to lure him back into a life of crime. This would be the last of three collaborations between Gabin and Delon and was recently remade with Forest Whitaker and Harvey Keitel. In a new 4K restoration on DVD, Blu-ray Disc from Cohen Media Group ... "Zarafa
" (2012 -- France) is an animated tale inspired by the true story of the first giraffe to visit France. Under the cover of darkness, a small boy, Maki, loosens the shackles that bind him and escapes into the desert night. Pursued by slavers across the moon-lit savannah, Maki meets Zarafa, a baby giraffe – and an orphan, just like him – as well as the nomad Hassan, Prince of the Desert. Hassan takes them to Alexandria for an audience with the Pasha of Egypt, who orders him to deliver the exotic animal as a gift to King Charles of France. And so Maki, Zarafa and Hassan take off in a hot-air balloon to cross the Mediterranean, setting off an adventure across Northern Africa, the bustling port of Marseilles, and over the snow-capped peaks of the Alps, arriving at last in Paris. But all the while, Maki is determined to find a way to return Zarafa to her rightful home. On DVD, Blu-ray Disc from Cinedigm.


FOR THE FAMILY:

"Dinosaur Train: Dinosaurs Are Different" (2015) features eight dino-mite adventures from The Jim Henson Company. The dinosaurs featured on the DVD include Velociraptors, a Masiakasaurus, Styracosauruses and Lambeosauruses. As kids watch Buddy meet new friends, they will learn fascinating facts about each dinosaur, including why Velociraptors have feathers, how a Masiakasaurus uses its mouthful of buck teeth, and the purpose of the Lambeosaurus' crest. $12.99 from PBS Distribution.


FROM TV TO DVD:

"Automan: The Complete Series" (1983-84) includes all 13 action-packed episodes of this long lost 1980s gem in which a computer generated superhero and his police department human creator fight crime in their city. Four-disc DVD: $26.99 from Fabulous Films ... "Better Call Saul: Season One" (2015), a three-disc set with all 10 uncensored episodes, is a prequel to the award-winning "Breaking Bad" series. Six years before Saul Goodman met Walter White, he was struggling attorney Jimmy McGill (Bob Odenkirk). Jimmy teams up with "fixer" Mike Ehrmantraut (Jonathan Banks) and
begins his transformation from optimistic underdog into Albuquerque's most notorious legal legend. Available on DVD, Blu-ray and Limited Collector's Edition Blu-ray. Extras include cast and crew commentaries on every episode, "Creating the First Season," gag reel, "Better Call Saul: Day One," "Better Call Saul" music video; the Blu-ray adds deleted scenes; "In Conversation: Bob Odenkirk and Michael McKean"; "Good Cop, Bad Cop: Becoming Mike"; Kettle Kommentary with Craig and Betsy Kettleman; "Jimmy in the Courtroom" with introduction by "Mijo" director Michelle MacLaren; "Jimmy Kaleidoscope" with introduction by co-creator and executive producer Peter Gould; cast and crew table read on "Uno"; "In the Studio with Junior Brown" ("Better Call Saul" song performer. The Limited Collector's Edition Blu-ray adds 3D packaging and a collectible postcard vinyl of "Better Call Saul" performed by Junior Brown. From Sony ... "Dick Van Dyke Show: Complete Remastered Series" (1961-66) is a 25-disc set available on DVD for the first time with closed captioning; includes a collectible coloring book, lenticular and 12 page booklet. Extras include a TV Academy tribute to Carl Reiner featuring Dick Van Dyke, George Clooney and more; 50th Anniversary Q & A with Dick Van Dyke, Carl Reiner and Garry Marshall; "It May Look Like a Walnut" color test; Dick Van Dyke appearance on "The Danny Kaye Show"; Mary Tyler Moore appearances on "The Danny Kaye Show" and "The Danny Thomas Show"; "Kick the Habit" radio spot featuring Dick Van Dyke; Safety Council reel; audio commentaries with Carl Reiner, Dick Van Dyke and many more; "Head of the Family" (original series pilot episode); rare rehearsal footage; interviews with the cast and producers; original commercials with the cast; original network promo spots; photo galleries. $199.98 from RLJ Entertainment ... "Flowers in the Attic: The Complete Saga" (2013-2015): Based on the best-selling book series by V.C. Andrews, these tales of the ultimate dysfunctional family reveal a decade of dark and shocking family secrets and salaciously scandalous stories, and for the first time, all four chapters of the Dollanganger family saga are available in one set: "Flowers in the Attic" -- the highest-rated made-for-cable movie in 2014 --and "Petals on the Wind," "If There Be Thorns" and "Seeds of Yesterday." From Lionsgate ... In "Foyle's War: The Complete Saga" (2002-15), Michael Kitchen stars as Christopher Foyle in this critically acclaimed detective series. Assisted by his ever-faithful driver, Sam Stewart (Honeysuckle Weeks) and DS Paul Milner (Anthony Howell), Foyle solves mysteries against the backdrop of WWII and then uses his talents at MI5 during the outset of the Cold War. The 29-disc complete collector's edition contains all 28 episodes of the series. $199.99 from Acorn Media ...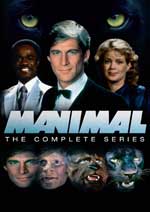 "Manimal: The Complete Series" (1983) is a three-disc set with all eight episodes, $26.99. Jonathan Chase (Simon MacCorkindale), famed Professor of Criminology, with the inherited powers to transform himself into any animal he wishes, uses that power to assist the New York Police Department in solving major crimes. He's assisted by Brooke McKenzie (Melody Anderson), an intelligent and beautiful detective with the NYPD, and Tyrone Earl (Michael D. Roberts), a former intelligence officer with whom he served in Vietnam. From Fabulous Films ... "Maude: The Complete Third Season" (1974-75) is a three-disc set with all 23 episodes, $26.99. Season Three finds the irrepressible Maude Findlay hiring a new housekeeper (Hermione Baddeley), putting on the best darn telethon the Tuckahoe Gallbladder Foundation ever had, and even hunkering down for a showdown with guest star John Wayne. From Shout! Factory ... In "Rebus: The Ken Stott Collection" (2000-04), three-time BAFTA Award nominee Ken Stott stars as Detective Inspector John Rebus, investigating sinister and grisly crimes in the storied and atmospheric city of Edinburgh, Scotland. This complete collection includes all four series of the hit television show based on the globally popular Inspector Rebus novels by Ian Rankin. Five-disc set with 10 episodes, $59.99 from Acorn Media ... Based on the bestselling spy novel by William Boyd, "Restless" (2012), starring Michelle Dockery, Charlotte Rampling, Haley Atwell, Rufus Sewell, Michael Gambon and Adrian Scarborough, is an award-winning BBC drama of passion, duplicity, and betrayal. Ruth Gilmartin (Dockery) is stunned to learn that her mother, Sally (Rampling), has been living a double life. Her real name is Eva Delectorskaya (Atwell), she worked as a spy for the British Secret Service in the 1940s, and now someone is stalking her. Single disc with two feature-length episodes from Acorn Media ...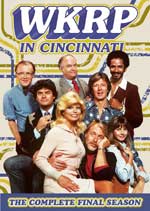 "WKRP in Cincinnati: The Complete Final Season" (1981-82) is a three-disc set with all 22 episodes, $26.99. When it comes to the music on-air, nobody spins the hits better than "WKRP In Cincinnati." The outrageous final season combines the off-the-wall antics of the WKRP staff with the iconic music of the 70s and 80s. Join masterful DJs Dr. Johnny Fever (Howard Hesseman) and Venus Flytrap (Tim Reid), quirky news anchor Les Nessman (Richard Sanders) and his more competent counterpart Bailey (Jan Smithers), hapless station manager Carlson (Gordon Jump), reliable program director Andy (Gary Sandy), unscrupulous advertising executive Herb (Frank Bonner) and voluptuous receptionist Jennifer (Loni Anderson) for one last look at the radio station that brings you all the music you love and the laughter you need. "WKRP in Cincinnati" has had a complicated history of music rights restrictions. To make this the most comprehensive DVD release possible, Shout! Factory has done its best to include all scenes uncut and with as much original music as possible. From Shout! Factory.

Check out other November 10-November 16 DVD releases and reviews at OnVideo.