By Harley Lond - 09/22/15 at 07:12 AM CT
THIS WEEK'S THEATRICAL RELEASE:
"Pitch Perfect 2": It's been three years since 2012's early Fall sleeper hit "Pitch Perfect" stormed the box office barricades, starting out with a sleepy $5 million in its first weekend and then building during the course of the next three months -- via word of mouth and repeat viewings -- to a respectable $64 million theatrical (U.S.) and, later, a whopping $117 million on DVD. The story of college freshman Beca (Anna Kendrick), who joins an a cappella girls singing group at Barden University and helps the conglomeration of mean girls, sweet girls and weird girls known as the Barden Bellas become the first all-female group to win a national title, was a different kind of musical -- fresh, exciting and, well, uplifting. The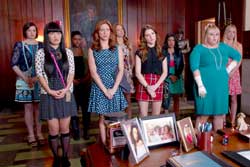 highlights of the film included the delightful and infectious singing, Rebel Wilson's antics and the off-the-wall Greek Chorus comments by a cappella commentators John Michael Higgins and Elizabeth Banks (who also produced). "Pitch Perfect 2
" picks up three years after the original, with the Barden Bellas, coming off three years as national winners, performing for the president and the first lady at Lincoln Center, a performance that is botched by an embarrassing Rebel Wilson wardrobe malfunction. Striped of their U.S. performing duties, the only way the group can redeem itself is to travel to Copenhagen to face off against Germany's Das Music Machine for the world title. "Pitch Perfect 2" fine tunes all the tropes from the original, adding in more awkward situations, meaner opponents, more sexual innuendo and, of course, more frenzied singing. If you liked Kendrick's pensive angst, Wilson's scatological humor and (Bella leader) Brittany Snow's unbridled enthusiasm, then you'll love this sequel. The only shortcoming: the addition of Hailee Steinfeld (of "True Grit") in a weak role as a legacy newbie who helps spur the group on to success. The best part: the continued bickering and wisecracking of (now) podcasting duo John Michael Higgins and Elizabeth Banks (who not only produced this edition but deftly directed it to boot). A fun outing. Scheduled for 2017: "Pitch Perfect 3." From Universal.


THIS WEEK'S BEST BETS:
"Mister Johnson
":
A decade after he broke through with "Breaker Morant" (1980) -- and one year after his American hit "Driving Miss Daisy" (1989) -- Australian director Bruce Beresford returned to the theme of colonialism and its effects on individuals with this acclaimed film starring Maynard Eziashi ("Bopha!"), Pierce Brosnan and Edward Woodward. Eziashi, who won the Berlin Film Festival's Silver Bear for best actor for his role here,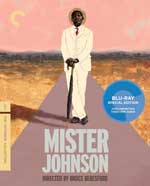 plays a Nigerian villager in 1923 British Colonial Nigeria desperate to take on British airs, please the authorities and, on the side, become upwardly mobile by making money and shunning his tribesmen. As a civil servant for a sympathetic district officer (Brosnan), Mister Johnson is at the intersection of the clash of two cultures, highlighting the ultimate folly of the "white man's burden." Bright and ambitious to a fault -- and despite his endearing nature -- Mister Johnson has a tragic downfall. Beresford captures both the humor and tragedy of the colonial situation, pointing out the foibles of both hoise who rule and those who are ruled. The cinematography is luscious, the acting superb, the story -- based on a 1939 novel by Joyce Cary -- imminently affecting. "Mister Johnson" ranks right up there with such great films about colonial Africa as Jean-Jacques Annaud's "Black and White in Color" (1976) and Bertrand Tavernier's "Coup de torchon" (1981). On DVD and Blu-ray, in a new 4K digital restoration, supervised and approved by Beresford with uncompressed stereo soundtrack on the Blu-ray. Extras include new video interviews with Beresford, producer Michael Fitzgerald, and actors Maynard Eziashi and Pierce Brosnan. From The Criterion Collection. (PS: For a look at the wild and wooly Beresford before he became Americanized, check out the 1976 quirky Australian drama "Don's Party."
The aforementioned
"Breaker Morant
"
gets the Criterion treatment this week with a 4K digital restoration, supervised and approved by Beresford: At the turn of the 20th century, three Australian army lieutenants are court-martialed for alleged war crimes committed while fighting in South Africa. With no time to prepare, an Australian major, appointed as defense attorney, must prove they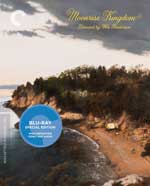 were just following the rules of war and are being made into political pawns by the British imperial command. Stars Edward Woodward, Bryan Brown and Jack Thompson. Also from Criterion this week is a restored 2K digital transfer of director Wes Anderson's masterpiece,
"Moonrise Kingdom
"
(2012): On an island off the New England coast during the summer of 1965, two 12-year-olds, Sam and Suzy, fall in love, make a secret pact, and run away together into the wilderness. As local authorities try to hunt them down, a violent storm is brewing offshore ... The gorgeously framed and shot "Moonrise Kingdom" stars Jared Gilman and Kara Hayward as the young couple on the run, Bruce Willis as Island Police Captain Sharp, Edward Norton as Khaki Scout troop leader Scout Master Ward, and Bill Murray and Frances McDormand as Suzy's attorney parents, Walt and Laura Bishop. The cast also includes Tilda Swinton, Jason Schwartzman and Bob Balaban. The magical soundtrack features the music of Benjamin Britten.
Sony has released anniversary editions of three "kids" films to Blu-ray this week in wonderful transfers:
"Jumanji
: 20th Anniversary Edition"
(1995), starring Robin Williams, Kirsten Dunst, Bradley Pierce, Bonnie Hunt, Bebe Neuwirth, David Alan Grier, Patricia Clarkson;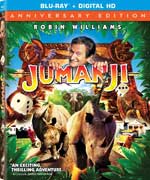 "The Indian in the Cupboard
: 20th Anniversary"
(1995) starring Hal Scardino, Litefoot, Lindsay Crouse, Richard Jenkins; and
"Zathura
: 10th Anniversary Edition"
(2005) starring Josh Hutcherson, Kristen Stewart, Jonah Bobo, Dax Sheppard, Tim Robbins. And, last but not least, Scream Factory will release this week a Blu-ray edition of
"The Sentinel
"
(1977), starring Cristina Raines, Chris Sarandon, Ava Gardner, Jose Ferrer, John Carradine, Arthur Kennedy, Eli Wallach, Martin Balsam, Burgess Meredith, Beverly D'Angelo, Deborah Raffin, Jerry Orbach, Jeff Goldblum, Tom Berenger and Christopher Walken. When a beautiful model, Alison Parker (Raines), rents an apartment in a gloomy New York brownstone, little does she realize that an unspeakable horror awaits her behind its doors ... a mysterious gateway to hell. Alison likes her eccentric new neighbors, so it comes as a shock when she's told that, except for a strange old priest, she's the only tenant. Amazing special makeup effects by the legendary Dick Smith.
BUZZIN' THE 'B'S:
Nearly a decade before he donned Freddy Kruger's famous red and green sweater, horror icon Robert Englund delivered a supremely sleazy performance in the Southern terror
"Eaten Alive
"
(1977) from Tobe Hooper, director of "The Texas Chain Saw Massacre." Deep in the Louisiana bayou sits the ramshackle Starlight Hotel, presided over by the bumbling, mumbling Judd, who may seem like a good-natured ol' Southern gent but has a mean temper and a large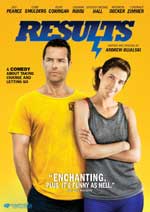 scythe and loves to feed his guests to his pet croc. Stars Neville Brand, Mel Ferrer, Carolyn Jones, Marilyn Burns, William Finley, Stuart Whitman. In a Blu-ray/DVD combo set loaded with extras, superb cover artwork and booklets, from Arrow Video/MVD Entertainment ... In the comedy
"Results
"
(2015), starring Guy Pearce, Cobie Smulders, Kevin Corrigan and Giovanni Ribisi, recently divorced, newly rich, and utterly miserable Danny (Corrigan) would seem to be the perfect test subject for a definitive look at the relationship between money and happiness. Danny's well-funded ennui is interrupted by a momentous trip to the local gym, where he meets self-styled guru/owner Trevor (Pearce) and irresistibly acerbic trainer Kat (Smulders). Soon, their three lives are inextricably knotted, both professionally and personally On DVD, Blu-ray Disc from Magnolia Home Entertainment ... When Special Operative James Webster (Michael Jai White) returns home from duty, he witnesses the brutal slaying of his brother in
"Chain of Command
"
(2015), he immediately tries to retaliate and hunt down the perpetrators ... but as he does, he delves deeper into a secret world of corruption and murder and finds himself at the center of a deadly conspiracy that cuts deep inside the walls of the U.S. Government. Also stars Steve Austin and Max Ryan. From Lionsgate.
ON THE INDIE FRONT:
In
"Finding Neighbors
"
(2013), starring Michael O'Keefe, Catherine Dent, Blake Bashoff, Julie Mond, Sean Patrick Thomas and Mike Genovese, a successful stay-at-home graphic novelist hits a mid-life and creative crisis when, after the failure of his last work, he develops writers block. Seeking inspiration, he first turns to his provocative next-door female neighbor but, to the surprise of his wife, he actually ends up spending all of his time with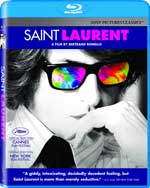 the another next-door neighbor, a gay fellow "househusband" with whom he becomes emotionally intimate. From Strand Releasing ... In
"The Journey Home
(aka Midnight Sun)"
(2014), starring Dakota Goyo, Goran Visnjic and Bridget Moynahan, a young boy attempts to reunite an abandoned polar bear cub with its mother in northern Canada. But when a violent storm closes in, his mother and a family friend frantically search for the daring pair as they defy starvation and below freezing temperatures so both boy and bear can complete their own journeys home. From RLJ Entertainment ...
"Saint Laurent
"
(2015) is a docudrama about Yves Saint Laurent's life from 1967 to 1976, during which time the famed fashion designer was at the peak of his career ... when he found both artistic inspiration and personal torment in the liberation and hedonism of the times. Explores the mind of the creative genius, the intricacies that turned a haute-couture label into a worldwide phenomenon, and the glamour and decadence that followed Saint Laurent's footsteps of fame and fortune. France's official submission for Best Foreign Language Film for the 87th Academy Awards. Stars Gaspard Ulliel, Jeremie Renier, Lea Seydoux, Louis Garrell, Amira Casar, Aymelyne Valade, Helmut Berger. On DVD, Blu-ray Disc from Sony.
FOREIGN:
"The Farewell Party
"
(2015 -- Israel) is a unique, compassionate and surprisingly funny story of a group of friends at a Jerusalem retirement home who decide to help their terminally ill friend. When rumors of their assistance begin to spread, more and more people ask for their help, and the friends are faced with a life and death dilemma. From First Run Features ... Acclaimed director Andre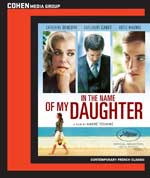 Techine brings a gripping real-life thriller to the screen with
"In the Name of My Daughter
"
(2015 -- France), starring Adele Haenel, Catherine Deneuve, Guillaume Canet. When her marriage falls apart in 1976, Agnes Le Roux (Haenel) moves back to the South of France from Africa to live with her mother, Renee (Deneuve), owner of the Palais de La Mediterranee casino in Nice. There, Agnes falls in love with Maurice Agnelet (Canet), a lawyer and Renee's business advisor, who is 10 years her senior. Agnes is madly in love with him and he introduces her to a rival casino owner, Fratoni, who wants to win control of the Palais de la Mediterannee. Fratoni bribes Agnes to vote against her mother at a stockholders' meeting and Renee loses control of the casino. In November 1977, after a failed suicide attempt, Agnes disappears. Her body is never found. Thirty years on, Maurice Agnelet remains the prime suspect in a murder case with no body and no proof of his guilt. Convinced of his involvement, Renee is prepared to fight to the bitter end to see him put behind bars. On DVD, Blu-ray Disc from Cohen Media Group.
FOR THE FAMILY:
Even Bikini Bottom needs protection from evildoers and the ocean's greatest heroes are here to save the day in
"SpongeBob SquarePants: The Adventures of SpongeBob SquarePants"
(2014), a collection of eight animated SpongeBob episodes. Whether it's Patrick-Man working hard to clean up Bikini Bottom or the legendary Mermaid Man and Barnacle Boy being dragged back into the crime-fighting business, there is no stopping these deep-sea heroic adventures -- available together for the first time. $14.88 from Nickelodeon/Paramount ...
"The Beginners Bible, Volume 4"
(2014) is the latest DVD installment in the acclaimed, family-friendly series based on the best-selling children's book of the same name, features three timeless tales: "The Story of Joseph & His Brothers," "Daniel & the Lion's Den," and "The Battle of Jericho"; and a bonus story "The Story of Jonah & the Whale." $9.95 from Time Life.
SPECIAL INTEREST:


"The American Dreamer" (1971): A candid look into the unique mind and strange life of film legend and Hollywood rebel Dennis Hopper. In 1970, actor-director Dennis Hopper, who catapulted into stardom with his 1969 counterculture road movie" Easy Rider," was in the midst of finishing his follow-up work, "The Last Movie," a film that was deeply personal -- but ultimately disastrous. That moment in time became the window through which noted photojournalist Lawrence Schiller and avant-garde filmmaker L.M. Kit Carson entered to preserve Hopper's life, who in their opinion had submerged himself in the myth of his character in "Easy Rider." What resulted was the quasi-documentary "The American Dreamer," a unique portrait of the pathologically rebellious Hopper, which chronicled the late artist's agonizing, alcohol- and drug-fueled post-production of "The Last Movie." "The American Dreamer" was first released on college campuses in the 70s and then largely vanished. In the 1990s, Hopper himself brought the film back to life when he asked for it to be screened as a companion piece to "The Last Movie" at film festivals and art houses. Etiquette Pictures -- launched in July and devoted to painstakingly restoring unique and off-beat arthouse gems and rescuing them from obscurity -- in partnership with the Walker Art Center and Bond 360 Studios, brings this forgotten masterpiece to home video for the very first time in a new, director-approved, 2k restoration, painstakingly reconstructed from four 16mm prints housed in the Center's Ruben/Bentson Moving Image Collection. In a Blu-ray/DVD Combo.


"American Masters: The Women's List" (2015): Meet 15 women who have created and defined contemporary American culture in the newest chapter of filmmaker-photographer Timothy Greenfield-Sanders' List film series (The Boomer List, The Black List, The Latino List, The Out List). The documentary features intimate interviews with Madeleine Albright, Gloria Allred, Laurie Anderson, Sara Blakely, Margaret Cho, Edie Falco, Elizabeth Holmes, Betsey Johnson, Alicia Keys, Aimee Mullins, Nancy Pelosi, Rosie Perez, Shonda Rhimes, Wendy Williams and Nia Wordlaw. All trailblazers in their respective fields, these women share their experiences struggling against discrimination and overcoming challenges to make their voices heard and their influence felt. Toni Morrison opens the film with a reading of an introduction she wrote specifically for the film. Premieres nationwide Friday, September 25 on PBS (check local listings) and available the same day on DVD. From Perfect Day Films.


"Growing Up Trans" (2015): Just a generation ago, it was adults, not kids, who changed genders. But today, many children are transitioning, too -- with new medical options, and at younger and younger ages. In this program, Frontline takes viewers on an intimate and eye-opening journey inside this new frontier — where it's now possible for kids who feel they were born in the wrong body to never have to go through the puberty of their biological sex. Eight transgender kids, ranging in ages from 9 to 19, speak with striking candor and remarkable insight about their deeply personal experiences. From PBS Distribution.


"Harper Lee: From Mockingbird to Watchman" (2015): To everyone's surprise, 55 years after the publication of "To Kill a Mockingbird," Harper Lee has published another novel. "Go Set a Watchman" was written before Lee's beloved masterpiece, as director Mary McDonagh Murphy explains in this update of her 2011 documentary "Hey, Boo: Harper Lee & To Kill a Mockingbird." Murphy's film sifts through the facts and speculation surrounding Lee and both her novels, and includes interviews with Lee's older sister, close friends, and admirers including Oprah Winfrey, Scott Turow, Anna Quindlen, Tom Brokaw, Wally Lamb and more. From First Run Features.


"Kindness is Contagious" (2015): Heartwarming documentary by David Gaz, narrated by Catherine Ryan Hyde, the best-selling author of the novel (and film) "Pay It Forward." It's a film all about being nice and the benefits of being nice. CEOs, baseball players, roller girls, concert pianists, artists, street performers, soup kitchen volunteers, police officers, models and many more tell you their heartfelt stories of kindness and generosity. From Cinedigm.


"The Other Man: F.W. De Klerk and the End of Apartheid" (2014): It could have been a bloodbath of historic proportions. But instead, one man made the end of apartheid possible: in February 1990, President F.W. de Klerk lifted the ban on the African National Congress and ordered the release of Nelson Mandela. As the world celebrated, Mandela would go on to become South Africa's first democratically elected president -- with de Klerk as his deputy president. But de Klerk's history is complicated. A virulent defender
of white Africans and their privileges, he helped lead the fight against ANC activists. And his own presidency was marred by violence, often at the hands of security forces he controlled. What pushed this man to reverse his beliefs and jumpstart the process of making South Africa a more equal and just nation? From First Run Features.


"Pop Life" (2015): Powerful documentary that delves into the popularity of street drugs such as Molly found in today's EDM culture. Offers a firsthand look at the environments where this new generation of party drugs are consumed, as told by club kids, EDM DJ's and music fest moguls. As EDM has exploded into the mainstream, illicit drugs have become rampant at concerts and with fans. Teens and young adults have grown desensitized to these popular street drugs, putting their future at high risk. From Moguldom Studios/Cinedigm.
FROM TV TO DVD:
"Arrow: The Complete Third Season"
(2014-15) is a five-disc DVD and four-disc Blu-ray with all 23 episodes. from Warner ...
"CPO Sharkey: The Complete Second Season"
(1977-78) is a three-disc set with 22 episodes, $29.95. For two seasons (1976-1978) and 37 episodes, Don Rickles brought his distinctive brand of comedy to NBC-TV as the star of "CPO Sharkey." As a 24-year naval veteran, Chief Petty Officer Otto Sharkey had seen and heard it all. He was politically incorrect before the term existed, and the recruits he whipped into shape at the San Diego naval training center received most of his shards of wisdom. They may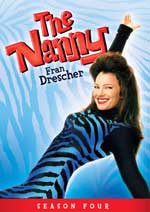 have been hockey pucks, but they were his hockey pucks -- ready, willing, and able to endure one verbal Shark attack after another. From Time Life ...
"The Flash: The Complete First Season"
(2014-15) is a five-disc DVD and four-disc Blu-ray with all 23 episodes, from Warner ...
"Modern Family: The Complete Sixth Season"
(2014-15) is a three-disc set with 24 episodes, from Fox ...
"The Nanny: Season Four"
(1996-97) is a three-disc set with all 26 episodes, $34.99. The irrepressible Fran Drescher returns for the fourth season of "The Nanny," a sitcom classic that dresses to impress. Nanny Fran Fine (Drescher) and the Sheffields are up to all-new shenanigans and misadventures in the fourth season, which delivers not only big laughs but big guest stars (including Bette Midler, Donald Trump, Pamela Anderson, Celine Dion, Jon Stewart, Jason Alexander, and Joan Collins). From Shout! Factory ...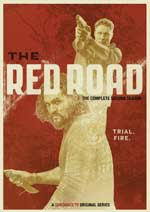 "The Red Road: The Complete Second Season"
(2014) is a two-disc set with all six episodes of the Sundance TV series that centers around two clashing communities: a Native American tribe, and the small town of which they are forced to coexist. The long awaited federal recognition of the tribe has exacerbated decades-old tensions and history, and the fates of Sheriff Harold Jensen and Phillip Kopus are once again tied as the relationship between their communities becomes volatile. Season Two picks up a year after the end of Season One. Phillip is on parole trying to stay out of trouble. But things have changed: Sheriff Jensen has become lieutenant and the tribe is now in talks to build a casino. Kopus must endure his own version of an ordeal, a Native American test of courage and fortitude that leads either to redemption or to death. The tribe and the community must decide their futures after they are ravaged by the deaths of some of their most prominent members. From Anchor Bay.
Check out other September 22-28 DVD releases and reviews at OnVideo.
Comments