By Chris Kavan - 09/07/15 at 05:19 PM CT
For once you could say the weekend was both a win and a loss for Hollywood. Labor Day Weekend is pretty much a write-off, as it tends to be one of the slower weekend (certainly one of the worst holiday weekends) of the year. Compared to last Labor Day Weekend (which came much earlier, at the end of August), the weekend was down 25.4%. However, compared to the same weekend last year (that is Sept. 04-06) the weekend was up 21.7% (of course the same weekend last year was the slowest in six years - so one would hope to beat that mark). Either way, the newcomers languished, the holdovers remained stead and, aside from an upstart Mexican animated title, there was not much to get excited about.

1) WAR ROOM



Perhaps it came as some surprise that War Room managed to jump to the top spot. The big questions was whether audiences would flock to the film (like God's Not Dead - only a 4.5% drop in its second weekend) or abandon it (like Courageous, which took a 46% hit). With just an 18% drop in its second weekend, War Room held strong and jumped to the top of the box office. WIth a $9.35 million weekend, War Room should wind up with a new total of $24.6 million. Inside Out was the last film to open outside of the top spot before rising to number one later on. It is now looking like War Room should be able to top the $50 million mark and become one of the few bright spots for Sony on a rather down year.
2)
STRAIGHT OUTTA COMPTON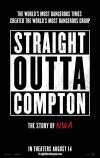 Gangstas had to take a backseat to faith, but the biopic Straight Outta Compton can still boast a bit accomplishment as by the time Labor Day closes, the film should top the $150 million mark. For the weekend, the N.W.A biopic took in $8.8 million, for a new total of $147.8 million. With an expected $11.2 million for the holiday frame, that would put Compton at just over $150 million after four weekends in theaters. Considering the meager cost to finance - $28 million - it's no wonder there is talk about having a Death Row spinoff in the works. Compton still has plenty of legs left as it should approach $175 million.
3)
A WALK IN THE WOODS

It turns out I didn't give near enough credit to adult audiences going in to this weekend. I figured Transporter: Refueled would have the best chance at knocking off the top movies, but it was the Nick Nolte/Robert Redford comedy that put up the best fight. A Walk in the Woods strolled along with a $8.4 million weekend - and is looking at a $10.2 million holiday take. That is great for a film budged at just $8 million. It follows other adult-oriented films in the past - The Constant Gardener (opened to $10 million, finished at $33 million), The American (opened to $16.5 million, finished at $35 million) and The Debt (opened to $11.8 million, finished at $31 million). Taking all that into account, A Walk in the Woods should also likely finish in the $30-$35 million range. The film did only get mixed reviews, so we'll see if it holds as well but even if drops somewhat quicker, it will make money overall at such a modest budget.
4)
MISSION: IMPOSSIBLE - ROGUE NATION
The Tom Cruise comeback tour continued on its winning path as Rogue Nation dipped a very light 12.3% in its sixth weekend out. It took in $7.1 million to raise its total to $180.3 million (with an additional $2 million expected for Labor Day). More important is that Rogue Nation will cross $500 million on the international market - $511 to be exact - which will make this the 4th-biggest Cruise film behind Mission: Impossible II, War of the Worlds, and Mission: Impossible Ghost Protocol. Better news is that Rogue Nation still has to open in China - one of the biggest markets right now - and that means it could still wind up being Cruise's biggest movie to date if it can open big there.
5)
THE TRANSPORTER: REFUELED

Trying to revamp an action franchise without the star who helped kicked it off is a risky endeavor. It turns out Ed Skrein is no Jason Statham and the Transporter series will likely not come back for yet another run. Refueled could only sputter to a $7.1 million opening (rising to about $8.7 after Labor Day) but that isn't a good start for a $30-million-budgeted film. If it follows the same route as Transporter 2, the film will wind up at under $20 million total. Even if international numbers bail out the film a bit, I'm guessing this is the last time we'll see this wheelman on the big screen.
Outside the top five: Perhaps the biggest news cam from a Mexican animated film that opened on fewer than 400 screens. Un gallo con muchos huevos, from Huevocartoon and Pantelion, opened in the 8th spot (though it could ultimately wind up in 7th) with $3.4 million. If the numbers hold, it would be the biggest opening for a Mexican-animated film and the second-largest opening for Pantelion pictures. Considering it opened on just 395 screens, and has a modest $5.3 million budget, those numbers are very good and continues to show the power of the Latino audience (who helped other films like Instructions Not Included and Girl in Progress reach good numbers as well). I wouldn't be surprised to see other animated films pop up in the future.
Inside Out enjoyed a quiet re-release in theater, taking in $3.3 million ($4.5 including Labor Day) and should wind up just shy of $350 million. Give it a couple more days next week, and the film should top that milestone easily.
Terminator: Genisys has had a great international run after opening big in China the film now stands at $435.9 million total - including $346.3 overseas. That officially makes this the biggest overseas hit for Arnold Schwarzenegger, topping the $315 million for Terminator 2. It has also topped the $431 million of Terminator 3: Rise of the Machines to become the second-biggest global total for Schwarzenegger as well. What does this mean? For all its domestic disappointment, maybe the Terminator franchise isn't in as much trouble as we think.
Next week brings us M. Night Shyamalan's latest, a horror film where grandma and grandpa are a little off in The Visit, an all-star African-American cast leads the thriller A Perfect Guy and the uplifting drama looking to see the same success as War Room, 90 Minutes in Heaven.
Comments