New on DVD and Blu-ray Week of September 1-September 7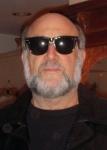 By Harley Lond - 08/31/15 at 11:10 PM CT
THIS WEEK'S THEATRICAL RELEASES:
"Mad Max: Fury Road": Thirty-four years after ex-Aussie cop Max Rockatansky wandered into the Wasteland at the end of "Mad Max 2: The Road Warrior," the iconic hero returns to the big screen -- but not as you remember him. Dragging his shattered leg into the end credits, Max was a hero. Now, he's all-too human and guilt ridden about the people he left behind. It's many years after the collapse of civilization, and the tyrannical Immortan Joe enslaves the apocalypse survivors inside a desert fortress known as the Citadel, where he controls the water supply and enforces his power with the War Boys. When the warrior Imperator Furiosa (Charlize Theron) leads the despot's five wives in a daring escape, she forges an alliance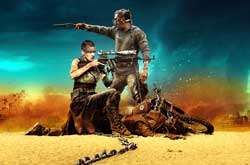 with Max (Tom Hardy), who had been captured by the War Boys to become a "blood bag" (blood donor for the fighters weakened by radioactive poisoning). Fortified in the massive, armored truck the War Rig, they try to outrun the ruthless warlord and his henchmen in a deadly high-speed chase through the Wasteland. A reimagining/sequel of the classics "Mad Max" and "The Road Warrior" (two films that set the standard for post-apocalyptic landscapes and wastelands) by the man who made them both: George Miller. It's a breathtaking non-stop thrill ride mostly devoid of story line except for the mad rush to freedom (and spiritual redemption) against impossible odds by Max, Furiosa and the wives. It's violent, outrageous, and crazy -- just what a Mad Max movie ought to be. And by making Furiosa the strong central protagonist of the outing, the film sets new standards for Hollywood heroes. The only real shortcoming: the almost indecipherable Aussie accents for the first 20 minutes of the film (overcome, thankfully, with the judicious use of English subtitles on the DVD). Hugh Keays-Byrne, who plays Immortan Joe here, played the Toecutter in the original "Max." And more than 80% of the effects seen in the film are real (not CGI): stunts, make-up and sets. The attention to detail -- all the sets and props are made from salvaged goods, just like they would be in a post-industrial society -- and the cars -- literally hundreds of hand-made, souped up monster cars, hot rods, trucks, tankers, and even a tank, all sporting supercharged and nitro-charged V8s -- is utterly astonishing. Sit back and enjoy an action film the way it's supposed to be made -- and by a pair of 70-year-olds to boot (Miller is 70, cinematographer John Seale is 72). The film also stars Nicholas Hoult, Hugh Keays-Byrne, Nathan Jones, Zoe Kravitz, Keough, Rosie Huntington-Whiteley, Abbey Lee, Courtney Eaton, Josh Helman, Jennifer Hagan, iOTA, John Howard, Richard Carter, Megan Gale, Angus Sampson, Joy Smithers, Gillian Jones, Melissa Jaffer and Melita Jurisic. Extras include six well-thought out behind-the-scenes featurettes that -- unlike most such featurettes that are short YouTube-like promos -- actually intelligently delve into the production: "Maximum Fury: Filming Fury Road
," about the stunts and car chases; "Mad Max: Fury on Four Wheels," about the myriad vehicles used in the production ("V8, V8, V8, V8"); "The Tools of the Wasteland," about the set design and props; "The Road Warriors: Max and Furiosa," "The Five Wives: So Shiny, So Chrome," and "Fury Road: Crash & Smash." From Warner.

Also due this week: "I'll See You in My Dreams
," a run-of-the-mill romantic comedy about a widow and former songstress who discovers that life can begin anew at any age. After the death of her beloved dog, Carol (Blythe Danner) finds the everyday activities that have given her life structure -- her regular bridge game, gardening, a glass of wine or two -- have lost their luster. With the support of three loyal girlfriends (June Squibb, Rhea Perlman, and Mary Kay Place), Carol decides to embrace the world, embarking on an unlikely friendship with her pool maintenance man (Martin Starr), pursuing a new love interest (Sam Elliott), and reconnecting with her daughter (Malin Akerman). From Universal.


THIS WEEK'S BEST BETS:

Comedy meets horror when the screen's funniest duo, Bud Abbott and Lou Costello, encounter Universal's classic monsters in "Abbott and Costello Meet the Monsters Collection
." In 1948, Universal Pictures paired its most popular comedy team with its hugely successful monsters, launching an entirely new genre. These four outrageously funny films find Bud and Lou meeting Dracula, Frankenstein, the Wolf Man, the Invisible Man, Dr. Jekyll and Mr. Hyde,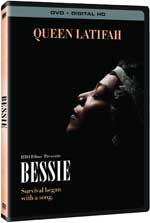 and the Mummy. Co-starring horror legends Bela Lugosi, Boris Karloff and Lon Chaney Jr., this timeless collection continues to scare up laughs for audiences of all ages. The titles: "Abbott and Costello Meet Frankenstein," "Abbott and Costello Meet the Invisible Man," "Abbott and Costello Meet Dr. Jekyll and Mr. Hyde" and "Abbott and Costello Meet the Mummy." A two-disc DVD set, $19.98 from Universal ... With the release this week of the slam-bam-full-speed-ahead reimagining of "Mad Max," Warner has taken the opportunity to reissue the three previous films in a bundle with the new "Mad Max" in Blu-ray: the "Mad Max Anthology
" includes "Mad Max" (1979), "The Road Warrior" (1981), "Mad Max Beyond Thunderdome" (1985) and "Mad Max: Fury Road" as well as the documentary "Madness of Max" on DVD along with "Mad Max Anthology" trading cards; $89.98 ... Queen Latifah stars as legendary blues singer Bessie Smith in "Bessie
," the HBO Films presentation that shows the struggles and successes of the singer who came to be known as "The Empress of the Blues." The film focuses on Smith's rise from a naive young singer to one of the most successful recording artists of the 1920s. It's an intimate look at the determined woman whose immense talent and love for music took her from anonymity in the rough and tumble world of vaudeville in the 1920s blues scene to international fame. Despite her demons, Smith became a celebrated legend whose albums -- almost a century later -- still sell. Queen Latifah (who is seriously underused in Hollywood) puts in a strong performance, but the film unfolds as a typical TV biopic and tends to drag after the first hour. Still, it's an important document about an important woman. Co-stars Michael Kenneth Williams, Bryan Greenberg, Oliver Platt, Khandi Alexander, Mike Epps and Mo'Nique ...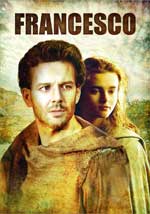 "Francesco
" (1989) is a biodrama of the life of St. Francis by acclaimed Italian auteur Liliana Cavani ("The Night Porter"), in a new 2K digital restoration supervised by Cavani, who was nominated for a Palme d'Or at the 1989 Cannes Film Festival for the film. "Francesco" was also included as one of 15 "Religion" movies in Pope John Paul II's Pontifical Council for Social Communications list of "Some Important Films" -- better known as the Vatican Film List -- created in 1995 for the 100th Anniversary of Cinema. Based on Herman Hesse's" Francis of Assisi," the film depicts the life of the iconic and influential Saint Francis, played by Mickey Rourke, and the rise of the Franciscan order that he founded. Mourning his death, Francis' devoted followers recall episodes from the saint's life and charts his transformation from the pampered son of an aristocrat into a selfless man of faith devoted wholly to a life of apostolic poverty. Helena Bonham Carter co-stars as Saint Clare, Francis' spiritual inspiration and disciple. On DVD, Blu-ray Disc from Film Movement Classics.


BUZZIN' THE 'B'S:


"Army of Frankensteins" (2013): After a failed attempt to propose to his girlfriend, Alan Jones is beaten within an inch of his life by a street gang. Transported to the mysterious lab of Dr. Tanner Finski and his kid genius assistant Igor, Alan becomes the subject in a series of horrible experiments as part of the doctor's plan to reanimate the legendary Frankenstein monster. But all bets are off when the experiments lead to a hole being ripped in space and time, pulling an army's worth of the infamous creatures from hundreds of parallel universes and sending them all back to the 19th century -- directly into the heart of a bloody battle between the North and South. Stars Jordan Farris, Christian Bellgardt, John Ferguson. On DVD, Blu-ray Disc from Scream Factory.


"The Blood Lands" (2014): It's Ed and Sarah's first night at their new home, an isolated farmhouse in the countryside, which they hope will be a new beginning away from their stressful city lives. But as darkness falls, Sarah suspects they're not alone, Ed goes to investigate and quickly the evening becomes a nightmare ... it becomes clear that not only do they not belong there, they're certainly not welcome either. Stars Lee Williams, Pollyanna McIntosh. On DVD, Blu-ray Disc from Magnolia Home Entertainment.


"Blood Punch" (2013): A young man breaks out of rehab to follow a mysterious bad girl into an easy drug score. But when she lures him to an isolated cabin with her psychotic boyfriend, their simple love triangle quickly descends into a mind-blowing supernatural cycle of carnage and mayhem with no end ... and no escape. Stars Milo Cawthorne, Olivia Tennet, Ari Boyland. From Bluff Road Productions/Midnight Releasing.


"Broken Horses" (2015): Vincent D'Onofrio, Anton Yelchin, Chris Marquette, María Valverde, Thomas Jane and Sean Patrick Flanery star in a drama about two brothers who reunite in a turbulent town on the Mexican border. Jacob (Yelchin) returns to his desolate hometown and discovers that his child-like brother, Buddy (Marquette) is working for a notorious gang. The gang's ruthless boss (D'Onofrio) has exploited Buddy's simple mind and manipulated him into becoming a merciless killer. Jacob realizes the only way to save Buddy is to take down the gang from within. From Sony.


"The Curse of Downer's Grove" (2015): In suburban Downers Grove, Illinois, people call it "The Curse": Before the end of every school year, one high school senior will die in a gruesome accident. And with only one week left, Chrissie Swanson can't shake the fear that she might be next. Can Chrissie survive the curse of Downers Grove or will she, like those seniors before her, fall prey to the town's deadly secret? Stars Bella Heathcote, Lucas Till, Penelope Mitchell, Tom Arnold, Kevin Zegers. On DVD, Blu-ray Disc from Anchor Bay.


"The D-Train" (2015): Jack Black, James Marsden, Kathryn Hahn, Mike White and Jeffrey Tambor star in this quirky comedy. All his life, Dan Landsman (Black) has never been the cool guy. He hopes to change everything by befriending former high school hero Oliver Lawless (Marsden) and convincing him to show up at their class reunion. However, Dan's plan backfires as the unpredictable Oliver proceeds to take over his home, career and entire life. On DVD, Blu-ray Disc from IFC/Paramount.


"Extinction" (2015): For nine years, Patrick (Matthew Fox), Jack (Jeffrey Donovan) and his daughter Lu (Quinn McColgan) have outlasted the zombie apocalypse by shutting themselves off in the snowbound town of Harmony. The monsters have seemingly disappeared, with no sign of other survivors, but the constant fear of the unknown is starting to take a toll on this makeshift family. When Patrick goes scavenging for food, he discovers the undead have returned and evolved into something terrifying, beyond imagination. From Sony.


"Felt" (2015): In this feminist psychological thriller, Amy is hanging on by a thread. Struggling to cope with past sexual trauma and the daily aggressions of a male-dominated society, she creates grotesquely costumed alter egos that re-appropriate the male form. While giving her the sense of power she craves, acting as these characters pushes her further into a world of her own making. When she begins a new relationship with a seemingly good guy, she opens herself up to him -- but that vulnerability comes at a dangerous cost, and her alter egos threaten to lash out in explosive violence. Based on the real experiences and art of co-writer/star Amy Everson. From Amplify Releasing.


"Good Kill" (2014): Ethan Hawke and January Jones star on this drama about a veteran Air Force pilot who yearns to get back into the cockpit of a plane but instead launches drone strikes from an air-conditioned box in the Las Vegas desert. When he starts taking orders directly from the CIA, the stakes are raised and Egan's nerves -- and his relationship with his wife -- begin to unravel. On DVD, Blu-ray Disc from Paramount.


"Harbinger Down" (2015): An homage to the sci-fi/horror films of the '80's, using practical special effects rather than CGI. Funded in part by a gigantic Kickstarter campaign. A group of grad students have booked passage on the crabbing boat Harbinger to study the effects of global warming on a pod of Belugas in the Bering Sea. When the ship's crew dredges up a recently thawed piece of old Soviet space wreckage, things get downright deadly. It seems that the Russians experimented with tardigrades, tiny resilient animals able to withstand the extremes of space radiation. The creatures survived, but not without mutation. Now the crew is exposed to aggressively mutating organisms. And after being locked in ice for 3 decades, the creatures aren't about to give up the warmth of human companionship. Stars Lance Henriksen, Camille Balsamo, Matt Winston, Reid Collums, Milla Bjorn, Winston James Francis, Mike Estime, Edwin Bravo. From Vertical Entertainment.


"Lawless Kingdom" (2015): Four superhumans -- Coldblood, Emotionless, Iron Hands and Life Snatcher -- all with supernatural powers, dedicate their unique and special skills to solving crimes and apprehending powerful criminals. Stars Deng Chao, Liu Yi Fei, Anthony Wong. From Lionsgate.


"Lords of London" (2015): After a standard shakedown goes awry, the son of a notorious London gangster must confront his father's past in order to alter the gritty, abusive path that his life is spiraling down. Stars Ray Winstone, Glen Murphy, Giovanni Capalbo, Cassius Terence Murphy. From Lionsgate.


"Lost After Dark" (2014): Loving but harrowing homage that takes audiences back to the decade when slashers ruled the silver screen. Spring Ball, 1984. Adrienne, a straight-A student, joins her quarterback crush Sean and some friends in sneaking out of their high school dance for some unsupervised mayhem. The teens' party plans hit a snag when they run out of gas on a deserted road; they head out on foot and discover a rundown farmhouse where they hope to find help. Instead they find themselves at the mercy of Junior Joad, a cannibal killer from an urban legend. Stars Kendra Timmins, Justin Kelly, Mark Wiebe, Robert Patrick, Eve Harlow. On DVD, Blu-ray Disc from Anchor Bay.


"Panic 5 Bravo" (2012:) After four Arizona paramedics illegally cross the U.S.-Mexico border to aid a shooting victim, they're targeted by a Mexican drug cartel. Trapped inside their ambulance, the paramedics fight to survive in a furious face-off. Stars Kuno Becker, Aurora Papile, Shalim Ortiz, Sofía Sisnieg. From Lionsgate.


"Paranormal Island" (2014): Three college kids take a summer job to work as bartenders at a 100-year-old bar in the middle of a lake -- but little do they know that the bar is presumed by many locals to be haunted after the owner killed himself. When they miss the last boat off the island, they quickly realize things are very different after hours as they're hunted by the paranormal caretaker. Stars Lance Henriksen, Briana Evigan, Randy Wayne, Ben Elliot. From Cinedigm.


"Redeemer" (2014 -- Chile): Martial arts master Marko Zaror plays a born-again equalizer who kicks the bejesus out of evildoer. Known on the streets as Redeemer, Pardo is a hoodie-wearing, Bible-quoting vigilante seeking redemption for his past sins by offering criminals the chance to beg for forgiveness or pay the ultimate price. On DVD, Blu-ray Disc, from Dark Sky Films/MPI Media.


"Run Hide Die" (2012): A year after her husband was found murdered in their home, the Addison Davenport and her four best friends set off for some emotional recovery at her in-laws' idyllic summer cabin deep in the woods. But it soon becomes clear that the girls are not alone, as each is savagely captured and terrorized. One of them is hiding a dark secret, for which their tormentor plans to exact a brutal revenge. Stars Alison Monda, Tabitha Bastien, Keiko Green, Gail Harvey. From RLJ Entertainment.


"The Surface" (2014): When a plane crashes in the unpredictable waters of Lake Michigan, the pilot is pulled from the wreckage by a man who has been stranded on his boat. Immediately suspicious of each other, the two strangers must overcome their differences to find a way back to shore. Stars Sean Astin, Chris Mulkey, Mimi Rogers. From Entertainment One.


"Wolf Warrior" (2015 -- China): Director Wu Jing also stars as a Chinese Special Forces soldier with extraordinary marksmanship who is expelled from the army and joins a mysterious troupe of insurgents known as the Wolf Warriors. Sergeant Leng Feng, top marksman of the Chinese Special Forces, is jailed under court martial for disobeying orders. But he's just the kind of fighter the Wolf Warriors are looking for. The Wolves bring Feng into their pack, honing his skills to a knife's edge. But another team has Feng on their radar: a group of corrupt blades-for-hire, seeking revenge for a drug lord's murder. On DVD, Blu-ray Disc from Well Go USA.
ON THE INDIE FRONT:

In "Gemma Bovery
" (2015), Gemma Arterton, Jason Flemyng, Fabrice Luchini and Niels Schneider star in a romantic re-imagining of Madame Bovary by acclaimed director Anne Fontaine ("Coco Before Chanel"). It's an adaptation of Posy Simmonds' ("Tamara Drewe") popular graphic novel of the same name, itself a contemporary re-working of Gustave Flaubert's literary masterpiece "Madame Bovary." "Gemma Bovery" begins when earthy British beauty Gemma Bovery (Arterton) and her husband Charlie (Flemyng) move to a charming old farmhouse in the very same Norman village where Flaubert's classic was written a century earlier. Local baker and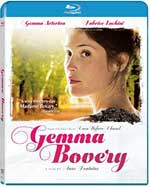 Flaubert expert Martin Joubert (Luchini) becomes entranced with Gemma — and it doesn't take long before he's drawing parallels between the literary and real-life women. Gemma catches the eye of a handsome local playboy (Schneider), and when her magnetic ex suddenly reappears, she seems to be fulfilling Joubert's worst fears that her destiny is linked to that of Flaubert's doomed heroine. At once a cheeky literary mash-up, a sensuous romance, a witty feminist commentary and a heady celebration of French provincial life. On DVD, Blu-ray Disc from Music Box Films ... A member of the notorious Bloods since he was 12 years old -- both in the film and in real life -- James "Primo" Grant takes John, the son of his slain mentor, under his wing, versing him in the code of the streets in "Five Star" (2014). Set in East New York, the film blends documentary and fictional storytelling to offer a compelling portrait of two men forced to confront the question of what it really means to be a man. From XLrator Media ... In "Results
" (2015), starring Guy Pearce, Cobie Smulders, Kevin Corrigan and Giovanni Ribisi, recently divorced, newly rich, and utterly miserable, Danny (Kevin Corrigan) would seem to be the perfect test subject for a definitive look at the relationship between money and happiness. Danny's well-funded ennui is interrupted by a momentous trip to the local gym, where he meets self-styled guru/owner Trevor (Guy Pearce) and irresistibly acerbic trainer Kat (Cobie Smulders). Soon, their three lives are inextricably knotted, both professionally and personally. On DVD, Blu-ray Disc from Magnolia Home Entertainment.


FOR THE FAMILY:

Join Blythe Baxter and all her furry friends at the Littlest Pet Shop in "Littlest Pet Shop: Halloween Fest" (2015) for some tricks and treats this Halloween. It's the spookiest time of the year and Blythe and her best friends are ready for some spine-tingling adventures, including investigating werewolves, ghosts, pet psychics, aliens from outer space and a mysterious jungle curse. Five episodes, $9.99 from Shout! Kids.


SPECIAL INTEREST:

Surrealist artist H. R. Giger (1940–2014) terrified audiences with his Oscar-winning monsters in Ridley Scott's "Alien." Sci-fi, horror, music, album covers, tattoos and fetish art have been influenced by his dark, intricate paintings and sculptures depicting birth, death and sex. Both a mesmerizing introduction to Giger's oeuvre and a must-see for Giger devotees, Belinda Sallin's definitive documentary "Dark Star: H.R. Gigers World
"
(2014) shares the intimate last years of the artist's life and reveals how deeply he resided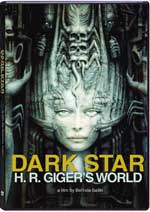 within his own artistic visions. Behind the shuttered windows and ivy-covered walls of his residence in Zurich, Switzerland, the documentary brings viewers into Giger's mysterious realm: from the first skull he was given by his father at the age of six, to macabre dinner parties with his close-knit team, to the grisly souvenirs from his time spent on the "Alien" set and reminiscences about model Li Tobler, Giger's one-time muse, whose suicide reverberates throughout his work. From Icarus Films ... "Glen Campbell: I'll Be Me
" (2015) is a new documentary about the country/pop superstar produced and directed by filmmaker James Keach. In 2011, music legend Glen Campbell set out on an unprecedented tour across America set to last five weeks ... instead Campbell performed at 151 spectacular sold out shows over a triumphant year and a half. What made the tour so extraordinary was that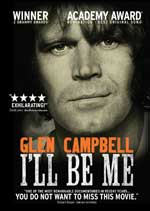 Campbell had recently been diagnosed with Alzheimer's disease. He was told to hang up his guitar and prepare for the inevitable. Instead, he and his wife went public with his diagnosis and announced that he and his family would set out on a "Goodbye Tour." The film documents > this amazing journey as he and his family attempt to navigate the wildly unpredictable nature of Glen's progressing disease using love, laughter and music as their medicine of choice. Special appearances include Bruce Springsteen, The Edge, Paul McCartney, Blake Shelton, Sheryl Crow, Keith Urban, Brad Paisley, Taylor Swift, Steve Martin, Chad Smith and Bill Clinton among many others. From Virgil Films ... "Our Man in Tehran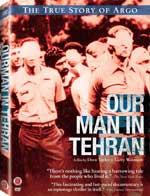 (2013) explores the real story behind the Oscar-winning film "Argo." In this gripping documentary, the story of the "Canadian Caper" is told by the man who knows it best: Ken Taylor, Canada's former ambassador to Iran, who hid the six Americans and obtained the counterfeit documents that allowed them to make their dramatic escape from Tehran. The film uncovers new information and adds valuable context, including a historical overview of Iran as well as interviews with the rescued Americans, former Prime Minister Joe Clark, ex-CIA officer Tony Mendez, and many others. From First Run Features ... "JFK & LBJ: A Time for Greatness" (2015) sheds light on the fascinating story of a president who knew how to harness the nation's grief over John F. Kennedy's assassination, twist arms, and get his way. In many ways, President Lyndon B. Johnson was the most unlikely champion of Civil Rights. But his actions in the White House told a different story when he dared to champion two laws that changed America and the world: the Civil Rights Act of 1964 and the Voting Rights Act of 1965. Documentary includes rarely seen footage, secret White House tapes, and personal testimony from LBJ's advisors, biographers, friends, and family. From PBS Distribution.


FROM TV TO DVD:

"Castle: The Complete Seventh Season" (2014-15) is a five-disc set with 23 episodes from ABC/Disney ... "Chicago Fire: Season Three" (2014-15) is a six-disc set with 23 episodes. This season has the firefighters facing new challenges: a determined arsonist, the complications of staff romance and tension inside the house with shocking results. From Universal ... "Chicago PD: Season Two" (2014-15) is a six-disc set with 23 episodes.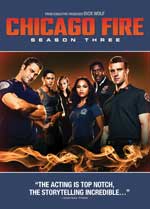 This season follows Sergeant Hank Voight and his team of detectives, including former military man Jay Halstead and Erin Lindsay , in their battles against the Windy City's most ruthless criminals. Turf wars, a brutal home invasion, a violent heroin operation and a massive drug cartel all figure into this season. From Universal ... In "Cracked: The Darkness Within" (2013) Canadian detective Aidan Black (David Sutcliffe) and psychiatrist Dr. Daniella Ridley (Stephanie von Pfetten) return to take on another caseload of bizarre and emotionally explosive criminals, victims, and witnesses. The mismatched duo tackle a former professional hockey player with a violent streak, a fellow police officer grappling with the mysterious suicide of her daughter, and a big-time diamond heist at a small jewelry store that reveals shocking surveillance video footage. In a two-disc DVD from BBC Home Entertainment ...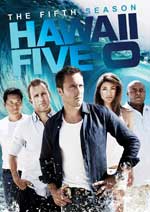 "Hawaii Five-O: The Fifth Season" (2014) is a six-disc set with 25 episodes. In the fifth season, McGarrett continues to try to bring closure to his father's last, unsolved case and closure to his mother's past, while the state's brash Five-O unit, who may spar and jest among themselves, remain determined to eliminate the seedy elements from the 50th state. There's kidnappings, hostages, the black market world of priceless art, and an errant nuclear bomb. From CBS/Paramount ... "Madam Secretary: Season 1" (2014-15) is a six-disc set with 22 episodes. In the first season of this gripping political thriller Dr. Elizabeth McCord (Tea Leoni) navigates the maze of politics to protect America and affect global issues. When the current Secretary of State is killed in a mysterious airplane accident, the White House turns to McCord to take over the job. As a former CIA analyst, she understands the risks of the world ... but she's far less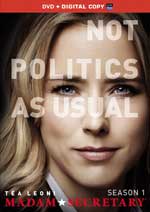 prepared for the treachery of politics. From CBS/Paramount ... "Midnight Masquerade" (2014), starring Autumn Reeser, Christopher Russell and Richard Burgi, is another Hallmark Channel real-life fairy tale. Elyse, a rich heiress, meets Rob, a bullied lawyer, and the two fall in love during a costume ball. From Cinedigm ... "Nashville: The Complete Third Season" (2014-15) is a five-disc set with 22 episodes from ABC/Disney ... "The Originals: The Complete Second Season" (2014-15) is a five-disc DVD and three-disc Blu-ray with all 22 episodes about a family of power-hungry thousand-year-old vampires who look to take back the city -- New Orleans -- that they built and dominate all those who have done them wrong. From Warner ... In "Scorpion: Season One" (2014-15), Elyes Gabel stars as Walter, the eccentric leader of a team of brilliant misfits: a psychiatrist with a gambling addition, a mechanical prodigy with anger issues, and a "human calculator" with social anxiety -- who save the world from problems only a genius could solve.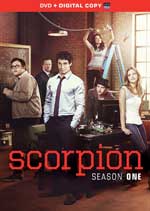 Also in the cast are Robert Patrick as tough-as-nails security agent Cabo Gallo and Katherine McPhee as Paige, a former waitress who translates the "normal" world for the geniuses. Scorpion is Homeland Security's last line of defense against the complex, high-tech threats of the modern age. On DVD, Blu-ray Disc from CBS/Paramount ... "Texas Rising" (2015) is the eight-hour History Channel miniseries that tells the story of legendary hero Sam Houston and the Republic of Texas's intense struggle for independence against the forces of fierce Mexican General Santa Anna. Directed by Roland Joffe and starring Bill Paxton, Brendan Fraser, Ray Liotta, Jeffrey Dean Morgan, Thomas Jane, Olivier Martinez, Addai-Robinson, Chad Michael Murray, and Max Thieirot. From Lionsgate ... "The Vampire Diaries: The Complete Sixth Season" (2014-15) is a five-disc DVD and four-disc Blu-ray with all 22 episodes, from Warner.

Check out other September 1-7 DVD releases and reviews at OnVideo.