New on DVD and Blu-ray Week of August 25-August 31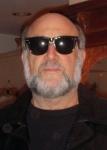 By Harley Lond - 08/24/15 at 06:11 PM CT
THIS WEEK'S THEATRICAL RELEASES:
"Citizenfour" (2014): You don't have to be a card-carrying liberal to be appalled at the revelations of indiscriminate criminality on the part of the U.S. Government (in particular the National Security Agency and the Obama administration) in its (successful) efforts to spy on American citizens. Do you have a debit card? Is it linked (via your checking account) to your Internet and telephone usage? Then every purchase, every written and verbal conversation and (thanks to mobile phone GPS) every place you visit in now residing in a database owned and operated by the U.S. Government. This critically acclaimed 2014 Academy Award-winner for Best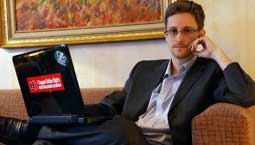 Documentary is one of the most influential and timely documentary films in recent history. Just as the controversial U.S. Patriot Act was to expire on May 31, 2015 the U.S. Senate voted to pass the U.S. House version of the USA Freedom Act, the successor to the Patriot Act, which saw three of its major sections end, one of which was the mass surveillance of all Americans. Shortly thereafter, President Obama signed the bill into law. Edward Snowden and the events documented in "Citizenfour
" were a powerful catalyst in calling attention to the unlawful surveillance of Americans by their government. It's a real life international thriller that unfolds by the minute ... and will make your blood boil as you witness one government official after another lie to the courts and to Congress about the surveillance. Whistleblower Edward Snowden -- working for a subcontractor of the NSA and realizing how nefarious the NSA database had become -- granted unprecedented access to award winning director Laura Poitras for a chilling behind-the-scenes chronicle that follows journalist Glenn Greenwald's remarkable encounters with Snowden in a Hong Kong hotel room as he hands over classified documents that provide the evidence of mass indiscriminate and illegal invasions of privacy by the NSA. Get ready to get really angry -- the film not only shows the dangers of governmental surveillance, but also makes audiences feel them. A must see. On DVD and Blu-ray from Radius/Anchor Bay.

Also due this week: "Two Days, One Night
," starring Marion Cotillard as a wife and mother who suffers from depression and discovers that, while she was home on sick leave, a majority of her co-workers voted in favor of her being fired rather than give up their annual bonuses. She then spends a Saturday and Sunday visiting them each in turn, to try to convince them to change their minds. A powerful, humanist drama about the importance of community in an increasingly impersonal world from Belgian directors Jean-Pierre and Luc Dardenne. In French with English subtitles from The Criterion Collection ... "Iris
," the last film from 87-year-old documentarian Albert Maysles, about Iris Apfel, the quick-witted, flamboyantly dressed 93-year-old style maven who has had an outsized presence on the New York fashion scene for decades. From Magnolia Home Entertainment ... and "Aloha
," about a celebrated military contractor (Bradley Cooper) who returns to the site of his greatest career triumphs -- Honolulu, Hawaii -- and reconnects with a long-ago love (Rachel McAdams) while unexpectedly falling for the hard-charging Air Force watchdog (Emma Stone) assigned to him. From Sony.


THIS WEEK'S BEST BETS:

"The Walking Dead: The Complete Fifth Season" (2014-15) is a five-disc set with all 16 episodes. It took me awhile to catch on to the simplistic beauty of this series: yes, it's about humans fighting flesh-eating zombies in a post-apocalyptic world ... but more so it's about human nature, human interaction, love vs. hate, good vs. evil, compassion and survival. It's all about the characters you have come to like and root for in a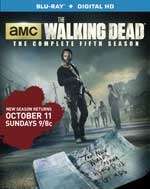 world gone totally and irrevocably mad. Season Four ended with Rick and the group outgunned, outnumbered, and trapped in a train car awaiting a grim fate. Season Five picks up shortly thereafter. What follows is a story that weaves the true motives of the people of Terminus with the hopeful prospect of a cure in Washington, D.C., the fate of the group's lost comrades, as well as new locales, new conflicts, new obstacles in keeping the group together and staying alive and -- as befits the series -- new wild twists and turns. And, in the quest to find a permanent, safe place to call home, one question will haunt them: After all they've seen, all they've done, all they've sacrificed, lost, and held on to no matter what the cost ... Who do they become? On DVD and Blu-ray with commentaries with cast and crew, deleted scenes, "Inside The Walking Dead," "The Making of The Walking Dead," "The Making of Alexandria," "Beth's Journey," "Bob's Journey," "Noah's Journey," "Tyreese's Journey," "A Day in the Life of Michael Cudlitz," "A Day in the Life of Josh McDermitt," "Rotters in the Flesh." From Anchor Bay.

The "Gene Autry Movie Collection 11
" features four restored films from Gene Autry's personal archives in DVD debuts: "The Singing Cowboy" (1936), "Guns and Guitars" (1936), "Round-up Time in Texas" (1937) and "Springtime in the Rockies" (1937). Gene Autry is the only entertainer with all five stars on Hollywood's Walk of Fame, one each for Radio, Recording, Motion Pictures, Television and Live Performance. He was the silver screen's first singing cowboy and is credited with creating the genre of the musical Western. As the star of 89 feature films, Autry brings music, comedy and action to each of his roles. $16.97 from Timeless Media Group.


BUZZIN' THE 'B'S:
"After the Ball
" (2015), starring Portia Doubleday, Marc-Andre Grondin, Chris Noth and Lauren Holly, is a modern retail take on Cinderella. After the young fashion designer daughter of a retail guru clothes marketer runs afoul of her corrupt stepmother and stepsisters, she gets the help of a prince of a guy in the shoe department and, with her godmother's vintage clothes and a disguise, helps save the family business. From Monarch Home Entertainment . "Berry Gordy's The Last Dragon
" (1985) debuts for the first time on Blu-ray for its 30th Anniversary. Martial arts student Leroy Green (Taimak) is on a quest to obtain the elusive all-powerful force known as "The Glow." Along the way he must battle the evil, self-proclaimed Shogun of Harlem -- a kung fu warrior also known as Sho'nuff -- and rescue a beautiful singer from an obsessed record promoter. Pulsating music, cutting edge dancing and the best in non-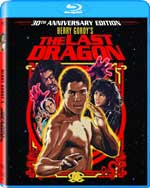 stop action, with an amazing Motown soundtrack including music by Stevie Wonder, The Temptations, Vanity and DeBarge performing their smash hit "Rhythm of the Night." From Sony ... In "Skin Trade
" (2015), detective Nick Cassidy (Dolph Lundgren) heads to Bangkok to hunt down Viktor Dragovic (Ron Perlman) and destroy his human trafficking network; Nick killed Dragovic's son in a shootout during a sting operation on the New Jersey docks, and Dragovic responded by attempting to kill Nick and his family. Nick miraculously survived the brutal attack that destroyed his family; with nothing but vengeance to live for, Nick smashes his way through the Bangkok underworld in search of the elusive Dragovic. Meanwhile, FBI Agent Eddie Reed (Michael Jai White) is sent in to bring Nick home even as Thai detective Tony Vitayakui (Tony Jaa) questions the motives and methods that have brought Nick across the globe to Thailand. As the crossfire between all sides grows more and more deadly, Nick has to determine who his true allies are. On DVD, Blu-ray from Magnolia Pictures ... In "Big Game
" (2014), starring Samuel L. Jackson, Onni Tommila, Ray Stevenson, Victor Garber, Ted Levine, Felicity Huffman and Jim Broadbent, a young 13-year-old (Tommila) embarks on a traditional quest to prove himself by spending 24 hours alone in the wild, rugged countryside of Finland, armed with only a bow and arrow. After witnessing a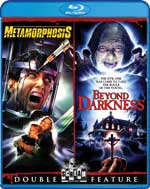 spectacular crash, he discovers the escape pod from Air Force One, containing the president of the United States (Samuel L. Jackson). When they realize a group of kidnappers is hot on their trail with the intention of taking the president, this unlikely duo must escape their hunters as they search for the American Special Forces team sent out to find them. On DVD, Blu-ray from Anchor Bay ... "Metamorphosis / Beyond Darkness
" is a double feature of insane Italian horrors. "Metamorphosis" (1990): When his experiments in genetics are mocked by his colleagues, a maverick scientist takes extreme measures to prove that his untested anti-aging serum works. But when he injects himself with his miracle cure, he soon experiences a terrifying change that threatens not only the lives of those around him, but also his own sanity. "Beyond Darkness" (1990): When a man of God and his loving family move into a new house, they think they've found the perfect home ... until they discover that their new digs were once the location where a coven of witches were burned at the stake. On Blu-ray Disc from Scream Factory.


ON THE INDIE FRONT:
"Camilla Dickinson
" (2012), starring Adelaide Clemens, Samantha Mathis, Gregg Sulkin, Cary Elwes, Colby Minifie, Margaret Colin and Camryn Manheim, is an adaptation of Madeleine L'Engle's novel follows the daughter of a well-to-do family in 1948 Manhattan. Fifteen-year-old Camilla Dickinson leads a sheltered life in New York City until her parents' marriage begins to fall apart. When Camilla meets her best friend's rebellious brother, Frank, she finds a way to escape her troubles. As her relationship with Frank deepens, Camilla discovers a world outside of her own and begins to understand a little of what it means to grow up. From Random Media/Cinedigm.


FOREIGN:
"Falling Star (Stella Cadente)
" (2014 -- Spain) is a surrealist historical drama set in 19th century Spain against a backdrop of growing discontent. In November 1870, the Spanish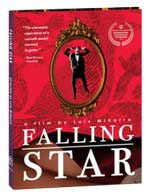 Courts elect the Italian Amadeo of Savoy as the King of Spain with a paltry 191 votes. Much to the dismay of the Spanish, Amadeo is a reluctant King who prefers beauty of power and passion over duty. Upon arrival in Madrid, his protector is assassinated. In the midst of a crumbling empire, Amadeo chooses to lose himself in wine, fruit, sex, and melancholy. His reign will be short ... . On DVD from IndiPix Films ... "A Wolf at the Door
" (2013 -- Brazil) is based on real events. When Sylvia discovers her six-year-old daughter has been picked up at school by an unknown woman, police summon her husband Bernardo to the station for questioning. There he confesses his extra-marital affair with the beautiful young Rosa, whom detectives believe to be involved in the kidnapping. From Strand Releasing.


FOR THE FAMILY:

"Lego DC Comics Super Heroes: Justice League: Attack of the Legion of Doom!" (2015) is the latest original DC Comics animated feature. Crime is on the run as the newly formed Justice League keeps Metropolis safe -- and this makes evil genius Lex Luthor very unhappy. Together with Black Manta, Sinestro and a gang of ruthless recruits, Lex builds his own league and declares them the Legion of Doom. With this super powered team of terror and a plan to attack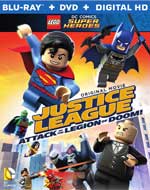 the top-secret government site, Area 52, can Lex finally be on the verge of victory? Superman, Batman, Wonder Woman and the rest of the Justice League must face off against the world's greatest Super-Villains. On DVD and Blu-ray/DVD Combo from Warner ... "Transformers Rescue Bots: Dinobots!" (2011-15) features five episodes from the animated series: "Land Before Prime," "Big Game," "Quarry's Quarry," "Did You See What I Thaw?" and "The Attack of Humungado." $14.93 from Shout! Factory Kids ... "20 Halloween Stories – Scholastic Storybook Treasures" is a new Halloween release from the Scholastic Classic Collection value line; this read-along DVD includes 20 stories (approximately three hours) on a single DVD including: "Where the Wild Things Are," "Creepy Carrots!," "Dinosaur Bones," "The Day of the Dead," "Dem Bones," "The Little Old Lady Who Was Not Afraid of Anything," "Teeny-Tiny and the Witch-Woman," "A Very Brave Witch," "Space Case," "Diary of a Spider," "Los Gatos Black on Halloween," "By the Light of the Halloween Moon," "A Dark, Dark Tale," "What's Under My Bed," "Strega Nona," "The Three Robbers," "Fletcher and the Falling Leaves," "The Trip," "Georgie," "The Wizard." $5.97 from Cinedigm.


FROM TV TO DVD:

"Criminal Minds: The Tenth Season" (2014-15) is a six-disc set with 24 episodes. To solve the most twisted crimes, the FBI's Behavioral Analysis Unit (BAU) explores the darkest places -- inside the depths of criminal minds. Seasoned undercover FBI Agent Kate Callahan (Jennifer Love Hewitt) joins the elite team led by Supervisory Special Agent Aaron Hotchner (Thomas Gibson) as they pursue a serial killer who hacks his victims beyond all recognition.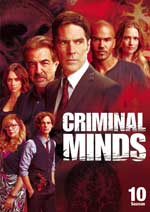 Experienced profiler David Rossi (Joe Mantegna) is dogged by a mysterious woman from his past, while Dr. Spencer Reid (Matthew Gray Gubler) grapples with the death of a mentor. Derek Morgan (Shemar Moore) and Jennifer "JJ" Jareau (A.J. Cook) take on a cases that evoke grim memories from their personal histories, while technical analyst Penelope Garcia (Kristen Vangsness) heads to death row to confront a perp from her past. Regardless of the risks, the brilliant thinkers of the BAU fearlessly uncover the darkest secrets in order to unlock the most unpredictable solutions. From CBS/Paramount ... "Elementary: The Third Season" (2014-15) is a six-disc set with 24 episodes. Perfect crimes meet the perfect match. In the City That Never Sleeps, one mind never rests. The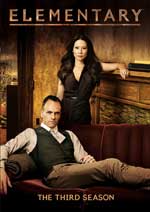 eccentric detective Sherlock Holmes (Jonny Lee Miller) possesses an unquenchable thirst for intellectual puzzles and a ruthless instinct for justice. As a consulting detective to the NYPD, he takes on bizarre cases that baffle the most seasoned cops. But he can't do it alone. Holmes relies on Joan Watson (Lucy Liu), a former physician who's the one person who can keep up with his racing mind. In this season, Watson has moved out of the brownstone and Holmes has accepted a job offer in London from MI6, the British intelligence agency. Now the detectives must solve the puzzle of how to move forward separately in the wake of the ending of their professional relationship. From CBS/Paramount ... "The Good Wife: The Sixth Season" (2014-15) is a six-disc set with 22 episodes. Alicia Florrick (Julianna Margulies) stood by her husband (Chris Noth) on his tumultuous path to the governor's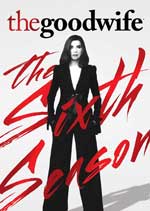 office, but now she's entering the world of politics on her own terms by running for state's attorney. As Election Day approaches, Alicia must balance the demands of her firm and campaign as she supports her partner Car (Matt Czuchry) during shocking developments that could end his career ... and life as he knows it. Juliana Margulies returns in the role that earner her two Primetime Emmy Awards, and stars with Archie Panjabi, Christine Baranki, Alan Cumming and a roster of stellar guests. From CBS/Paramount ... In "Harry" (2013), Detective Harry Anglesea (Oscar Kightley), still grieving his wife's suicide, returns to Auckland's Major Crime Unit after bereavement leave in his native Samoa. Harry begins to investigate a brutal homicide under the watchful eye of his boss DSS, Jim "Stocks" Stockton (Sam Neill); his investigation takes him deep into the seedy world of gangs and drug dealing, threatening what little peace he had managed to recover. Two-disc set with six episodes, $39.99. On DVD, Blu-ray Disc from Acorn ... "The Mindy Project: Season Three" (2014-15) is a three-disc set with 21 episodes from Universal.

Check out other August 25-31 DVD releases and reviews at OnVideo.