New on DVD and Blu-ray Week of August 11-August 17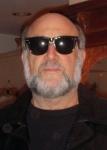 By Harley Lond - 08/11/15 at 04:41 AM CT
THIS WEEK'S BEST BETS:
The highlight this week is a Criterion Collection anthology of films by one of the unsung mistresses of film, Agnes Varda, who was a leading force in the French New Wave with her astounding real-time drama "Cleo from 5 to 7" (1962). Varda , whose remarkable career began in the 1950s and has continued into the 21st century, produced some of her most provocative works while living on the West Coast of the United States. After temporarily relocating from France to California in the late 60s with her husband, Jacques Demy, so that he could make his first Hollywood film, Varda became entranced by the politics, youth culture, and sunshine of the San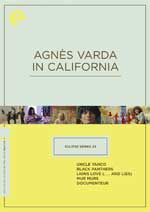 Francisco and Los Angeles areas, and created documentary explorations and fictional narratives -- sometimes within the same film. She returned a decade later, and made more fascinating portraits of outsiderness. Her five revealing, entertaining California films, encompassing shorts and features, are collected in this three-DVD box set, "Eclipse Series 43: Agnès Varda in California
," which demonstrates that Varda was as deft an artist in unfamiliar terrain as she was on her own turf. The set includes:

"Uncle Yanco" (1967) and "Black Panthers" (1968): Varda's first California films were two short documentaries made in the San Francisco Bay Area, one personal, the other political. In "Uncle Yanco" (22 minutes), Varda tracks down a Greek emigrant relative she's never met in Sausalito. In "Black Panthers" (29 minutes) she turns her camera on an Oakland demonstration protesting the imprisonment of activist and Black Panthers co-founder Huey P. Newton. These films chart a course from the delightful to the urgent, each in its own way revealing Varda's curious, empathetic nature.

"Lions Love (... and Lies)" (1969): Varda goes to Los Angeles, taking New York counterculture with her. In a rented house in the sun-soaked Hollywood hills, a woman and two men -- Viva, of Warhol Factory fame, and James Rado and Gerome Ragni, who created and starred in the rock musical "Hair"-- delight in each others' bodies while musing on love, stardom, and politics. They are soon joined by underground director Shirley Clarke, playing herself as well as functioning as a surrogate for Varda. "Lions Love (. . . and Lies)" (112 minutes) is a metacinematic inquiry into the alternating currents of whimsy and tragedy that typified late sixties America.

"Mur Murs" (1980) and "Documenteur" (1981): After returning to Los Angeles from France in 1979, Varda created two films, different in form and tone yet complexly interwoven. "Mur Murs" (82 minutes) is a kaleidoscopic documentary about the striking murals that decorate the city; "Documenteur" (65 minutes) is a small-scale fiction about a divorced mother and her child (played by Varda's own son) living a quiet existence on L.A.'s margins. Taken together, these films, with their overlapping images and ideas, sketch a portrait of a metropolis at once sprawling and isolating, bursting with life and haunted by loneliness.


THIS WEEK'S THEATRICAL RELEASES:

"Hot Pursuit
" and "Unfriended
."


BUZZIN' THE 'B'S:
"Police Story: Lockdown
" (2013 -- Hong Kong) brings Jackie Chan back to the screen in the fifth installment in the "Police Story" franchise that catapulted him to fame in the West. Police Captain Zhong Wen (Chan) has always been too busy chasing bad guys to be a father to his daughter Miao (Jing Tian). Tonight, he's seeing her for the first time in years -- and meeting her fiance, club owner Wu Jiang (Liu Ye). But Wu has other plans for the evening, including taking Miao, Zhong, and the entire club hostage to settle an old score. Though Chan is getting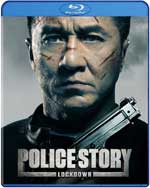 a little long in the tooth, he can still mix it up with the best of them, and the hand-to-hand fighting sequences sparkle with the master's choreography. Not so the set design, which looks a bit too fake and contrived, or the direction, which can't keep up with the demands of the story. Co-stars Liu Ye, Jing Tian, Guli Nazha, Zhou Xiao Ou. On DVD, Blu-ray Disc from Well Go USA ... In "Barely Lethal
" (2015), starring Hailee Steinfeld, Thomas Mann, Sophie Turner, Dove Cameron and Jessica Alba, a teenage special-ops agent (Steinfeld) yearning for a "normal" adolescence fakes her own death and enrolls as a student in a typical American high school. She quickly learns that surviving the treacherous waters of being a teenager can be more difficult than international espionage.On DVD, Blu-ray Disc from Lionsgate ... When a 20-something guy whose life is going nowhere -- his girl has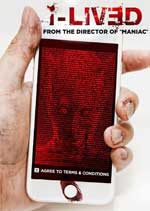 left him, his rent is late, and he lacks a real job -- signs on to a self help app called "i-Lived
" (2014), his life turns around. He meets the girl of his dreams and he gets a job offer he can't refuse. Convinced it's him and not the app, he signs out... and loses everything. When He signs on again, the app asks him to do things that are out of his moral comfort zone. Stars Jeremiah Watkins, Jan Broberg, Nic D'Avirro. From XLrator Media ... In "Northmen - A Viking Saga
" (2014, starring Ryan Kwanten, Tom Hoppe, James Norton, Ed Skrein, Charlie Murph and Johan Hegg, a group of Vikings in the ninth century set sail for Britain, aiming to plunder the rich monasteries in the northern part of the island. But a storm smashes the ship to pieces on the rocks off the coast of Scotland, the only part of Britain without any Viking settlements, and they're forced to fight their way to safety through the rough highlands, where they meet the brave and mysterious Christian monk Conall (Ryan Kwanten). On DVD, Blu-ray Disc from Anchor Bay ... "Welcome to New York
" (2014), directed by Abel Ferrara and starring Gerard Depardieu, Jacqueline Bisset, Marie Moute, Paul Caldero and Paul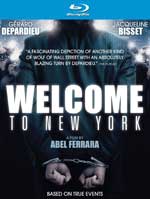 Hipp, is a "ripped from the headlines" saga: In 2011, a maid at the Sofitel New York hotel brought charges against Dominique Strauss-Kahn, managing director of the International Monetary Fund, alleging he had sexually assaulted her in his hotel room. During his sensational trial, other women came forward with allegations of sexual assault, and Strauss-Kahn fell rapidly from political power. The case was later dismissed. Director Abel Ferrara ("Bad Lieutenant," "King of New York," "Ms. .45") has turned this high-profile public implosion into a mesmerizing drama about power, corruption and moral fallibility. His film follows a prominent international banker, Mr. Devereaux (Depardieu, a powerful man who handles billions of dollars every day and controls the economic fate of nations. He's also a man driven by insatiable sexual hunger, and the film captures this mighty figure as he spirals out of control during a drug- and sex-fueled trip to America culminating in a shocking incident involving a hotel maid and his subsequent arrest. On DVD, Blu-ray Disc IFC Films.


ON THE INDIE FRONT:

In "Match
" (2014), starring Patrick Stewart, Carla Gugino and Matthew Lillard, Stewart stars as Tobi, an eccentric, pot-smoking Manhattan ballet instructor whose quiet life is interrupted by the arrival of a young couple from Seattle, presumably there to interview Tobi about his colorful life as a dancer in the 1960s. But as Tobi spins salacious tales from his early days, an ulterior motive for the couple's visit emerges, forcing the trio to confront a secret that may connect them all. From IFC Films ... In "She Loves Me Not
" (2013), starring Cary Elwes, Joey Lauren Adams, Lisa Edelstein, Briana Eviga, John Robinson and Karen Black, a reclusive novelist's drinking problem undermines his plans to save his fading literary career and his over-priced mansion while three beautiful, strong women (each with her own agenda) turn his lonely life into something far stranger than fiction. From Monarch.


FOREIGN:

In "Hunting Elephants
" (2013 -- Israel), starring Sasson Gabai, Moni Moshonov and Patrick Stewart, a precocious 12-year-old boy conspires with three senior citizens -- including his grandfather and long lost uncle -- to rob a bank in order to save himself and his mother from losing their house. From XLrator Media.


FOR THE FAMILY:

"The Very Fairy Princess ... And More Imaginative Tales" (2015) features the animated title story plus "Extra Yarn,"The Amazing Bone" and "My Garden" from Scholastic Storybook Treasures/Cinedigm ... In "Max Steel: Go, Turbo!" (2013), Maxwell McGrath is your average 16-year-old boy, except for one little detail -- he generates Turbo Energy, the most highly advanced energy in the universe. Max meets Steel, a highly advanced alien life-form that has the ability to help Max control his power. When the two link up, they become the universe's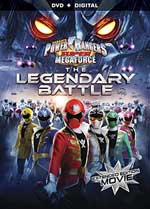 greatest new superhero -- Max Steel. The CGI animated feature is from Lionsgate ... "Power Rangers Super Megaforce: The Legendary Battle" (2014) is the earth-shattering finale of the Power Rangers Super Megaforce that welcomes back every Ranger from the past 20 years, teaming up for an action-packed battle. Heroic teens Troy, Noah, Emma, Gia and Jake have defended our planet countless times as the newest team of Power Rangers. But when evil Emperor Mavro launches a final strike against Earth, they are called back into action. To defeat the greatest threat the galaxy has ever seen, the Super Megaforce Rangers will reunite with their alien friend Orion, the Silver Ranger, and fight alongside every Ranger from the past 20 years -- including the original Mighty Morphin Green Ranger -- in the most legendary battle in Power Ranger history. From Lionsgate ... "Power Rangers Lightspeed Rescue: The Complete Series" (2000-01) is a five-disc box set with all 40 episodes of the eighth season. After 5,000 years of incarceration, the evil Diabolico and his treacherous army of demons have escaped their imprisonment, and will stop at nothing to destroy the community of Mariner Bay and its innocent citizens. The new Power Rangers, empowered with top-secret technology, are the planet's only hope. From Shout! Factory.


SPECIAL INTEREST:

For 46 years, Caroll Spinney has been beloved by generations of children as the man behind Sesame Street's Big Bird and Oscar the Grouch -- and at 81 years old, he has no intention of stopping. "I Am Big Bird: The Caroll Spinney Story
" (2014) is a loving portrait of the man in the yellow suit, "I Am Big Bird" features extraordinary footage of Spinney's earliest collaborations with Jim Henson. And as the yellow feathers give way to grey hair, it is the man, not the puppet, who will steal your heart. From Cinedigm ... "Last Days of the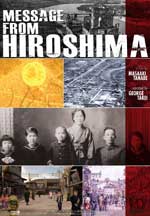 Nazis" (2015) is a two-disc collection that examines World War II through the eyes of the Third Reich, delving into the haunting past of history's most notorious villains. Witness the dark history of Nazism from a different point of view -- the Nazis themselves. Through chilling testimony, this inside look into the minds and motivations of eyewitness participants presents a horrifying portrait of the most evil regime in history. In 1945, the Allies rounded up and interrogated thousands of party officials, war criminals, advocates and Nazis. These interrogations are a fascinating, largely forgotten part of the historical record. Subjects include leading propagandist Julius Streicher; Albert Speer, Hitler's architect and minister of Armaments; the commandant of Auschwitz, Rudolf Hoss; BDM leader Melita Maschmann; and Nazi doctor Karl Gebhar. From Lionsgate ... Narrated by George Takei, the documentary "Message from Hiroshima
" (2015), released on the 70th anniversary of the destruction of Hiroshima, provides an inside look at life and culture in the city before the atomic bomb was dropped. Today, where the Hon and Motoyasu Rivers meet, stands the Peace Memorial Park -- the former location of the Nakajima district, which was once home to thousands of people and hundreds of businesses. When the first atomic bomb was detonated 2,000 feet above Hiroshima's city center on August 6, 1945, all of that vanished. Seventy years later, director Masaaki Tanabe makes it his mission to revive the memory of what once was by interviewing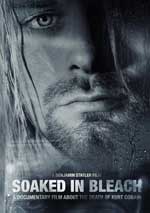 hibakusha (survivors) and former residents. These heart-wrenching testimonials, along with computer-generated recreations of restaurants, shoe stores, cinemas, and the famous Industrial Promotion Hall, recreate the sights, sounds, and smells of a lost culture and people. From Cinema Libre ... Due August 14 is "Soaked In Bleach
" (2015), Benjamin Statler's groundbreaking docudrama that explores the controversial death of Kurt Cobain and reveals the events behind Cobain's death as seen through the eyes of Tom Grant, the private investigator that was hired by Courtney Love in 1994 to track down her missing husband only days before his body was found at their Seattle home. Cobain's death was ruled a suicide by the police (a reported self-inflicted gunshot wound), but doubts have circulated for 20 years as to the legitimacy of this ruling, especially due to the work of Grant, a former L.A. County Sheriff's detective, who did his own investigation and determined there was significant empirical and circumstantial evidence to conclude that foul play could very well have occurred. The film unfolds as a narrative mystery with cinematic re-creations, interviews with key experts and witnesses and the examination of official artifacts from the 1994 case. From MVD Visual.


FROM TV TO DVD:

International conspiracies come to the fore in "Dig: Season One" (2014), a 10-episode global thriller series featuring Golden Globe nominee Jason Isaacs and Anne Heche. When FBI agent Peter Connelly (Isaacs) investigates the murder of a beautiful American woman in
Jerusalem, he soon discovers that the holiest city on earth hides an unholy secret. Now, in a race against time, Peter must stop the schemes that threaten to bring about an ancient prophecy and change the course of humanity. From the executive producers of "Homeland" and "Heroes." From Universal ... "Hell on Wheels: The Complete Fourth Season" (2014) is a four-disc set with all 13 episodes. "Hell on Wheels," a lawless melting pot of a town that travels with and services the construction of the first intercontinental railroad, is a lavishly-produced series that underscores just how uncivilized the business of civilization can be. In Season 4 of AMC's top-rated drama, Hell freezes over. Following the brutal winter of 1868, the railroad is at a standstill and restless workers wreak havoc on Cheyenne. Cullen Bohannon is trapped in a fort with a pregnant wife and the Swede. Thomas Durant is broke and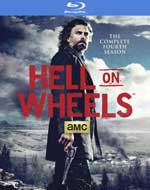 Elam Ferguson is presumed dead. The task of uniting America by rail remains undone and the costs and consequences are rising, for everyone. The cast is headed up by Anson Mount, Colm Meaney, Common and Dominique McElligot. On DVD and Blu-ray from Entertainment One ... "The Jeffersons: Season 8" (1981-82) is a three-disc set with 25 episodes, $24.97. Call the neighbors -- George and Louise are back again for an eighth season. A groundbreaking series that mixed comedy and social commentary, "The Jeffersons" remains an all-time favorite thanks to its terrific cast (including Sherman Hemsley, Isabel Sanford, Marla Gibbs, Roxie Roker, and Franklin Cover), sharp writing, and one of the most hummable theme songs in television history. Season Eight finds everyone's favorite dry cleaner, George, on a typical string of misadventures, including facing off with a street gang, taking charm lessons, and erecting a museum -- to himself. And when a familiar face returns to the Jeffersons household, poor George may never have a moment's peace again. From Shout! Factory ... "Kendra on Top: Season 3" (2014) includes all 14 episodes of the WE TV series that follows the day-to-day life of the former "The Girls Next Door" reality show star as she balances being a wife and mother with her business ventures. From MPI Media Group ...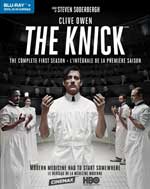 "The Knick: The Complete First Season" (2014) is a four-disc set with all 10 episodes. Modern medicine had to start somewhere. In this hit Cinemax drama series from executive producer Steven Soderbergh (who directed all 10 episodes), brilliant surgeon John Thackery (Clive Owen) pushes the boundaries of medicine, morality and race relations in 1900 at a downtown NYC hospital known as The Knick. On DVD and Blu-ray from HBO ... "Law & Order: Special Victims Unit - The Sixteenth Year" (2014-15) is a five-disc set with 23 episodes, from Universal ... "Maude: Season 2" (1973-74) is a three-disc set with 24 episodes, $24.97. The unforgettable Bea Arthur returns to Tuckahoe for the second season of her groundbreaking sitcom created by television mastermind Norman Lear ("All In The Family," "Mary Hartman, Mary Hartman"). Second season highlights include Maude's husband Walter (the terrific Bill Macy) confronting his drinking problem, the departure of Maude's housekeeper Florida (Esther Rolle, who was spun off into her own show with "Good Times"), and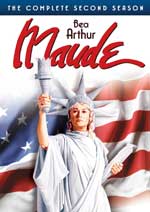 Maude's eye-raising decision to get a face-lift. Also starring Adrienne Barbeau, Conrad Bain, and Rue McClanahan (who would later re-team with Arthur on "The Golden Girls"), "Maude's" second season proves to be every bit as smart, brash and funny as the lady herself. From Shout! Factory ... This lucky thirteenth MythBusters season in the two-disc set "MythBusters Collection 13" (2012) is packed with its infamous scintillating scientific mayhem, along with a few rocket-powered surprises. With 30 years of special effects experience, Adam and Jamie will answer the craziest questions viewers can think up and then make up a few of their own! Can balloons protect you in a car crash? Does the smell of fear really exist? Can you cook lasagna in a dishwasher? And what exactly tastes like chicken? They also team up with movie director James Cameron to tackle a Titanic myth -- the most requested in MythBuster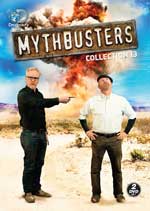 history. Plus, this set includes perhaps the perfect episode ever: Explosions from A to Z, highlighting some of the show s 752 detonations and counting. From Cinedigm ... "Person of Interest: The Complete Fourth Season" (2014-15) is a six-disc DVD and four-disc Blu-ray with 22 episodes from Warner ... "Shark Week: Dominating the Deep" (2014) is a three-disc set with 10 episodes as the ocean explodes into a wild fury as Great Whites, Hammerheads, Whale Sharks, and others take you on a fin-gripping ride through their underwater world. Featuring "Megalodon: The Monster Shark Lives", these episodes bring you more than eight hours of remarkable new insights into the lives of these magnificent, elusive creatures. From Cinedigm ... "2 Broke Girls: The Complete Fourth Season" (2014-15) is three-disc set with 22 episodes, $24.98. Extras: Gag reel, unaired scenes. From Warner.

Check out other August 11-17 DVD releases and reviews at OnVideo.