New on DVD and Blu-ray Week of August 4-August 10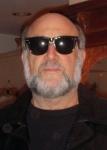 By Harley Lond - 08/04/15 at 02:17 AM CT
THIS WEEK'S BEST BETS:

Just in time for the August 14 theatrical release of "The Man From U.N.C.L.E." starring Henry Cavill, Armie Hammer, Hugh Grant and Alicia Vikander, Warner Home Video is releasing a remastered edition of "The Man From U.N.C.L.E.: The Complete First Season" (1964-65), an 11-disc set with 29 episodes for $24.98. "The Man from U.N.C.L.E." captured the hearts of viewers when it premiered in 1964, picking up on the James Bond and "Danger Man" phenomena and recasting it with a decidedly American spoof flavor (set in New York City, the entrance to the headquarters of U.N.C.L.E.,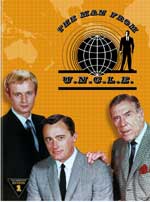 which stands for the United Network Command for Law and Enforcement, was located in the back of a tailor shop). Robert Vaughn and David McCallum play top agents Napoleon Solo (a suave American) and Illya Kuryakin (a Ukranian whiz kid) who use their charm, wit, and a never-ending assortment of gadgets to defend the world from evil, chaos and bad taste; Leo G. Carrol starred as British U.N.C.L.E. boss Alexander Waverly. The critically-acclaimed, hit series was the first successful spy show on American television and one of the first series to become an international phenomenon. Guest stars included William Shatner, Leonard Nimoy, Kurt Russell, Ricardo Montalban and longtime comedy favorite Ken Murray. The first season -- in black and white -- is as clever and fast-paced as we remember from back in the day. Grab a copy and watch a couple episodes before hitting the theatre for the big screen version. On DVD from Warner.

"Wyrmwood: Road of the Dead
" (2014) is a zombie mash-up movie on a grand order, funded, written, directed and produced by the Australian Roache-Turner brothers. Chock full of humor and satire, the film riffs on and reanimates (so to speak) such zombie tropes as a worldwide apocalypse (here caused by shooting stars -- the "Wormwood" of the title, a mad scientist experimenting on the flesh-eating undead (here a U.S. Army doctor who likes to disco), zombie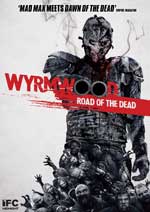 mind control, and much more. In the aftermath of a comet breaking up over Earth, most of the planet's population quickly succumbs to a strange disease that turns them into "zombies." Trapped in a wilderness teeming with the living dead, one of the survivors, Barry, has lost everything except his sister, Brooke. But Brooke is kidnapped by a gang of paramilitary thugs and dragged off to a terrifying medical lab run by a psychotic "doctor" who is performing deranged experiments on plague survivors. As Brooke struggles to devise an escape plan, she realizes that the doctor's experiments have given her strange powers over his zombie captives. Unaware of his sister's new powers, Barry teams up with fellow survivors to rescue her. Fast paced, full of bloody gore and off-the-cuff scenarios and acting. A worthy addition to your walking dead library. Stars Jay Gallagher, Bianca Bradey, Leon Burchill, Luke McKenzie. On DVD, Blu-ray Disc from IFC Midnight/Scream Factory.

From the folks at The Criterion Collection comes a new 4K digital restoration of "Night and the City
" (1950), a film noir of the first order, luminously shot in the streets of London while Hollywood blacklisters back home were closing in on director Jules Dassin. Two-bit hustler Harry Fabian (Richard Widmark) longs for a life of ease and plenty. Trailed by an inglorious history of go-nowhere schemes, he tries to hatch a lucrative plan with a famous wrestler. But there is no easy money in this underworld of shifting alliances, bottomless graft, and pummeled flesh -- and Fabian soon learns the horrible price of his ambition. "Night and the City," which also stars Gene Tierney, is one of Dassin's crowning achievements.


THIS WEEK'S THEATRICAL RELEASES:


"The Divergent Series: Insurgent
," "Child 44
" "Far from the Madding Crowd
" and "Do You Believe?
"


BUZZIN' THE 'B'S:
"Black & White: The Dawn of Assault
" (2012 -- Taiwan), starring Mark Chao, Ken Lin, Huang Bo and Angelababy, is a big-screen prequel to the popular television series from Taiwan, "The Dawn of Assault" puts its own spin on the classic buddy cop formula with this outrageous actioner filled to the brim with over-the-top stunts, government conspiracies, and weapons of mass destruction. Suspended detective Wu finds himself back in the thick of things when he crosses paths with Triad member Xu, who's looking to unload a stash of hot diamonds. When Xu's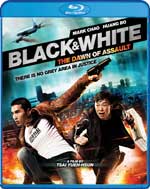 deal turns into a shoot-out and the diamonds go missing, the cop and the criminal reluctantly join forces to retrieve them. Before long they find themselves not only to be the hunters, but the hunted as their mission escalates into something bigger and more dangerous than they'd ever expected. On DVD, Blu-ray Disc from Shout! Factory ... In "The Dead Lands
" (2014 -- New Zerland), starring James Rolleston, Te Kohe Tuhaka and Lawrence Makoare, Hongi (Rolleston) -- a Maori chieftain's teenage son -- must avenge his father's murder in order to bring peace and honor to the souls of his loved ones after his tribe is slaughtered through an act of treachery. Vastly outnumbered by a band of villains, led by Wirepa, Hongi's only hope is to pass through the feared and forbidden Dead Lands and forge an uneasy alliance with the mysterious "Warrior," a ruthless fighter who has ruled the area for years. On DVD, Blu-ray Disc from Magnolia Home Entertainment ... In "A Little Chaos
" (2015), starring Kate Winslet, Alan Rickman, Matthias Schoenaerts, Stanley Tucci, Jennifer Ehle and Helen McCrory, against all odds, an impoverished widow makes her mark in the glittering court of King Louis XIV of France. Winslet plays Sabine de Barra, a strong-willed and talented landscape designer who is chosen to build one of the main gardens at the new palace at Versailles in the court of King Louis XIV (Rickman). In her new position of power, she challenges gender and class barriers while also becoming professionally and romantically entangled with the court's renowned landscape artist, Andre Le Notre (Schoenaerts). On DVD, Blu-ray Disc from Universal ...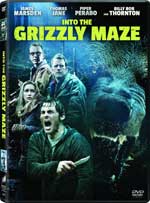 After a relentless grizzly starts to wreak havoc on a small community, the town sheriff heads into the forest to find his ecologist wife but instead crosses paths with his estranged, ex-con brother. They soon find themselves on the run from the massive killer bear. The hunted become the hunter in this thriller about the power of nature and the smell of blood in "Into the Grizzly Maze
" (2014), starring James Marsden, Thomas Jane, Piper Perabo, Billy Bob Thornton, Scott Glenn and Bart the Bear. From Sony ... When the teenaged daughter of a religious family transforms from straight-A student into heroin addict, her parents agree to allow a reality TV show crew to stage an intervention and document her recovery. But what they don't know is that she has been taking drugs to deal with the unnatural, evil feelings that have been growing inside of her in "Inner Demons
" (2014), starring Lara Vosburgh, Morgan McClellan, Colleen McGrann and Christopher Parker. From IFC Films ... The killer crocs from "Lake Placid" and giant snakes from "Anaconda" clash in the all-new creature feature "Lake Placid vs. Anaconda
" (2015), starring Yancy Butler, Corin Nemec and Robert Englund. Anacondas large enough to crush an SUV. Crocodiles strong enough to leap onto speedboats. When they're not hunting for human prey, they're more than willing to take on each other. Get ready for a non-stop bloodbath in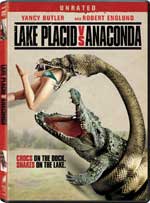 this battle between mutated crocodiles and genetically engineered anacondas. Packed with hot sorority girls, big guns, and jaws massive enough to swallow a human in one bite. From Sony ... Three lifelong friends working in the Hong Kong Police Department's Narcotics Bureau get caught up in a case with Southeast Asia's most powerful drug lord in "The White Storm
" (2013 -- Hong Kong), starring Louis Koo, Nick Cheung and Sean Lau. When the sting operation fails, they are forced to make a devastating decision -- two can live but one must die. Five years later, the two remaining men vow revenge for their fallen friend, but then they end up competing against each other for their own lives. On DVD, Blu-ray Disc from Lionsgate ... Inside a mysterious "Black Box
" (2013) lies the secret to one's desires. As the black box changes hands, each new owner must resist what he or she covets most or prepare to defend their salacious greed against an immortal assassin. Stars Brad Dourif, Jason London, Ray Park and Kevin Sorbo. From Lionsgate ... In "Little Loopers
" (2015), starring Gregg Bello, Doug Bilitch and Bakari Bolden, a down-and-out ex-golf pro is enlisted to coach the "Little Loopers" and with a boost of confidence from the kids, he not only guides them all the way to the championship tournament, he manages to pull himself back together, ultimately making it back onto the pro-tour and winning the heart of the lovely club director to boot. From Cinedigm ...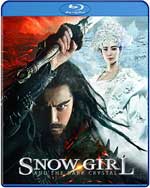 "Snow Girl and the Dark Crystal
" (2015 -- China) depicts legendary hero Zhong Kui, a fabled warrior with mysterious powers, who is forced to conquer the realms of Heaven and Hell to save his people and the woman he loves. Stars Bei-Er Bao, Winston Chao, Kun Chen. On DVD, Blu-ray Disc from Well Go USA ... "Toolbox Murders 2
" (2015) is a follow-up to the 2004 Tobe Hooper-directed slasher. Hollywood is turned upside down by a series of strange and horrific murders creating chaos and turmoil in tinsel town. Stars Chauntal Lewis, Bruce Dern, Brian Krause, Clifton Powell, Chris Doyle and Ethan Phillips. On DVD, Blu-ray Disc from Scream Factory ... After journalist Michael Finkel (Jonah Hill) is fired from The New York Times for embellishing a story, he learns that accused murderer Christian Longo (James Franco) has been claiming to be him. Hoping this story will save his career, Finkel begins interviewing Longo in prison. But soon, the men find themselves in an eerie game of cat and mouse in "True Story
" (2015). From Fox.


ON THE INDIE FRONT:

Set in Normandy, France, "Madame Bovary
" (2015) is Gustave Flaubert's classic story of Emma Bovary (Mia Wasikowska), a young beauty who impulsively marries small-town doctor, Charles Bovary (Henry Lloyd-Hughes), to leave her father's pig farm far behind. But after being introduced to the glamorous world of high society, she soon becomes bored with her stodgy husband and mundane life, and seeks prestige and excitement outside the bonds of marriage. Co-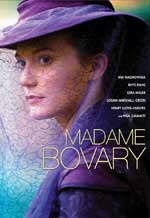 stars Laura Carmichael, Ezra Miller, Paul Giamatti, Rhys Ifans. On DVD, Blu-ray Disc from Alchemy ... Warren Emerson, once a master Shakespearean actor, is now a gambling drunk. Puck-like Samuel enchants crowds of passersby by reciting the Shakespeare monologues his father Warren all but beat into him, while his brother Beckett, a master pickpocket, makes his way through the unsuspecting crowd. When Warren gets in deep with a loan shark, his sons need to find a way to escape, and like Samuel's beloved, "Phantom Halo
" (2014), they must break free from the mud that traps them. Stars Luke Kleintank, Thomas Brodie-Sangster, Sebastian Roche, Jordan Dunn, Tobin Bell, Rebecca Romijn, Gbenga Akinnagbe. From ARC Entertainment ... When he lays waste to the scoundrels who killed his wife and son, a Danish ex-soldier incurs the wrath of a sadistic gang leader hell-bent on hunting him down in "The Salvation
" (2014), starring Mads Mikkelsen, Eva Green, Jeffrey Dean Morgan, Mikael Persbrandt, Douglas Henshall and Jonathan Pryce. Jon (Mikkelsen), a former Danish soldier who survived the 1864 war against Prussia and Austria, has moved to America's frontier to start a peaceful new life. It's now 1871 and Jon and his brother Peter (Persbrandt) welcome Jon's wife and son to the New World. Unfortunately, things go very badly, and Jon winds up doing battle with Delarue (Morgan), a brutal strongman who has the whole town in his pocket. On DVD, Blu-ray Disc from IFC Films/MPI Media Group.


FOR THE FAMILY:

"Looney Tunes Rabbits Run" (2015) is a new, original animated film that has New York City cabbie Bugs Bunny getting embroiled in a scheme surrounding the invention of a highly-sought after invisibility spray, taking him on a mad-cap adventure throughout New York and to Paris. Joining Bugs is a lineup of favorite Looney Tunes characters including Speedy Gonzalez, Elmer Fudd, Daffy Duck, Pepe Le Pew, Foghorn Leghorn and many others. $19.98 from Warner ... In "Alpha and Omega: Family Vacation" (2015), Kate and Humphrey take their pups on their first family vacation and the wolves are ready for a relaxing getaway to Alfred Creek Falls -- until they discover trappers on their trail. To outwit the trappers and get to safety, Kate and Humphrey will need the help of a wild and wonderful group of animal friends in a story of family togetherness. On DVD, Blu-ray from Lionsgate ...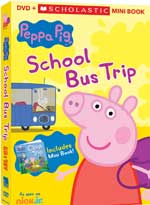 Airing on Nick Jr., Peppa is a loveable, cheeky little piggy who lives with her younger brother George, Mummy Pig and Daddy Pig. Peppa s favorite things include playing games, dressing up, days out and jumping in muddy puddles. Her adventures always end happily with loud snorts of laughter. "Peppa Pig: School Bus Trip" (2015) features 10 episodes including the title episode, in which Madame Gazelle takes Peppa and her friends on a field trip to the mountains, where there's a fantastic view, Peppa and her friends have fun hearing echoes, have a picnic, and sing their favorite songs on the bus ride home. Includes a Scholastic Mini Book. $19.98 from Entertainment One.


SPECIAL INTEREST:

From legendary Spanish filmmaker Carlos Saura comes "Flamenco, Flamenco
" (2010 -- Spain), a celebration of life, love, passion and, of course, dance. A sequel to his film "Flamenco" from 1995, "Flamenco, Flamenco" offers an impassioned collection of songs and dances, compiling 21 dazzling performances from an ensemble of gifted Spanish musicians, singers, and dancers. Much more than a dance documentary or musical story involving flamenco,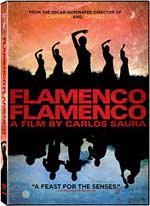 "Flamenco, Flamenco" maintains two unique narrative elements to support its presentation. The first, a life journey, uses different styles of flamenco over the course of the film to present a cycle of birth, childhood, adolescence, adulthood, death and, finally, rebirth. The second element is light, which is interwoven with the first element, as the film progresses through a range of choreographed colors. The result is a sizzling concoction of flamenco-saturated light and life, all captured by Saura's master cinematographer Vittorio Storaro, a three-time Academy Award winner for his work on "Apocalypse Now," "Reds" and "The Last Emperor." From Music Box Films ... "When the Checks Stop Coming In" (2014) is a candid investigation into the lives of black celebrities as they fall from fame and fortune to poverty. It's the life of a celebrity: One minute you're singing to an audience of thousands, playing to an arena of screaming fans, or performing on television for millions of viewers. The accolades are coming fast and furious and the money is pouring in. You think that the dream that you're living is never going to end, but then you wake up one day and all your money and your livelihood is gone. Your worst nightmare has come true and you're broke, the groupies are gone and the lifestyle has dried up. A look behind the curtain to explore how even the most seasoned and celebrated celebrities have lost it all -- due to lavish lifestyles, poor financial management, child support, tax evasion -- including Toni Braxton, Antione Walker, TLC, Wesley Snipes, Allen Iverson, MC Hammer, Dennis Rodman. From Cinedigm.


FROM TV TO DVD:

"The Casual Vacancy" (2015) is a three-part HBO miniseries based on the bestselling novel by J.K. Rowling. The show centers on Pagford, a seemingly idyllic English village with a cobbled market square and ancient abbey. Behind the pretty façade, however, is a town at war. The rich at war with the poor, children at war with their parents, wives at war with their husbands, teachers at war with their pupils. Stars Michael Gambon, Julia McKenzie, Keeley Hawes, Rory Kinnear, Rufus Jones, Emily Bevan, Simon McBurney, Monica Dolan, Abigail Lawrie. On DVD, Blu-ray Disc from Warner ...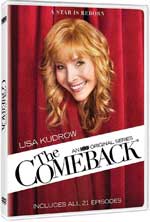 "The Comeback,""I Love Lucy: The Ultimate Season Two BLU-RAY" (1952-53) is a five-disc set with all 31 episodes of the series' second season in night-of-broadcast form with sponsor openings and closings that had originally aired from September 1952 to June 1953. Viewers also have the option of watching the program with the more traditional "heart" openings and closings without commercial interruptions. A highlight to the second season collection is the famous "Job Switching" episode, with the iconic scene of Lucy and Ethel scrambling to contain a chocolate factory conveyor belt. Viewers can experience the classic episode in multiple ways: the original black-and-white broadcast form with option for audio commentary, as well as the newly colorized version, which first aired on CBS December 7, 2014, and even in its rarely seen French-Canadian version, including unique opening and closing graphics and French-Canadian audio track. The collection also includes the groundbreaking "pregnancy episodes," including the touching moment at the Tropicana when Lucy breaks the news to Ricky that they are going to have a baby, and when "Lucy Goes to the Hospital," in which Lucy gives birth to their son. From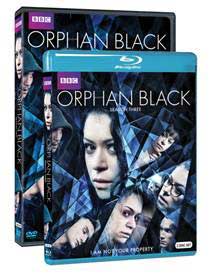 CBS/Paramount ... "Orphan Black: Season Three" (2015) follows outsider, orphan and street-wise chameleon Sarah. After witnessing a woman's suicide, Sarah assumes the stranger's identity - who happens to look just like her. Expecting to solve all her problems by cleaning out the dead woman's savings, Sarah is instead thrust headlong into a kaleidoscopic mystery as she realizes the dizzying truth - she and the dead woman are clones. As Sarah searches for answers, she discovers the chilling fact that there are more people like her out there - genetically identical individuals who were planted in unsuspecting birth parents and nurtured in completely different circumstances. With no idea who created the clones, she'll need to discover the reason in a hurry as an assassin is killing them one by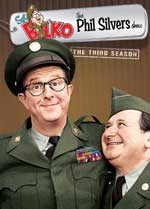 one. In the 10-episode Season Three, after neutralizing the threat by the DYAD Institute and the ruthless clone Rachel, Project Leda clones Sarah, Alison, Cosima and Helena are finally all united in their journey towards the truth of who and what they are. But new discoveries that include Helena's kidnapping, a book that could contain the answers to their existence, and the most shocking discovery of them all -- a set of treacherous militaristic male clones with an unknown agenda -- will test how tight their new bonds are. ON DVD and Blu-ray from BBC Home Entertainment ... "Sgt. Bilko/The Phil Silvers Show: Season 3" (1957-58) is a five-disc set with 37 episodes, $34.93. Season 3 finds the lovable and crafty Sgt. Bilko continuing to work a seemingly never-ending string of get-rich-quick schemes out of the Fort Baxter motor pool and under the nose of his beleaguered superior, Colonel Hall (Paul Ford). Co-starring Harvey Lembeck and Allan Melvin, and featuring guest appearances by future television legends such as Dick Van Dyke and Alan Alda, "Sgt. Bilko/The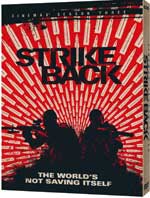 Phil Silvers Show: Season 3" represents some of the finest comedy of television''s golden age. From Shout! Factory ... "Strike Back: Season 3" (2013) is a three-disc set with all 10 episodes of Cinemax's first scripted primetime drama series. A high-octane, globe-spanning thriller, "Strike Back" focuses on two members of Section 20, a secret British anti-terrorist organization: Michael Stonebridge (Philip Winchester), a consummate British soldier still struggling to overcome tragedy in his life, and Damien Scott (Sullivan Stapleton), a disgraced U.S. Delta Force operative who has found redemption with S-20. In Season 3, the series has a true global canvas, opening in Colombia - with parallel missions in Beirut, Budapest, Russia, and Germany -- and following a trail of drug money that is funding terrorists in the Middle East. A continuation of the six-episode series that aired on Sky TV in the UK in 2010. On DVD, Blu-ray Disc from HBO ... "When Calls the Heart: Heart of the Family" (2015) is the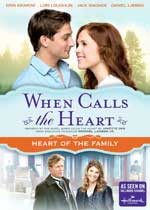 latest episode in the nostalgic Hallmark series about Elizabeth Thatcher, a young school teacher from a wealthy Eastern family who migrates from the big city to teach school in a small coal mining town in the west. The love story blooming in Hope Valley continues. Elizabeth returns in time for the school semester to begin and immediately volunteers to look after a neighbor's rural homestead ... and his two children, an undertaking which proves to be a bigger chore than she'd imagined. But when Jack lends a hand, and they wind up chatting by the fire, all seems right in Hope Valley and the world. Meanwhile, in Hamilton, Bill Avery sets about busting a counterfeiting ring wide open, an endeavor which surprisingly leads him to Hope Valley, where he mysteriously declines Jack's help. But Bill isn't the only big-town visitor: Elizabeth is even more surprised to see her former suitor, Charles Kensington, standing right in the middle of her schoolhouse. From Shout! Factory.

Check out other August 4-10 DVD releases and reviews at OnVideo.