By Harley Lond - 07/28/15 at 01:41 AM CT
THIS WEEK'S BEST BETS:
"White God" (2014 -- Hungary) is a cautionary tale about our supposed "superiority" over the "lesser beasts." A new set of Hungarian laws favor pedigree and purebred dogs, placing a severe tax on those who own mixed breeds. These laws have real consequences, especially for 13-year-old Lili (Zsofia Psotta). Already a pawn from her parent's bitter divorce, she can't understand why her dog, Hagen, is less important than other dogs. When her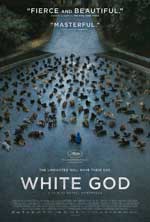 enraged father leaves Hagen in the streets, heartbroken Lili sets out to find him. Meanwhile, Hagen is captured and sent to the pound where he seizes an opportunity to escape and rebel against the human race. Meanwhile, all the unwanted, unloved and so-called "unfit" dogs rise up under a new leader, Hagen, the one-time house pet who has learned all too well from his "Masters" in his journey through the streets and animal control centers how to bite the hands that beat him. White God
was the winner of the Un Certain Regard Award at the 2014 Cannes Film Festival. An innovative and exciting thriller, especially in the last third of the film as Hagen leads any army of dogs against the human "masters." As much as we enjoyed the humans getting their comeuppance, it was hard going watching the brutality dished out by men towards the dogs (the brutality was, of course, faked, and all the dogs used as "extras" were adopted after the film wrapped, but still it's painful to watch animals abused. On DVD, Blu-ray Disc from Magnolia Home Entertainment.


BUZZIN' THE 'B'S:
In
Water Diviner
(2015), Russell Crowe directs and stars as Australian farmer Joshua Connor, who, in 1919, goes in search of his three missing sons, last known to have fought against the Turks in the bloody Battle of Gallipoli. Arriving in Istanbul, he is thrust into a vastly different world, where he encounters others who have suffered their own losses in the conflict: Ayshe (Olga Kurylenko), a strikingly beautiful but guarded hotelier and single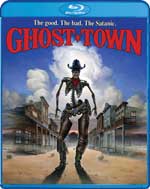 mother; her young, spirited son, Orhan (Dylan Georgiades), who finds a friend in Connor; and Major Hasan (Yilmaz Erdogan), a Turkish officer who fought against Connor's boys and who may be this father's only hope. With seemingly insurmountable obstacles in his path, Connor must travel across the battle-scarred Turkish landscape to find the truth ... and his own peace. Crowe's directorial debut. Co-stars Olga Kurylenko, Yilmaz Erdogan, Cem Yilmaz, Jai Courtney, Ryan Corr, James Fraser, Ben O'Toole, Jacqueline McKenzie, Isabel Lucas. On DVD and Blu-ray from Warner ... When a modern-day sheriff's deputy is lured to a desolate, spooky ghost town in search of a missing woman, he comes face-to-face with a malevolent spirit from the town's past in
"Ghost Town
"
(1988) The spell of death and suffering over the undead townspeople must end to set them free from eternal pain. The horrors of a possessed outlaw, in a time-suspended dimension, are only the setting for a frightening battle for the mind, nerves and flesh. Stars Franc Luz, Jimmie F. Skaggs, Catherine Hickland, Bruce Glover. On Blu-ray from Scream Factory.
ON THE INDIE FRONT:
Set in a parallel universe,
"Comet
"
(2014) bounces back and forth over the course of an unlikely but perfectly paired couple's six-year relationship. When a chance encounter brings together the cynical Dell (Justin Long) and the quick-witted Kimberly (Emmy Rossum), the stage is set for a tempestuous love affair that unfolds like a puzzle. As the film zigzags back and forth in time from a meteor shower in L.A., to an encounter in a Paris hotel room, to a fateful phone call, an unforgettable portrait of a relationship emerges.On DVD, Blu-ray Disc from IFC Films.
FOREIGN:
In
"3 Hearts
"
(2014 -- France), starring Benoit Poelvoorde, Charlotte Gainsbourg, Chiara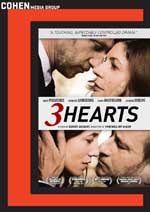 Mastroianni and Catherine Deneuve, a tax inspector, his new bride and her sister become entwined in a love triangle. One night in provincial France, Marc meets Sylvie after missing his train back to Paris. Instantly and intensely drawn to one another, they wander through the streets until morning in rare, almost choreographed, harmony. A thwarted plan for a second meeting sends each in a separate direction -- Sylvie reunites with her ex and leaves France; Marc falls in love and marries. What neither knows is that Marc's new bride is Sylvie's sister, Sophie. Upon Sylvie's return to France, the spark between her and Marc is re-ignited in ways that will forever alter the relationships between sister to sister and husband to wife. On DVD, Blu-ray Disc from Cohen Media Group.
FOR THE FAMILY:
"Home
"
(2015) is a sci-fi animated film with the voices of Rihanna, Jim Parsons, Steve Martin, Jennifer Lopez. When Earth is taken over by the overly-confident Boov, an alien race in search of a new place to call home, all humans are promptly relocated, while all Boov get busy reorganizing the planet. But when one resourceful girl, Tip (Rihanna), manages to avoid capture, she finds herself the accidental accomplice of a banished Boov named Oh (Jim Parsons). The two fugitives realize there's a lot more at stake than intergalactic relations as they embark on the road trip of a lifetime. On DVD, Blu-ray/DVD Combo, 3D Blu-ray/DVD Combo from Fox/DreamWorks.
SPECIAL INTEREST:
"Four Blood Moons"
(2015) is a screen adaptation of John Hagee's investigative best seller exploring the biblical connection to a modern-day series of lunar eclipses. Docudrama combines scripture, science, history and big-screen live action spanning centuries to examine our current blood moon cycle -- and its possible meaning for Israel, the Middle East and the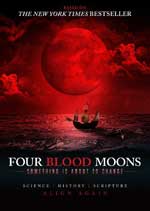 world. An array of historians, religious scholars and commentators appear in the film and offer their insights. It is rare that science, history and scripture align with each other, yet the last three series of Four Blood Moons have done exactly that. The so-called Blood Moon Prophecy states that an ongoing tetrad (a series of four consecutive lunar eclipses -- coinciding on Jewish holidays -- with six full moons in between, and no intervening partial lunar eclipses) that began with the April 2014 lunar eclipse is a sign of the end times as described in the Bible in Acts 2:20 and Revelation 6:12. Are these the "signs" that God refers to in the Bible? If they are, what do they mean? What is their significance for us today? From Virgil Films ... According to the World Health Organization, the incidence of cancer has doubled over the last 30 years. Over this period, the increase in leukemia and brain tumors in children has been around 2 percent per year. The WHO has observed a similar trend for neurological diseases (Parkinson's and Alzheimer's) and autoimmune disorders, and for reproduction dysfunctions. What explanations can be found for this worrying epidemic? Haunted by that question, investigative reporter Marie-Monique Robin (winner of the Albert-Londres Prize and author of the acclaimed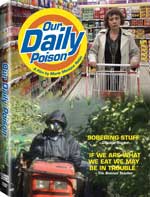 book "Our Daily Poison") launches an in-depth investigation into everyday products and the system charged with regulating them. Robin digs through the United States Food and Drug Administration (FDA) and the European Food Safety Authority (EFSA) archives, manages to talk her way into secret meetings, and interview regulators and respected researchers throughout Europe and North America. The result is the shocking documentary film
"Our Daily Poison"
(2011) that reveals a broken safety system concerned more with protecting trade secrets than human health. The film shows that the main cause of the epidemic is environmental: It is the result of the 100,000 chemicals that have invaded our environment, and primarily our food, since the end of the Second World War. From Icarus Films.
FROM TV TO DVD:
"Helix: The Complete Second Season"
(2015) is a three-disc set with 13 episodes. Season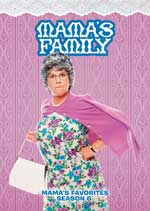 Two of the sci-fi thriller returns with the team leaving behind the Arctic Biosystems base and investigating a deadly outbreak of a new disease on a Windjammer cruise ship. The CDC's investigation leads them to an island inhabited by a cult with the hope of creating a Utopian society.On DVD, Blu-ray Disc from Sony ... It's the end of the proverbial DVD line for Mama, as
"Mama's Family: Mama's Favorites, Season Six"
(1989-90) marks the final release in the fan-favorite sitcom franchise starring Vicki Lawrence as the irascible Thelma "Mama" Harper. But Mama will not go silently into the good night, as this installment features the six greatest episodes from the final season of the series as hand-selected by Lawrence herself, including: "Mama Fights Back," "Bubba's House Band," "The Big Nap," "Pinup Mama," "Look Who's Breathing" and "Bye-Bye - Baby!" $12.98 from Time Life.
Check out other July 28-August 3 DVD releases and reviews at OnVideo.
Comments