By Harley Lond - 07/07/15 at 02:32 AM CT
THIS WEEK'S BEST BETS:

The DVD highlight this week is The Criterion Collection's release (in one set) of two versions of "The Killers," Ernest Hemingway's simple but gripping short tale. The first was adapted by noir stylist Robert Siodmak ("Criss Cross") in a 1946 film that helped define the noir style and helped launch the careers of Burt Lancaster and Ava Gardner; the second was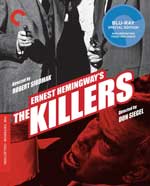 directed by Don Siegel ("Dirty Harry") in a brutal 1964 version, starring Lee Marvin, Angie Dickinson and John Cassavetes, that was intended for television but deemed too violent for home audiences and was released theatrically instead. In both films, hit men knock off a victim who doesn't resist them. In the 1946 version, an insurance investigator (Edmond O'Brien) tries to find out why. The second film is told from the point of view of the two hitmen, who attempt to unravel the mystery behind why the victim "just stood there and took it," leading them to a million dollar robbery (co-stars Clu Gulager, Claude Akins and Ronald Reagan. The ending of this film is one of my all-time favorites as Marvin, mortally wounded, goes after double-crossing femme fatale Dickinson, and, preparing to kill her, utters one of the most existential closing lines in the history of film. The set features new high-definition digital restorations of both films, with uncompressed monaural soundtracks on the Blu-rays. Extras include Andrei Tarkovsky's short film adaptation of "The Killers
," made when he was a student in 1956; an interview from 2002 with writer Stuart M. Kaminsky about both films; a piece from 2002 in which actor Stacy Keach reads Hemingway's short story; a Screen Director's Playhouse radio adaptation from 1949 of the 1946 film, starring Burt Lancaster and Shelley Winters; an interview from 2002 with actor Clu Gulager; an audio excerpt from director Siegel's autobiography, "A Siegel Film," read by actor and director Hampton Fancher; trailers; essays by novelist Jonathan Lethem and critic Geoffrey O'Brien.

Also due this week: "Maggie
," which received high praise from critics but floundered at the boxoffice, takes place in a future world narrowly recovering from a near apocalyptic zombie virus. Arnold Schwarzenegger stars (in a nice turn in a serious role) as a father who must protect his infected daughter from the frightened town; Abigail Breslin stars as the teenager with only a precious few weeks to live who must find the strength and bravery to face her fleeting mortality. From Lionsgate ... In "Woman in Gold
," Helen Mirren stars as Maria Altmann, an octogenarian Jewish refugee from the Nazi, who takes on the Austrian government 60 years after the Holocaust to recover artwork -- including Gustav Klimt's famous painting Portrait of Adele Bloch-Bauer I -- she believes rightfully belongs to her family. Also stars Ryan Reynolds, Daniel Bruhl, Katie Holmes, Max Irons, Tatiana Maslany, Charles Dance, Frances Fisher and Antje Traue. From The Weinstein Co.


BUZZIN' THE 'B'S:
There's a plethora of 'B' matter this week: In alphabetical order there's:


"Absolution" (2015) Steven Seagal, Byron Mann, Josh Barnett, Vinnie Jones. When a contract killer (Seagal) encounters a girl on the run from a mob boss (Jones) with powerful political ties, he is torn between protecting the girl, and remaining loyal to the government agency that hired him for the mission .On DVD, Blu-ray Disc from Lionsgate.


"Alien Outpost" (2014) Rick Ravanello. Set in 2021 in the aftermath of the First Earth War in which an invading race of aliens known as the Heavies are narrowly defeated. But thousands of the aliens were left behind, and a new war on terror now rages. In the wake of the war, a series of remote operating bases are created to defend the planet, with the deadliest being base Three Seven, positioned in the most hostile place on Earth. A documentary film crew is sent to record daily life in Outpost Three Seven, where the men, led by hardened commander Captain Spears, are under constant enemy fire. When a member of the crew disappears during a Heavy ambush, the unit launches a raid deep into enemy territory to rescue him ... only to make a terrifying discovery. On DVD, Blu-ray Disc from IFC Midnight/Scream Factory


"Awaken" (2015) Jason Landon, Daryl Hannah, Vinnie Jones, Edward Furlong, Natalie Burn, Robert Davi, Michael Pare. A random group of people wake up on an Island where they are being hunted down in a sinister plot to harvest their organs. From ARC Entertainment.


"Dark Summer" (2015) Peter Stormare, Maestro Harrell, Keir Gilchrist, Stella Maeve, Grace Phipps. A claustrophobic modern ghost story that follows Daniel Williamson, a 17 year old under house arrest for the summer after cyberstalking a classmate. With his mother away on business, a horrifying incident occurs and Williamson soon experiences strange supernatural occurrences --which become increasingly more sinister and terrifying. On DVD, Blu-ray Disc from IFC Midnight/Scream Factory).


"Echoes of War" (2015) James Badge Dale, Ethan Embry, William Forsythe, Maika Monroe. A Civil War veteran returns home to the quiet countryside, only to find himself embroiled in a conflict between his family and the brutish cattle rancher harassing them. From ARC Entertainment.


"For the Emperor" (2014 -- South Korea) Min-ki Lee. A disgraced pro baseball player goes to work for a mob-connected loan shark, rising through the ranks of money and power. But when his love interest disappears, he finds himself in a deadly battle of wits against his bloodthirsty mentor. On DVD, Blu-ray Disc from Well Go USA.


"Kill Me Three Times" (2015) Simon Pegg, Teresa Palmer, Sullivan Stapleton, Alice Braga, Callan Mulvey, Luke Helmsworth, Bryan Brown. When eccentric assassin Charlie Wolfe (Pegg) is hired by a wealthy man (Mulvey) to kill his beautiful wife (Braga), he discovers he's not the only one aiming for her murder. Soon, he inadvertently finds himself at the center of three tales of murder, mayhem, blackmail and revenge, all incited from the wife's illicit affair with a local surfer (Helmsworth). On DVD, Blu-ray Disc from Magnolia Entertainment's Magnet Label.


"The Longest Ride" (2015) Britt Robertson, Scott Eastwood, Alan Alda, Jack Huston, Oona Chaplin, Lolita Davidovich. Based on the bestselling novel by master storyteller Nicholas Sparks, the melodrama centers on the star-crossed love affair between Luke, a former champion bull rider looking to make a comeback, and Sophia, a college student who is about to embark upon her dream job in New York City's art world. As conflicting paths and ideals test their relationship, Sophia and Luke make an unexpected connection with Ira, whose memories of his own decades-long romance with his beloved wife deeply inspire the young couple. On DVD, Blu-ray Disc from Fox.


"No Way Jose" (2014) Adam Goldberg, Ahna O'Reilly, Emily Osment, Gillian Jacobs. In this "coming of middle age" story, Goldberg stars as "Jose" Stern, an indie-rocker relegated to playing children's birthday parties and at a crossroads in his relationship. When his fiance discovers a dark secret, she kicks him out and his world collapses. With no other options, Jose is forced to stay at the chaotic home of a friend who's married with children and also falling apart at the seams. As Jose becomes more desperate with nowhere to turn, he seeks advice from his burnt-out friends, his dysfunctional family and an alcoholic ex-girlfriend, all in an effort to find himself, his music and perhaps the love of his life. From Sony.


"The Pact 2" (2014) (2015) Camilla Luddington, Caity Lotz, Patrick Fischler. Only a few weeks after Annie Barlow exterminated the plague that was the Judas Killer in "The Pact," we meet June Abbott (Camilla Luddington), a woman whose carefully constructed life in Los Angeles is beginning to unravel due to lucid nightmares so awful they disturb her waking life. On DVD, Blu-ray Disc from IFC Film.


"'71" (2014) Jack O'Connell, Paul Anderson, Richard Dormer, Sean Harris. Takes place over a single night in the life of a young British soldier (O'Connell) accidentally abandoned by his unit following a riot on the streets of Belfast in 1971. Unable to tell friend from foe, and increasingly wary of his own comrades, he must survive the night alone and find his way to safety through a disorienting, alien and deadly landscape. From Lionsgate.


"Slow West" (2015) Michael Fassbender, Kodi Smit-McPhee, Ben Mendelsohn, Caren Pistorius, Rory McCann. In search of his fugitive girlfriend and her father, 16-year-old Jay (Smit-McPhee) heads west across the 19th-century American wilderness. Along the way, Jay meets Silas (Fassbender), a mysterious traveler who protects him from the savage and lawless elements. But is Silas really watching out for Jay ... or is he tied to the band of desperadoes tracking them? On DVD, Blu-ray Disc from Lionsgate.


"Tooken" (2015) Lee Tergesen, Reno Wilson, Laura-Leigh, Margaret Cho, Michael Blackson. In this spoof film on the "Taken" action-film franchise, Bryan Mills (Lee Tergesen) is an ex-CIA agent now working as a mall security guard. He keeps finding his things are being taken from him -- his wife, his dog ... his daughter's virginity. With the help of his ex-CIA elderly mother, Bryan battles his nemesis BrownFinger (Margaret Cho) to free his family and a pound of dogs in danger of exploding. From Cinedigm.


"The Town That Dreaded Sundown" (2014) Addison Timlin, Travis Tope, Gary Cole,, Joshua Leonard,, Anthony Anderson, Denis O'Hare, Edward Herrmann, Veronica Cartwright. Picks up 65 years after a masked serial killer terrorized the small town of Texarkana, when the brutal "Moonlight Murders" suddenly begin again. While on a trip to Lovers' Lane, 17-year-old Jami (Addison Timlin) watches as her date is brutally slain by a masked serial killer. Barely escaping with her life, Jami becomes obsessed with finding the killer referred to as "The Phantom." As the body count mounts and the carnage comes closer, Jami delves deeper into the mystery with the help of the town archivist Nick (Travis Tope), following clues that point her toward the killer's true identity. From RLJ Entertainment.


"Underdog Kids" (2015) Phillip Rhee, Adam Irigoyen, Ryan Potter, Cade Sutton, Mirelly Taylor, Patrick Fabian, Tom Arnold, Beau Bridges. When the struggling Mid-City Community Center's karate team loses their instructor a week before the big tournament, former MMA champ Jimmy "The Lightning Bolt" (Rhee) returns to his old neighborhood and reluctantly agrees to train the misfit bunch. Despite the struggles they face, the washed-up fighter and group of urban underdogs bravely take on the undefeated Beverly Hills Junior National Karate Team in the ultimate karate showdown. From Anchor Bay.


ON THE INDIE FRONT:
In
"The Encore of Tony Duran
"
(2011), starring Elliot Gould, William Katt, Gene Pietragallo, Nikki Ziering, Cody Kasch, a down and out performer finally hits rock-bottom but is able to make an inspiring rebound from the brink under the guidance of a friend (Gould). From Cinedigm ... In
"The Lovers
"
(2015), directed by Roland Joffe and starring Josh Hartnett, Bipasha Bas, Alice Englert, Tamsin Egerton, Hartnett stars as present-day marine archaeologist Jay Fennel, who, following a diving accident while rescuing his wife, is left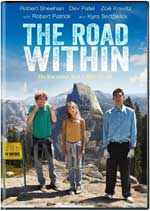 brain-dead. In his comatose dream state, Fennel is transported to India circa 1778, where young British captain James Stewart (also played by Hartnett) embarks on a life-threatening mission and a steamy romance with a female warrior (Bollywood superstar Bipasha Basu).On DVD, Blu-ray Disc from IFC Films ... In
"The Road Within
"
(2014) Robert Sheehan, Dev Patel, Zoe Kravitz, Robert Patrick, Kyra Sedgwick, Vincent (Sheehan), a young man with Tourette's syndrome, just has lost his mom. As his symptoms get worse, his dad (Patrick), a frustrated politician, sends him to a behavioral clinic run by an unconventional doctor (Sedgwick). But Vincent made his mom a promise, and with the help of a rebellious anorexic (Kravitz) and his withdrawn OCD roommate (Patel), the three embark on a life-changing race to the sea that includes car theft, shoplifting, fights, self-discovery, and maybe finding a new way to live. On DVD, Blu-ray Disc from Well Go USA.
FOR THE FAMILY:
"Yu-Gi-Oh! Season 2"
(2005-06) is known in Japan as Yu-Gi-Oh! Duel Monsters GX; this set includes all 52 30-minute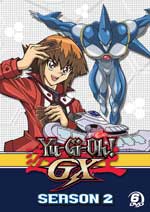 episodes of the second season and is the second spin-off series of the fan-favorite global franchise based on the Yu-Gi-Oh! trading card game, which has grossed more than $20 billion. It's year two at Duel Academy, and this semester is more intense than ever. Jaden somehow passed his finals, so he s now back with his friends to continue his training at the world's most prestigious dueling school. But it's not all about classes and textbooks. This year is filled with one high-stakes battle after another as Jaden faces all new rivals like Pro League All-Star Aster Phoenix, dino duelist Tyranno Hassleberry and the sinister Sartorius.On DVD from Cinedigm.
SPECIAL INTEREST:
"Merchants of Doubt
"
(2014) is a documentary inspired by the acclaimed book by Naomi Oreskes and Eric M. Conway, and directed by Academy Award nominee Robert Kenner (Best Documentary, "Food, Inc.," 2010) explores how the media can twist and spin stories, confuse the public, and delay public action on some of the most pressing issues of modern times -- from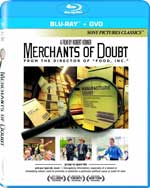 tobacco to climate change. Kenner lifts the curtain on a secretive group of highly charismatic, silver tongued pundits-for-hire who present themselves in the media as scientific authorities -- yet contrarily are aiming to spread maximum confusion about well-studied public threats ranging from toxic chemicals to pharmaceuticals to climate change. Kenner interviews individuals on both sides of the argument including scientists, whistle blowers and activists to get a full perspective on the issues at hand. Some of the most insightful moments include interviews with former Republican Congressman Bob Inglis; Marc Morano, executive director of ClimateDepot.com; and Stanton Glantz, an American Legacy Foundation Distinguished Professor of Tobacco Control. In a Blu-ray/DVD Combo from Sony ...
"Deli Man
"
(2015) is a lively look at the Jewish delicatessen in America. Jewish culture reflects the heart of a vital ethnic history. As that culture continues to shift and adapt alongside mainstream America, delicatessen food -- as its name suggests -- remains a beloved communal delicacy. In Houston, Texas, third-generation deli man Ziggy Gruber has built arguably the finest delicatessen restaurant in the U.S. His story -- augmented by the stories of iconic delis such as Katz's, 2nd Avenue Deli, Nate 'n Al, Carnegie, and the Stage -- embodies a tradition indelibly linked to its savory, nostalgic foods. Includes interviews with Larry King, Jerry Stiller and Fyvush Finkel. On DVD, Blu-ray Disc from Cohen Media Group ...
"Beyond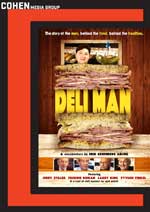 Zero: 1914-1918"
(2015): Continuing his collaborations with leading contemporary composers and musicians, "Beyond Zero: 1914-1918" is a collaboration between filmmaker Bill Morrison, the celebrated Kronos Quartet and Serbian composer Aleksandra Vrebalov. Sourcing original 35mm nitrate footage shot during the first World War, Morrison -- called "one of the most adventurous American filmmakers" by Variety, preceding a recent mid-career retrospective at MoMA -- has crafted a unique contemplation, piecing together a visual exploration from footage that has never been viewed by modern audiences, and will never be seen again outside of this film. Morrison's work is characterized by his sensitive approach to found, often decaying, film footage, and his close collaboration with contemporary composers. Included on the DVD is an exclusive video of the Kronos Quartet performing the piece at the 2014 Edinburgh International Festival. On DVD. from Icarus Films.
FROM TV TO DVD:
"Archie Bunker's Place: Season 1"
(1979-80) is a two-disc set with 24 episodes, $9.98 from Mill Creek Entertainment ...
"Barney Miller: The Final Season"
(1981-82) is a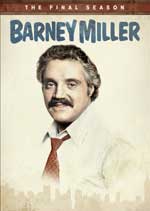 three-disc set with 22 episodes. Acclaimed throughout its eight season run, Barney Miller remains a beloved sitcom for its quirky yet humanistic exploration of the lives and exploits of a police squad in New York's Greenwich Village. A comedic peek into the world of the American Everyman starred Hal Linden, Ron Glass, Max Gail, James Gregory, Ron Carey and Steve Landesberg. From Shout! Factory ...
"Bitten: The Complete Second Season"
(2014) is a three-disc set with all 10 unedited episodes, $39.98 from Entertainment One ...
"House of Cards: The Complete Third Season"
(2015) is a four-disc set with all 13 episodes. From Sony.
Check out other July 7-July 13 DVD releases and reviews at OnVideo.
Comments