New on DVD and Blu-ray Week of April 21-April 27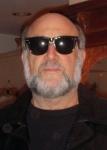 By Harley Lond - 04/21/15 at 04:54 PM CT
THIS WEEK'S THEATRICAL RELEASES:


It's a pretty dull week at the home theater. On offer is the very weak second sequel in the "Taken" franchise, "Taken 3," with Liam Neeson returning as former CIA operative Bryan Mills; this time he's framed for the murder of his ex-wife and must go on the run while trying to find the real killer (sound oh too familiar? Liam -- time to quit!) ... and "Cake
," with Jennifer Aniston taking off her make-up and sinking her teeth into a dramatic role about a woman who's fascinated by the suicide of a woman in her chronic pain support group while grappling with her own raw personal tragedy. Boring. Both from Fox.


THIS WEEK'S HIGHLIGHTS:

There's two great releases from the folks at The Criterion Collection -- releases that every film lover should have in their collection. First up is "The River
" (1951), the entrancing first color feature from Jean Renoir, shot entirely on location in India, a visual tour de force. Based on the novel by Rumer Godden, the film eloquently contrasts the growing pains of three young women with the immutability of the holy Bengal River, around which their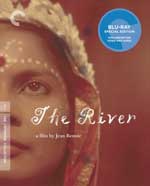 daily lives unfold. Enriched by Renoir's subtle understanding of and appreciation for India and its people, "The River" gracefully explores the fragile connections between transitory emotions and steadfast creation. In a high-definition digital transfer from the 2004 Film Foundation restoration, on DVD and Blu-ray, with an uncompressed monaural soundtrack on the Blu-ray. Extras include an archival introduction to the film by the director; "Around the River," a 60-minute 2008 documentary by Arnaud Mandagaran about the making of the film; an interview from 2004 with Martin Scorsese; an audio interview from 2000 with producer Ken McEldowney; a new visual essay by film writer Paul Ryan, featuring rare behind-the-scenes stills; and an essay by film scholar Ian Christie and notes by Renoir on the film, discovered in the filmmaker's production files ... The great Japanese filmmaker Yasujiro Ozu is best known for the stately, meditative domestic dramas he made after World War II. But during his first decade at Shochiku studios, where he dabbled in many genres, he put out a trio of precisely rendered, magnificently shot and edited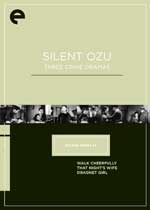 silent crime films about the hopes, dreams, and loves of small-time crooks. Heavily influenced in narrative and visual style by the American films that Ozu adored, these movies -- gathered together in "Eclipse Series 42
: Silent Ozu -- Three Crime Dramas" -- are revelatory early examples of his cinematic genius, accompanied here by new piano scores by Neil Brand. The collector's set includes: "Walk Cheerfully" (1930): This was the Japanese master's first true homage to American crime movies, and it is a fleetly told, expressively shot work of humor and emotional depth; "That Night's Wife" (1930): In noirish darkness, a man commits a shocking robbery. But, as we soon learn, this seeming criminal mastermind is actually a sensitive everyman driven to commit desperate deeds for the sake of his family; "Dragnet Girl" (1933): This formally accomplished and psychologically complex gangster tale pivots on the growing attraction between Joji, a hardened career criminal, and Kazuko, the sweet-natured older sister of a newly initiated young hoodlum.


BUZZIN' THE 'B'S:

In the horror thriller "Auteur
" (2014), starring Tom Sizemore, Ian Hutton, BJ Hendricks and Madeline Merritt, a naive documentarian sets out to find a legendary horror director who mysteriously disappeared before the release of his highly anticipated masterpiece. As the filmmaker uncovers the story through various interviews, he learns that the truth is much more deadly than he ever imagined. From MVD Entertainment ... In the very weird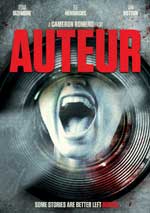 "Motivational Growth
" (2013), starring Jeffery Combs, Adrian DiGiovanni and Danielle Doetsch, a depressed and reclusive 30-something, Ian Folivor, finds himself taking advice from a growth in his bathroom after a failed suicide attempt. The Mold, a smooth talking fungus who was born of the filth collecting in a corner of Ian's neglected bathroom, works to win Ian's trust by helping him clean himself up and remodel his lifestyle. With The Mold's help, Ian attracts the attention of a neighbor he's been ogling through his peephole, Leah, and he manages to find a slice of happiness despite his unnatural circumstances. But Ian starts to receive strange messages from his old and broken down TV set that make him realize that The Mold may not be as helpful as it seems to be. On DVD, Blu-ray Disc from Parade Deck Films ... In "Wingman Inc.
" (2015), starring Kristopher Turner, Erin Cahill, Andrea Bogart, Daniele Watts and Reid Ewing, a professional wingman falls in love with a professional man-eater, and they come to realize that their hearts and careers are at stake. After an unexpected break-up, Bobby's friends convince him to get out of his rut by leveraging his prowess with the ladies into a business as a wingman-for-hire. Meanwhile, Kristy -- who's also just gone through a break-up -- finds therapy and monetary success in defending women from sleazy male advances. When Kristy and Bobby take a sudden interest in each other, it's only a matter of time before one of them finds out that they're working for the competition. From Lionsgate ...
In "Deep in the Darkness
" (2014), starring Sean Patrick Thomas, Kristen Bush, Dean Stockwell, Blanche Baker, Anthony Del Negro and Athena Grant, Dr. Michael Cayle thought leaving the chaotic lifestyle of New York City behind for the quiet, small town of Ashborough would bring his family closer together. Soon after arriving, however, he discovers the town's deepest secret: a terrifying -- and controlling -- race of creatures that live amongst the darkness in the woods behind his home. On DVD, Blu-ray Disc from Scream Factory ... In a small American town still living in the shadow of a terrible coal mine accident, the disappearance of a teenage boy draws together a surviving miner, the lonely wife of a mine executive, and a local boy in a web of secrets in "Little Accidents
" (2014), starring Elizabeth Banks, Boyd Holbrook, Jacob Lofland, Josh Lucas, Chloe Sevigny and Alexia Rasmussen. From Anchor Bay ... A just paroled white supremacist and his ruthless girlfriend kill a cop and take an African American family hostage in "Supremacy
" (2014), starring Danny Glover, Joe Anderson, Dawn Olivieri and Anson Mount. On DVD, Blu-ray Disc from Well Go USA ...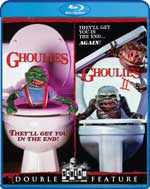 Take a creepy old Hollywood mansion, a naive young man and a pretty girl. Add an over-the-top orgy and some slimy, winged goblins who crawl out of toilets, and you have this double-bill of fun horror, "Ghoulies and Ghoulies II
" (1984, 1988). From Scream Factory ... also from the Scream! Factory vault comes "Escape From New York
Collector's Edition" (1981), starring Kurt Russell, Lee Van Cleef, Ernest Borgnine, Donald Pleasence, Isaac Hayes, Season Hubley, Harry Dean Stanton and Adrienne Barbeau, in a new 2K scan of the inter-positive, struck from the original negative. The two-disc Blu-ray includes commentary with actress Adrienne Barbeau and directory of photography Dean Cundey; commentary with director John Carpenter and actor Kurt Russell; commentary by producer Debra Hill and production designer Joe Alves; "Big Challenges in Little Manhattan: The Visual Effects of Escape From New York"; "Scoring the Escape: A Discussion With Composer Alan Howarth"; "On Set With John Carpenter: The Images of Escape From New York With Photographer Kim Gottlieb-Walker"; and much, much more ... A group of teens foolishly play with a spirit board and contact the spirit of a murdered man, who they soon resurrect from the grave in the form of a murderous zombie, intent on avenging his own death and stalking the teens down one by one until he can get to his killer in "Jonah Lives
" (2012), starring Brinke Stevens, Jocelyn Padilla, Ryan Boudreau and Nicole Lasala. From Wild Eye Releasing ... "The Walking Deceased
" (2015), starring Tim Ogletree, Joey Oglesby, Troy Ogletree, Sophia Ali, Andrew Pozza and Dave Sheridan, is a spoof of "The Walking Dead." When a police officer wakes up in a hospital to find out he is in the middle of a zombie apocalypse, he'll do anything to find his family, even sacrifice Twitter. From ARC Entertainment.


ON THE INDIE FRONT:

"First Period
" (2013), starring Brandon Alexander III, Dudley Beene, Cassandra Peterson and Jack Plotnick, is a LGBT festival hit that has Alexander and Beene as a pair of hapless teenage girls who just want to be popular in high school. New girl Cassie and school outcast Maggie are easily the most unpopular girls at their high school. Together, they decide the way to win the hearts of cute boys and popular girls is to enter--and win--the annual talent show. But popular rivals Heather, Other Heather, and their hot boyfriends Dirk and Brett

will stop at nothing to keep Cassie and Maggie the laughing stock of the school. From Falling Anvil Productions/Screen Media ... When a mother returns to her musical roots, she rediscovers the passion of her youth, and finds a way to connect with her troubled youngest son in "Life Inside Out
" (2013), starring Maggie Baird, Finneas O'Connell, Lori Nasso, David Cowgill, William Dennis Hunt, Roscoe Brandon and Orson Ossman. From Monarch Home Entertainment ...

In "Sweet Lorraine
" (2015), Lorraine Beebie, the perfect minister's wife in suburban New Jersey, has one goal: to see her husband as the mayor of the small town in which she has rebuilt her life. Lorraine's quest comes head to head with her seedy and sultry past in the clubs and streets of New York City, a past that includes her ex-lover, the current mayor. Stars Tatum O'Neal, Steven Bauer, Peter Greene and Julianne Michelle. From Garden Thieves Pictures, due April 23.


SPECIAL INTEREST:

From the birth of jazz to the evolution of hip hop, from the advents of urban trends to transformative advances in technology, African Americans have played an integral role in molding American culture. Unfortunately, they tend to not be the beneficiaries of their own innovation. The documentary "Bleaching Black Culture" (2014) examines the continuum of America's black cultural appropriation and the effects on the African American community. From Cinedigm.


FROM TV TO DVD:

"Fortitude" (2015) is a dark drama TV series set in the melting Arctic -- featuring psychological and thriller elements -- that tells the story of the small idyllic town of Fortitude, whose peaceful existence is shattered after a brutal and shocking murder. Above-average temperatures lead to a record ice melt revealing secrets long since hidden beneath the frozen landscape. Sheriff Dan Anderssen (Richard Dormer) leads the investigation and is forced to work alongside DCI Morton (Stanley Tucci), a detective who has flown into town from the mainland to contribute his forensic expertise. As the search for the killer progresses, their list of suspects -- and suspicions of each other -- grows. On DVD, Blu-ray Disc from PBS Distribution ... "Naked & Afraid: Season 1" (2013) is the Discovery Channel reality series about naked strangers set adrift in the middle of nowhere with no tools, no food, and no clothes. Two-disc set, $29.93 from Cinedigm ...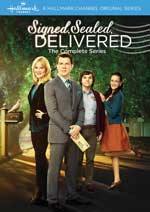 "Signed, Sealed, Delivered: The Series" (2014) is a three-disc set with 10 episodes of the Hallmark series that follows the lives of four postal detectives who transform themselves into a team of detectives to track down intended recipients of undeliverable mail. Their missions take them out of the office and into an unpredictable world where redirected letters and packages can save lives, solve crimes, reunite old loves and change futures by arriving late but somehow always on time. The team includes charming Oliver O'Toole (Eric Mabius), a genius postal detective and the group s leader; new team member Shane McInerney (Kristin Booth), a technophile who brings 21st century sensibility to the group; free-spirited girl-next-door Rita Haywith (Crystal Lowe), who has a photographic memory; and lovable Norman Dorman (Geoff Gustafson), a master in conventional research methods. $24.95 from Cinedigm ... "Wolf Hall" (2015)is a three-disc set with all six episodes of the TV miniseries that follows the complex machinations and back room dealings of the pragmatic and accomplished power broker Thomas Cromwell, the brilliant and enigmatic consigliere to King Henry VIII -- from humble beginnings and with an enigmatic past -- who must serve king and country while dealing with deadly political intrigue, Henry VIII's tempestuous relationship with Anne Boleyn and the religious upheavals of the Protestant Reformation. Adapted from Hilary Mantel's best-selling Booker Prize-winning novels "Wolf Hall" and its sequel "Bring Up the Bodies." On DVD, Blu-ray Disc from PBS Distribution.

Check out other April 21-27 DVD releases and reviews at OnVideo.