3/4

2.5/4

3/4

2.5/4

0.5/4

3/4

0.5/4

3/4

2/4

1.5/4

4/4

3.5/4

2.5/4

0.5/4

0.5/4

3/4

1/4

1.5/4

3/4

3/4

2.5/4

3/4

3/4

2/4

2.5/4

Next 25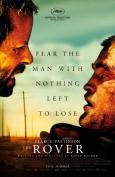 The Rover
A Disappointment
2.5/4 stars
On the surface, The Rover is a winner. It's beautiful to look at, contains some strong performances, and deals with confronting concepts. But scratch away that surface and what you are ultimately left with is a slow, empty, aimless picture that mistakes its misanthropy for a profound insight into the human condition. There are only so many scenes of people shooting other (often defenceless) people in the face that you can watch before questioning the whole purpose of the endeavour.

The movie's post-apocalyptic setting, at first intriguing, soon loses its novelty when it becomes clear the film is more interested in dissecting the impenetrable psyche of its protagonist, played by Guy Pierce, instead of finding something interesting to do with the idea of the end of the freaking world! Normally I welcome character studies, but here the main character is so clichéd and one-note (a stoic man-with-no-name who walks the earth) that it seems like a waste of everybody's time to explore how his mind works. Pierce makes the best of his material, of course, but he's still playing an archetype that was old hat decades ago.

Not helping matters is Robert Pattinson, complete with goofy Southern American drawl, tagging along and generally being an imbecile. More often than not you're more drawn to blow his brains out than Pierce's character.