3.5/4

3.5/4

2/4

2/4

3.5/4

4/4

4/4

4/4

3/4

4/4

1.5/4

2.5/4

3.5/4

4/4

4/4

4/4

2.5/4

3.5/4

4/4

4/4

4/4

3/4

3.5/4

2/4

4/4

Next 12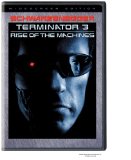 Terminator 3: Rise of the Machines
Thanks for tarnishing the series....
1.5/4 stars
Horrible movie with only saving grace being Arnold. This movie just does nothing but crap on the great Terminator name sake. Welcome to T3, the only returning cast member being Arnold. Sarah Conner is missing in action (obviously she wouldn't sign on for such a crappy script) and John Conner's actor has been replaced by a horrid knock off. (Why they just didn't get Edward Furlong back to do John again I will never understand, Edward and Arnold worked very well together)

Now once again a terminator is out to kill John...and this time to put people in the seats they basically cast the new killing machine into a hot sexy woman. Of course on top of this, this new terminator is even more high tech, yet they send an original model (arnold) to protect John again... this is just getting old and silly.

Killing the series storyline with crappy scripting and bad acting it makes this edition of Terminator a disgrace to the series and I like to pretend this steaming pile of crud doesn't exist.