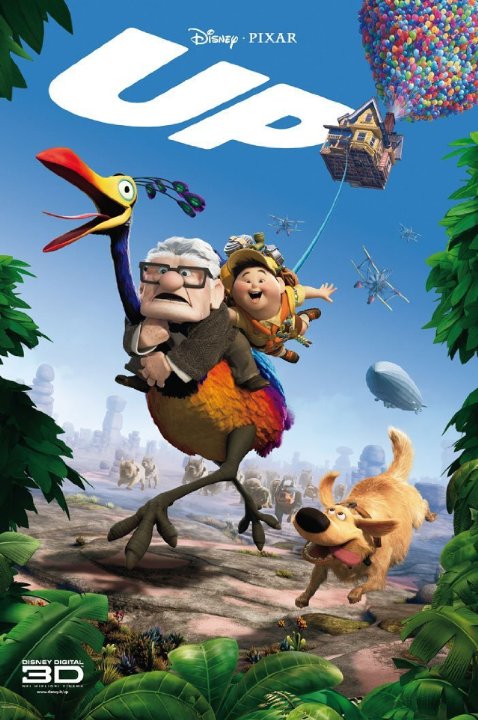 Up (2009)
Up and Away to the Land Lost in Time
DivineTragedy92 - wrote on 05/31/10
Directed by Pete Docter and Bob Peterson
Starring Edward Asner, Christopher Plummer, Delroy Lindo

This is one of the most heartfelt, imaginative, and moving films Pixar has ever made. Up is without a doubt one of the greatest films you will ever see. It's funny, emotional, exciting, inventive, and unique. This is the kind of film you just fall in love with. The animation is beautiful, the story is original and adventurous, the voice work is phenomenal, and the film is entirely captivating. Rarely does anyone find a film that impacts them on so many levels. Up is definitely one of those films.

Edward Asner voices the character of Carl Fredricksen, an aging man who has recently lost his wife and is being forced into a retirement home. When Carl was just a small boy, he had a passion for flying and an aviator named Charles Muntz. Muntz had travelled to a distant land where he discovered an unusual brightly colored creature, but he couldn't capture it. Muntz decided to travel back to the land of Paradise Falls to find and capture the creature, but he never returnes. Carl hoped to one day travel to Paradise Falls, and on one fateful day, he met a little girl named Ellie who shared his passion for flying and Charles Muntz. The two became best friends after they vowed to one day travel to Paradise Falls, but it never happened. They eventually married and lived a long, happy life, until Ellie passed away and Carl was left all alone. He sits by himself in his house until a boy comes along, who claims to be a wilderness explorer, and just won't leave him alone until he has been of assistance. As Carl remembers the passions he and Ellie shared, he becomes eager to fulfill the dreams they had and travel to Paradise Falls. Carl ties thousands of balloons to his house and he floats up in the air, away from all of his problems and towards Paradise Falls. While in the air however, he discovers that the young wilderness explorer is on his porch and now he's stuck with him. Their journey to Paradise Falls is touching and highly amusing as they encounter dogs with special collars that allow them to talk, the brightly colored bird Muntz was desperately searching for, and they eventually discover Muntz himself who does not turn out to be the hero Carl long believed him to be. Christopher Plummer voices Charles Muntz while Delroy Lindo voices Beta, one of the many talking dogs who are all servants to Muntz. Several of the canine characters deliver many laughs, the young boy is fun and quirky, and the bird is even hilarious. All of the characters in this film are a delight to watch. I definitely felt something for all of these characters. None of them are one dimensional and they all add something special to the wonderfully original story.

Up is a unique cinematic experience. It's as joyful and delightful as a film can possibly get. I was never bored for a second and I found everything happening to be interesting and compelling. It really doesn't matter if you're the darkest person with the coldest heart on the planet, this film will move you in unexpected ways. The story is brilliantly and flawlessly told by people who are passionate and intelligent. This is without a doubt a masterpiece.

Up is an animated classic and a genius work of art. This film is impossible to dislike, it's far too charming and beautiful. Such a wonderful, wonderful film...