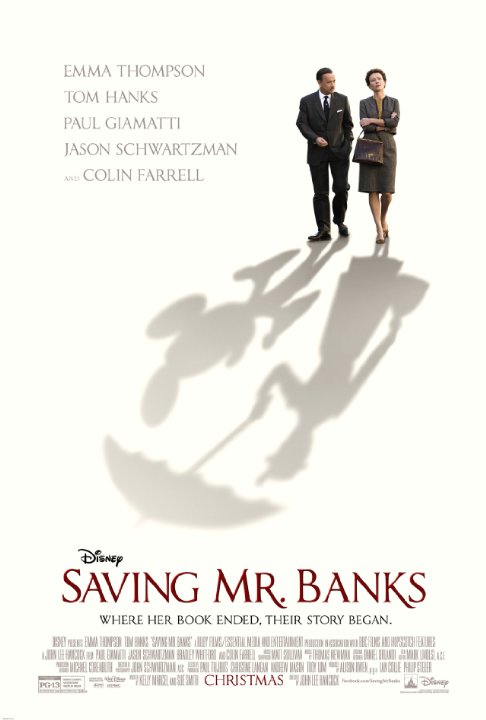 Saving Mr. Banks
I Will Do It, But I Won't Like It!
LeeAnn M. - wrote on 03/22/14
A friend told me to rent Saving Mr. Banks before I bought it because it was an emotional film. She also told me not to let my second grade son see it. Her explanation was "While the film is about the makings of a well loved children's film, Saving Mr. Banks is too heavy for young viewers." I was confused. That is what made me fall in love with Mary Poppins, that she did not hide the bitterness of life, but encouraged the children to tackle it head on with a spoonful of sugar. So I bought the DVD and I have to concede that my friend is right. Saving Mr. Banks is a wonderful film, as one would expect from the talents of Tom Hanks and Emma Thompson. It is not a movie I would watch again and again.

The film weaves the childhood flashbacks of P.L. Travors and present day reality in a sometimes dizzying pace. P.L. Travors does not want her childrens books to become mangled by Hollywood, but the books have stopped selling and the money is running out. As she puts it, she rather likes living in her home and does not want to leave it. She reluctantly agrees to meet with Walt Disney to sign over the rights to him. P.L. Travors seemingly wants to be the thorn in the side of every human being, including the man who will save her from bankruptcy.

Saving Mr. Banks is an entertaining film in a bipolar fashion. Warm and funny from the Walt Disney crew, and coarse with irritation from P.L. Travors point of view. It seems impossible that the two sides can compromise to fulfill a promise Mr. Disney made to his daughters two decades before. Walt Disney made a career in making impossible dreams come true.