2.5/4

2.5/4

0.5/4

1.5/4

2/4

1.5/4

3.5/4

0.5/4

2/4

1.5/4

2.5/4

1.5/4

2/4

1.5/4

2/4

0.5/4

0.5/4

2.5/4

0.5/4

1/4

2/4

3/4

1.5/4

1.5/4

1.5/4

Next 25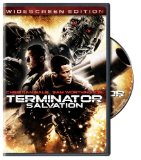 Terminator Salvation
ew
1.5/4 stars
If Hollywood can't improve, or even match a classic movie with it's sequel I wish it would just strop trying. Again, fancy looking CGI doesn't take the place of a good story. The first Terminator was a bit on the bleh side and the second was excelent but the thing that made the second part so excelent was the transformation of Sarah Conner from drab girl next door to kick ass war chick. Using the same actress which really made the movie, when paired with it's earlier version pop out. They had an opportunity here to do something similar and cast the actor that played John Connor in T2 to now reprise his role in the adult, kick ass version. And the fact that they didn't really annoyed me from the start. Screwing over the fans of the series, the actor who rightfully deserves his role back to cast the new hollywood it boy hunk was a poor poor decision. I can't see this person as John Connor because the role is completely different, much like how in T1 and T2 Sarah Connor was completely different but because they were played by the same person instead of it coming off as them abandoning a character it came off as them expanding on the character.

I don't know how Bryce Dallas Howard keeps getting work, well I do and that would be her father. The only movie she's ever been decent in was the Village and probably just because that movie was so horrible it made her acting look decent. She's cold, emotionless and brings nothing to the movie she is apparently pregnant with John Connors baby though this is never said or explained just implied by her being visably knocked up and a kissing scene between them.

The story itself is rather boring and makes little sense, they apparently have the ability to create human/robot hybrids but only create one of them and do nothing to control him. The cliche ex bad guy coming in to save everyone and redeem himself. The only good thing this movie had was a single scene in the robot complex showing (through CGI) that they had not completely abandoned the previous movies and story line, I won't go more into detail than that because I wouldn't want to spoil the one redeeming factor this movie had.

In conclusion, boring, bad acting, cliche plot lines and story all and al a disappointment that brings down the series.