3/4

4/4

3/4

3/4

3/4

3/4

3/4

1.5/4

4/4

4/4

2.5/4

4/4

2.5/4

3.5/4

2.5/4

0.5/4

3/4

2.5/4

2/4

2.5/4

2.5/4

2/4

2.5/4

3/4

3.5/4

Next 25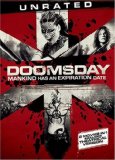 Doomsday
Don't take it seriously and it will be fun.
3/4 stars
Doomsday is one of those films that you are either going to really like or really despise. The post apocalyptic genre is a classic premise but only has so many directions that it can be taken. Personally I was happy to see that this film decided that it was going to avoid the zombie option. This film takes a run at the genre in a very similar way that Tank Girl did back in 1995 (both films included Malcom McDowell, but that is not where the similarities stop).
Craig Conway's characterization of Sol seemed as though he had based the over the top personality on Iggy Pop, and I am quite convinced that had this movie been made 20 years earlier Sol would have been played by Pop.
I loved the intensive changes of scenery from one location to the next occurred as the film seemed to bring you from scenes as cut throat as the Cannibal Punks city (which really brings back memories of Mad Max: Beyond the Thunderdome), and suddenly moving to the serenity of the hills of Scotland which can make you wonder if someone miscut the film with a segment of Lord of the Rings.
I think the reason I enjoyed this film so much is because it doesn't take itself too seriously, and it has been a long time since I've seen a good post apocalyptic tale that didn't involve some form of the living dead. It has number of really funny scenes, as well as some amazing action scenes. The costume designs were quite cool, and although there were a few laughable things that didn't make a hell of a lot of sense (listen to them describe how well protected the military vehicles are, and watch how vulnerable they turn out to be, its worth a laugh), the film was enjoyable over all.