2.5/4

1.5/4

2/4

2.5/4

2.5/4

2/4

3.5/4

1.5/4

3/4

2.5/4

2/4

3/4

2.5/4

3/4

2.5/4

3/4

3/4

1.5/4

2.5/4

3/4

2.5/4

3/4

3.5/4

2.5/4

3.5/4

Next 8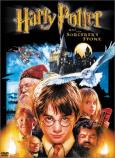 Harry Potter and the Sorcerer's Stone
Good Adaptation
3/4 stars
Harry Potter and the Sorcerer's Stone is one of the best adaptation films I've ever seen.

The story for The Sorcerer's Stone is very accurate to the book. They have some of the smallest details shown on screen, sharing the magic of The Sorcerer's Stone that the book showed through the movie. There was a few details left out of the movie, but I know that's because of time.

The characters in the movie are very accurate. The way the characters interact with each other makes the movies very realistic, and the dialog is very close to the dialog in the book. I loved the way the characters looked on screen. They just stood out, as if they had been taken directly from the pages and thrown onto the screen.

Overall, Harry Potter and the Sorcerer's Stone is a great adaptation film. Even if someone didn't read the book, the movie is still excellent.