4/4

1/4

3/4

4/4

3/4

1/4

3/4

4/4

4/4

4/4

2.5/4

3.5/4

0.5/4

N/A

3.5/4

4/4

1.5/4

4/4

3.5/4

0.5/4

4/4

2.5/4

4/4

0.5/4

4/4

Next 3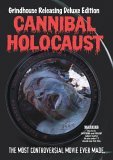 Cannibal Holocaust
Cannibal Holocaust.
1/4 stars
Cannibal Holocaust.

'Barbarism is the natural state of humanity'
-- Robert E. Howard

Let get one thing straight before I start. This isn't a film. It is a testament to the depacity a filmmaker will go to create sensation and thrill. It is a hideous thing, wholly devoid of any redeeming qualities.
Yet it is engrossing.
Why?
Because it simply exists.

The film first charts the exploits of a movie producer looking for the lost footage of 4 documentary filmmakers who were lost in the Amazon rainforest, presumed dead. And dead they are. Their corpses are found n the forest and their belongings either scattered through the area or taken as trinkets by the native inhabitants. When he gains their trust, the producer procures the lost cans of footage and brings them back to the 'civilised' world to watch it.
Them film then changes to the 4 documentors, a prickish bunch of primadonna's obsessed with money and fame. As we watch, they swagger about the jungle holding their so-called civilised ways like a banner, slaughtering animals (filming it, too) and at one point setting a large hut filled with villagers on fire, making it look like another tribe had done it, for that is what they do. They maim and kill for a good scene. They also rape and defile the natives homes, until the shit hits the fan and the more notorious cannibal tribes get their hands on them. From thereon the filmmakers are killed off, and one is left not really cheering for their deaths, but relieved to know the film can't possibly go on much longer as it's main characters (not heroes or even protagonists, mind you) are killed and eaten. Even when those who were done wrong by get their revenge, it's still hideous and disgusting.
This is all being watched the producer and some studio execs in a small personal theatre, who at the end of the film, order the destruction of film - and rightly so.

Cannibal Holocaust, is simply put, the worst thing I have ever seen. Films like Necromentia are also twisted and awful, but none of it (I dearly hope) is real, all staged by some sicko who thinks he is a pioneering artist, but is in reality a nut job. Cannibal Holocaust revels in the fact that its animal mutilation is real and that is a hideous thing. Hell, the director even went to court over it. I here he got off scot free for BLATANT animal cruelty and probably murder.

I do not reccomend this film to anyone. I do not reccomend watching ot for free.
If you are a die-hard horror fan, film scholar or otherwise, watch it at your peril.
It is barbarity at an unprecedented level; the closest thing you will ever get to civil disintegration or even Hell.