4/4

1/4

3/4

4/4

3/4

1/4

3/4

4/4

4/4

4/4

2.5/4

3.5/4

0.5/4

N/A

3.5/4

4/4

1.5/4

4/4

3.5/4

0.5/4

4/4

2.5/4

4/4

0.5/4

4/4

Next 3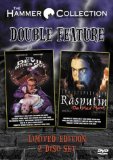 The Devil Rides Out
The Devil Rides Out.
3.5/4 stars
The Devil Rides Out.
Based upon a novel by Dennis Wheatly of the same name, The Devil Rides Out is an occult thriller based around the battle between good and evil, good being the gentlemanly Duke de Richleau (portrayed magnificently by Christopher Lee), his friend Rex van Ryn and Simon, battling an evil Satanic cult, led by the sinister Mocata (played superbly by Charles Gray). Among the collateral vicitms is the beautiful Tanith, who is to be saved by de Richleau and Rex. De Richleau and Rex try to stop their friend Simon from becoming a fully fledged member of the cult, whilst trying to defeat the demoniac Mocata and his monstrous cohorts.
While the movie leaves a Hell (excuse the pun) of a lot of stuff out of the book, it does quite well. Lee plays de Richleau perfectly, keeping the same gentlemanly yet mysterious quality he has in the novel in the film. The book contains a brilliant amount of occult lore, and would be perfect for anyone wanting to start out investigating or even practicing some of the rites portrayed in the book, good or otherwise. I can see though, why the films writer and director had to leave so much out, simply because the film would stretch far into the 2hr 30mins territory. A lot of the description and explanations of Astral Projection, charms, magic and occult lore is kept out of the film, because Hammer didn't want people to think the film glorified the use of magic and Satanism. On the contrary, Christianity is seen as a force of ultimate good in the film, used alongside ancient magic to defeat evil.
One interesting fact that can be noticed is that in the novel, when de Richleau is trying to break Mocata's spell over Simon (who is Jewish in the book), he places a Swastika on him, and explains that it is not symbol of evil, but an ancient Oriental symbol of protection, which, if you know your occult lore, it is. Also, the special effects are a bit ropey, especially the spider. But hey, it's 60's Hammer Horror. They can be forgiven.
All in all, the film does very well to play out the basic story of the book, taking key plot elements and stringing them together into a coherent storyline with engaging story, engaging characters, a brilliant performance and a great soundtrack to boot. Although, should you read the book you will notice a lot of things missing in the film. But don't let that put you off; this is a great film, and well worth watching.

I heartily reccomend you buy it as sson as possible.
The book, too!