2/4

4/4

2.5/4

4/4

3/4

2/4

1.5/4

1.5/4

0.5/4

3/4

2.5/4

4/4

2/4

3.5/4

2/4

4/4

4/4

2.5/4

3/4

2.5/4

3/4

4/4

3/4

4/4

2.5/4

Next 25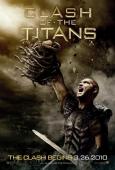 Clash of the Titans (2010)
cool sword
2/4 stars
I believe this movie is a guy's movie. You see it for the fights and the special effects. It really has nothing else to offer. And I heard the 3D was done in post-production, which would explain the lameness in that area.
I was very in to Greek mythology when I was in high school (longer ago than I would care to admit) and if you know a fair amount of mythology you'll find this movie as stupid as I did. I just want to point out: Io had a kid with Zeus, now keep that in mind when you rent this movie, cause you really need not pay for it.
Also you really could not tell on God from another. And could someone explain the plate armor? It seems like Liam was so proud that he still fit into his old Excalibur suit, that the film-makers let him wear it in this one.
If you want to watch a good version of the story of Perseus (far superior to this one) find the history channel show Clash of the Gods.
To be honest I was grumpy the whole length of the film, but my boyfriend enjoyed it.