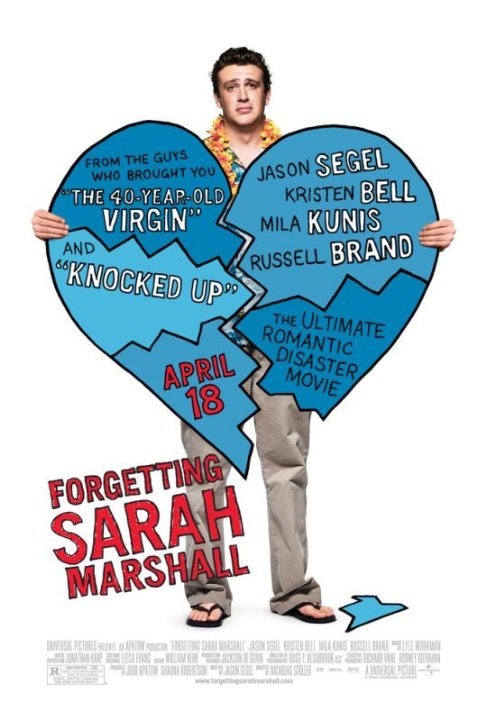 Forgetting Sarah Marshall
Forgetting Jason Segal's Marshall
joshow - wrote on 09/18/09

To be completely honest, I went into this movie expecting to thoroughly trash it as soon as I walked out. I thought it was destined to be another cheesy rom-com with a predictable ending and terrible acting. I was wrong. Little did I know, this was another Judd Apatow produced comedy, and almost everything he's touched over the past three years has turned into pure gold, including "The 40 Year Old Virgin", "Knocked Up" and "Superbad". "Forgetting Sarah Marshall" is no exception.

Jason Segal of "How I Met your Mother" fame, stars as a lovable but lazy music composer for a CSI-esque television drama. After his famous girlfriend (Kristen Bell) dumps him, he decides to take a vacation to Hawaii to deal with it. Little does he know, that his ex-girlfriend is travelling to the same resort as him – with her new overly-flamboyant musician boyfriend in tow (Russell Brand.) Mila Kunis ("That 70's Show") plays a receptionist at the resort, and proves she can actually play a likable role. Kunis has great chemistry with Segal, and their budding relationship is surprisingly one of the highlights of the movie.

The script, which was also written by Segal, is consistently funny throughout, and really hones in on the hilarious one liners and awkward situational humor that seem to be the strength of most Apatow movies.

Segal has definitely elevated himself into a solid comic lead. You can't help but feel bad for the guy as things gradually go from bad to worse for him. That said, Russell Brand, who plays eccentric musician Aldous Snow, steals every scene he's in.

He plays a character in which the viewer is supposed to dislike, but it's virtually impossible. Everything he does, from his words, to his facial expressions, to his ridiculous body language, is hilarious.
Now I may only be high on this movie because I had exceptionally low expectations going in, but it's definitely a solid comedy from start to finish. With the exception of having to see Segal's junk at least six or seven times, it was a gem.