3/4

3/4

2.5/4

1.5/4

3/4

3/4

3.5/4

3/4

3/4

3/4

3/4

3/4

3.5/4

3/4

3/4

3/4

3/4

3/4

3/4

3/4

3.5/4

3/4

3/4

3/4

3/4

Next 25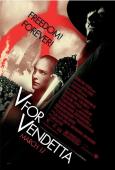 V for Vendetta
Penny for the Guy?
3/4 stars
English writer Alan Moore best know for his work in comics and graphic novels may constantly distance himself from the film adaptations of his work but Watchmen and in particular V For Vendetta are both well made and thought provoking movies.
V nicely captures a dystopian society on the edge of rebellion and becomes an interesting parable of the terrorist threatened world today.
Interesting ideas abound and the acting is top drawer. Visually, V is stunning and offers a London of the future as a grim fearful place.
As a popcorn movie, V is great escapism, as a political allergy, it is a meaningful and highly intelligent piece of work.