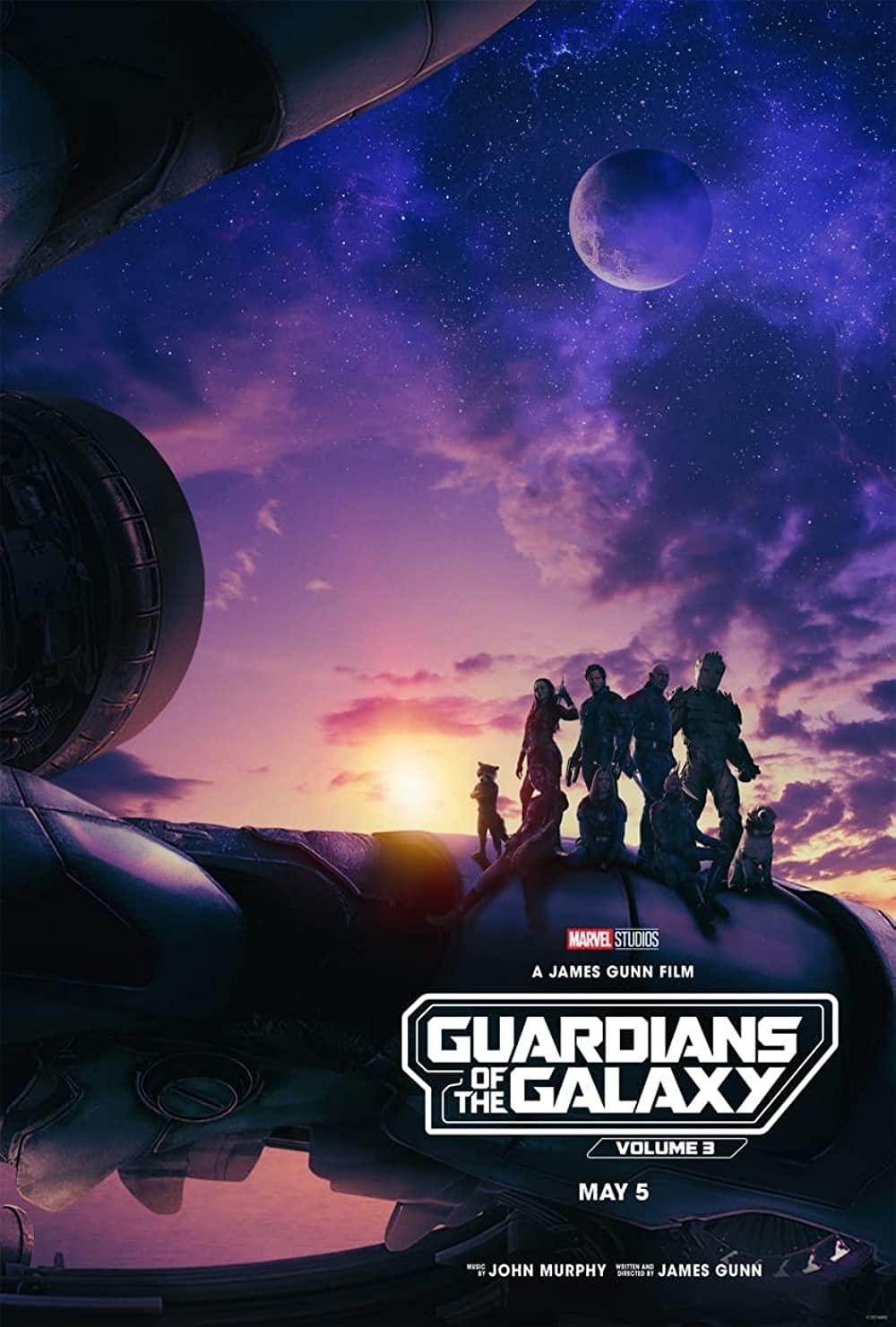 Guardians of the Galaxy Vol. 3
Rocket to the Next Level
Chris Kavan - wrote on 05/13/23
The MCU has been in a bit of a slump since Endgame. This new phase is disjointed at best - some films stand out (Spider-Man: No Way Home, Doctor Strange in the Multiverse of Madness and Shang-Chi for me) while others have been disappointing - including the most recent entry Quantumania. Guardians of the Galaxy Vol. 3 once again has the issue of feeling more like a stand-alone than part of this new phase but what James Gunn does have going for it is that this has always been a great series with an excellent ensemble cast and a kick-ass soundrack to boot. In the end, whether or not this is truly the end of the Guardians as we know it - it's one of the strongest films since Endgame and gives our character's a grand send-off.

This volume is mainly focused on Rocket (voiced by Bradley Cooper) and his origins - the film opens with a passed-out Peter Quill / Star Lord (Chris Pratt) still unable to reconcile what has happened with Gamora (Zoe Saldana) - who is alive but not THEIR Gamora. Meanwhile, Knowhere, the new headquarters of our Guardians, is shaping up - Drax (Dave Bautista), Mantis (Pom Klementieff), Nebula (Karen Gillan) and Groot (Vin Diesel, still milking that one line for all its worth) are all working - and trying to help Peter move on. Kraglin (Sean Gunn) is still trying to live up to legacy of Yondu while Cosmo (voiced by Borat 2 standout Maria Bakalova) is his telepathic canine foil. But everything changes with the arrival of Adam Warlock (a buff Will Poulter) who seems to target Rocket with a vengeance. The gold-colored super man is the product of The Sovereign - Ayesha (Elizabeth Debicki) has released him early but he is ultimately foiled but not before putting Rocket into critical condition.

The Guardians realize that in order to save their friend, they will have to confront a painful past - one that all points to a man known as The High Evolutionary (Chukwudi Iwuji) - who has spent his life in search of the perfect species - no matter how many he has to sacrifice along the way. The film often flash-backs to Rocket's early life - experiments and his budding friendship with other animals - otter Lylla (Linda Cardellini), walrus Teefs (Asim Chaudhry) and rabbit Floor (Mikaela Hoover). These moments provide some of the greatest emotions - both joy and sorrow - and prove that Gunn can go deep when he wants to.

It helps that our High Evolutionary is also a great villain - a narcissistic madman with no morals but a lot of resources at his disposal. He will do anything to further his goal of a perfect race - and has created a host of species (including the Sovereign themselves) - all of which he considers his own proprietary property to do with as he pleases. That is why he wants Rocket back - out of all his creations, Rocket alone has shown the ability to think on his own - new and better ideas - even something the High Evolutionary himself didn't realize - and now he wants that brain to integrate it with his new creations.

While the film has more emotional depth - even darkness every now and then - it doesn't forget what made the Guardians in the first place and has plenty of fun moment too. Don't miss Nathan Fillion as the hapless head of security at the OrgoCorp (a bioengineering company that is a literal biological entity/workplace) - the whole sequence is a hoot. Bautista is still hilarious as Drax (earnest and unknowingly mean as always). And there are plenty of other winks and nods along the way. The soundtrack is once again curated to perfection from Radiohead's Creep to the Beastie Boys, Heart, The Flaming Lips and more - but they save the best for the finale with Florence + The Machine Dog Days Are Over capping off a superb mix of more modern and classic selections.

The ensemble cast continues to be killer as well - Pratt and Gillan have fun playing off each other as do Bautista and Klementieff. The action is still there with plenty of big action pieces to go along with a more impactful story. Once again, the only thing I'm continuing to miss is the big picture - as in how do any of the films in this current phase fit together? That aside, as a Guardians film, this is just as good as the original and finally gives this current phase a film that stands out for all the right reasons. If you've been feeling down about the direction the MCU has been going, give this one a chance and remember what made it exceptional.