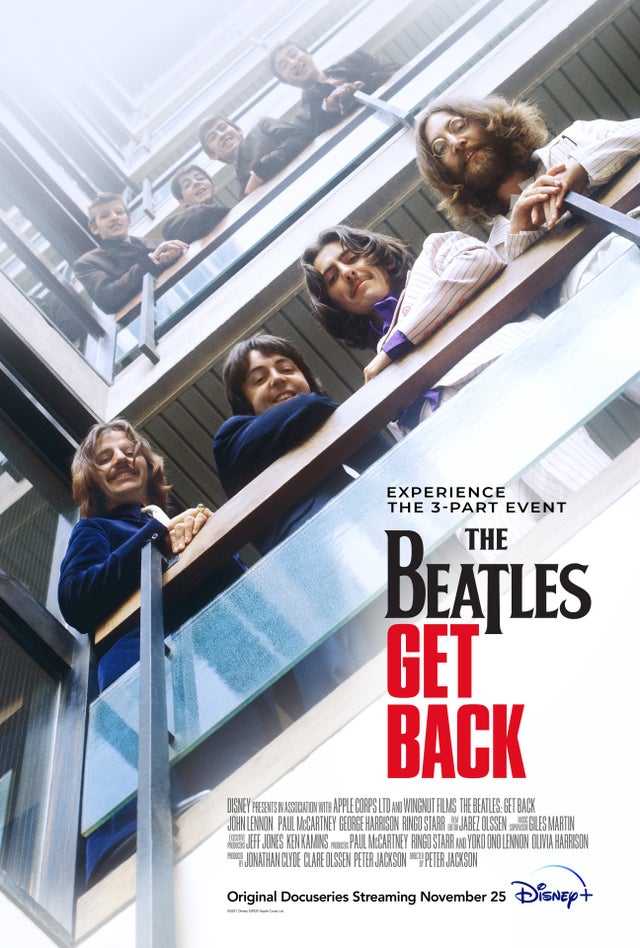 The Beatles: Get Back
A Long, Winding Road Worth Taking
Chris Kavan - wrote on 04/22/22
Who would have thought the guy who made Lord of the Rings would go on to fundamentally change the way we can view documentaries, utilizing technology to update and innovate what is old and make it new again? After the excellent World War I documentary They Shall Not Grow Old, Jackson set his sights on arguably the most influential band of all time, The Beatles. He set his sights on one of the most difficult times for the group - which led to some of their most indelible songs, their final concert and their inevitable breakup.

You may have seen this in another documentary, Michael Lindsay-Hogg's "Let It Be" though it's run was quite limited in the U.S. While the original documentary was over three hours long, the final cut was only an hour-and-a-half - with much of the cuts surrounding John Lennon and Yoko Ono. While an anniversary update was planned back in 2003, surviving Beatles Paul McCartney and Ringo Starr decided that much of the uncut material would tarnish the band's reputation (themes and language and such) and didn't think any of the material would be released in their lifetimes. But Jackson managed to convince them it should be shown and the world received a gift - not a movie, but an over 8-hour, three-part documentary that is a delight. While it helps to be a fan of The Beatles, I don't think it's a requirement as seeing the group both butt heads and, to borrow a song title, Come Together is like seeing an old friend after a long absence. The fact it looks like it was filmed recently rather than back in the 60s just makes it that much more powerful.

The three parts start with The Beatles arriving at the rather cavernous Twickenham Studios with the plan being The Beatles would rehearse and come up with a full album of songs in just two weeks with the final outcome being their first live performance in some time. It wasn't established where or how this performance would happen yet. It is also obvious the early hours and setup were not to the liking of the band and you can tell tensions are rather high between the members at this time. What comes through all three parts is how fun it is to see the boys just jam - whether it's old songs, covers of other songs or strumming a beat that is instantly recognizable as the start of "Get Back". One of my favorite parts of this entry is hearing John Lennon talking to someone while in the background, on piano, you can hear Paul McCartney playing the opening to "Let It Be" - sure, the lyrics are a work in progress at this point, but just the melody makes you take notice. And while much has been made about Yoko Ono being a main cause of The Beatles demise, she seems pretty content at reading or pretty much just being there. Sure, she gets a few minutes of screaming in, but that's after the fact and her presence doesn't seem to affect anything - even John makes a joke about how year's later she will be blamed for their breakup for "sitting on an amp". While Paul and John butt heads and George Harrison tries to be heard (and Ringo, bless him, tries to lighten things up), it's obvious this set-up is not going to work. The first part ends with Harrison leaving the band and putting the future of the project, and The Beatles, in jeopardy.

Part 2 moves the action from Twickenham to Apple Studios, a much more intimate (one might say tiny) setting. Harrison agrees to return to the band and, after finally getting things set up (Magic Alex, we hardly knew ye), The Beatles get down to business. The spirits are much higher and things get even better with the introduction of Billy Preston, who happens to be in town for a show but is convinced by Harrison to help by playing keyboard. Preston would later sign to Apple Records himself. Preston goes a long way to moving things along and is really instrumental in bringing some of the songs to life - while also easing the tension between the band members. The second part finally sees the songs introduced in part 1 coming to fruition - "Get Back", "Don't Let Me Down", "Dig a Pony" and "I've Got a Feeling" as well as "Let It Be" and "The Long and Winding Road". The band is still trying to figure out where to hold their live concert and, at the end, a rooftop concert atop their own building is discussed which leads us to:

Part 3 - much of which is devoted to said rooftop concert - the final performance of The Beatles. I can't say enough how much fun it is to see the full version of this performance, even if several of the songs are played more than once. Fractured as things may be, this raw display is a great way to end things and even as the crowds gather - some who love the songs, others who are on the fence and one old woman who just wants to get back to sleep - it's a sight to behold. Sure, the party is shut down by The Man (The Beatles are NOT arrested) but this final chapter is a key part of music history and even the end credits are spectacular, giving us some inspiration to go out with.

Get Back does not hold back - there is smoking, drinking, swearing - and I can see why there was hesitation to release it, but this is also how things were - and, I agree, how things should be seen. Everything isn't always sunshine and roses, people have issues - even the most influential - and this is like an emotional downpour - accompanied by some of the greatest music of our times. Plus you get to see people around The Beatles, from road manager Mal Evans to sound engineer Glyn Johns to music producer George Martin. You also get to see the people in their personal lives - Ono, Linda Eastman (McCartney), Maureen Starkey (Ringo's wife) and even a short visit from a very young, and vocal, Heather McCartney. It's these glimpses that breathe new life into this short time period. While a senseless crime might have brought a too-early end to any kind of Beatles reunion, Jackson has given us this gift that will make sure this influential group can stay within our hearts and hands for many years to come.