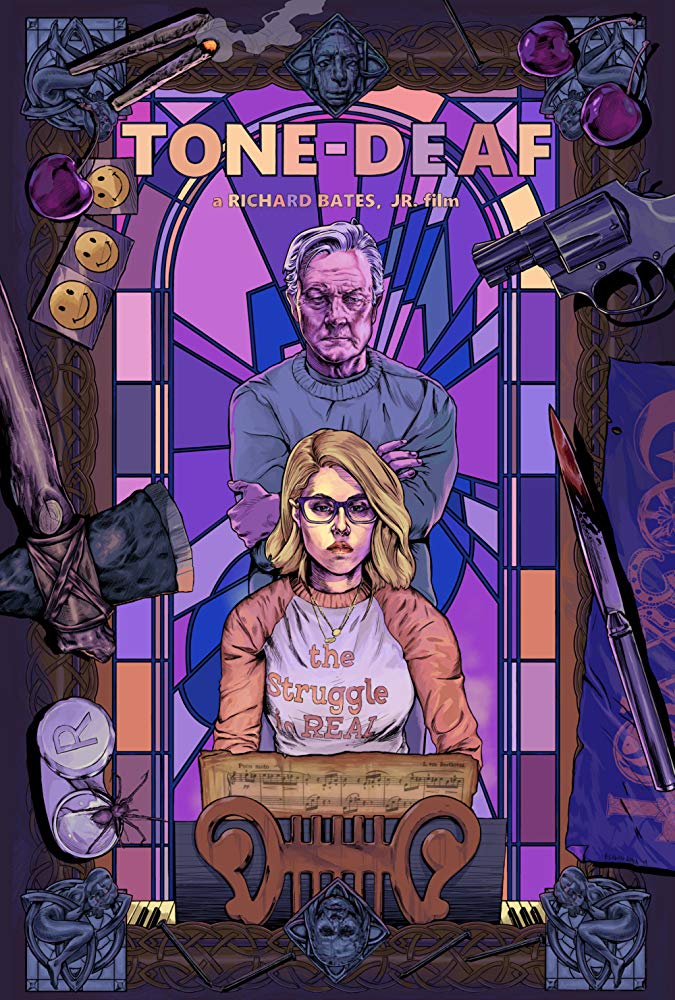 Tone-Deaf
Millennial Meltdown
Chris Kavan - wrote on 10/19/19
As a now middle-age man, I'm about as fed up with the millennial culture as everyone else that's, you know, not a millennial. Tone-Deaf is a dark comedy that takes aim at this particular set of people, perfectly personified by Amanda Crew as Olive. On the counter-side, we have Robert Patrick as your typical crotchety old man - think Grandpa Simpson, but with a newfound homicidal vendetta. While the film has some weird beats (like Patrick's rando dream sequences and fourth-wall breaking rants), it also is a fine critique of why the younger generation is such an easy target to hate on.

Olive (Crew) hits all the high notes for a millennial - questionable relationships, crushing student debt, lack of anything resembling a drive and a receives a healthy dose of false praise from everyone around her (as personified by her terrible piano playing, which everyone compliments throughout the film). She is also still dealing from the fallout from her father's suicide (with a great cameo from Ray Wise - including the best scene in the film during Olive's acid trip) while her hippie mother, Crystal (Kim Delaney), retreats in her own cocoon as she also has trouble dealing with his death. After breaking up with her likewise lackluster boyfriend (Nelson Franklin) and being fired from her laid-back job after undermining her boss (Ray Santiago) - she decides to take what little money she has and agrees with both her mother and friend, Lenore (Hayley Marie Norman) to leave the city behind for a bit to unwind.

Thus she stumbles upon what seems to be a perfect country getaway, with recent widower Harvey (Robert Patrick) offering up his old house for rent. For a mere $500 (plus security deposit), Olive seems to have the perfect weekend planned out to unwind from her grueling life. But things seem a bit off - from Harvey forgetting to mention his neighbor and family friend Agnes (Nancy Linehan Charles) or his son dropping by - not to mention creepily hanging around - and in short order it becomes apparent that Harvey has gone off the deep end. Throw in some dementia and wife's recent death (also suicide), his relationship with his son and, of course, those damn millennials - Harvey is ready to give in to his murderous urges.

While not quite a game of cat-and-mouse, Harvey does manage to kill a lot of people - many of whom are just in the wrong place at the wrong time - but may have included at least one serial killer (or at least an uber-creep). Ultimately, he just really wants to take out Olive, though it's not as easy as he thinks it's going to be. The biggest fault with Tone-Deaf is you don't want to root for any of these people - the young are entitled morons, the adults are crazy - with pretty much no middle ground. When you're actively rooting for everyone to die - well, perhaps the film did it's job too well.

In the end, it's hard to see what audience Tone-Deaf is going for - unless millennials want to watch it ironically - because, in the end, it just doesn't have a lot to say.