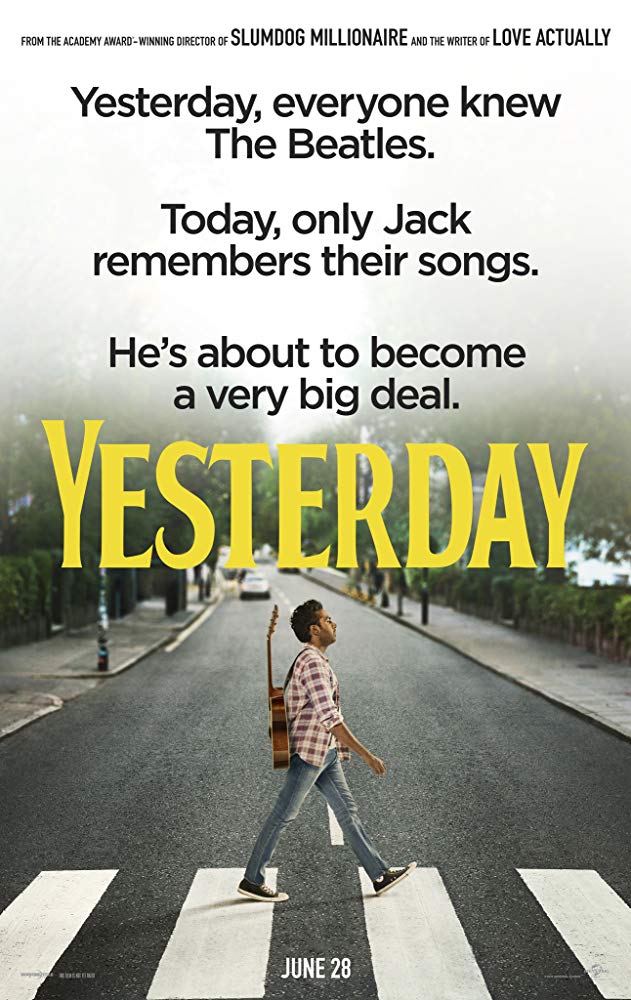 Yesterday (2019)
All You Need Is Love and Innate Musical Talent
Chris Kavan - wrote on 07/08/19
Those who know my taste in movies know that romantic comedies are low on my list - barely above overly Christian morality tales. So you would think that means Yesterday would be off my radar but... but I also love The Beatles and I was pretty much hooked on seeing this when the first trailer dropped. Plus, Danny Boyle is a fantastic director and I figured if he could make something as good as Slumdog Millionaire, he could make me like a film that featured romance in an alternate reality where The Beatles never existed.

That is the premise where we follow Jack Malik (Himesh Patel in what should be a career-making role), and his hard-working manager/teacher Ellie Appleton (Lily James) who has been enamored with him ever since his performance of "Wonderwall" back in the seventh grade talent show. But despite getting him a gig at a local music festival - granted, a pretty empty tent - Malick is ready to throw in the towel and take a promotion at a big box store instead. But a 12-second blackout, and subsequent accident with a bus, lands him in the hospital... and in a world where seemingly no one but him remembers The Beatles or their music.

With Malick being a musician in his own right, he does what anyone would do in this situation: recreate some of the best music of the modern era and pass it off as his own. But things start off rough at first and Malick thinks that even the power of The Beatles cannot save his music career, but a local recording artist like his sound, invites him to his studio (which just happens to be right next to a railroad crossing) and he belts out a few of the most pop Beatles tunes ("I Want to Hold Your Hand" and "I Saw Her Standing There" among them) and starts handing it out at the box store where he works. This leads to an out-of-the-blue call from superstar Ed Sheeran who invites him to be his opening act, at which he does - belting out "Back in the U.S.S.R." at a Russian show - and later, upstaging Sheeran who challenges him to write a great song in 10 minutes - which turns out to be "The Long and Winding Road" (one of my personal favorite songs from the group). Sheeran's manager (played with whip-smart snark by Kate McKinnon) realizes his talent and invites him to L.A. to create the world's most impressive double album.

But somewhere along the way, Malick finds himself drifting away from his old life as the fame and pressure increases. Ellie, always on the outside looking in - finally decides Jack is better off a world famous singer-songwriter than with her love. He also feels the pressure of passing off this world-changing music as his own, even after two fans - who likewise somehow remember The Beatles (but with no innate musical talent of their own) send him to see a very special person. Finally it comes down to whether Malick wants to trade stardom for love - and I bet you can guess which one he picks.

Yesterday wouldn't work if they didn't find someone who could make the music work. Patel, even though I have never seen him in anything else before, is an exceptional choice. Whether singing a punk version of "Help" or trying to remember the lyrics to "Eleanor Rigby" is a delight - and he truly has a connection with the songs. And James makes a wonderful counter-point as the long-pining love interest who is kept firmly in the friendzone while McKinnon is an excellent addition as the cut-throat manager. Even Joel Fry, Malick's burnt-out, roady/friend is a nice choice as he always says what he means, even when he half-asses his way through life.

Yesterday certainly excels with the song choices - and if you're a Beatles fan, it's a treat, but it has a lot of fun in the world it re-creates. The Beatles aren't the only thing different, as Jack finds out when he tells his mom he wants a Coke, but soon finds out that the drink doesn't exist (and, in a great bit of fun - Googling "Coke" brings up Columbian drug kingpin Pablo Escobar). There are some other interesting things missing from the world - but I won't spoil the rest. The film also has fun with Malick trying to recall the lyrics to some of the most iconic songs - and he has to take a small trip to Liverpool to visit some familiar places: Strawberry Fields, Penny Lane - and, of course, Eleanor Rigby's grave.

Yesterday combines two of my favorite things: The Beatles and alternate realities and just so happens to feature a love story as well. Credit Danny Boyle, credit screenwriter Richard Curtis (of Love, Actually fame), credit the great casting choice and especially credit the music that has shaped the landscape of music forever. If all forms a fantastic love letter that will leave you smiling, and singing, for days to come.