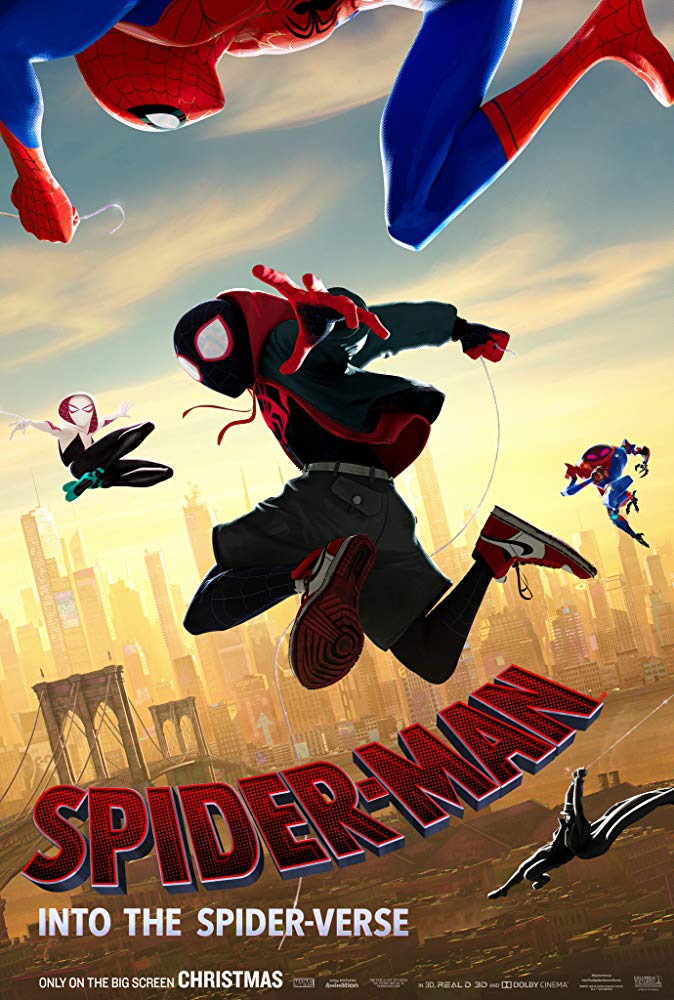 Spider-Man: Into the Spider-Verse
Spider-Verse Opens the Door to Limitless Options
Chris Kavan - wrote on 12/21/18
I admit when I first heard about an animated Spider-Man movie coming out towards the end of 2018, I was all - eh, it's not part of the MCU, don't see how this is going to be relevant to anything outside the hardcore spider-fans. Then that trailer dropped and I was immediately hooked - it was truly like a comic book sprung to life. More followed and then the reactions started rolling in and I knew I had to see this.

I am happy to say that Spider-Man: Into the Spider-Verse not only met the expectations I had coming from the previews, it actually surprised me with just how good a story it crafted, along with the characters you get to meet along the way. Spider-Verse opens with Miles Morales (voiced with impeccable perfection by Shameik Moore) adjusting to life in a new school (for the smart ones) and leaving his Brooklyn neighborhood behind. It doesn't help his father, policeman Jefferson Davis (Brian Tyree Henry) may be a bit too overprotective of his son's life - and future he sees for him. Even though he bumps into a new girl, Gwen (Hailee Steinfeld) at school and seems to have a connection, he still feels like he doesn't belong in this place. All this pressure causes Miles to seek out his more morally-ambiguous uncle, Aaron (Mahershala Ali - always a pleasure) and go on a late-night graffiti adventure. This is where our super-spider comes into play, giving Miles his spider-bilities.

But this world already has a Spider-Man (apparently slightly more grown-up version of the character in the Sam Raimi trilogy) voiced by Chris Pine. And things take a decidedly dark turn when a very massive Kingpin (Liev Schreiber) uses a super collider to open a door to another dimension - even though it could mean the destruction of their own world. Let's just say that Miles might have been hoping for a mentor, but instead New York lost a hero. But just when things seem to be at their worst, Miles finds yet another Spider-Man - a middle-aged, out-of-shape Peter B. Parker (Jake Johnson), but one who is his best hope to learn how to control his burgeoning powers and, you know, save the city.

But even as their adventures takes them to the research facility and a certain Olivia Octavius (Kathryn Hahn), both heroes realize they are not alone with the re-appearance of Gwen (aka Spider-Gwen), who has also been drawn in from another dimension. A visit with Aunt May (Lily Tomlin) reveals three more heroes - the black-and-white Nazi fighting Spider-Man Noir (Nicholas Cage), the Looney Tunes-like Spider-Ham or Peter Porker (John Mulaney) and the futuristic anime-inspired Peni Parker (Kimiko Glenn) and her robotic partner SP//Dr. Thus our newly-formed Spider-team comes up with a plan to save the city and get back to their own dimensions.

Spider-Verse is a feast for the senses - the visuals look of this film is absolutely astounding. It's unlike anything out there and it truly like a comic come to life - complete with text bubbles, editing touches (like offset printing) and just little things, like how certain sound effects create their own visual effects. And the film is vibrant - the backgrounds and characters just pop with so much life - and as this is animated, they can do so much more than their live-action counterparts. But the sound is just as important as the look, and the music is spot-on, from Post Malone to The Notorious B.I.G. to, uh, the St. Elmo's Fire theme song - it all fits together (also, make sure you stick through the credits to hear the full version of the Spider-Man Jingle Bells mix - it's worth it).

The look and sound can't be beat - but the story and characters are equally impressive. Miles' journey from uncertain teen to hero is a path that has been well-tread, but even so, Spider-Verse manages to make it feel fresh and even throw in a few surprises along the way. Plus, the way the "main" Spider-Men are developed is equally as impressive. If there is something I would have changed, it would be to give a bit more depth to the tertiary characters but I realize they only had so much time to tell the story. Don't forget to stay for the after-credits, either - no just because it's one of the most fun extras in a long time, but it opens the door to further Spider-Verse adventures.

Spider-Verse does just about everything right - and does so in a way that feels fresh and exciting. I am going to go so far to say that this animation style should be patented by the studio - it is unlike anything out there and not since Toy Story (and a little company called Pixar) has it felt like the medium made such an impressive leap forward. And this type of alternative timeline/universe thing means that the possibilities are truly endless and I, for one, am very interested to see how this plays out going forward.