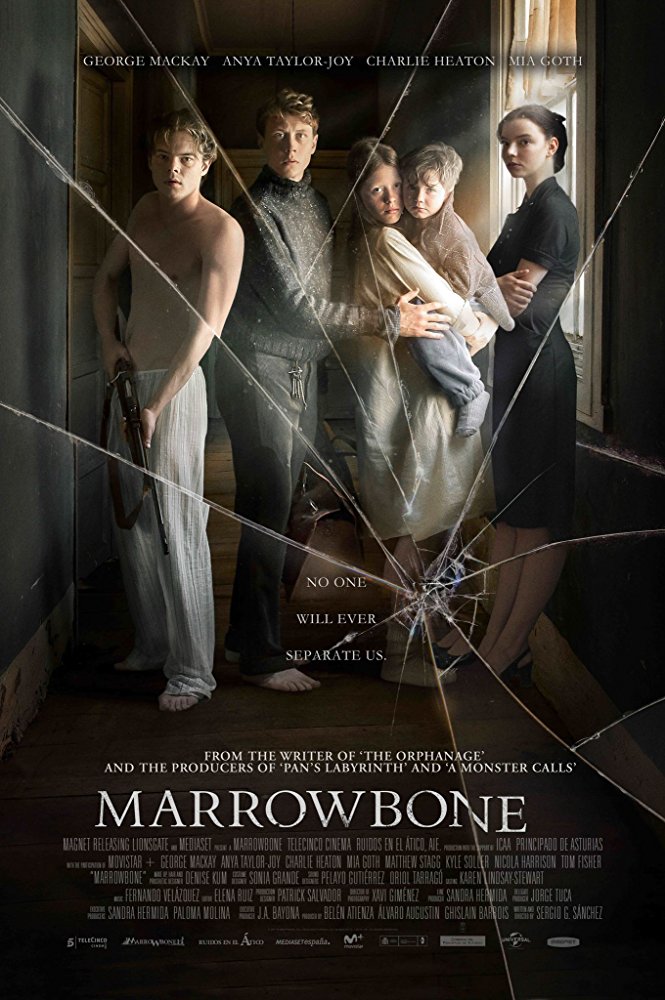 Marrowbone
Family Is Forever
Chris Kavan - wrote on 08/01/18
I find my favorite horror films these days aren't full of much blood, violence or jump scares. No, truly great horror is the kind that gets under your skin, creates a remarkable atmosphere and leaves you with something you can't get out of your head. Hereditary did that for me earlier in the year and Marrowbone would make a nice double-feature with it.

We learn early on that our family, ailing mother (Nicola Harrison), eldest son Jack (George MacKay), eldest sister Jane (Mia Goth), middle son Billy (Charlie Heaton) and youngest son Sam (Matthew Stagg) are escaping something - as the opening of the film is essentially them putting the past behind them and starting over. Soon after, the four meet Allie (Anya Taylor-Joy), their closest neighbor, and strike up a friendship. But following the death of mother, things start to get weird. For one, all the mirrors in the house are covered and the door to the attic is bricked up. They need to make things work until Jack turns 21, but the only money they seem to make is selling off some baked good at the nearest town several miles away - and not much at that.

Things go from bad to worse when a local town lawyer, Porter (Kyle Soller) needs to finalize the purchase of the house but needs mother's signature. He also seems quiet jealous of the relationship between Jack and Allie, as he himself seems to be somewhat infatuated with her, even as he himself wants to leave small town life behind for the big city. This leads to some tense moments at the home - from a Porter's visit to game night - the film creates an excellent atmosphere that leaves you on the edge of your seat.

The casting is great - Taylor-Joy has been a standout in film's like The Witch and Split while Heaton is best known for his role in Stranger Things. Goth has likewise been gaining traction since the eye-opening Nymphomaniac: Vol. II. But it is MacKay (probably best known from Captain Fantastic or the Stephen King adaptation 11.22.63) who does a lot of the heavy lifting. Still, all of the young actors work well together and as we learn more about their tragic story, rounds out their various personalities.

Marrowbone is not a film for those who want a lot of action - this is all about mood and creeping you out. There are a few moments I would term jump scares, but they are used sparingly and to good effect. Overall, it is a good experience who like their horror a bit low-key but very unsettling. While some may find the ending a bit underwhelming, I liked the little twist it throws you even if it's a bit contrived (but not as much as most horror films). Marrowbone should stick with you, and well worth seeking out.