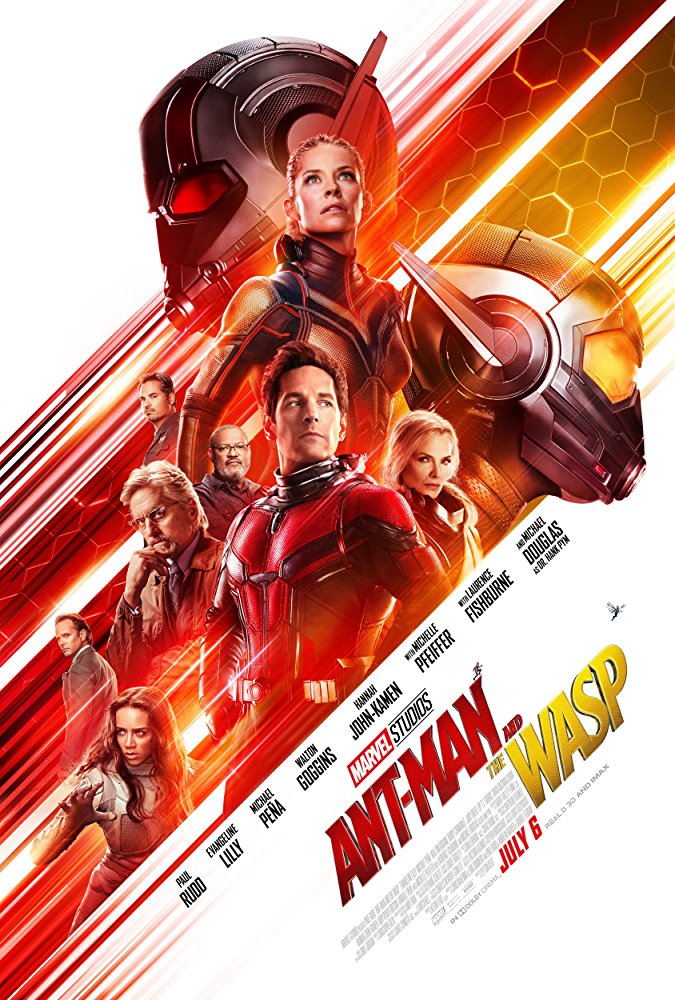 Ant-Man and the Wasp
Two for the Price of Fun
Chris Kavan - wrote on 07/19/18
The MCU hits just keep on coming. While it's hard to follow-up the one-two punch of Black Panther and Avengers: Infinity War, Ant-Man and the Wasp provides some much-needed levity for the MCU. The first Ant-Man was a lot of fun - the charm of Paul Rudd's dry humor, Evangeline Lilly take-no-crap attitude, Michael Douglas surprising gravitas and Michael Peña's comedic side-kickery. All that is back and more - so if you liked it the first time around, the second is just as good.

Our sequel picks up nearly two years after the events of Civil War. Scott Lang (Rudd) is just days away from the end of his house arrest. The opening sequence shows him playing with his daughter, Cassie (Abby Ryder Fortson) in an elaborate cardboard dungeon. His pal, Luis (Peña - who still gets all the best one-liners, including a return to the rapid-fire storytelling where he voices multiple characters) is ready to fire up their new X-Con security consulting business - but not before helping playtime along. An accidental breach of the perimeter quickly brings in FBI Agent Jimmy Woo (Randall Park) and his cronies just as Lang's ex and new beau (Judy Greer and Bobby Cannavale) show up. After a thorough search, Woo leaves Lang with a warning, but with just three days left on his sentence, he's playing things safe - but all that is about to change.

Hope Van Dyne (Lilly) and her father Hank Pym (Douglas) have been on the run for those two years, but haven't been quiet. They have been researching one of Pym's old project, a quantum tunnel, after Lang claims he saw Pym's long-lost wife, Janet Van Dyne (Michelle Pfeiffer in a small but important role) in the quantum universe. The tunnel theoretically allows travel to and from the mysterious realms but a test offers only the briefest of moments before they realize they need a better power source. Yet that brief moment reveals a connection between Lang and Janet - one that is important for the rescue missions to work and thus Lang is delivered by shrunken van to a life-size miniature building (that will also be shrunk soon enough).

Hope has been using an alias to buy black-market tech from Sonny Burch (Walton Goggins in full-on slime mode) and needs one last purchase to give them the power they need. Too bad Burch has figured out who she really is, and she has to go full Wasp to get the tech. But just as she seems to have the upper hand, a new player enters the fray, a phase-shifting warrior dubbed Ghost (Hannah John-Kamen). Battling both Sonny's goons and Ghost, Lang jumps in with an experimental, new Ant-Man suit - and they secure the component, only to find out Ghost has stolen the shrunken lab itself from Dr. Pym.

Having nowhere else to turn, the trio head to the X-Con offices where Luis, Dave (T.I.) and Kurt (David Dastmalchian) are putting the finishing touches on their big presentation. The group is about out of ideas, when Pym mentions that an old colleague, Dr. Bill Foster (Laurence Fishburne) might be able to help - even though there is no love lost between the two men. Sure enough, Foster provides the key to tracking down the lab's using a regulator from the suits - something Hank has phased out. Lucky for them, Scott has secretly kept the old suit - though getting it back involves a humorous break-in at his daughter's school.

Once they locate the lab's location, it leads to a revelation, and a showdown between all our players - Sonny and his gang, the FBI, Ghost and, of course, our heroes. It also means we get to see a real Giant Man, some inventive car chases through some of the most iconic San Francisco locales and a critical rescue mission that could go wrong so many ones, with just one chance to get things right.

The Ant-Man sequel doesn't mess with what made the first one so much fun. It has a lot of humor, action and heart. It also has a better villain, though in this case other than Sonny, Ghost isn't really a villain - but rather a tragic figure caught in dire circumstances. While the film could have used a traditional villain to spice things up, the moral gray area serves the film just as well. It also uses the shrink/enlarge feature to great effect (including one of Stan Lee's best lines in his traditional cameo appearance) from a giant Hell Kitty Pez dispenser to a Hot Wheels tote full of miniaturized vehicles just ready to be utilized (wait until you see what Luis chooses). And, of course, we get more giant ants.

The film meanders a bit - too much sciency talk and exposition here and there - but all in all it fits right in with the MCU. I wish the Wasp character (really, both of them) had been a bit more fleshed out as well. Just make sure you stick around for at least the mid-credits scene - a bit of a gut punch following the upbeat film, but important to the future. All in all, if you enjoyed Ant-Man, you will like this and the MCU machine just keeps right on rolling.