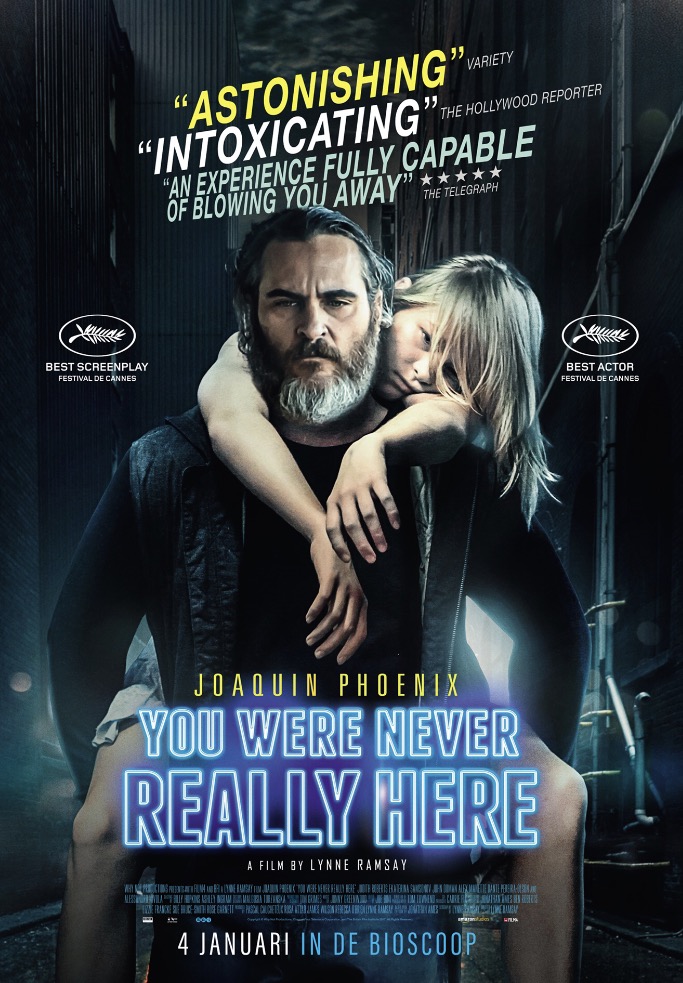 You Were Never Really Here
No Sympathy for This Vengeance
Chris Kavan - wrote on 07/03/18
Joaquin Phoenix never takes the easy road, whether it is portraying a country music legend, a man falling in love with his AI or a mockumentary about... himself? Whatever the case, Phoenix chooses the role less traveled - and is always up for a challenge - and You Were Never Really Here, if not the pinnacle of his career, is certainly up there with the better characters he has decided to portray.

Many have pointed out that the film shares a lot in common with Taxi Driver, and that is true. Phoenix plays Joe, who has a very troubled and violent past - from childhood through war to the FBI, he has seen and experienced things that both haunt and drive him. Joe is a gun for hire, seemingly often to track down missing children for a fee - and deal great violence (often with a ballpeen hammer - shades of Oldboy) to those in his way. He keeps his private life very private, as early on when his home is discovered by the teenage son of one of his contacts, he immediately shuts down that connection.

But while he suffers greatly, he also cares for his aged and sometimes confused mother. She obviously has no idea what he does and probably is suffering from mile dementia or Alzheimer's - more reason to keep a low profile. Joe's task for much of the film is to track down, Nina (an impressive performance from relative newcomer Ekaterina Samsonov) the missing daughter of a high profile New York senator. Joe's is methodical and unrelenting in his task - but realizes too late the job is a setup. Soon enough, everyone involved begins turning up dead, and Joe must race to survive, and maybe save a life in the process.

While You Were Never Really Here is a violent film - it is actually quite good at keeping the violence to a minimum. Most of what you see is the aftermath of Joe's attacks - bleeding bodies and such - rather than watching an up close and personal bashing in of skulls. There are certainly some graphic moments, but they are kept to a minimum. The film tackles some heavy subjects: PTSD, sex trafficking, suicide, pedophilia - if you're looking for an uplifting film, well, I think you're in the wrong ballpark.

The film is anchored in great performances. Phoenix is at the top of his game, as is Judith Roberts as his mother and John Doman as Joe's point of contact. While the film may never quite reach the heights of Robert DeNiro's "You talking to me" moment, it captures the nihilism and fever-dream quality of Taxi Driver. If you're looking for something darker and deeper than your typical Hollywood fare, Lynne Ramsay pulls no punches, serving up a heaping helping of unsympathetic justice. But in this kind of world, maybe that's the justice that is deserved.