2.5/4

3.5/4

2.5/4

2.5/4

3/4

2.5/4

4/4

3/4

2.5/4

2.5/4

3/4

3.5/4

2.5/4

3/4

2.5/4

3/4

3.5/4

3/4

3/4

2.5/4

3/4

3.5/4

2.5/4

3/4

2.5/4

Next 25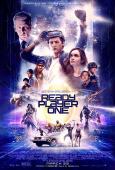 Ready Player One
Ready Player One is Nerd-vana Come True
3/4 stars
I knew after reading Ernest Cline's novel, that this love-letter to 80s pop culture was going to be headed to the big screen. What better choice, then, for director than an 80s icon himself, Steven Spielberg. While both the book and film have their issues, Spielberg puts his own spin on things, expanding the story and references and delivering a film worthy of watching again and again - if only because you'll never find everything the first time around.

Ready Player One takes place in the near future where humanity has stagnated with the escape people are looking for in a massive virtual reality playground known as the Oasis. Created by James Halliday (Mark Rylance), a mixture of Willy Wonka and Steve Jobs and his partner Ogden Marrow (Simon Pegg - in essentially a cameo role), Halliday cut out his partner early on and developed this "game" as a place where anyone could be whoever they wanted and do whatever they dreamed. As Wade Watts (Tye Sheridan) explains in the opened - from surfing 80 foot waves to climbing Mt. Everest with Batman - this is truly a gamer's paradise.

But Halliday has died, but before he signed off for good he left one last game to play - three keys hidden in Oasis and the person to discover all three would inherit his vast fortune as well as control over Oasis itself. Watts says that despite five years of trying, no one has found the first key, hidden at the end of a seemingly impossible-to-win race. No one is trying harder to win this contest than Nolan Sorrento (Ben Mendelsohn), president of IOI - a corporation looking to take control over Oasis and make it an advertising, tier-based money-maker. He floods the game with sixers, faceless goons, and has a team dedicated to all things Halliday in order to solve this puzzle. Likewise, Watts is joined by fellow gunters (egg hunters), best friend Aech (Lena Waithe) and warriors Daito (Win Morisaki) and Sho (Philip Zhao) who have not given up on the adventure where so many have quit looking.

The starts off quick and never lets up, from an entertaining battle of the planet Doom where Freddy Krueger, Duke Nukem and Jason Vorhees all show up (amidst who knows how many others) to a break-neck race featuring Akira's motorcycle, the Deloreon from Back to the Future, Stephen King's Christine and a real life Bigfoot Monster Truck (along with the T-Rex from Jurassic Park and King Kong himself) - the action is second to the epic amount of references you can spot.

The film hardly lets up as Watts is the first to discover how to find the first key - as well as finding gunter legend Art3mis (Olivia Cooke) who rounds out the High Five team - and it's a race against time to beat Sorrento and his goons from taking over the Oasis. But for all the bright, vibrant action inside the Oasis - the real world stands in stark contrast. Watts lives in the Stacks - literally stacks of motor homes piled on top of one another in Columbus, Ohio, birthplace of Gregarious Games - Halliday's company, and therefore Oasis itself. The real world seems a downer, all drones and dust - with IOI able to make people work as virtual slaves to pay off their debt. Also, not scared to blow up people to get their way.

The film features a lot of memorable moments - from an unexpected trip into the Overlook Hotel in The Shining, to a zero-G dance to T.J. Miller hamming things up as the headhunter I-Rok - you're not going to be bored at any time. In fact, the things about Ready Player One is you might find yourself a bit overwhelmed. Easter Eggs and references come at you from all directions and the best parts are just packed - especially that ending battle to end all battles - so much so you might feel nostalgic whiplash.

The major concession I have is that Speilberg seems to be trying too hard to please everyone. Whereas Cline's novel was clearly a love letter to all things 80s, Spielberg's film, while heavy on the 80s, also spreads the love to more recent games (Overwatch, Halo, Tomb Raider - just to name a few) and characters (especially when it comes to super heroes and/or villains). It's not necessarily a bad thing, but it's a lot to take in and the action often dwarfs anything else. The story and characters aren't weak, just vastly overshadowed by all the stuff going on.

Ready Player One is a visual treat, a wonderful trip to find yourself on and even brings a dose of reality to the virtual world. It is not a perfect film, but one I think will be even more fun to watch at home, where you can really dig into the Oasis and all the hidden gems you can't uncover until you can slow things down on your own time. Still, any film that references Mayor Goldie Wilson, Rush's 2112 and Goldeneye - well, how can you go wrong with that?